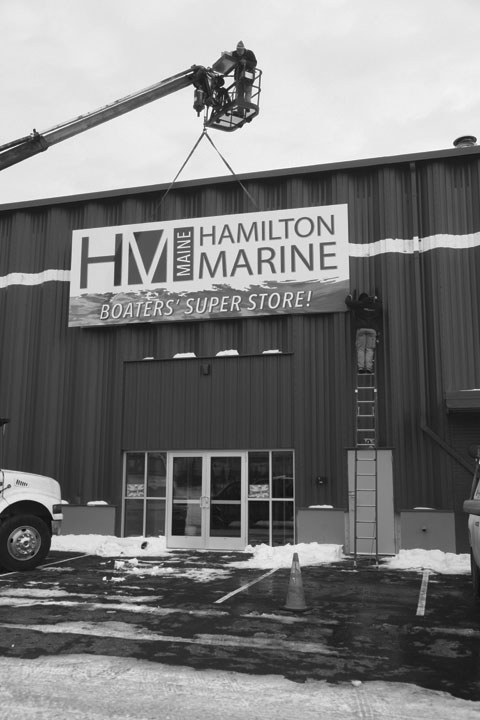 Hamilton's new Portland store at 197 Presumpscot Street.
PORTLAND – In business you are taught that there are three important things you need to consider: location, location, location. So when you must make a change in location a lot of thought has to go into it. For the last several years Hamilton Marine knew at some point in the near future they would need to relocation their Portland store. After analyzing their options a decision was made last summer and in early February they opened their new store at 197 Presumpscot Street, Portland.
The eastern end of the Portland waterfront is undergoing a lot of changes with several new buildings going up over the last year. A number of people are wondering what the owner is going to do with the old Portland Yacht Services location. A new marina is associated with this property and is supposed to be going in and be operational this summer, but progress seems to be a bit slow so far. As for Hamilton Marine they were sitting right in the centre of the changes in a building they did not own and that meant they did not control their destiny.
Peter Ayers, who manages the Portland store, explained, "Every business that comes in to Portland needs to have an associated parking. The owner's son wanted to liquidate the property, realizing it was worth a lot of money so he sold it to someone who needed it for a parking garage. The first thing we heard was from a real estate agent that we were dealing with, because at the time we were looking for alternate places; we are growing and we always need more space. We also wanted to be on the waterfront, When he told us someone had bought the property, we knew the clock was ticking."
"At one point we were going to Anderson Street," said Peter. "We actually got a buy and sell agreement for a place down there, but the owner of our old location lowered our rent and made it very attractive for us to stay. So we got a lease up to 2016 and then they renewed it again and that would have run out in 2022. However the new owner sent us an eviction notice saying we were in violation of the lease. We won the lawsuit, but we lost the battle because he just found another way to get us out."
As they searched for a new site they focused on the waterfront, and talked with Phin Sprague about his new location on the western end of Commercial Street, but the numbers did not work. They finally settled on 197 Presumpscot Street as their best option, which is owned by the same person who owns Maine Yacht Center.
There was no question being on the Portland waterfront would have been nice, but it had some serious drawbacks, mainly traffic. Peter said, "This place was the best, shortest distance from everywhere that our customers come from. And even the easiest to get to. We have a lot of people that drive up from Connecticut, Massachusetts, Rhode Island, New Hampshire, and even over from Vermont. All they have to do is come up 95 to 295 and then go one more exit, exit 8, the Washington Avenue exit go through one set of traffic lights and take a right at the next one and just go a half a mile and you are here.'
A lease agreement was made and signed last fall. Then came another three major hurdles, getting the building cleaned out, make alterations, and move in.
The building had been occupied by Asian West Furniture and they subleased to several other businesses. When asked if the building was cleaned out Peter said, "No that was another problem. It took an extra two months to get it cleaned out, not to mention refurbishing it, which took three more months beginning in November."
When you walk through the front doors all the retail items are to your left and in front of you. To your right is the warehouse and commercial fishing items and up above are the offices. The office space was modified slightly, which included new bathrooms. Then they did a total cosmetic upgrade with new carpets and paint.
Downstairs was gutted and new enlarged bathrooms were installed. John Wallace added "We sat down and tried to make a list of priorities, what are we looking for, how much retail space, how much warehouse space did we needed; height of ceilings. It was pretty much a blank slate. This side is where we wait on a lot of commercial fisherman."
Peter said, "That stuff tends to be very bulky. We get pot wrap and you can't really stack them up on normal shelves or somebody is going to get clobbered. So you put it on pallets and you wrap it with shrink-wrap. The sole reason for the barrier between the retail and warehouse was too air-conditioned all of that rope cost effectively."
Then came moving all the items from the old store to the new one. A rep came in who had experience in moving stores and said they could not make the move in less than eight weeks. Hamilton Marine closed their old location in Portland on 18 January and the move began. On 4 February, in just two and a half weeks, they opened their new location with a majority of their items moved and one the shelves. How did they do this? Hamilton Marine prides themselves on being a family and they all pitched in to make it happen and that included employees from their other stores.
A problem, albeit a good one, is that Hamilton Marine continues to grow in Portland. The new location does offer room to expand so that base is covered.
So for those that were doubters of the new location, try it. I came up from southern Maine to the new location and I am a believer as it was a lot easier to get to the new location than it was to get to the old one. The grand opening of the new store is going to take place the same weekend of the Maine Boatbuilder's Show in March, which will be a great time to attend a boat show and see the new Hamilton Marine location in Portland.