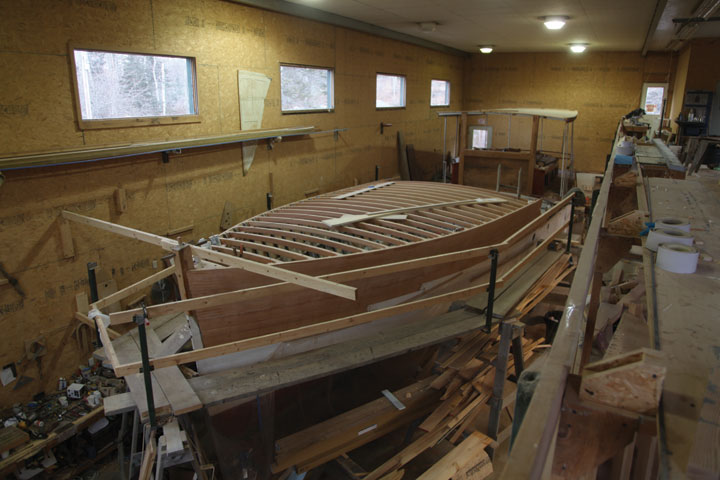 The 50-foot Elco being restored at Hylan-Brown Boatbuilders in Brooklin.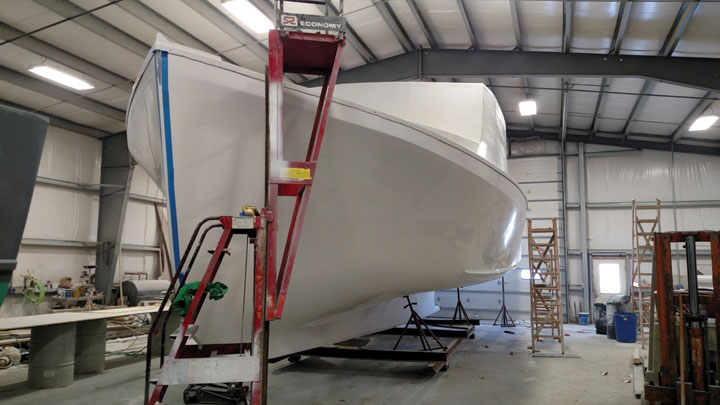 A Wayne Beal 50 waiting to be shipped to Oceanville Boats in Stonington to be finished.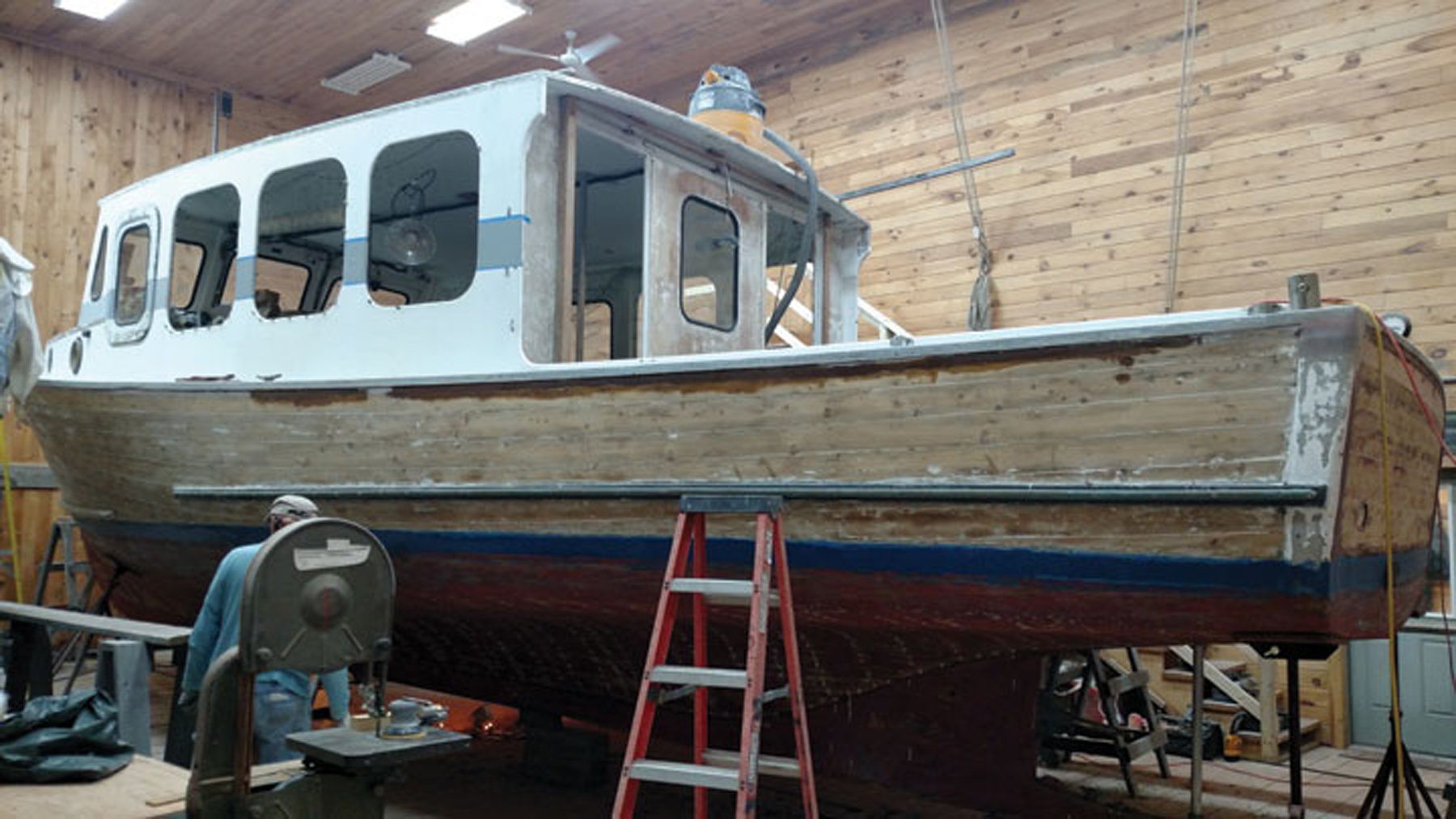 Richard Stanley at Bass Harbor is working on DOUBLE B., a Robert Rich built boat.
Bass Harbor Boat Bernard, Maine It has been a busy off season at Bass Harbor Boat. Presently they have a 1976 44-foot Robert Rich designed and built power boat in for some repair work for her new owner. What caught my eye was the width of the transom, which seemed a lot wider than many other 1970s designs. Rich Helmke, owner of Bass Harbor Boat, explained that this was one of their standard hulls. By changing the distance between the moulds they could create various models such as 28, 34, 36, 40 foot lobster boats. Rich said the boat is in pretty good shape, but they have done some frame and platform work, and next she will get some cosmetic work. In the next bay there is a Bunker & Ellis 42, which is getting two coats of varnish and paint. She is also getting custom seating. Next to the 44-footer is a 1948 Chris Craft sedan that was recently purchased and needs to be refurbished. However that will have to wait for a Bunker & Ellis powerboat coming in for a new transom and rails and another Bunker & Ellis powerboat, which needs a new rudder and hydraulic steering installed. They also have a number of storage customers that still need their annual maintenance and that will certainly keep them busy through the spring.
Custom Composites Bath, Maine It is always interesting to stop and talk with Steve Hassett of Custom Composite and see what he has going on. They have been building PB 40 and T43 pilothouses for The Hinckley Company and they still have several more to do. Out in the parking lot they were cleaning up several town docks for the City of Bath. These will be getting repairs made and then they will gel-coat their tops to make them look as good as new. A very interesting project has been building three custom flag poles for the top of the Portland Observatory. This is the only signal tower left in the United States and during the days of sail the Observatory would announce the arrival of ships by raising flags on these flag poles. The last flag poles did not hold up so Custom Composite made them of fiberglass. They also have a six foot lightning rod on the top of each of them as the Observatory is the high point on Munjoy Hill and having a lightning strike is a real probability. They then painted them to match the colour of the flag poles they were replacing. These new flag poles will be put in place sometime this spring as they will need a crane to install them. A great aspect of their business has become making feed tube for infusion. This they are now marketing through Gougeon Brothers so they only have to make it and not market it. They can make between 4,000 to 5,000 feet of tubing a day, which keeps them with a little backlog. Presently they are going through 30,000 to 40,000 feet of tubing a month, which could increase as more people learn about their product. Custom Composites has also been building parts and pieces for other industries. They have done some robotic parts for a company here in Maine and Steve had Amalgam Ski of Freeport add some special material to a new set of skis for himself. Steve also said they might be doing some parts for drones (fuselage and nose cone), which will be used for delivery service. They will do the tooling and then some students from MTI will be coming in to lay-up parts for a solar car, which they have done before. When the car is complete the students will compete in a 1,700 mile race against other solar cars.
Finestkind Boatyard Harpswell, Maine It has been a busy fall and winter at Finestkind Boat Yard. They have a Sabre 34 in one bay, which is getting damage repaired and a new engine. There was damage to the keel and rudder and when the bottom repair work was done they stripped the bottom and then barrier coated it. In another bay is a C&C, which is having her main bulkhead repaired due to rot from leaky chain-plates. There is a South Shore 30, which had been lengthened out to 33, lobster boat in for a new platform. A 44 Cherubini is in having some deck work done. This boat has a solid glass hull, but the top was stick built with plywood over wooden deck beam covered with fiberglass. The layer of glass on the deck was not thick enough so they are adding to it. Out in the yard are two Finestkind charter boats, but they will only need their regular annual maintenance this year. Earlier this season they had a lobster boat in that received a lot of glass repairs, engine re-alignment and a new direct drive pot hauler. They still have 110 storage customers that need annual maintenance, but fortunately some owners will be doing their own work.
Hylan-Brown Boatbuilding Brooklin, Maine A very interesting project is the rebuilding of the 50-foot Elco named PATIENCE. After she was put inside they did a lot of demolition. They removed the pilothouse, fore deck and then gutted the forward end of the boat. They then found that she had a slight twist fore and aft so they straightened her. Now they are adding new bilge stringers, sheer clamp and then they will put in the forecastle bulkhead. "We are going to keep moving ahead with the forward end of the boat," said Ellery Brown. "There is lots to be done back aft but the current stage is to bring along the forward end and see what the owners want to do then. She is a neat boat, but she has been through the wringer. By all rights she has no business existing." In the other shop they have a Reuel Parker designed coastal commuter 43. The owner is going to take her down to Key West, and cruise the Everglades and even go out to Cuba. Ellery said, "It is a plywood hull and has a lot of systems such as air conditioning, genset, huge battery bank, all with outboard power, twin 200s." She will be going over this summer. This owner had looked at MJMs and liked them but they did not offer an outboard model at the time. He then went to Doug Zurn and asked him if he would design a boat similar to an MJM, but with outboards. Doug did not want to do that so the customer turned to Reuel Parker, who had designed him a 26-footer and asked if he would design it. Reuel agreed to design it but could not build it and that is when he turned to Hylan-Brown. Just completed is their new paint bay, which was erected this fall. They will start bringing in their storage customers and begin getting them ready for the upcoming season. They are also happy to have a first class varnisher and painter. This shop will not be for spraying, but traditional application of paint and varnish. Over the last decade they have done numerous smaller boats and they are happy to be working on much bigger projects this year.
Morgan Bay Boats Frankfort, Maine The sale of lobster boats has fallen off the last couple of years, but some of these builders are filling in by finishing off their hulls for the sportfishing community. Of the first six Morgan Bay 43s ordered only one has been finished off as a lobster boat. Currently there are three hulls in their shop. Hull #2 is close to being finished. She is a sportfisherman going to New York. For accommodations she has a V-berth, head with separate shower to port and bunk to starboard. Up in the shelter the galley is to port with two seats at the bulkhead and on the starboard side is a settee, television and one seat for the helmsman with three screens on the bulkhead. This boat will be powered with a 1,200-hp MAN. They are now putting in the cabinetry and finishing the overhead in the shelter. She will be going over in April. In the next bay is another sportfisherman, also heading to New York. She will have the same accommodations down below and the same in the shelter, but reversed. She will be powered with a 1,150-hp Caterpillar diesel. Everything under the platform is almost done (fish tanks, everything in the engine room, generators, and tankage) and they have done all they can for the accommodations below before they put the deck on. She is about 30 percent complete at this point. In the far bay they have just finish laying up another hull, and she is being finished out as a sportfisherman for a customer from Connecticut/Florida. Again her accommodations will be the same as the other two and she will have the same layout in the shelter as the middle one with galley to starboard and settee to port. This one will be powered with a 1,000-hp 12.9 Caterpillar. Owner Gary Kief added, "The cockpits are different, the one we are sitting in (Hull #2) has center fuel tanks, 750 gallons, those two over there have 800 gallon saddle tanks. This one has a live well in the stern, the boat in the center is going to have a live well in the stern, these both have gyros and the last hull, which is hull #6 over there, will not have a gyro, but it's going to have a live well where the gyro usually goes." The last two boats will probably be going out this coming fall. As soon as Hull #2 leaves the shop in a couple of months they have another hull coming in which will be Coast Guard certified to carry 25 passengers for a customer from New York. They will be putting in the motor, fuel tanks, steering system, rails and the top on. They will also add a gyro if they get the okay from the Coast Guard. She will then be heading to Westport Island to be finished. Of course if you have a model someone wants something bigger and Gary and his brother Tim have found that there is a demand for a 46. Gary added, "There is a lot of interest in it. I have got a guy that I am talking with that really wants one. I think the 46 would actually sell more than this one. When we have space open up I am going to start the 46. We are going to do another mould, no more extensions." The Morgan Bay 43 has proved to be a very good hull and the demand is certainly there, however they do not want to put themselves in a position where they promise a delivery date and cannot make it. So right now they are not pushing, but they do have several just waiting to place the next order.
Richard Stanley, Boatbuilder Bass Harbor, Maine Presently they are working on the 38-foot DOUBLE B., built by Chummy Rich in 1983-84, and works as a commercial ferry boat for Beal & Bunker, taking people to Cranberry Island, Islesford and Sutton's Island. They have refastened the bottom; reefed out the seams and recaulked as needed; did some fiberglass patches on her shelter; removed the rails and rebedded; and moved the damaged fuel vent from her side to the deck, which also meant making repairs to the plank. In the bay next door they have a 31-footer built by Bud McIntosh in New Hampshire in 1961. She has had her bottom refastened and recaulked; some planks removed so they could redo the engine beds and make repairs to the inside stuffing box. Next to DOUBLE B. is DOVEKIE, a 28 foot sailboat, which Richard built back in 1988. They will be installing a three-cylinder Beta engine in her, which means making some structure alterations so he can get the shaft and engine where they belong. Richard does not have anything lined up after this so if you are looking for one of the best wooden boat builders and repairers here is your chance.
Robinhood Marine Georgetown, Maine In one bay they have a Northern Bay 28, which came up from Florida, and she needs her varnish stripped and redone. They are also doing some mechanical and systems work before she goes over for the season. Also in this bay is a Camper Nicholson 32 which is having her port lights replaced as the old ones had crazed. She will then move over to the paint bay to be Awlgripped and have her waterline raised a bit. When that is complete she will have her gold leaf redone. In the fiberglass shop they have an Irwin 48, which met a ledge at 5-6 knots and came to dead stop. They are making repairs to her keel, centreboard and internal structure. A Nordic 40 is also in the fiberglass shop having a bottom job done due to osmotic blisters. Once the bottom is faired, they will put on a barrier coat, paint the bottom and then upgrade her electronics. They are repowered a Cape Dory 31 with a Beta diesel and a Z-drive. After this job is complete they will be bringing in a Robinhood 36, which will be heading south in the fall. This year they are doing phase II, which means they will be adding an electronics package with AIS, new chart-plotter, Sirius weather, new wind instruments, sounder and knot log, new davits with a crane for the outboard, solar power, new ground tackle, reworking the bowsprit, removing the watermaker to service it and then re-install, some rigging work and then redo her varnish. Also waiting for to get worked on is a Catalina 30 to be repowered and 140 storage customers, which all need to be ready for the upcoming season, just weeks away.