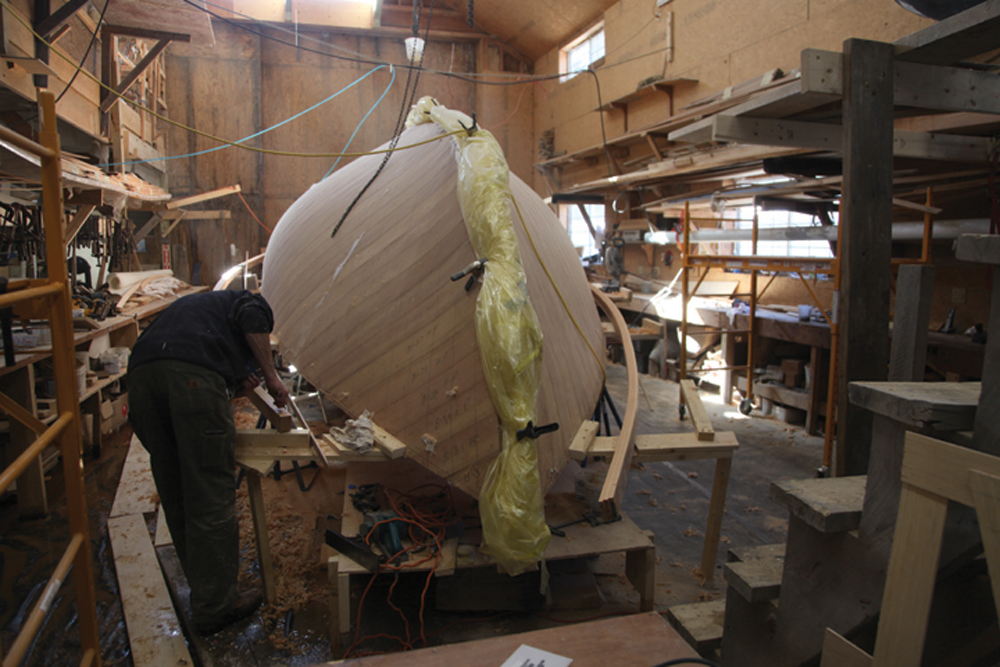 Cleaning up a newly built hull at Brion Rieff's shop in Brooklin.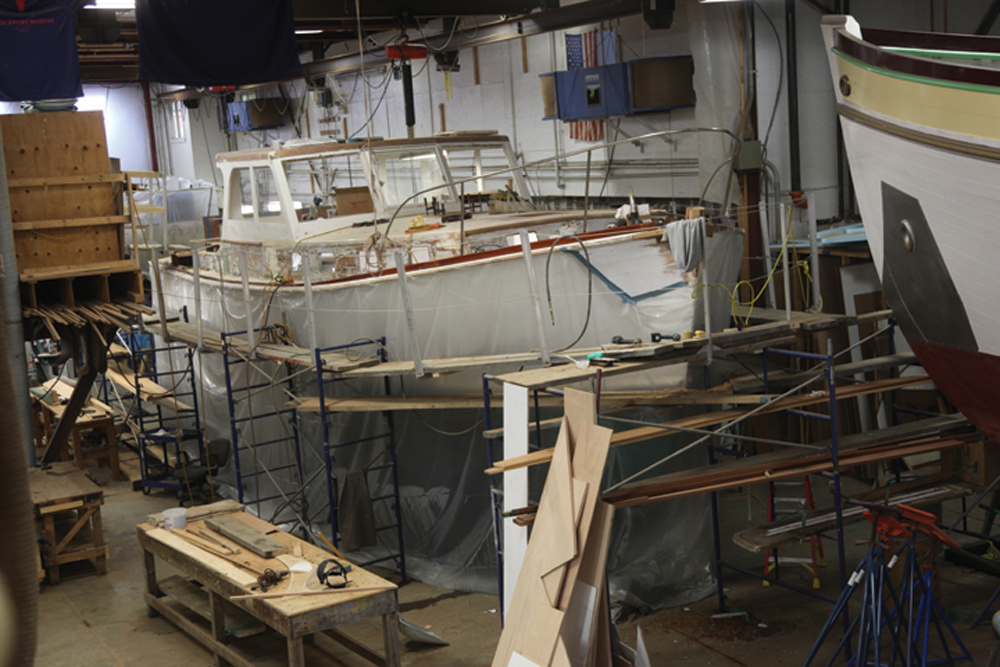 The Norman Hodgdon cabin cruiser being totally rebuilt at Rockport Marine in Rockport.
C.W. Hood/Lyman-Morse, Thomaston
Lyman-Morse in its partnership with CW Hood Yachts and Stephen Waring Yacht Design is taking a different approach to building a 57-foot custom motor yacht.
Two interesting new techniques are being utilized in the construction of this 57' high-performance cruiser. First, to achieve the expected 39 knots from the Volvo Penta's IPS 1350 integrated propulsion system, the yacht is engineered with weight-control and strength as a priority. Stephens Waring provided innovative composite construction details that hybridize wood and fiberglass into a contemporary build method. For custom projects, this approach delivers substantial value and cost savings over exotic molded methods with materials like carbon and aramid fibers. Second, Lyman-Morse is employing a new overhead crane system to facilitate an ergonomically efficient building environment for the crew. Taking the module-building practice employed on Anna to the next level, they will build the hull in four separate parts: The bottom module which is about 50 feet in length by 15 feet in width that includes the stem of the boat; both topsides sections, port and starboard that run from the stem aft to the transom; and the curved transom section. This innovative modular wood-composite process, developed in partnership with Stephens Waring Yacht Design, is supported in part by a grant from the Maine Technology Institute, which recognized the potential efficiencies and improved workforce ergonomics that could be achieved through its implementation on the Hood 57 and other yachts.
The process starts with the jig that was precisely cut by a Haas GR-712 CNC machine from direct digital inputs provided by the project's engineers. Once assembled, the jig yields such a perfect form that the wooden sheathing for the bottom along with the curved transom can be installed. Meanwhile, the tricky internal longitudinal structural stringers using CNC machined foam formers that have their structural epoxy laminate completed are constructed simultaneously with the bottom sheathing. To eliminate the ergonomically difficult work of working on an upside-down part, the bottom is lifted off the jig using the overhead crane, rotated to the upright orientation and placed in a cradle which then has the inner structural laminate installed and epoxy infused. Next the pre-made internal longitudinal stringers are lifted and placed in reliefs that have been machined into the jig which perfectly locate them in the hull. Now the bottom with its inner skin installed is lifted, rotated back to the inverted orientation and put back on the jig. An epoxy adhesive is used to bond the longitudinals to the hull bottom. Next the topside planking occurs which finishes up with a structural epoxy impregnated laminate as their outer skin for even distribution and incredible strength. After the hull is rotated to the upright position and the jig removed, the topsides will have their structural inner skin vacuum bagged in place and the joints between the four separate parts will be joined together creating a structural monocoque assembly.
Perfect for weekend cruising and entertaining, the Hood 57 will feature custom titanium hardware and a titanium spiral stairs leading to the flydeck. These elements will be constructed at Lyman-Morse Fabrication. The yacht's unique open-format cockpit with direct access to the water and dock, and well-founded accommodations for four.
A 2020 delivery is expected for this 57-foot power yacht.
PRINCIPAL DIMENSIONS
LOA: 57 feet – 3 inches; LWL: 49 feet – 10 inches; Beam: 17 feet – 6 inches; Draft: 4 feet – 10 inches; Displacement, ½ load: 60,000 lb.; Power: Twin Volvo IPS 1350 pod drives.
Rockport Marine, Rockport, Maine
A 44-foot lobster yacht PERSEVERANCE, built by Norman Hodgdon of Boothbay, is being totally rebuilt. They have put in a new keel, forefoot portion of the stem, a lot of frame ends and floor timbers, engine beds, and then gutted the interior. They are now installing, a whole new interior. They have also installed new Cummins diesel engines and new systems. She is scheduled to go over this summer.
Outside they have a Concordia, which was being lifted back on her keel after they replaced her ballast bolts. They also replaced her forefoot, and some floor timbers.
They are getting ready to build a new 21 foot outboard boat, designed by Rockport Marine, for a customer from Texas. They have another 43 foot boat on their design table that they are hoping the prospective buyer will pull the trigger on this spring also. She will be a twin engine inboard cabin cruiser with all the bells and whistles.
The sardine carrier WILLIAM UNDERWOOD, which has been getting restored at the yard for several years is nearing completion and the plan is that she will be going overboard this summer. They are finishing out the interior and other joiner work and finishing up the systems. It will be a memorable day when she goes over.
Brion Rieff Boatbuilder, Brooklin, Maine
Out in a heated building behind the main shop they are putting the interior structure in an Alerion 26, hull #4. The hull is still upside down and the will put as much of the interior they can while she is in this position. As Brion Rieff said, "You don't have to sweep the bilge or fix dents from tool and clamps falling in the bilge."
In the main shop they have a 34-foot daysailer under construction, which is still upside down. They have removed the moulds and are cleaning her up so they can begin putting in the interior structure.
Just in behind her is an 8-meter, which they are close on finishing. She has been modified, by splitting the boat in half and widening it two feet at the transom. A new keel has been designed for her also and it has trim tab with wings, six feet tip to tip. They just have to pour the lead keel, put down a teak deck and then some painting. When done she will head to Lake Ontario to do some racing.
They are also close on a 28 footer that Brion designed for a San Francisco customer. She needs some paint and varnish and she will be going over for the summer. They hope she stays here for the Eggemoggin Reach Regatta the beginning of August, but the owner may want her before that.
Then there is another racing sailboat in the shop that had some modifications and repairs made. These included repairing the deck around the stanchions, fairing, adding a nose piece for a retractable bowsprit and then paint. She will be ready for the upcoming sailing series in Casco Bay.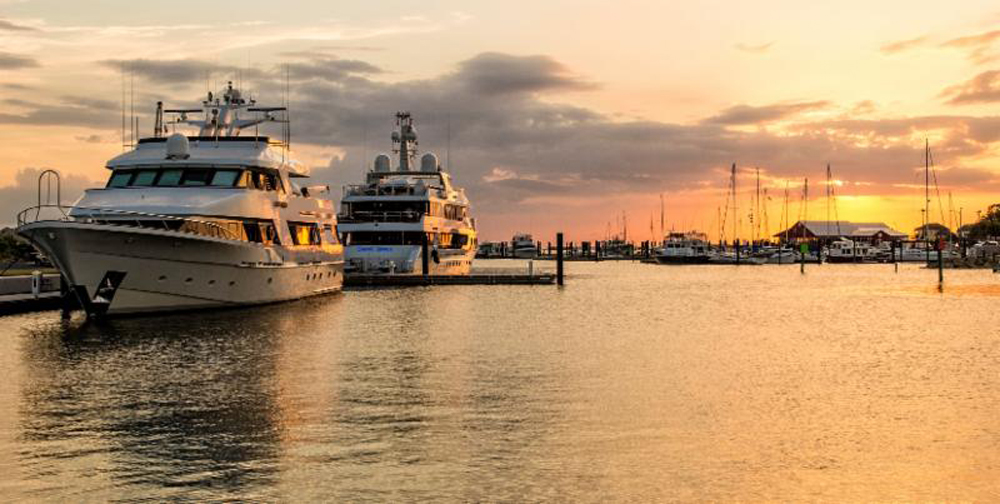 An expansion is planned for the Cape Charles, Virginia shipyard.
Marine-Industry Veterans Acquire Cape Charles Yacht Center
CAPE CHARLES, VA — Cape Charles Yacht Center in Cape Charles, Virginia, is now under new development. Starting this month, boatyard operations are controlled by long-time industry professionals JB Turner, president and co-owner of Front Street Shipyard in Belfast, Maine, and Nicole Jacques, owner of Rhumbline Communications in Belfast, Maine. The new principals of Cape Charles Yacht Center intend to expand the Chesapeake Bay shipyard into a premier superyacht refit and service facility.
Cape Charles Yacht Center was established in 2013 by South Port Investors with the expectation of developing it into a superyacht facility. The shipyard is located off the mouth of Chesapeake Bay where it meets the Atlantic Ocean. An 18-foot-deep channel leads into a modern marina with 1,000 feet of face dockage, a 75-ton boat hoist, and 30/50-amp single-phase and 100-amp three-phase power. The property is located in a Foreign Trade Zone (FTZ), eliminating many duty costs for visiting vessels. The shipyard is a short walk to downtown Cape Charles where owners and crews find stores, restaurants, shopping, and entertainment. Cape Charles Yacht Center customers have access to a golf course and resort nearby.
"We identified Cape Charles Yacht Center as an ideal location for superyacht services because it's central for vessels traveling along the East Coast between New England and Florida," said JB Turner. "For years we've encouraged our customers at Front Street Shipyard to stop into Cape Charles when traveling south, and their feedback has been very positive about the location, quality of service, and amenities."
Turner and Jacques are developing a multi-year expansion plan with the support of investors, which includes a 30,000-square foot facility, 600-ton mobile hoist, and additional floating docks. Currently a new service facility is under construction.
"We intend to maintain Cape Charles Yacht Center's great reputation for service among their existing customers throughout Chesapeake Bay," said Jacques. "Our first initiative is to grow the yard's talented workforce and equip them with more modern equipment so we can attract additional international vessels seeking service and major refits."
Turner and Jacques have more than half a century of combined first-hand experience growing shipyards and attracting vessels. Turner is the president and general manager of mid-coast Maine's Front Street Shipyard, a yacht construction and repair yard with a superyacht marina. Along with his partners, JB founded Front Street Shipyard in 2011, beginning with nothing but flat land, deep water, and a vision for a world-class shipyard. He quickly grew FSS into one of New England's most-capable superyacht facilities. Jacques is the owner and marketing strategist of Rhumbline Communications, a marine-focused marketing agency specialized in launching new marine businesses into the international marketplace, as well as boosting market share for established companies. Her clients include shipyards, trade shows, manufacturers, suppliers, and trade associations. Jacques has managed the marketing efforts for Front Street Shipyard since the yard's inception. Both Turner and Jacques will maintain their existing roles in their respective businesses as they also partner to operate Cape Charles Yacht Center.
Cape Charles Yacht Center remains in full operation as the expansion plans continue to develop and construction of the service facility begins. Turner and Jacques encourage yacht owners, captains, crews, and prospective employees to contact them for more information or to offer feedback on the expansion via email at info@ccyachtcenter.com.
Cape Charles Yacht Center in Cape Charles, Virginia, is a well-appointed destination for regional and international vessels visiting the Chesapeake Bay region. The yard is under development as a full-service shipyard for vessels of all sizes including superyachts, recreational boats, and commercial vessels. The yard's channel is just inside the mouth of Chesapeake Bay, and has an 18-foot draft. The harbor easily accommodates yachts up to 200 feet, and the Mid-Atlantic location and year-round temperate climate are ideal for all types of ship service and boat manufacturing. Cape Charles Yacht Center offers a modern marina with 30/50-amp single-phase and 100-amp three-phase power, as well as crew amenities like showers, laundry, and lounge areas. On-site storage is available. More information is available online at www.ccyachtcenter.com.