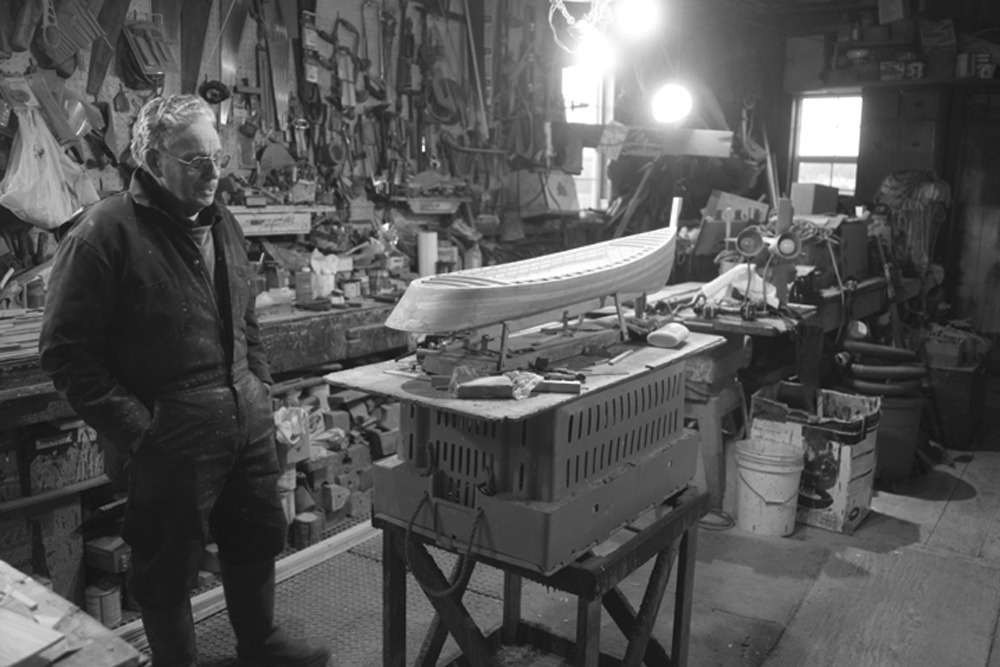 Willis Beal standing next to the torpedo stern model he is building this winter.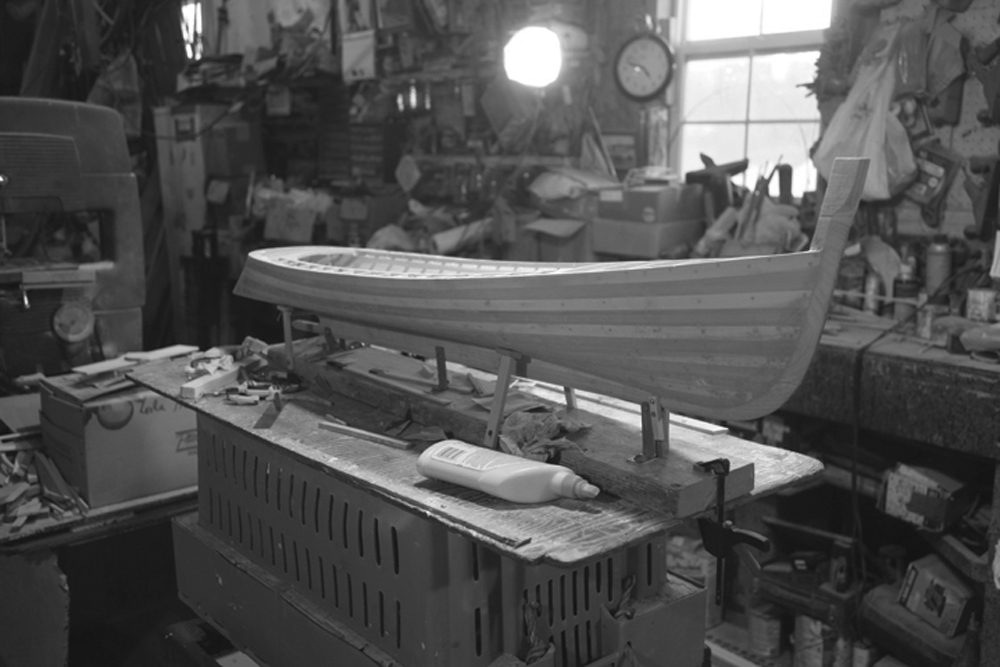 A bow quarter view of the model being built by Willis Beal of Beals Island.
BEALS ISLAND – Beals Island and Jonesport are well-known for their boatbuilders and the designs that they have turned out over the years. These narrow boats, with nice sweeping sheers, good seakeeping ability have been sought after for over 100 years. There have also been builders of another type of boat on Beals Island, which they term "play boats." One of the most noted for this type of boat was Alvin Beal and now Willis Beal is most-ably following in his footsteps. This winter Willis has been building a model of a typical torpedo stern lobster boat for a local customer.
"This is the second one I have done, said Willis. "When I was doing the actual boats, the first torpedo I did got a lot of attention in the papers and magazines and there was a guy that sent me a half-model to see if I could determine whose half-model it was. William Faulkingham had hurt his back, but when he got well enough to come back he said "I'd like to build a play boat." He wanted to build one like the torpedo stern THOROBRED, because his grandfather had owned her at one time. I said I will help you. Why don't we scale this half-model and go from that. When he got it completed he brought it down and sit it down here on the bench and the owner of the torpedo boat I was building was here with his wife to see the boat and he thought it was pretty nice, so he ordered one just like it. That summer, William brought it down to deliver it to him and he stuck his hand out to me and said, "Congratulations on a fine boat." and I said, "What do you mean?" He said, "Well, this boat is yours," I said, "No it isn't. He built this for you." He said, "No, this boat is yours. He's going to build me another one." So I have got that in my collection so that is what I have used to make this model from, changed a little bit. The stern has a little bit more egg-shape to it, than the one that William did and a little bit here and there I changed, but not much. That made it a lot easier for me to copy that than it would be to go to work and do the whole thing over. The first play boat I did on this model went to Vermont."
Willis, like Alvin, builds their models just like a real wooden boat would have been built. "I've got a jig that I made to set it up, so I make the keel, stem and the stern, set in that jig,' explained Willis. "Then I am ready to put my timber spots in and cut slots, put the timbers straight across where I can and butt them together and nail them on to the top of the keel."
There is no question building a model like this is challenging, but especially when it has a torpedo stern. If you want to make it more challenging then you plank around the stern, not up and down. When asked if he planked it around, Willis said, "Yes I did." However on the real torpedo stern boat he built he added, "No, I planked them up and down with strips, nailed them through, individually caulked them, filled them with wood dough, sanded them out smooth and then I took a batten following the plank around the side, around the stern and scored it with a tool I made, so it looked like it was planked around. My father told me that he had one of these boats, an original Frost boat, and he said that they were very tender around the bottom part of the stern, and if a skiff should come up and strike it, it might make it leak. I thought planking up and down would be stronger, less leaks and a lot easier to do, especially if you don't have a lot of lumber with a crook in it."
Just thinking how much of a crook there was in these planks so the grain is straight boggles the mind, but you still need to steam them so they will bend around the stern without breaking. To get the shape of the plank Willis used a piece of thin cardboard from a candy box and shaped it as a pattern. He added, "Alvin Beal used to get me to save the crooked part of the tree down by the root when I was building boats. I'd saw those edges off and bundle them up for him. That is what he'd use when he was planking his boats, because they had that natural curve in them. Of course he had to steam them too."
He added, "Alvin had saved the tops of the stems where he cut them off and threw them in a box and they were under his bench. He built one for me. The only boat I ever had built. I think he said it made, I am thinking 109 or something like that. After that he may have done another five."
Willis knew that Alvin was not getting paid what he should have been for the time he was putting in on these models and wanted to pay $800, instead of the $600 Alvin was charging. Willis added, "I wanted to give him more, because I knew what it was worth it. He said, "Oh dear, you're a good friend of mine, I am not going to take it. Then I went and bought a variable speed drill I thought might be handy for him, he wouldn't use it and gave it back to me, saying "I don't need that." He was a good man, a good friend. He built a boat for my father in 1954, a lot like the MARIA, only the MARIA was thinner on the water and didn't flare up so much on the bow, above the name. They thought she'd go faster, being thinner. His boat was 34½ feet, and it was a nice boat. It went well with the power it had in it, good sea boat. Father sold that boat when it was seven years old. It went to Stonington, to Alvin Jones who was haking at the time, he and another fellow. He said it was a nice boat and really liked it."
Willis started on this model late in the fall while he was still lobstering. He would come in and do a little here and there when time permitted. He said, "I did not get to timbering it until after Christmas. I have been doing other things. I have been up to Peter Taylor's shop a few times, helping him with the 50 footer. Last I was up there, they had it all together and they were glassing the bulkheads in. When they get that ready they are going to haul it outdoors and put the engine in it. They want me to come up and put the sheer on it. They have raised it up 15″ above what Travis' RP 40-footer is. It looks good so far."
Willis has the hull of the model done and was working on the deck, putting in the corner knees for the rounded coamings. Then he will put down the deck and he said, "I cheat a little bit on that. I don't put separate guards on it, I make the deck go right out over, make the guards right into it. It is a lot easier and stronger and they won't break easily."
Once the deck is done he will put the spray hood on, engine box in, hook up the rudder and steering system, put on the propeller, and then the davit and snatch block will go on. He said this will take a little while, but he added, "I hope to get it done pretty soon. I want to get to work on my trap gear. I'm not hustling. I work along steady but I want to enjoy what I am doing. If I have to hurry on something, I don't enjoy it. This is a hobby and I want to do it that way.
Over the last couple of winters the backlog for lobster boats to be built has dwindled, but that is not the case for Willis. He presently has six on order and others wanting to place an order. With the quality of the work Willis does he will stay as busy as he wants.