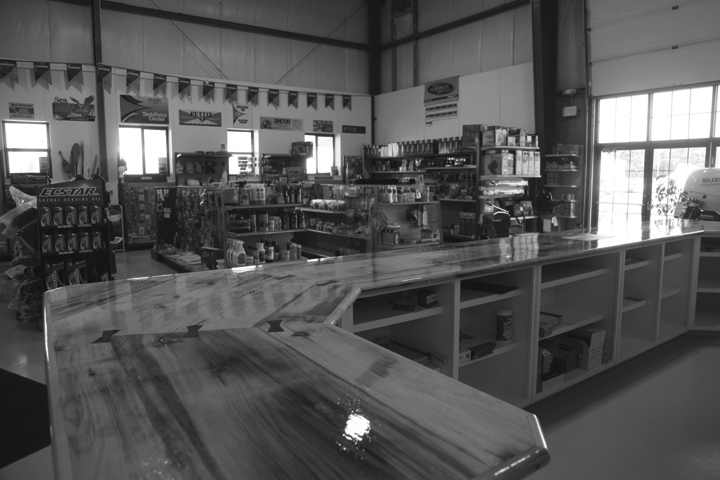 A look from behind the new counter to the vast retail space at Bamforth Marine.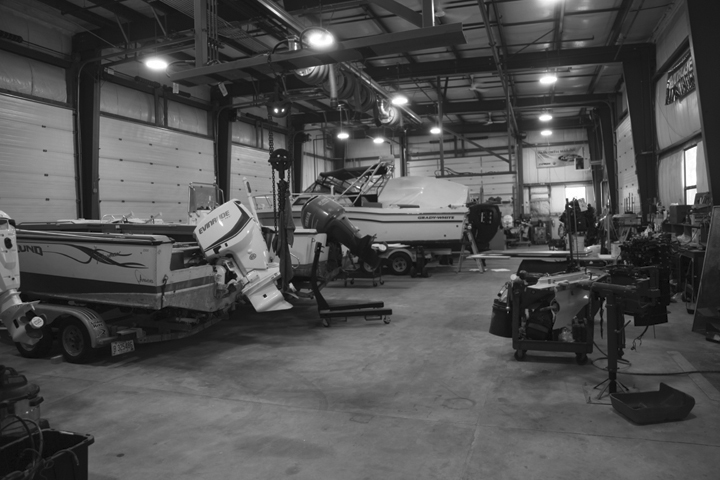 The expanded work bays, which will certainly be much more efficient.
BRUNSWICK – Those in business are constantly looking to evolve their company to make it better, more profitable. This means decisions have to be made and some are obvious and some others are not. Even though an answer may be obvious one may not be able to act upon it because other factors are involved in order to make it happen. For several years the owners of Bamforth Marine, Gary and Scott Favreau, on Main Street in Brunswick realized they had outgrown their location and needed to find a new location, but for various reasons they were having a hard time finding a good location until last fall when they signed a deal for a piece of property at Naval Air Station Brunswick.
"We have been looking for several years, said Gary. "There was just not enough space to work and do the projects that we needed to do. I had people that were interested in buying the Main Street property and others trying to find me property that I could move into but nothing seemed to work. I had been talking with the managers of the former navy air base for several years because I knew there was enough land in different places that we could probably either build or take over. They actually took me around the base and started showing me some of the property they said that they could lease with no buildings on them. Financially that would strap me to build a new building and then he brought me over and showed me this building. It was tied up with the Navy and it still is sort of. We can't buy this property until probably September. It might be even further down the road, which I hope not. We signed a lease in September of last year, 2018, and we have a 5 year lease with an option to renew but hopefully it doesn't go that far."
Once they purchased the building there was a lot to do to make it workable. Gary explained, "The front door, the windows, the interior walls up to where the paneling stops was put in. There was an office here and we knocked that down to give us more space for retail and then I built the central office off to the side for the bookkeeper and filing cabinets. The retail side of things is 50 x 80 feet. The shop is 50 x 100 feet. We have got real high ceilings so, ceiling fans were put in and 27 new LED lights. We did have to do a lot of electrical work in here because this was all set up for vehicle maintenance for the Navy."
The retail space is well lite by the new windows and lights. There is plenty of room for their lines of outboards, Evinrude and Suzuki. For boats they carry Maritime Skiffs, Salty Bay Boats and North Atlantic Inflatables. With the additional space they can bring in more items, but even now they have most anything a boater might need on short notice.
In the middle between the retail space and the work shop they have retail parts for outboards, small boats and boating accessories.
There are six 16 x 18 foot doors in the work area, which is a huge improvement over the one 10 x 10 foot door at their old location. "Efficiency is much, much better. We can get almost two boats in every bay, if they are in the 18′ to 20′ range. Anything with radars on it, now we can get in, which we couldn't at the old shop. We had to work outside.
The site also has a two acre paved parking lot and this they have fenced in allowing them good security for those boats stored outside. Gary said, "We have the fenced in area from building corner to building corner and then we have three gates that we can utilize if we need to. One will be the primary one, the other two we can use if we have to."
This is not as big as their storage site on Route 123 on your way to Harpswell. Gary added, "That was a five acre parking lot, which we still have so we can actually take overflow over to that yard if we need to."
There is another building, 40 x 200 feet that they are using for storage of outboards and small boats. "It could be heated," said Gary, "but we have opted not to heat it at this point. It could have a heating system put in, but that system would have to be all retro-fitted."
When asked should they have made this move sooner, the answer was emphatically yes. Gary added, "The big hold up was we couldn't physically start working on the buildings here until we had gotten permission from the Navy. Once the Navy gave us the permission slip we got going. If the logistics had worked out years ago we would have done it then."
Customers are going to find this new location to their liking, especially if you are coming from Harpswell, Bailey's or Orr's Island because you can come in the back gate by the golf course and they are the first building on the right once you are on the base. Those coming from the north will find it easy as you just get off Route 1 at Cook's Corner and come through the former main gate.
There is no question that this is a win-win for everyone!