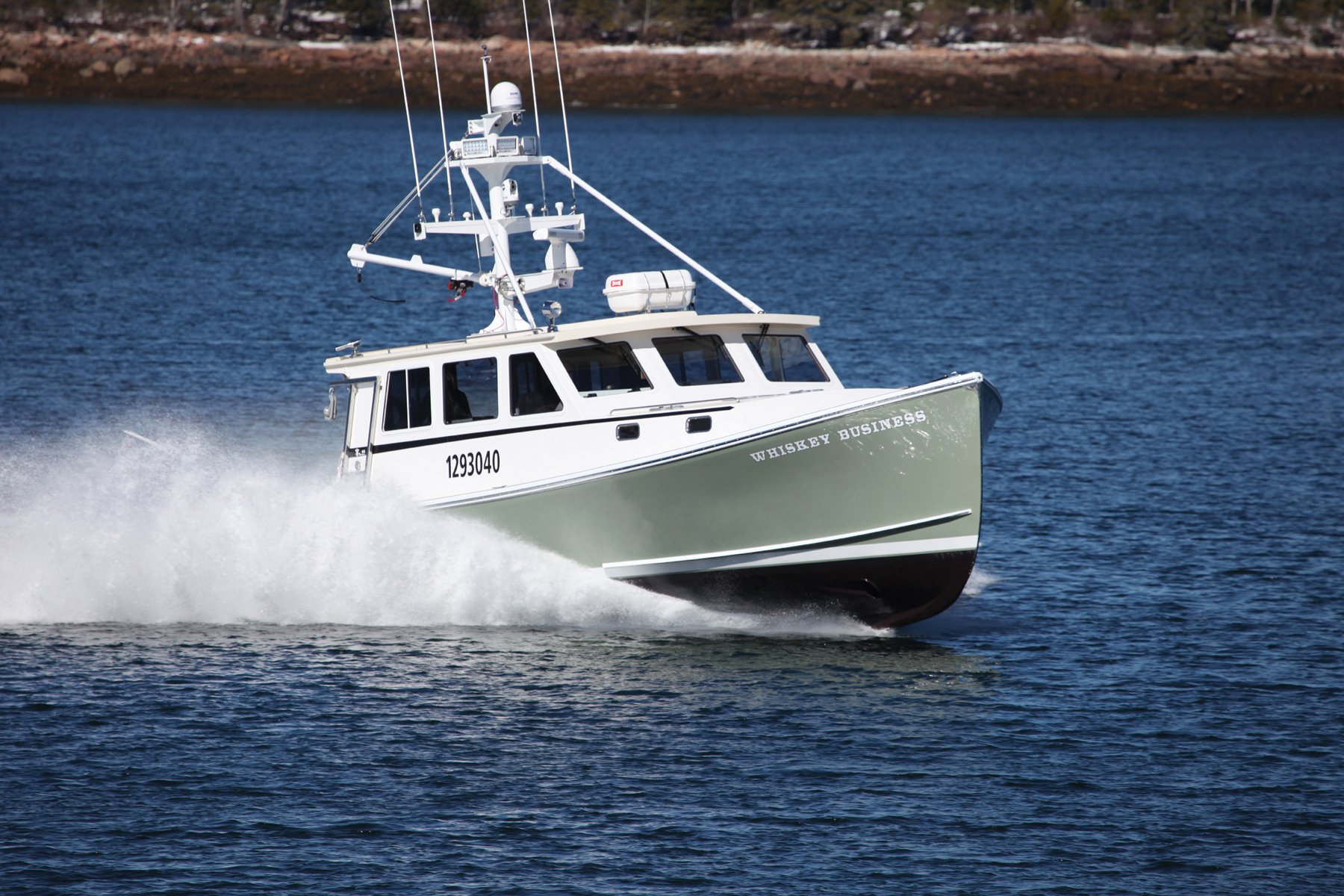 WHISKEY BUSINESS, a Young Brothers 45 just launched by S. W. Boatworks, of Lamoine.
WHISKEY BUSINESS, S.W. Boat Works, Lamoine
S. W. Boat Works of Lamoine, just put over WHISKEY BUSINESS, a Young Brothers 45 which they finished out as a sportfisherman for a customer from Quahog Bay, Harpswell. She was finished out with a custom top with Bomar windows and doors. In the main salon she has a full galley with Corin countertops with Pomponette helm seats and a portside settee. The salon is trimmed out with oiled teak and her sole is teak and holly. Down below she has a master stateroom, with a starboard guest cabin and a head with separate shower. She is powered with a 1,150-hp Caterpillar diesel with a ZF gear. She has a stainless steel rudder; Volvo Humphrey trimtabs; 12-inch Soundown exhaust system with verno lift muffler; 12-inch hauler; dual ram Class II steering at three steering stations, two 300-gallon aluminum fuel tanks; 100 gallon fresh water tank; Northern Lights 8.5 kW generator; air conditioning; a fire suppression system in the engine room; life-raft and EPIRB; and a full electronics package. Since she is outfitted for tuna fishing she has: a radar mast with boom and green stick, which has Durabright lights, radar, sat phone, flir camera; two teaser reels and outriggers; center fish hole, live well on deck and fish box, tuna door; exterior rod and reel storage; and cockpit rigged electric reels.
She was delivered to her owner the middle of April.
Buxton Boats, Sunset, ME
The big project this winter was on Peter Buxton's own boat, SUSAN MARIE. When he built this boat he did it with the idea of taking people out. He added, "The cabin used to be narrower. I had an alleyway between the wash rail and the cabin, about an 18-inches, so I could haul traps for the tourists. That wasn't working out, so I moved the cabin side out to its full width. It always turns into more of a project. There was a little bench seat in the back, I took that out, cut the old cabin side completely out, laid up a new panel, glassed it in, put an L-shaped settee on the starboard side with new cushions, added a sliding door up forward and put in new windows." She will be overboard later this spring.
The Colin Archer designed sailboat is almost done, with just a few touch-ups and finish up the wiring. This winter Peter totally rebuilt the interior. He said, "I don't know what the interior was because when it came to me it was gutted. Then I had this hard-top built, which is going to hold two big solar panels."
The owner was coming in early April and Peter would find out if there was anything else he wanted done before she goes over this for the season.
An interesting project Peter has been involved in is working on the William Hand designed 59-foot motor-sailer NOR'EASTER, which is stored Billing's Diesel & Marine in Stonington. He added, "Harlan Billings called me up last fall and asked us if I would come down and do some planking work on the NOR'EASTER. I went down and basically took 26 planks off it because the bilges were dirty. They had got diesel fuel in between the cement and the planks and there was gunk and cleaners in there that was eating the cotton out of her. The owner wanted to take the planks off so they could clean it out. I then put them all back on except for one."
The next issue was to get bigger screws, but there was none the size they were looking for available so they had them custom made. At the time I was at the shop Peter was waiting on the screws and when they arrived all he had to do was finish fastening the planks on, bung them and then caulk her.
Her owner uses this boat all the time. She hails from Delaware, but he has been known to take her all over the East Coast, even down to Florida and one time he even shipped her to the Mediterranean to sail her around there.
Outside was Peter's next project a South Shore 30 that is powered with 300-hp Yamaha outboard. She is getting a new wash-down pump, seacocks and some small repairs.
Then he will patch up a couple of skiffs and then maybe he will have heard from the owner of the Oyster sloop or a person from the Cayman Islands about repairing a Cayman Cat boat.
Classic Boat, Bernard
One of the bigger projects this winter has been repowering a Dyer 29. She originally had a Chevrolet 350 fuel-injected gasoline engine, which was put in in the late 1990s. The owners had valve issues with the engine last summer and decided to replace it with a Volvo-Penta D3 diesel engine. They also decided to upgrade the electrical system, water system, gauge panel. When she leaves she will be just like a new boat.
A Mount Desert 24 was in that had been neglected the last several years. She has been given a complete cosmetic upgrade and looks like new.
There is a Cape Dory, which needed some TLC. She had her varnished stripped and redone. She is now scheduled to be Awlgripped.
A Morris 42 sailboat was in and they stripped all the deck hardware and dorade boxes off and are Awlgripping the decks. The will then put back the hardware and redo the non-skid.
An older Grand Banks trawler-yacht came in to have all the carpet removed and replaced.
A Nordic trawler was in for a stern thruster to make it easier for her owner when docking.
They store about 80 boats, mostly small daysailers and all of these have some degree of work to do before they go over for the season.
This winter there was no new construction siting that there were several older Pisces currently on the market. Interested in a great daysailer they have a few available on their website. They have given thought to a new model, but getting the help needed to do this could be a problem so they have not pursued it further.
Edgecomb Boatworks, Edgecomb, ME
There is a lot going on at Edgecomb Boat Works, with plenty lined up for almost the rest of the year.
In one bay they have a John's Bay Boat Company 32 lobster-yacht. They are adding an electric head; replacing the after cooler, heat exchanger, fuel cooler, oil cooler, transmission oil cooler; and then a few maintenance coats of varnish.
In another bay is a Stanley 36, which over the last several years has been slowly converted from a work to a pleasure boat. This winter she is being repowered, adding a new fuel tank and they are also putting in a galley. She was powered with a Detroit 471 diesel and she is getting a 370-hp D6 Volvo. This meant some additional work, which included moving the engine back, taking out the wet keel and putting in a fiberglass shaft log; and upgrading the exhaust system from 4 to 6 inches. They made an engine box, which doubled as a bench seat. Because she was a commercial boat the bulkhead is further forward and that means the galley will be up. Next winter they will be putting in an enclosed head.
In another bay is a Herreshoff 14, which is getting her routine vanish and paint for the upcoming season.
A Little Harbor 34 was in and had the rubber boots on the jet-drives replaced.
A Little Harbor 40 will be coming in next for some varnish and mechanical projects. She has teak cockpit floors and her new owner does not like the finish. This will be stripped and left natural.
A 34-foot wooden lobster will be coming in for a full paint job.
A big project this summer will be on a 26-foot Lyman which is coming in for repairs following a grounding last summer. The owner opted to take the insurance money, but someone who was interested in this boat last spring purchased her at an insurance auction and is having her repaired. When she grounded this drove the struts up through the bottom, so they will have to pull the engine and back seat. This will allow them to re-frame where she had been sister framed and add a new keelson. They are hoping to have this done by the end of summer so her new owner can go boating in September and October.
Fogg Boatworks, North Yarmouth
On Thanksgiving Day they began construction on a 44-foot power catamaran, inspected for 49 passengers, which they will use for tours and private charters out of Portland and around Casco Bay. She was built using ¼-inch aluminum plate and at the end of March the hulls were done, the deck was done and the cabin was being welded up. Patrick Fogg said, "We are trying to keep it as simple as possible. She is going to be powered with twin Suzuki 300 outboards with a small bow thruster and other than that there will be a head in the back port corner of the cabin."
They were hoping to have this project done the end of April or early May.
They have a Fjord over at an electrician's shop getting her re-wired and adding some systems. There is not much work left to do on her and she should be done mid-April. Then they will bring in one of their early Foggcraft boats to have a new center console put on.
Southport Island Marine, Southport Island, ME
There are several projects underway at Southport Island Marine. A local customer is having his Southport 30 in for paint and non-skid on the deck and cabin top. They are also doing mechanical work, plumbing, and some cosmetic work.
Another Southport 30, this one powered with twin outboards, is for a bow thruster; update the electrical system, which will include adding shore power.
A Boothbay One Design is in because her deck was delaminating. They removed the effected parts from the underside of the deck and added back the core, added some support knees and then glassed it up. Once this was done she was then painted and revarnished.
A Legacy 28 was in for new wiper motors, windshield gasket, added a windlass and then did her annual maintenance.
A Pearson 33 sailboat was in to be replumbed, get new lights in the cabin and a bilge alarm.
This yard stores about 110 boats for the winter and most need to be in the water by the 4th of July. They are hoping that the weather breaks the middle of April so they can get a jump on them. One of the projects out her is the 1898 Crosby catboat. A few years ago they moved the mast and now they are moving it back to its original place.
Holland Boat Shop, Belfast, ME
Just shipped out was a Holland 32 hull, which went to southern Maine to be finished off. She was hull and deck, engine (370-hp Volvo), running gear, platform and windows with the owner doing the rest of the build.
Just behind where she was sitting is another 32, this one going to Bermuda. Her engine, a 380-hp Cummins, running gear, rudder is in and they are now putting down the platform, putting in the windows and adding a swim platform.
On the other side of the shop is a 32 being finished out as a lobster boat for a fisherman from Islesboro. She will have a simple interior and is powered with a 425-hp Cummins. Glenn said, "We are going to try to get her out of here by the end of next month. A lot of the parts and pieces are all built, it's a matter of putting them on.
And right in the middle is a Holland 14, which is going to Bristol. Already this year they have built four of these, which has filled in the workload quite nicely.
In the mould shop they are laying up another 32, which will be going out just as a hull. As soon as she is out they will be laying up another 32, but this one will be quite different as she will be powered with an outboard. Glenn added, "We are going to cut the keel completely off, so there will be nothing, not even a little keel sticking down. He doesn't want any kind of keel on it at all. I would like to see at least a little bit hanging down there, kind of directional stability so it won't slide all over the place. He told me that if there is a problem with her slipping and sliding all over the place, he will take care of it. He was talking about putting a couple of those short fins on either side back aft."
Eventually this boat will be going to the Bahamas, but he has a place over on Somes Sound and that is where she will be finished.
They will not just build new boats but they will do repair work. In the shop they have a Calvin Beal 28, which is in to get repowered and have a few modifications made. She currently has a 6 cylinder Chevrolet and he is putting in a small block Chevrolet.
There are a number of people talking about new boats so it does not look like they will be slowing down for a while.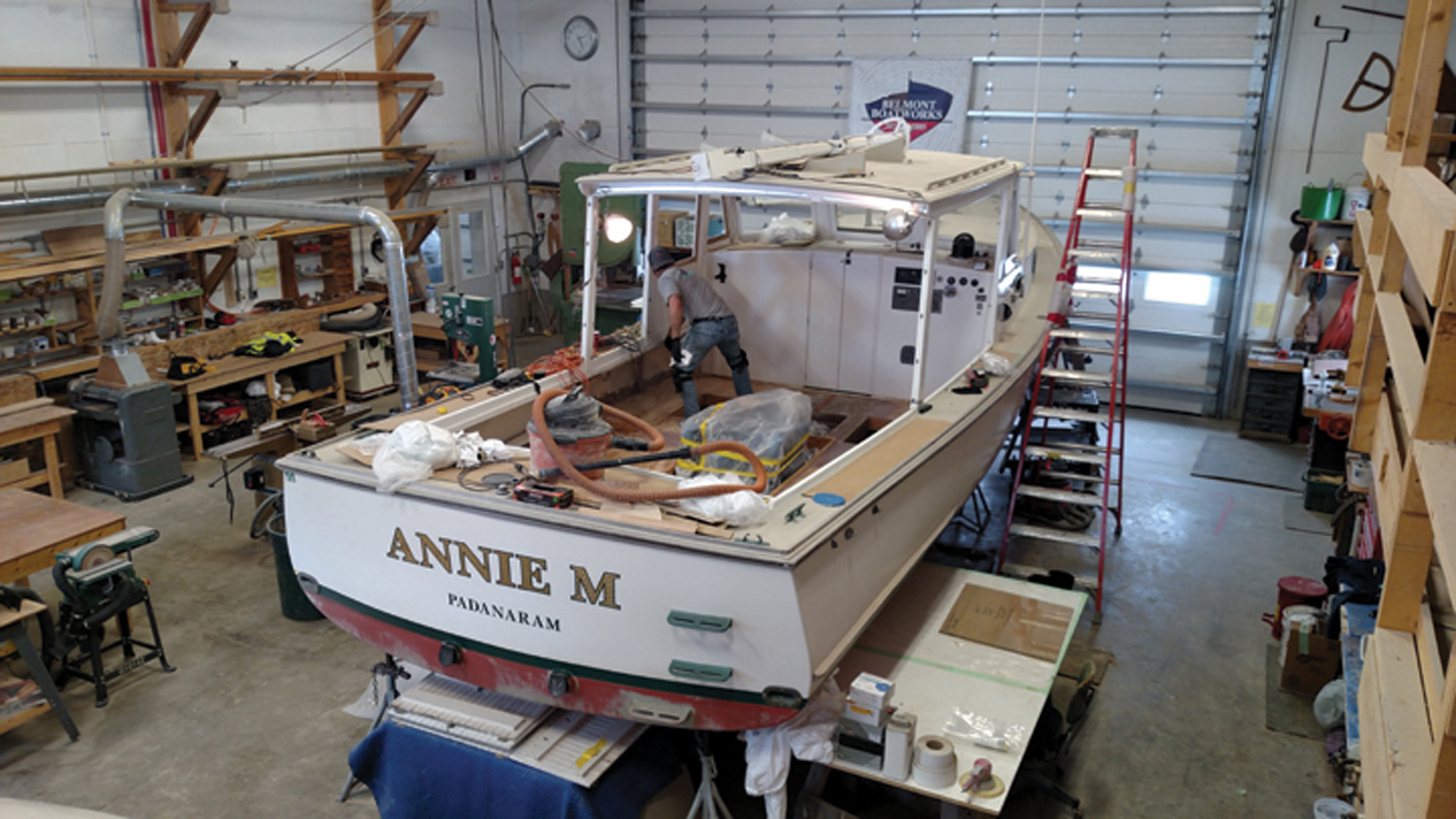 This is an older Holland 32, which was purchased last fall and found to have some deck issues caused by moisture staying in between the platform and the Soundown. She was brought to Belmont Boat Works in Belmont where her platform was removed and they are now in the process of replacing it.