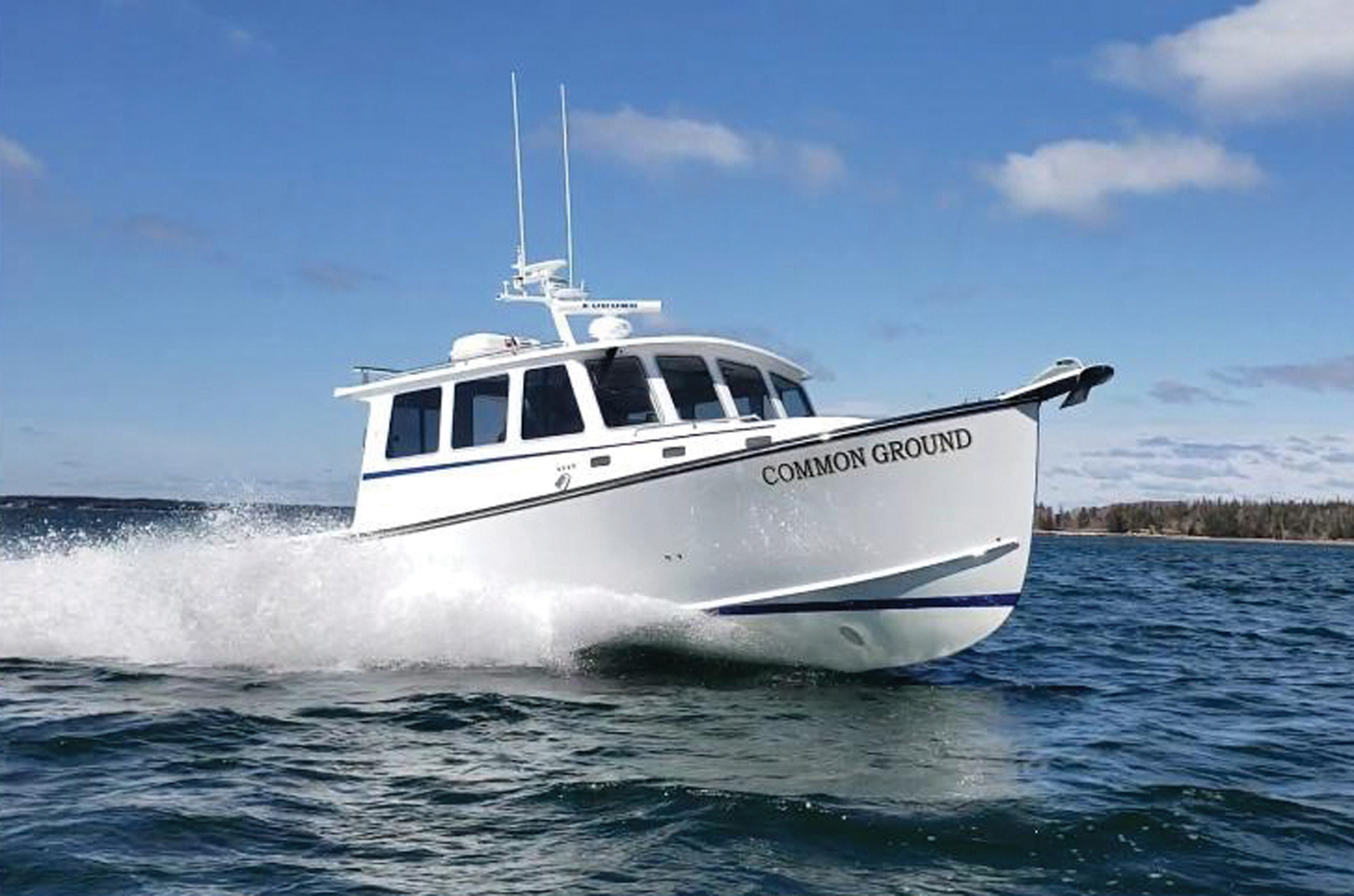 This Northern Bay 38 was finished off by Atlantic Boat as a sportfisherman.
The Calvin Beal 38 and Duffy 31 under construction at Atlantic Boat in Brooklin.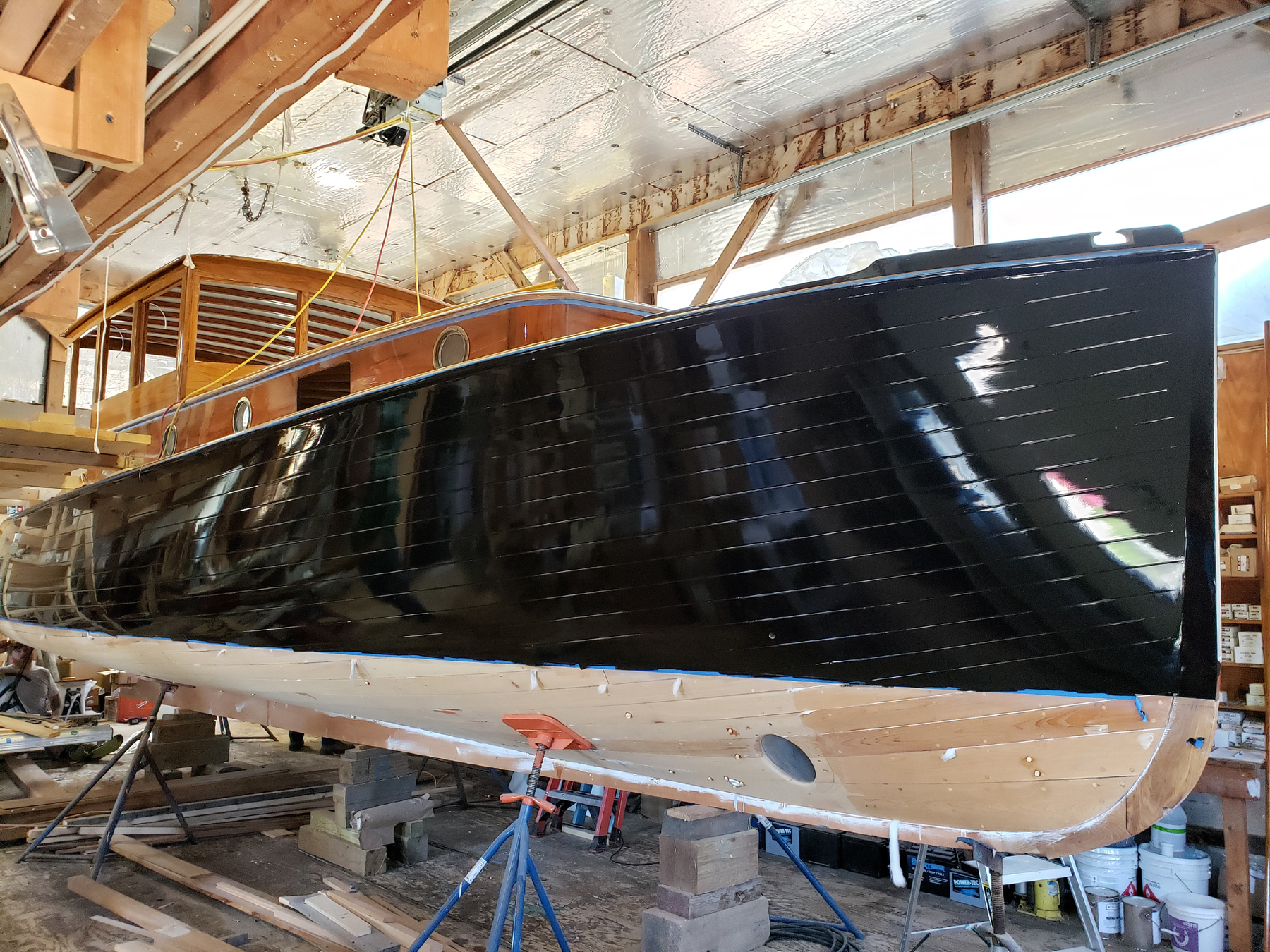 This Stephens cruiser at Eric Dow's Boat Shop is almost done and ready to launch.
Atlantic Boat, Brooklin
At the end of April Atlantic Boat launched the Northern Bay 38 sportfisherman COMMON GROUND, which was finished for a scallop boat captain out of New Bedford/Fairhaven as part of his retirement plan. She will be used for cruising with the family, but also some charter fishing. Down below she has a V-berth, galley and head with shower. Up in the shelter there is a settee and three steering stations, one in the shelter, another on the shelter back with a pot hauler and one on the stern for chasing fish. She is powered with a 610-hp QSM 11 Cummins with a 28-inch square propeller. The propeller needed to be resized so it was not overloading the engine and while that was taking place they were finishing up some little details and cleaning.
In the shop they have a Duffy 31 being finished off as a well-appointed cruiser for a customer from Belfast. For accommodations she has a V-berth, head down with galley up in the shelter with a settee. She is being finished off in the Herreshoff-style white panels trimmed in teak. Power is a 327-hp D6 Volvo. She should be going in the water early summer.
Next to the Duffy 31 is a Calvin Beal 38 being finished out as a lobster boat for a commercial fisherman from town. She is also powered with a Volvo, but this one has 625-hp. As this fisherman looks to do a little more cruising of the coast with his wife they have decided to put in an interior with berths, galley and head. They are also hoping to launch this one in early summer, but they, like many other builders, are having trouble getting items from manufacturers as they do not stock much anymore.
Besides the new builds they have also done a couple of major projects. One was on a Stanley 36 commercial lobster boat, built by Joel White at Brooklin Boat Yard back in the late 1970s, which the owner wanted a new top on. They were able to utilize the Duffy 35 high-sheer cruiser top and only had to make a few minor adjustments. They also moved the back, added a visor and then cut out the windows to the owner's liking. This is the only boat the owner has owned and wants to keep it until he retires.
A Duffy 42 pleasure cruiser was purchased by a customer from Stonington and she was brought in to be refurbished. They put in a new cabin sole in the salon, installed a new icemaker and did some small joinery additions.
As they store a number of pleasure boats, about 120, and every one of them needs annual maintenance before going over for the season. They also said that a couple of sailboats were in to have their keels repaired after groundings.
Last year they made repairs on commercial boat that broke free in Brooklin and ended up on the rocky shore of Swan's Island. This now has expanded into a number of commercial fishermen using them for storage and all sorts of repair work. They certainly are looking to expand this aspect of the business as they can do anything a commercial fisherman might need done and done quickly so he does not lose a lot of time when he should be out hauling.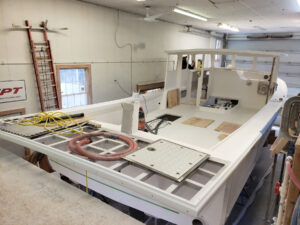 Eaton's Boat Shop, Deer Isle
Jeff Eaton does one boat a year and this year he is finishing off a Wayne Beal 36 for local fisherman Clayton Joyce. Jeff said that every time he builds a boat he moves up one foot. He started with a 34 Webber Cove and he sold that and went to a Duffy 35, which he fished for about 20 years. About four years ago he wanted a new boat, but Wayne Beal was booked out for a quite a while. Last year Jeff was able to get a hull and the project was back on.
She is a tradition Maine lobster boat, with storage lockers in the bow, a rack for his survival suits, another rack for oil and hydraulic fluid, and a place for a microwave. She is all composite with the only wood being the two stringers she came with and two pieces on the side, which have all be covered in glass. They gel-coated everything and gave it a nice finish. Instead of a split-wheelhouse she will have a fold down side and a sliding door on the aft of the house. They did modify the top so it has a 2-3 inch turned-down edge all around, mushroom top. They also added a visor and a drop visor on the hauling side.
You can access the engine room from inside the shelter, but also from below for ease of working on the forward end of the engine. She is powered with a 450-hp 9-liter Cummins on rubber mounts with a 2:1 gear and a 30 by 34 propeller, which means she should move right along. The engine room has been lined in Soundown to keep the noise level down. She has wet exhaust, dual ram steering, 300 gallon fuel tank, clean out well and a welded stern deck.
Jeff added, "He wanted just a nice clean, basic, something that he said will last him the rest of his time."
Next winter Jeff says he needs to bring in his boat to do some refurbishing as she is now eight years old. Dwight Staples recently purchased a Repco 37 and he wants to bring her in to do some work. Also a couple of other fishermen have said they would like to come in and have some small repairs done.
Out in the yard is the mould for a 25, which Jeff said he has at least one of them to build next winter for a local customer and may be another. He is hoping he can fit that in between the repair work.
Ellis Boat Co., Manset
On the shop floor they have a new Ellis 36 express cruiser under construction, which they plan to use in their charter fleet this summer. This one has been built a little different as they took the plugs out of the mould so they could get 6 foot 6 inch head room down below. They also re-arranged the galley so between it and the V-berth is a small seating area that can be used as an office. On the portside is the head with separate shower. She has been finished off in the Herreshoff-style, white panels trimmed in teak. They have listened to past customers and this has facilitated these minor changes, but not losing sight and eliminating some other creature comfort. Up in the shelter there is seating, but the cockpit will not have seating added feeling that classy deck chairs would be better. It is a perfect layout for the cruising couple.
She is powered with a 440-hp Yanmar diesel engine, which should push her along at 24 knots. They have put in other types of engines and as high as 600-hp, which got the boat up over 30 knots. They feel that most of their customers do not mind cruising between 15 and 20 so they like the 440-hp Yanmar.
This boat should be done and in the water ready for charter, albeit unless someone comes in and purchases it first, early this summer.
In the next bay is an older Ellis 36, which was recently sold and her new owners are looking to make a few upgrades before she is launched for the season. They have put in a new teak cabin sole in the salon, changed the hatches and then cosmetic work, mostly varnish.
When both of these are completed and gone, they are going to start another new 36 for their charter fleet. They also have plans to build a 26 footer, but feel just the new 36 will keep the crew busy and the 26 will have to wait until next year.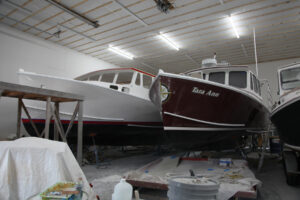 Feeney's Boat Works, Cutler
Work is progressing well as most of the boats in the shop are nearing completion.
The Calvin Beal 44, which is being finished out as a lobster boat for a local fisherman, should be ready to launch mid-May. All the fiberglass work is done, engine (750-hp John Deere) is in and ready, so they are now just working on systems and paint.
Next to her is a Mitchell Cove 37, powered with a 550-hp John Deere, which was in to have her top changed. When that was completed they took a mould off so they have a dedicated deck mould for this model. Again they are working on systems and she was scheduled to be done early May with a launch later in the month.
Then comes a Duffy 26 from Jonesport, which is in for a new top and platform and to be repowered. She was originally powered with a 454 Chevrolet gasoline engine and this is being switched to a 220-hp Yanmar.
After that is a Calvin Beal 38 (built 2005) in for some repair work. They have sanded the entire outside, fixing all the dings and dents as they went, and they were now getting ready to spray her. They have also replaced the platform, added a shaft tube, bearings, and hydraulic pump.
Coming in is a Libby 40 which they will have her top extended out over the hauling side, plus adding a rope locker; a 45 Dixon will follow needing rubber laid down on the deck; a 35 Novi for some minor repair work and they have a 30-foot wooden boat, built by Calvin Beal that they are going to glass over. Out in the yard is the Dixon 50 and she will be coming in the shop early in May to have her wiring finished and some other minor jobs completed.
In the fiberglass bay they have just laid up a Mitchell Cove 37and they have a Mitchell Cove 35 to do.
Hodgdon Yacht Service, Southport Island
Boatbuilders are an interesting group of people and what some have done over their careers is pretty interesting. When looking for boat yard at Hodgdon Yacht Services I happened to catch Tim Hodgdon, the owner. The conversation did not start with boat yard news, but swordfishing. Back in the early 1970s the Hodgdon yard built two boats, SEA FEVER and SEA HOLLY, both 49 feet 6 inches in length, for noted fisherman Bob Brown of Gloucester. Tim added, "They were both designed by Aage Neilsen. They were the same except for their deck houses were a little different. SEA FEVER had a sectional deck house and SEA HOLLY had a straight across windshield. I was in high school when SEA FEVER was built. Later on, we started SEA HOLLY for a friend of his and the friend ran out of money somewhere along the line and Bobby finished it. I think he had SEA HOLLY and SEA STAR offshore lobstering and he brought SEA FEVER up here and outfitted her for swordfishing and that was the first time he went swordfishing. He hired a local lobsterman, a guy named Bud Brackett and he hired a crew, including me. So we spent the summer swordfishing out of here. Bobby decided he wanted to put some long-line on the boat, so he put four or five miles on there and we ran down there and set it. We came back with 18 or 20 fish. That was the only trip that Bobby took the boat on. The next trip, Bud took the boat. Bobby gave him the Loran bearings and so we ran off there and set the long line in the same location. They got me up from my watch and the radar reflectors were scattered everywhere and there was a tanker going up through the middle of it too. Every hook was sharked, what a frigging mess that was. They would bite that hook and just start spinning and winding.We never did clear it all. I think we lost about half of it."
After his stint swordfishing Tim decided to go offshore lobstering with Hugh Bishop of Marblehead, which he did for two years before coming back and building boats for a living.
Right now the yard is extremely busy getting boats ready for the water. One of the big projects this winter was on a Deerfoot ocean cruiser, which they painted her interior, redid her hatches, repaired the fuel and electrical systems. A Duffy cruiser was also in for paint.
The Penbo cruiser WHITE FLASH was in for some repairs where the wood was getting soft and then they gave her a fresh coat of paint.
Jim Jones built a 14-foot flat bottom skiff for a customer as his old one was getting a bit tender.
With 300 storage customers needing to be ready for the up-coming season they are busy. A number of the workers came over from the building yard in East Boothbay when that yard was sold to Washburn & Doughty last year. They have a good group of workers that specialize in fiberglass, wood, and mechanical issues. They are also the dealers for Yamaha and Suzuki.
When asked about the storage and repair business compared to building new boats, Tim said, "Well, it's certainly a lot more stable and a lot more predictable. The peaks and valleys of custom boatbuilding are hard. That is tough. Getting rid of the big shop was bittersweet, but it was a good move for this company to be able to focus on what is over here and the tenders business up in Damariscotta. Up there we have signed a bunch of contracts and they are working on a couple new product lines so we are really busy up there.
Oceanville Boat Works, Stonington
The 50 Wayne Beal has arrived at Oceanville Boat Works, which is being finished out as an offshore lobster boat for a fisherman out on Vinalhaven. They already have the engine (1,000-hp C-18 Caterpillar), fuel tanks and half of the exhaust in. They are now working on the rope locker.
For accommodations she will have a V-berth forward, place for a large toolbox, hydraulic area. She will be done sometime this fall.
Before the Wayne Beal 50 arrived they had a Duffy 42 pleasure cruiser in that had an extensive refurbish job done. They gutted her forward of the head and changed the V-berth into a walk-around queen berth, added a shower, put in an upper and lower berth of the portside, redid the headliner and redid the main salon. The main salon was Spartan and they added a settee with table, new aluminum doors in the back and new headliner. They also repowered her. She had twin 3208 Caterpillars and these were removed and replaced with two 425-hp Cummins diesel. It was interesting how this job came to them. John Williams, a fisherman from Stonington, was at a whale meeting in Washington, DC and met the owner and during the conversation he said he was looking to have some work done on his boat and John told him to call Oceanville Boat Works.
They have a couple of small repair jobs to do before summer, before their focus is getting the 50 done.
The Shipyard in Boothbay Harbor, Bristol Marine, Boothbay Harbor
FRIENDSHIP OF SALEM was launched last week at Gloucester Marine Railway in Gloucester, MA and delivered to Salem the end of April. This project had been on hold as change orders needed to be approved. Once these were finalized they finished the upper hull and stem laminations and all the trim and finish work. There is still a little bit of trim and paint work left, but that will take a few days to complete when the weather co-operates.
The schooner BOWDOIN is progressing well. They have completed all the framing repairs and now (end of April) five or six planks into new planking of the 70 planks needed. The planks are from the Royal Danish Forest and there are two containers of this oak on site for the project. They expect to have her finished and in the water in June.
The Gloucester schooner ERNESTINA-MORRISSEY is almost completed after a four restoration. The planking was finished this winter and then they turned their attention to the deck beams, deck, bulkwarks, transom, hatches and rails. They were just putting the seams and getting ready to paint.
There is a second bid proposal out and this is for the systems, interior and rigging, but that has yet to be awarded. It was also learned this winter that she will become the sail training vessel at Massachusetts Maritime Academy.
On the small railway is the power catamaran PINK LADY, which is out for her two year Coast Guard inspection. She was scheduled to be up for just a few days and then back in the water after some annual maintenance is done.
Wayne Beal Boat Shop, Jonesport
Right in the front of the shop is a Young Brothers 40. They have added air vents, put down some Philly-clad on the floor, fixed the dings in the hull, prepping it for a coat of paint.
Just behind her is a 45 Dixon lobster boat that has had her platform redone as well as her hull. They also converted her over from Canadian-style lobster boat to a Maine-style.
On the left side of the shop is a 28 Wayne Beal, which is being finished up to go racing. However they are not sure what they will power her with. Jeremy Beal said, "I am assuming diesel but it could be gas or alcohol you never know. Time will tell."
Before these projects they lengthened out a 44 Calvin, the plug, to a 48. They were told she would not perform as well, but she is cruising the same and goes just as fast wide open as she did. A Holland 22 was refurbished. They redid the platform, worked on the transom and then painted it. They also refurbished a H & H 29, a Jimmy Beal 31 and a Crowley Beal 36. This one needed a new top and they modified a 32 Wayne Beal top, which worked well. Coming in is a Repco 37 and she is having a Wayne Beal 32 top put on. She will be followed by a Young Brothers 45 that will be stripped down and have a 42 Wayne top on it. There is also a possibility that she also might be lengthened.
On the new boat side they have a Wayne Beal 36 hull to do for Farrin's Boat Shop in Walpole. She will be finished out as a yacht for a customer in California.
Wesmac, Surry
Out in the yard is a wooden boat, EARNEST, which is not the norm at Wesmac, but this one is owned Linda Greenlaw Wessel and this is where she spent the winter. She is now uncovered along with several others as workers get them ready for the season.
SWEET SENORITA is sitting outside and will be finished soon. Mostly they are working on the systems, but also a little joiner work. She should be launched and gone early this summer to her owner from Cape Cod.
The Wesmac 46 FAIRWARNING has been refurbished for her new owner and is ready to go in.
In Bay #1 is Linda Greenlaw Wessel's new boat, a Wesmac 46, which being finished out as a 18 passenger, U. S. Coast Guard certified, destined for lobster, tuna and halibut fishing. She is scheduled to be done early this summer.
In Bay #2 is the twin engine tunnel drive 50-foot sportfisherman, which is for the former owner of FAIR WARNING. The floor flanges are in, and they are working on the platform and the items under it.
Bay #5 is the State of Georgia Department of Natural Resources Coast Guard certified marine research vessel. She will take out school/college groups to do mid-water trawling and testing. The hull is all done, engine stringers are in, fuel tanks are in and now they are getting ready to set in the engine. She is scheduled to be completed mid-2020.
In Bay #6 is a Superwide 46 being finished out as a sportfisherman, powered with a 1,400-hp MAN. She has a gelcoat interior that is all done and they were getting ready to put on the rails.
In Bay #8/9 they are just finishing up the hull laminate structure for a floating classroom going to Bridgeport, Connecticut. She will be used to water trawling, clam dredging and studying aquaculture. She will be powered with a 1,000-hp Caterpillar. For accommodations she will have a classroom deck and a pilothouse on top of it.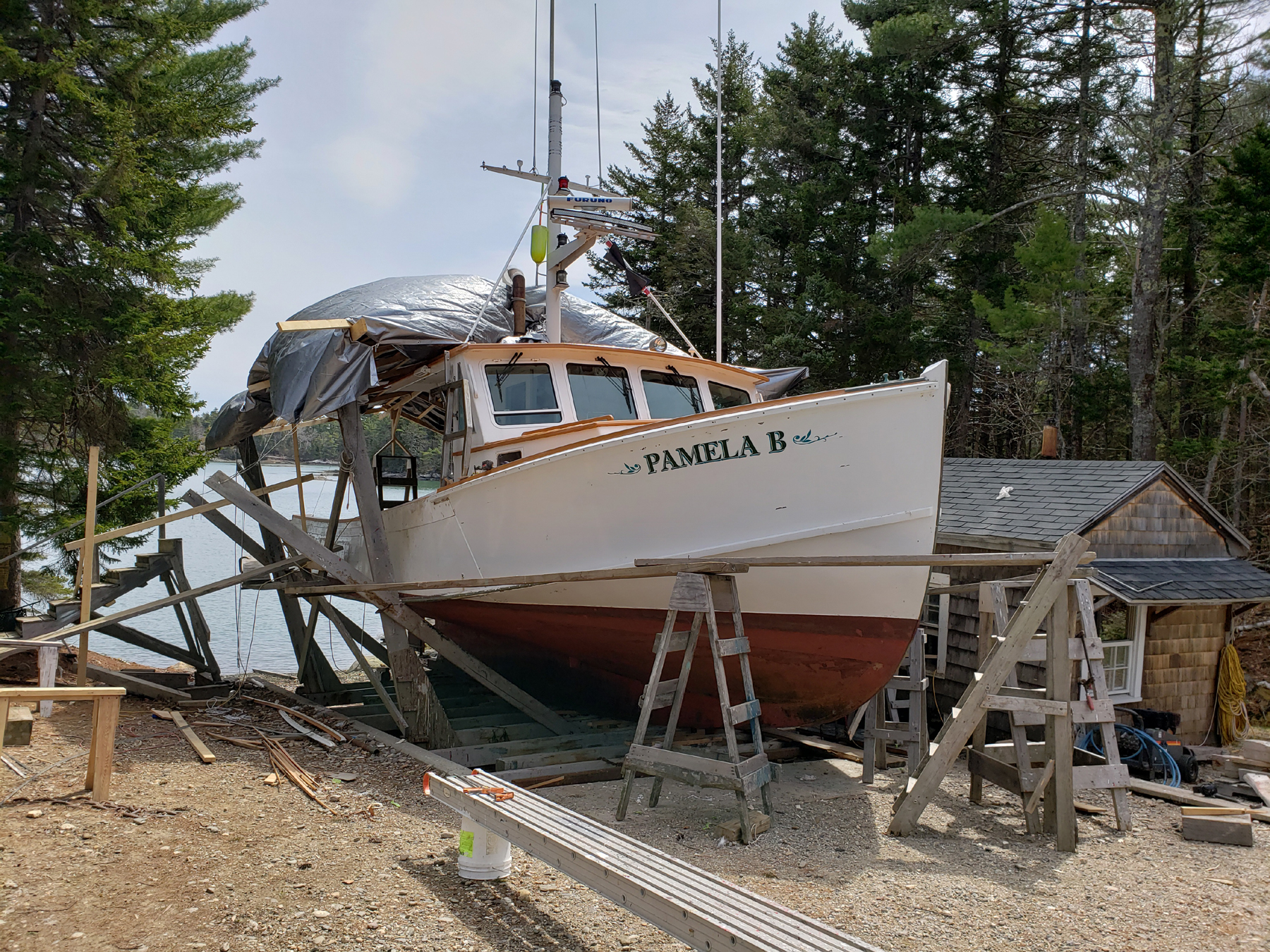 Hauled up on the railway at John's Bay Boat is the PAMELA B., having some repairs done.