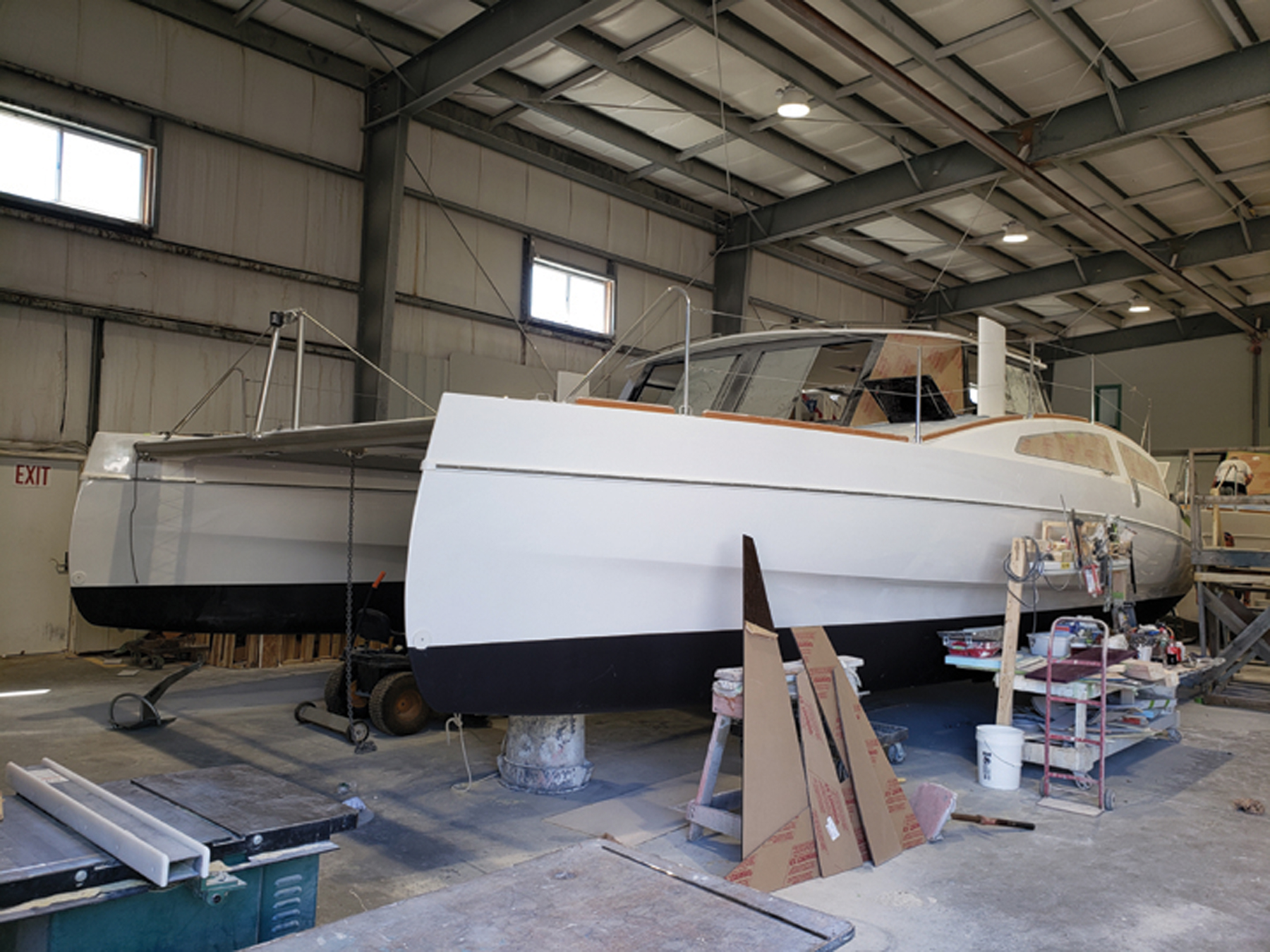 A Maine Cat 38 built by Maine Cat of Waldoboro nearing completion.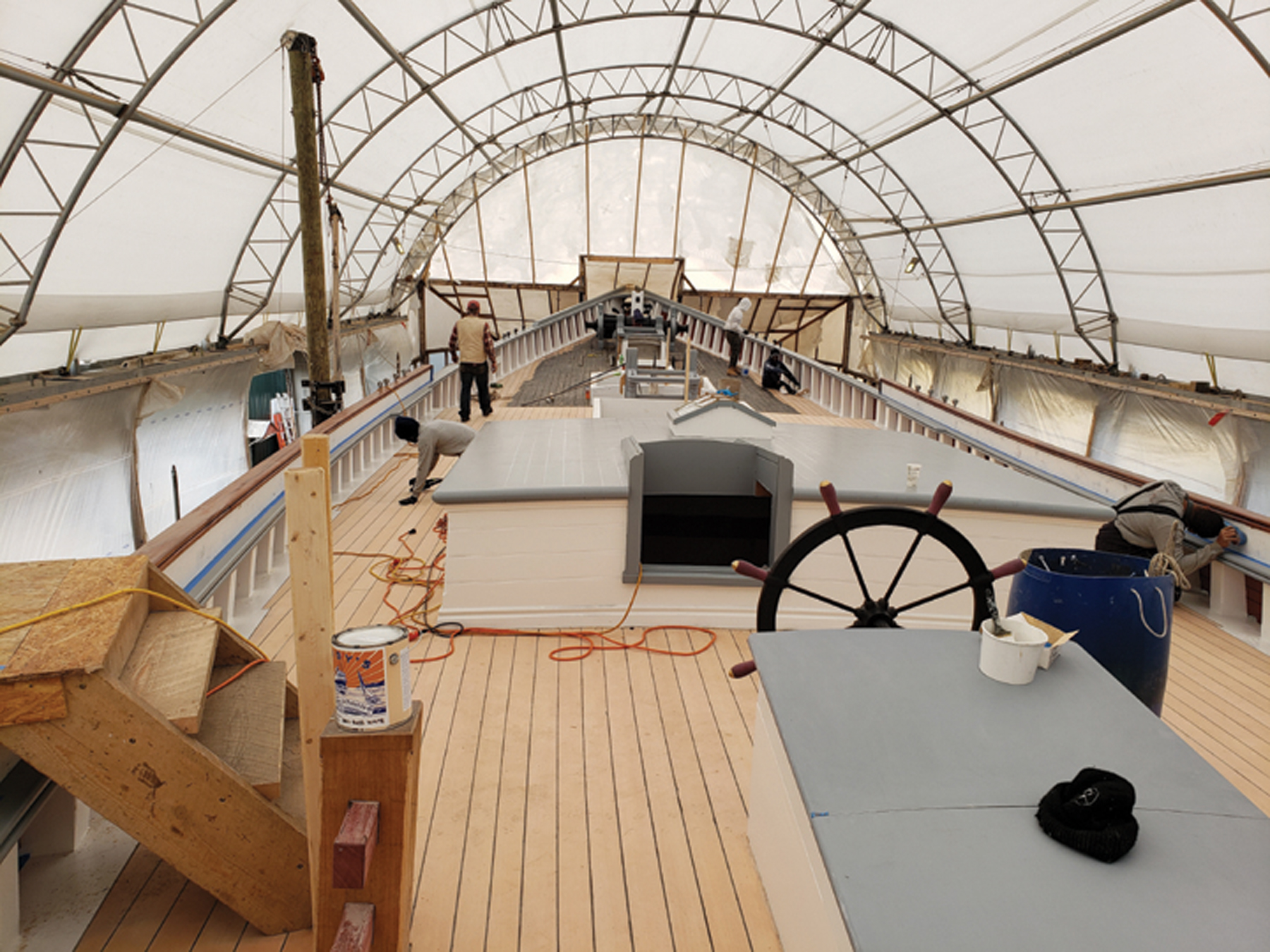 A view of the newly laid deck on the Gloucester schooner ERNESTINA-MORRISSEY, which has been totally rebuilt at The Shipyard at Boothbay Harbor.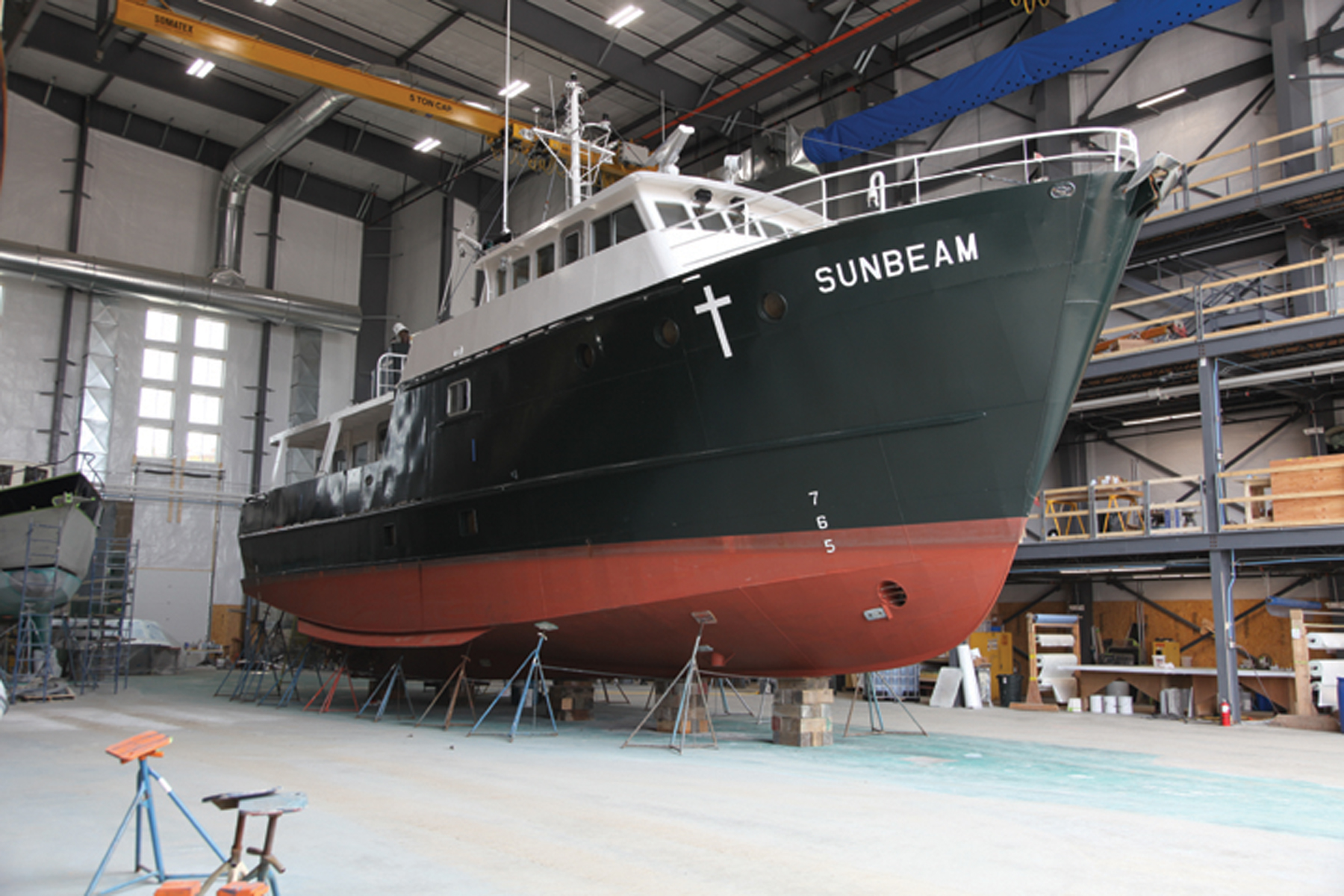 SUNBEAM at Front Street Shipyard in Belfast where she will be totally refurbished.
Belmont Boat, Belmont
Last year a customer from Belfast purchased an older Holland 32, which came in for a new platform, some system work and cosmetics. She was finished this spring and is now sitting at her dock in Belfast.
In the shop they were reframing a Captain's 20 launch and when that is done they will be repainting it.
When Esposito's Welding in Surry finished up work on the landing craft for Dark Harbor Boat Yard on Islesboro she came to Belmont Boat and a crew from Dark Harbor Boat came over and got her ready for the water.
Over the winter they have been building cold moulded hull sections for a Chuck Paine designed sailboat. The boat is small enough that they can lay down three layers of cedar in a male mould and then vacuum bag it down. The first one is done and shipped to Chuck where it will be finished off.
It may not sound like a big project, but they did some work on the spars of a classic racing sailboat, a New York 40, which actually took a lot of time, mostly rebidding hardware and varnishing. This boat has two rigs. She is presently Marconi rigged, but the rig they were working is her gaff rig, which has about eight spars. When they were done the spars were placed in storage.
Right now they are working on a 61-foot motorsailor, designed by Phil Bolger and built by Brad Story in the mid-1990s. She is having some of her bottom, which was not refastened about 10 years ago, refastened now. She will be launched this year and taken around as her owner has her on the market.
As usual a major aspect of their business, all year around, is moving boats around. Beyond the usual of hauling boats to and from the water for their customers in the spring they also move boats for other yards, either to and from the water, or just around their yard.
They have been looking for a service manager and they were narrowing the down the applicants and said that they would have someone in place the beginning of summer.
They have about 100 storage customers, with most of them stored inside. They were in the middle of getting them ready and most would be in the water before the fourth of July. They also have about another 75 customers who store off-site coming in to be commissioned.
Always looking for more projects they will be attending the WoodenBoat Show in Mystic, CT the end of June. Several Maine yards attend this event and find it is a good way to get your name out there with people looking to have work done.
Friendship Boat, Friendship
Inside the shop they have the hull for a Wayne Beal 36, which will be finished out as a lobster boat for a fisherman from Vinalhaven. She will have a split-wheelhouse, a V-berth and hydraulic room below and be powered with a 550-hp Cummins. She should be done later this summer or early fall.
The lobster boat REBECCA & GREG, a Duffy 35, is in for a new platform and a fuel tank.
Also in the shop was a small go-fast powerboat that her owner had sanded down and was repainting. They also altered the engine cover so it could house a bigger air vent.
A couple of local boats will be coming in for some maintenance work, nothing serious.
The small lobster boat they were working on this past winter was launched in May. Since they have not heard from the owner they think everything is going well. They did a lot of modifications to this boat, which kept them busy much of the winter.
Front Street Shipyard, Belfast
There is always a lot going on at this yard no matter what season it is. Like all other yards they are trying to get all the storage customers over for the upcoming season. However there are several major projects that they are just finishing up as other major projects arrive.
One that just arrived is SUNBEAM, operated by the Maine Seacoast Mission of Bar Harbor, which is in for a major rebuild. She was hauled out the end of May and placed in Building #6. They had already gutted the interior all the way to the hull so they can inspect it to make sure that she is good for another 20 to 30 years. Every department will be involved in this project, mechanical, fabrication, paint and a lot of carpentry work. She is scheduled to be back over board the first of December.
Also in Building #6 is the yacht ATLANTIDE, which was in to have her port side repaired. This was due to some of the fairing compound coming off. This has been replaced, faired and repainted. Two years ago they did the starboard side for the same reason. Other work mostly dealt with her normal annual maintenance, which includes lots and lots of varnishing.
Outside of Building #5 is THISTLE, an Oyster 100. She is in to be painted and because her owner does not want to pull her rig they have had to build a super-tent around her. She is scheduled to be back in the water early this summer.
The wooden yacht SOLITAIRE, which was built in Italy in 1974, had a refit done in Europe, sailed over on her on bottom to the Bahamas, and then came to Front Street for some additional work. They were just going to have them redo her bottom, fixed a couple of bottom issues, but now that list has grown. The owner will be arriving mid-June and they will discuss doing additional work later this year. However the schedule this fall is already full so the earliest time would be during the winter, which hopefully works for the owner.
Also out in the yard is Maine Maritime Academy's tug PENTAGOET, which is in for her spring maintenance. Also in the yard is the 75-foot rescue boat PAUL JOHANSEN. She came in for work on her shaft, propeller and seals of a Wartsila system. They have also been asked to paint her bottom and hull. The Rockland fuel barge is out for spring maintenance, which includes bottom, topside and deck paint. She will be going back in the first week of June.
The 52-foot catamaran NIRVANA just came back from the Bahamas and is having propeller and bow thruster work done as well as upgrading the Cummins system with the newest electronics package available, plumbing, repair the auto pilot system, engine and generator service and then wax and bottom paint.
A Jarvis Newman 46 pleasure cruiser was sold last fall and her new owner is having the yard paint the hull with a lighter colour, interior changes and a new air conditioning system, since she will be going to Louisiana.
In the paint bay is an Island Packet38, which they have just finished painting. She will become out the first week in June and go back in the water.
The aluminum boat RANGER was in for a new davit crane and bow thruster.
Work on the Hinckley 70 has undergone a major refit, which involved renewing just about everything on the boat over the last 20 months.
The summer is already getting busy as boats are arriving to have work done. Coming in are a couple of catamarans for carbon work; finish Awlgripping the Futura house in Boothbay; and the SPIRIT OF BERMUDA will be in for a new main engine and a lot of other work; and the Nordhaven TRIXIE will be in for paint.
Interest has been renewed in the carbon fibre ferries, and this is because many want them to be electric. This means you have to use carbon because you need the boat as light has possible and the only way to do this is by using carbon.
Hodgdon Yachts, Southport Island
Hodgdon Yachts has purchased a new Aquest paint facility offering Evergreen Technology. This state-of-the-art facility optimizes temperature, humidity, and airflow, allowing for top quality paint applications by maximizing gloss, chemical resistance, and hardness (abrasion resistance).
Evergreen technology provides the smallest carbon footprint available, recycling 80 percent of all energy required, and has been recognized through Efficiency Maine for innovative energy design. Efficiency Maine was also providing them with a grant to fund a portion of the project cost.
The facility is scheduled to be fully operational in August 2019.
Maine Cat, Bremen
On the floor of their main shop there were three new Maine Cat 38LSEs, with a 21 foot beam, under construction, Hulls #8-10, which are all sold. These boats are fitted with pods for propulsion and there are two of them on hydraulic trim and tilt plates. This allows you to raise and lower them when needed. When not being used to move the boat they can be lower into the water and now they are a generator which will produce about a kW an hour when the boat is traveling at 9 knots. These boats has 10,000 or 20,000 watt hours of lithium batteries onboard and in 10 hours the pods can complete charge the batteries. They also have six 170 Watt solar panels, which if they have three hours of good sun they can put out 3 kW. Most owners need both systems as many do not use their boats enough to charge the batteries with the pod system. They are also fitted with a 4 kW generator as a backup.
An interesting process they are using is thermal forming the core, which no one else is doing. They take the core place it in an oven and then shape it as needed. This is all done with 100 percent infusion, 100 percent vinyl-ester resin so these boats should never get a blister because this is done under a full vacuum. With a full vacuum, there is no air left in the laminate it is all so there is no room for a blister to start. This also helps keep weight down, with rig, these boats will weigh about 8,100 pounds.
Right now they have a back log that will take them into next winter.
Also being a national distributor for E-tech, electric motors, is also keeping them busy. They have been selling these system to people all over the United States. They are going into some pretty interesting projects as more people get away from internal combustion engines.