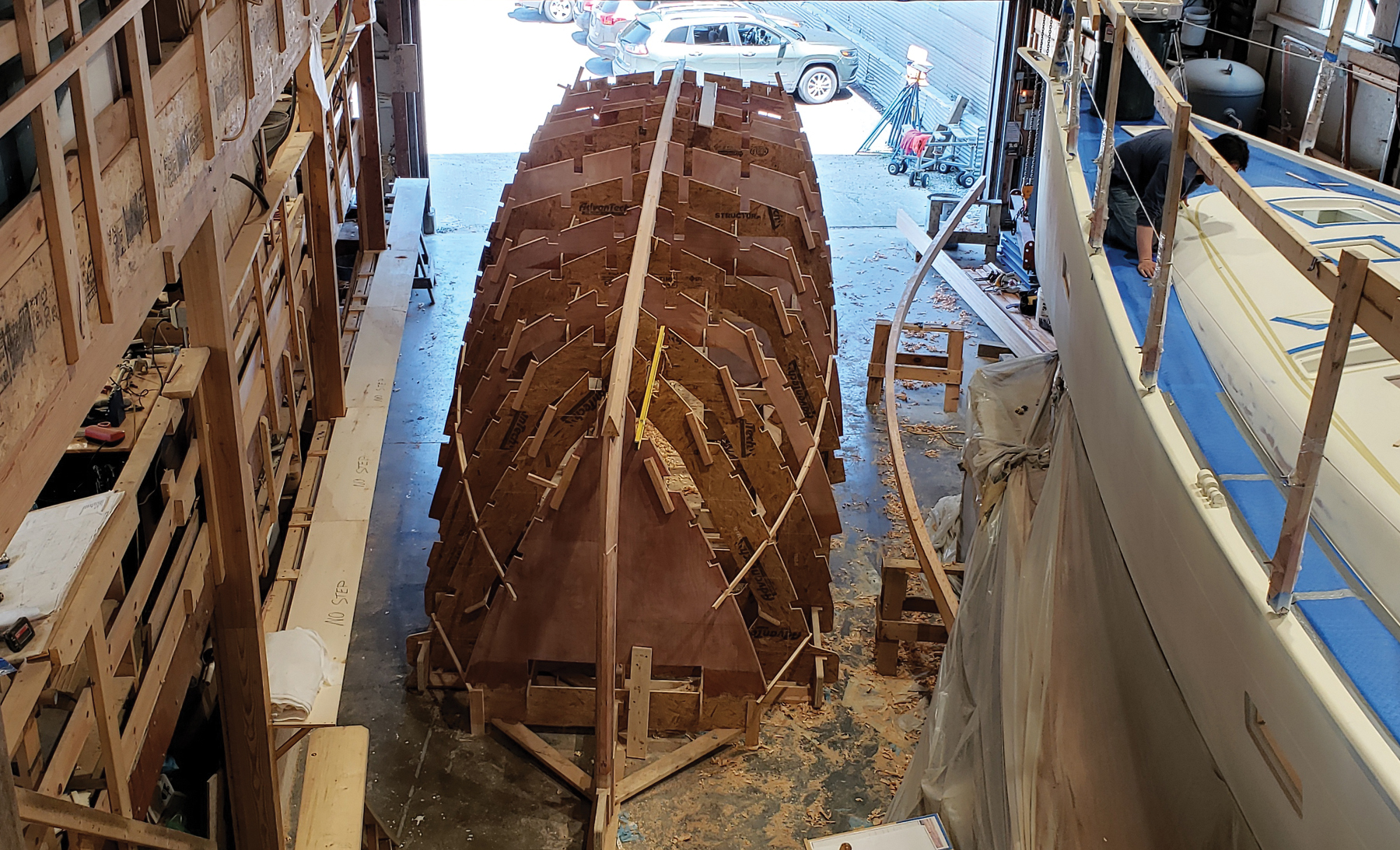 Brooklin Boat yard, Brooklin
        One of the most interesting new build projects underway on the coast of Maine is the 38-foot Wheeler, which was started early this summer. Mid-summer they began setting up the stations, bottom up. She is progressing so well that they expect to roll her right side up the middle of October. Steve White, owner of Brooklin Boat Yard (BBY) added, "We are doing a lot of painting on the outside now. We will get a prime coat of the finish color, black, and we will paint the inside of the hull from the chine up to the sheer before we turn it right side up."
        Like most builds at BBY they have other pieces for the Wheeler under construction at other locations in the building. On the third floor they have trunk cabin underway.
        This boat is being built for Wes Wheeler, who is the grandson of the Wheeler boat building family of New York. "They were originally in Brooklyn, New York," added Steve, "and then they moved Long Island, the Bronx and finally Toms River, New Jersey. The boat we are building is a modern interpretation of PILAR that they built for Hemmingway. The boat is planning to go to all the boat shows next fall up and down the east coast.
        She will be powered with a pair of Yanmar diesels and as for interior it will be pretty fancy. Steve explained, "Pretty ornate interior with leather cushions and lots of varnished mahogany interior. It will be quite nice."
        The hope is to re-introduce the Wheeler Playmate as an elegant cruiser. "More of these or more of other designs that were similar to this," said Steve. "Wheeler obviously had a whole range of boats and that is his hope as well. They were very nice boats. There were some great ones that they designed in the '50s, a very retro look with a lot of sort of rounded windshield corners and things like that. So hopefully other people are interested in a classic cruiser."
        They are hoping to have her done the end of winter or early spring.
        They also have two other boats underway on the main floor, although they have yet to be set up. One is a Taylor 49, which has been slightly modified: a couple more inches of shear and cabin height because the owner is tall. Electric wenches, he wants to be able to do some more cruising and racing. He's already got a planned trip to Nova Scotia. It will be the third one of this design. We have got the stem and transom already laminated up. The floors are out, we are waiting for lumber.
        She probably will not be set up until early November and she is scheduled to be launched late spring or early summer.
        The third boat they just received the contract for, which is a 44-foot racer/cruiser sailboat designed by Jim Taylor of Marblehead. She is being built for a customer from California, which is where she will be homeported when completed. With a 49 and a 38-footer already under construction, Steve said, "We will probably build that one in parts and pieces all this winter and then actually not set the hull up until the Wheeler moves out in April and then set the hull up. It is very simple inside. It's really a racer/cruiser, so probably have the deck and the cabin house already built. She will probably launch next fall."
        In one of the storage sheds they were working on Chris Craft Flybridge sportfisherman. What is interesting about this model is that Muammar Qaddafi of Libya bought twelve of these boats for his Navy years ago. The owner and BBY has done a lot of work on this boat getting her totally restored. There were not many of this model built, and especially with the flybridge as that was an option. The owner was able to find a flybridge and it was brought to BBY where it was restored and installed. Presently she is in to have work down on her bottom, which included stripping, splining and probably glassing.
        In another shop they have a 17 foot Chris Craft that is having some minor repairs made and a re-built engine installed. There is also a Luders 24 in for a new deck. That is done and they are now putting down the hardware. Once this is completed they will launch her for some fall sailing. A 45-foot schooner is also getting some repair and paint work done. She will stay here this winter and do some coastal cruising next summer before heading south. A Sparkman & Stephens 45-foot yawl was shipped to BBY from Michigan to find a leak around the centerboard. The design is from the 1940s and the hull, which is cold moulded, was built in New Zealand. They located the leak and repaired it and now they are painting the topsides, stripping and refinishing all the varnish and some systems work. Once done she will be heading back to Michigan before snow flies.
        The 55-foot OUTLIER designed by Botin Partners of Spain, is back for some work. She went to Nantucket and caused a stir in the Traditional Class race at the Opera House Cup. She did well racing and won her class. So now she is getting ready for the Bermuda Race next year and this means upgrading safety concerns. Then in the spring they will do a stability test.
Front Street Shipyard, Belfast
        When they said 'build it, they will come,' certainly is true when you look at the success of Front Street Shipyard (FSS). The summer was extremely busy and it has not slowed up as we head into the fall. They have several major projects under way, one being the total refurbishing of SUNBEAM, owned by Maine Seacoast Mission of Mount Desert Island. The first issue that arose was when they removed the insulation under the deck and found that it was more corroded than they thought. J. B. Turner, President of FSS, said, "We gutted the whole boat, pilot house and all. The lowest deck is fully sandblasted and re-primed and we've started to put it back together again. We just finished sandblasting and priming the pilot house so now we have got the mid-deck level to do, sandblast and prime and start the rebuilding process. There is also a small amount of plating going on. Trying to get the new black water tank built and then get that installed this week. So, it is moving along."
        Due to the additional corrosion that was found the 1 December deadline it is going to take a little longer before she is ready for the water.
        In another building is a Nordhaven 58 that they are doing more and more work on all the time. They started with hull paint, but that turned into as new air conditioning system, new shore power system, new at sea system and other electrical items. This due to finding a number of problems.
        On one side they have ZEEL, which is a Sundeer 62. They have got the deck painted and now they are replacing most of the electrical system and air conditioning systems and now she is going back together so the owner can go south.
        LITTLE VIGILANT was just put into the building. She is being donated to Mystic Seaport Museum of Mystic, CT.
        Outside they have THISTLE back, which is an Oyster 100. They are putting all new cabin soles throughout the pilothouse and main salon area, including all the steps and this is being done by Teak Decking Systems. They also have a host of small mechanical projects to do as well. One of the projects is a new stainless steel bimini.
        They have a 106 foot aluminum hull Holland yacht style build constructed in 2003, which they are doing a bunch of varnish work, lightly sanding the decks, systems, bow thruster and bearings. They will also make a repair to the foil on the head stay. She is being readied to go south and they hope to have her back for a bigger refit next summer.
        ZENATA, a Gunboat 62, is in for bottom work, replacing rudder bearings, some electrical checks and replacing her standing rigging.
        The motorsailer BARBARA is in for solar panels and a new solar charging system, generator work and bottom work as usual.
        A 65 foot cat is having her bottom sand blasted and redone, some rigging work; an electric furler installed; raise the waterline and some small system items.
        They are going to be hauling the 130-footer MIA CARA later in October for her annual maintenance. Then they are going to haul a 120 foot tug, which has been converted to a yacht. They have got to replace two big seakeepers, which means they have to cut the deck open, remove the present seakeepers and put the new ones in. Then re-weld the deck, repaint everything in November and get her back in the water.
        Not enough to do, add on about 130 boats that have to be hauled, decommissioned and ready for next season.
        Even with all this work underway they are still looking for more so they can transition into the winter. They have a number of their regular customers coming back and a number of new ones.
        A great project, which left a couple of months ago was DEFIANT, a Hinckley 70, but unfortunately she was hit by lightning when at Newport, RI. She had been in for system work and now this all needs to be replaced again. They have to replace the hydraulic, engine and charging systems. To do this they have been working with New England Boatworks and running down to Newport as needed.
Navatek awarded ONR Contract for Advanced Planing Hull Research to improve the safety and performance of high-speed boats for Navy missions.
        Navatek LLC has been awarded an $8 million contract from the U.S. Navy Office of Naval Research (ONR). The contract entitled "Advanced Planing Hull Research" focuses on pursuing new science and technology for safer hulls and hybrid-electric propulsion systems for fast boats
        Navatek will work directly with Front Street Shipyard, who will combine their "Built in Maine" composites experience with Navatek's research strength. Front Street Shipyard will build the Navatek prototypes and collaborate on testing at-sea. The science and technology advancements from this research will benefit all the Navy's small craft programs.
        "Maine is home to the best shipbuilders in the world, and our state has long had an integral role in our national security. Navatek's engineering and research strength combined with Front Street Shipyard's composites experience will benefit all of the Navy's small-craft programs," said Senator Collins. "As a senior member of the Defense Appropriations Subcommittee, I strongly advocated for the funding that made this research possible and am so proud of the work Navatek and other Maine companies do to support our Navy and our nation's defense."
        This new contract will continue to build on the success of Maine's historic leadership in the maritime field and revolutionize it for our digital and renewable energy age. Opportunities to collaborate with Maine maritime companies such as Front Street Shipyard were vital in supporting Navatek's Portland office, opened in 2018.
        Martin Kao, CEO of Navatek LLC, said, "Our company is committed the State of Maine, and thanks to Senator Collins' support, we have been able to partner with the University of Maine and the State's boat building ecosystem to address the Navy's new challenges and needs."
        Building on Mr. Kao's comments, JB Turner, president of Front Street Shipyard, said, "We believe our experience with advanced composite construction for boats will provide a key advantage to our Navy, and we are happy to team with Navatek to use our combined capabilities in this area through this new research program."
        Navatek is based in Honolulu, Hawaii with offices in Portland and Orono, Maine; South Kingston, Rhode Island; and Washington DC. They were founded in 1979, focusing on research in hydrodynamics and the advanced ship design. Through the research and experimentation, Navatek has established significant capabilities and developed advanced solutions in the sciences and disciplines related to its fields of research for the U.S. Navy.
        What about the ferries, well the first might just be built to run here on Penobscot Bay. The residents of Islesboro have been talking about a small high speed ferry and they are offering to build the boat with hopes that the state will run it. Presently talks are underway with the state. J. B. added that they have also been talking with people about an electric ferry in San Francisco. He added, "There are 25 potential boats out there right now that want to be done by 2025"
S W Boatworks, Lamoine
        Getting ready to go overboard is a Calvin Beal 44, finished out as a split wheelhouse lobster boat for a fisherman from the mid-coast. For accommodations she has a V-berth, some cupboards and the shelter is finished out on cherry. She is powered with a 750-hp John Deere and they are expecting about 24 knots with a cruise of 18 knots. Stewart Workman, owner of S. W. Boatworks, added, "Actually this is one of our first ones that we have done with the electronic valve switching system for the fish holds. This prevents the captain or the crew members from having to go down into the engine room or go figure out a fuel manifold system. It is all electronically set up so all you have to is flip a few switches. No one has to go down in the engine room with all their oil gear on, which can be dangerous around the pulleys and stuff. We are anxious to see how it is going to work."
        Another Calvin Beal 44 is in Bay #1 and she is being finished off as a lobster boat for a fisherman from Cranberry Isles. She is almost 75 percent completed. She is also getting the electronic valve switching system for the fish holds.
        A Calvin Beal 38 is under construction for a fisherman from Southern Maine. She is being finished off as a lobster boat powered with a 800-hp Scania.
        On the other side of the road they are taking a perfectly good Calvin Beal 44 hull and cutting it in two and adding four feet to her length. She is being finished out as a lobster boat for a fisherman from Vinalhaven, and will be powered with a C18 1,000-hp Caterpillar.
        How was the Newport International Boat Show for S. W. Boatworks? Well on Thursday morning amidst the downpours a person walked in and ordered a 44 or 45 foot sportfisherman. The type of hull is either going to be a Calvin Beal 44 or a Young Brothers 45. As many realize many of the sales at boat shows are not cold sales, meaning that they have not talked before. This was a cold sale and Stewart added, "He was aware of us and he has been talking to a previous contact that I was talking with."
        SW has a number of boats on order which include: a law enforcement boat for the Scituate Harbor Master; a Calvin Beal 36 research boat for Rhode Island; a Calvin Beal 36 foot sportfish boat; and a Calvin Beal 36 walkaround, which will be finished as a sportfisherman.
Wesmac, Surry
        Right outside the office at Wesmac is Wesmac 46, which will be going in the water the end of October. She is a new boat, but has been a long-term project. They are now doing the final tweaking and fitting out before she goes over for sea trials. There will be some minor work to finish up in the spring. Seamless Marine of New Bedford did the tower and hard-top. For accommodations she has a full master stateroom with an island queen bed, double bunks on the port side, open guest quarters, and head with separate shower on the starboard side. Up in the shelter there are no controls, they are all up on the flybridge or back in the cockpit. In the shelter there is a very large galley with stainless steel countertops on the port side, starboard side has an L-shaped settee with a pedestal table. She also has an unbelievable sound system. This boat will be a liveaboard and do some sportfishing charters in St. Croix.
        In Bay #1 there is a kit boat going down to Danvers, MA where her owner, who already has a Wesmac, will finish her off as a personal cruiser. They will installed a small Cummins diesel engine, drive train, rudder, fuel tanks, mount the house and send her down the road about the end of November.
        In Bay #2 is the twin engine Wesmac 50, which is being finished off as a pleasure cruiser and scheduled to be over late spring or early summer. The engines, shafts, struts are set, fuel tanks in and the accommodations are roughed out. They are hoping for a dry period so they can bring the hull out and set the deck and house on. She will be a 95 percent completed boat as the owner will be doing the interior cabinetry. This owner is a repeat customer, who owned a Wesmac 46 before.
        Bay #3 is a 54-foot Coast Guard certified sub-chapter T vessel going to the city of Bridgeport, Connecticut. It is going to supplement the first boat we built for them back in 1993 for their aquaculture school. This will be a floating classroom with a knuckle crane back aft. They have classroom seating inside, ten work stations, raised pilothouse and will allow them to do mid-water trawling. She will be powered with a C-18 1,000-hp Caterpillar. Right now they have built the structure in the engine room with the engine ready to go onboard. The drive train, rudder, holding tank is done, as well as the floor.
        Bay "4 is the "work" bay, and this is where they store engines and other items going into the boats under construction.
        Bay #5 is the STATE OF GEORGIA, which is a 54-foot patrol boat/fisheries sampling boat; another sub-chapter T vessel. She is basically an opened stern lobster boat, powered with a C-18 1,000-hp Caterpillar, and a winch in the middle of the platform. Down forward she has berths for four, full head with shower and galley.
        Bay #6 we are finishing up on a sportfisherman going out to San Diego. They are now working on the wiring and the systems. All the metal work was done by Esposito Welding from across the street. The cushions were showing up the day I was there, which was done by Vinyl Destinations Upholstery located at Atlantic Boat in Brooklin.
        Out in the layup shop, Bays #8 and 9 they are finishing up a 50 foot top. Next they will do another top for the cruiser in Bay #1. This will be followed by a Superwide 46 kit.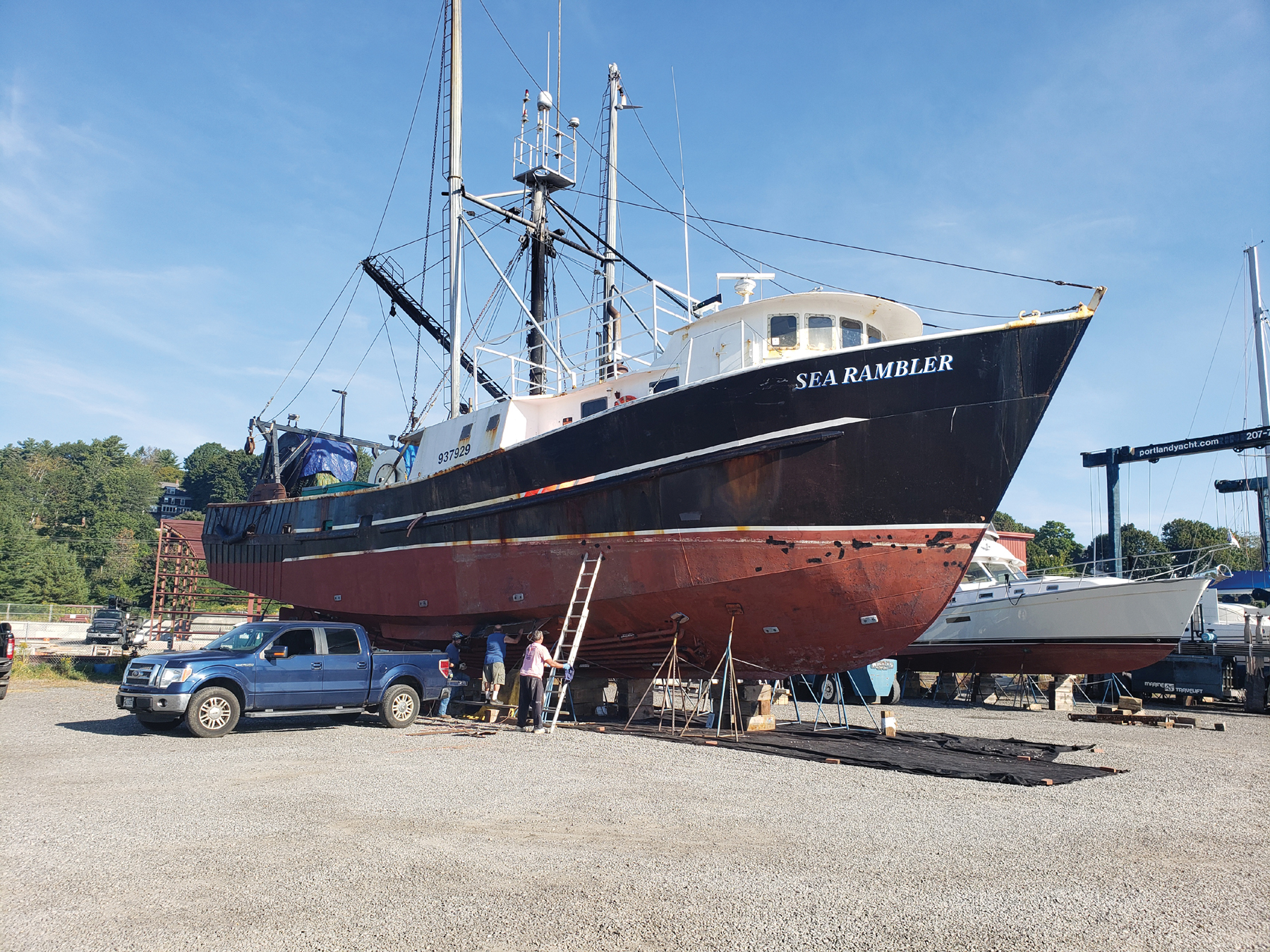 The dragger SEA RAMBLER hauled out at Portland Shipyard for her annual maintenance.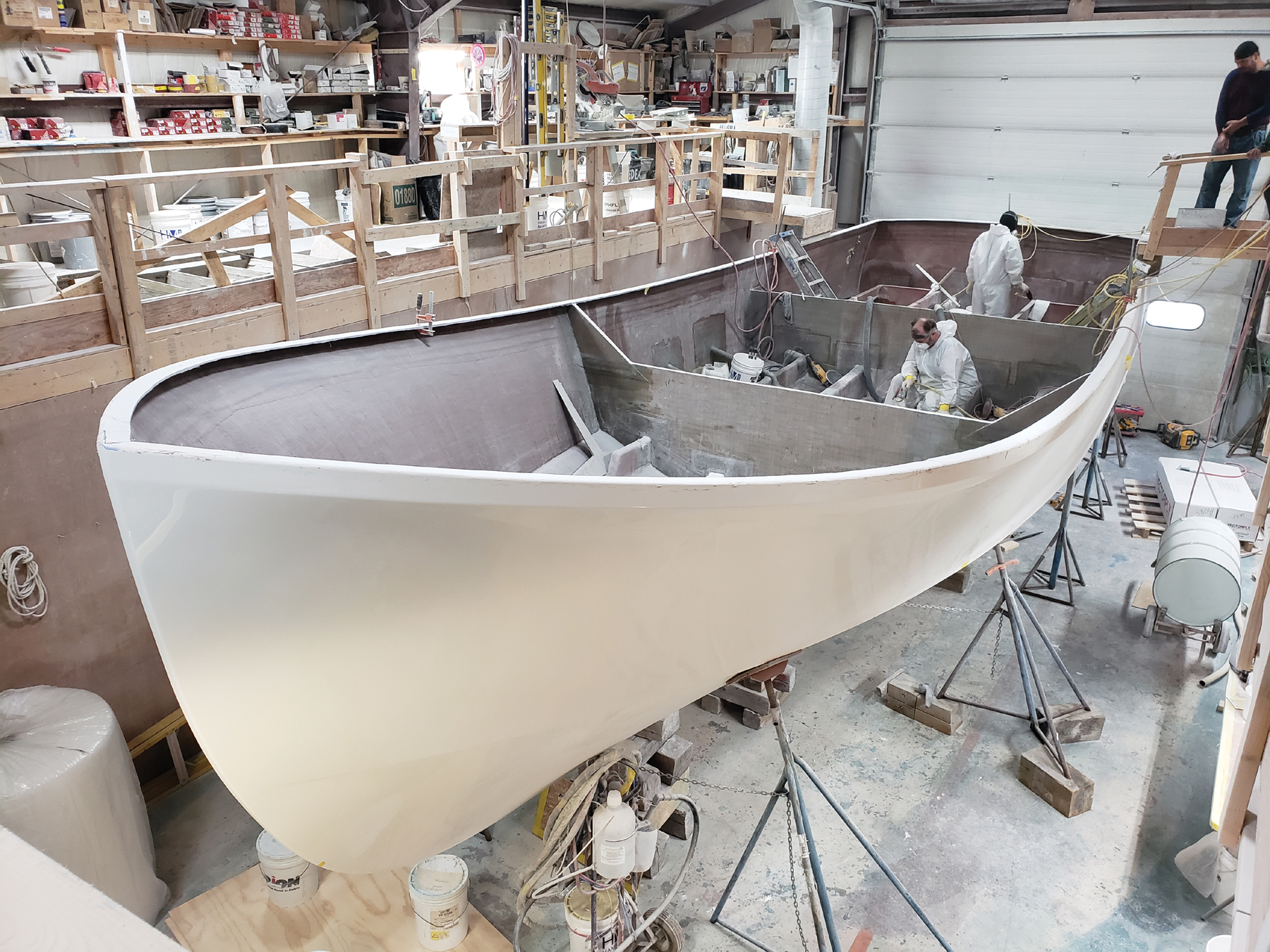 One of the hulls at Wesmac in Surry under construction.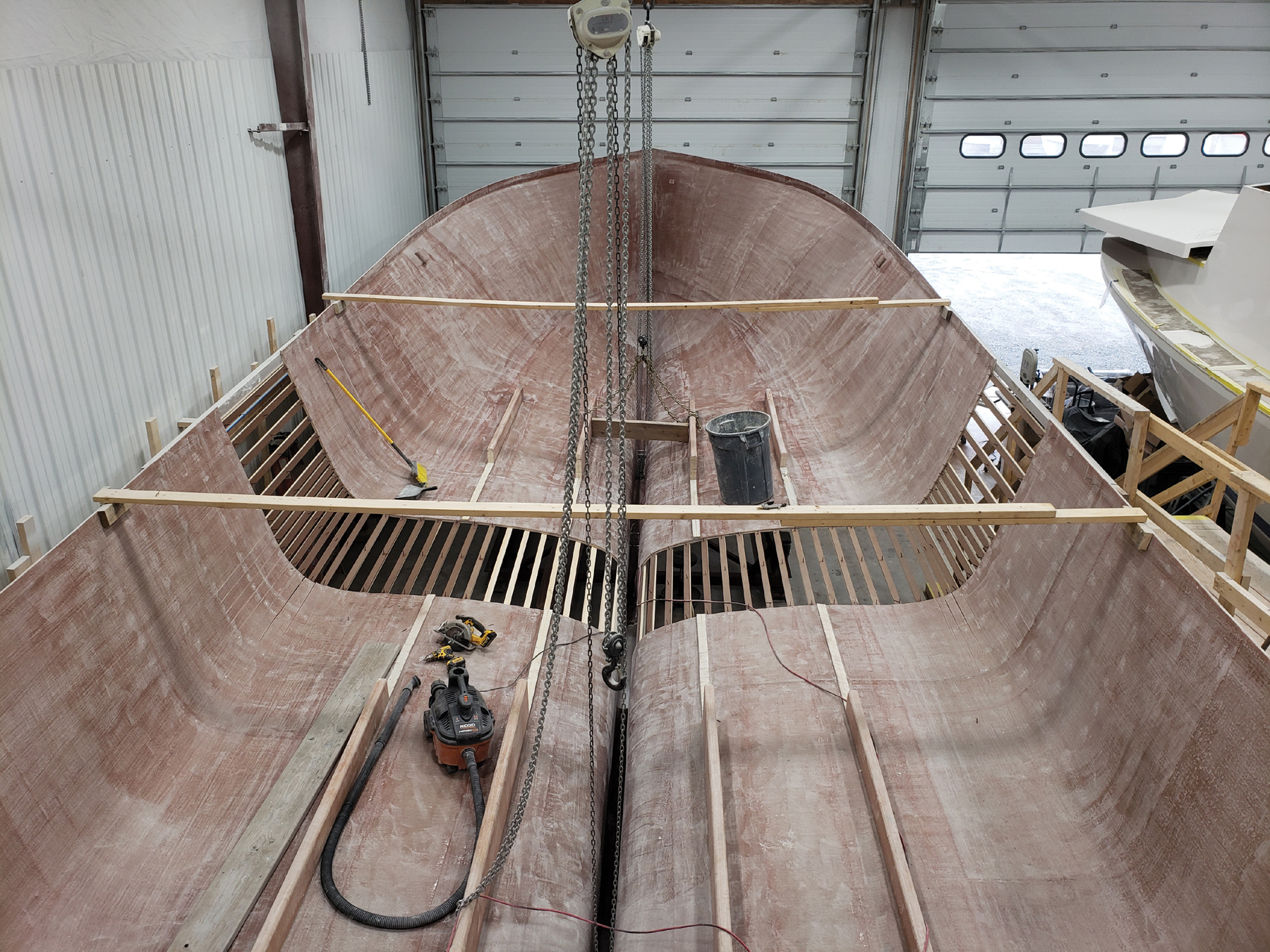 This Calvin Beal 44 is being stretched four feet at S. W. Boatworks in Lamoine, who will also finish out as an offshore lobster boat.
The Chris Craft having her bottom redone at Brooklin Boat Yard in Brooklin.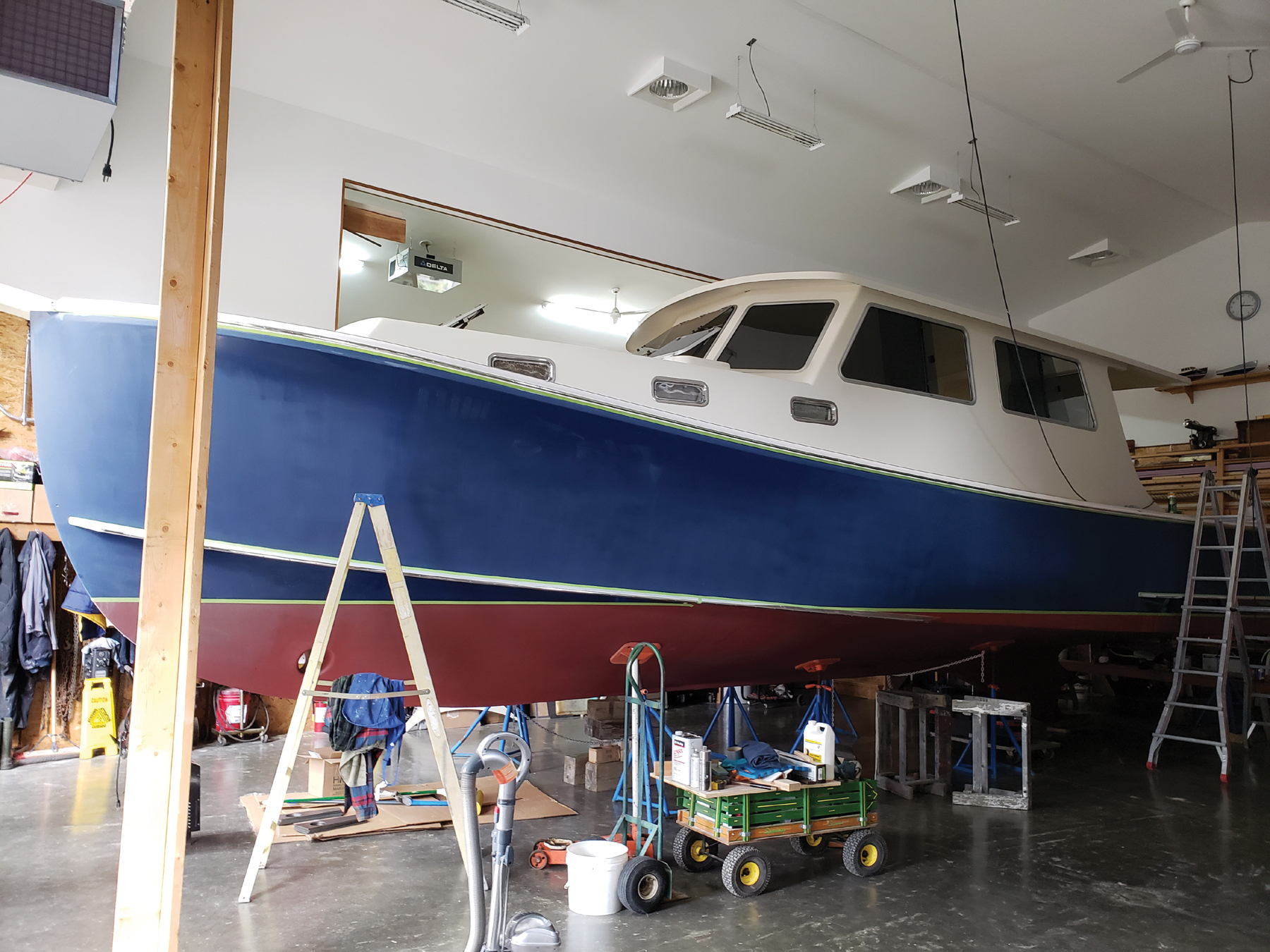 Looking for a nice cruiser This is a Bar Harbor 39, which is partially finished and offered for sale at West Bay Boats in Steuben. She is offered at more than a reasonable cost.