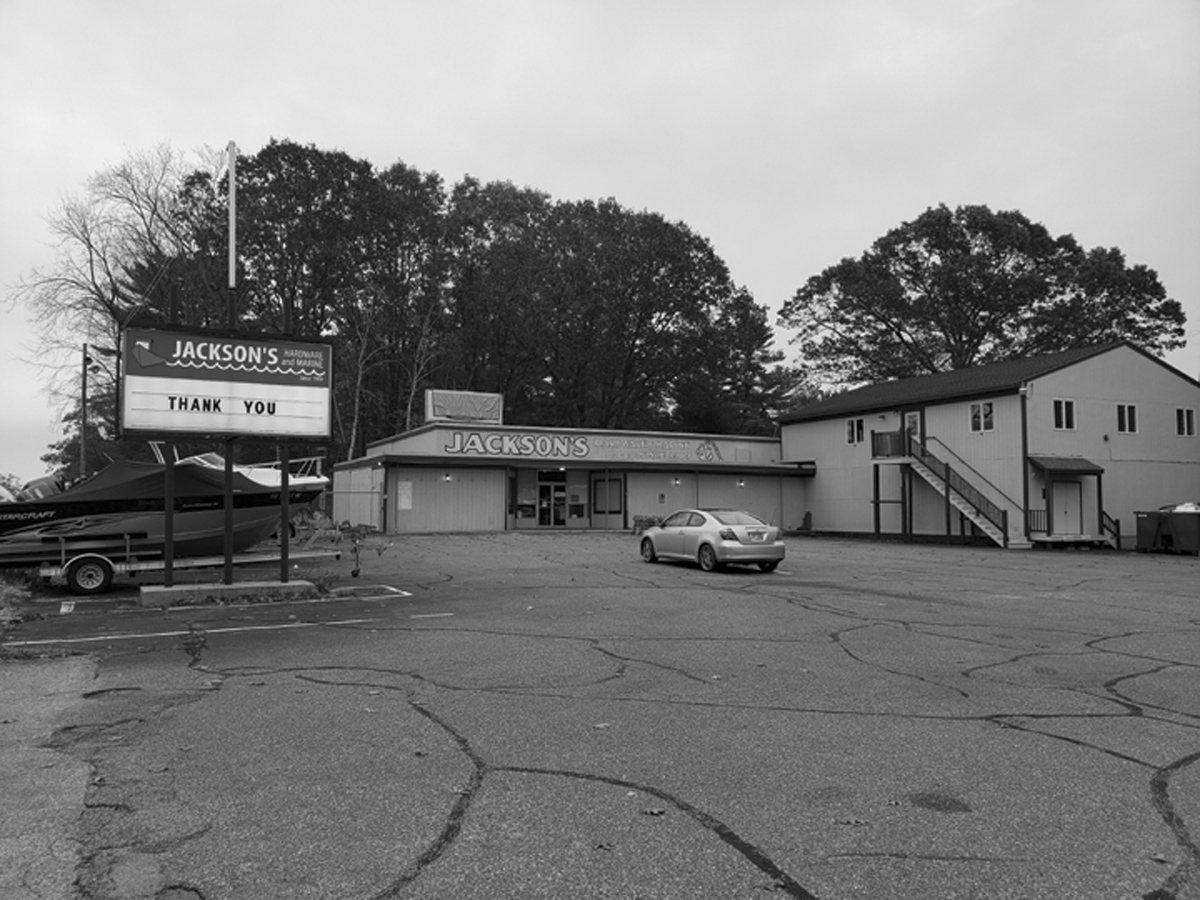 SEARSPORT – People in business were always taught that there were three very important things to remember in business: location, location, location. However, over the last several years that has become less and less important to some businesses. To some it is still extremely important so when it was announced that Hamilton Marine was opening a store in Kittery, there sixth in the State, what could make better sense? The marine business in the area are excited to have them much closer and those that travel from out-of-state to Portland, you just shortened their travel time by almost two hours.
        "This was something that Wayne Hamilton and the owners of Jackson's Hardware have been talking about for a long time as a potential opportunity for Hamilton Marine," said Andrew Blanchard. "We had just left the door open and then they contacted us in late Fall 2018 saying that they were looking and might be interested in getting out of the business. At the time we were right in the middle of moving Portland so we told them now was not a great time for us in terms of what was going on for us. We kind of talked back and forth the whole winter. They kind of decided the end of summer that they needed to move ahead with closing the store and retiring. At that point we felt like we were ready to start talking again."
        Dan Corcoran was the owner of Jackson's. The store began on the New Hampshire side in 1909 and moved to their present location in 1995. The store was run by his daughter for several years. She decided she wanted to do something different and left the business late last summer.
        Andrew added, "We are excited about that opportunity to be able to service a lot more of the yards and marinas down there that we weren't able to do before. We were servicing the area daily with a Sprinter van, but anything large, like mooring chain or anchors we really couldn't do. We will have a new box truck whose home base will be in Portland and that will service the southern Maine region with daily deliveries. Basically, customers would call and place orders here in Searsport, we would pack that, transfer it down to Portland and that would get loaded into the van on a daily basis. Now we are hoping we are going to more business out of the larger customers. We are also looking into delivering potentially down in New Hampshire and the North Shore of Massachusetts, but that can get a little complicated."
        One of the biggest problems any busy is faced with today is finding employees. "We have started the interview process and we have some people reaching out to maybe come to work for us. Dan provided us with all the names and numbers of his employees and we are hoping the will join us. A lot of customers are just reaching out, excited that we are coming. We were down going through product Wednesday and I would say there was at least a dozen customers that were wanting to get into the store to buy stuff, which is encouraging."
        The hope is to be open after the first of the year, but they feel that might really be February or March. Andrew explained, "There is more work that needs to be done to the building than we originally thought to get it up to code: electrical and plumbing issues. We don't want any product in there until the contractors are done so we are kind of limited. Contractors have work and are backed up so we are trying to find somebody that can do the work in the time frame that we need.
        Belinda Grant will be the store manager, who has been working out of the Portland store. She actually started in Searsport, transferred to Portland and over the years as done a number of different jobs. This was one of the deciding factor about going forward with opening a new location and that was finding the right person to be the store manager and Andrew said she is the right person for the position.
        Jackson's was a hardware store with a lot of marine items. Andrew said that they want to open up primarily as a marine store with potentially some hardware. So they are now trying to determine what hardware products they should carry so they can service these customers adequately.
        Hamilton Marine Inc. has locations in Searsport, Portland, Rockland, Southwest Harbor and Jonesport, Maine. They sell mail order via telephone and the internet, shipping quality marine products daily to customers all over the world.