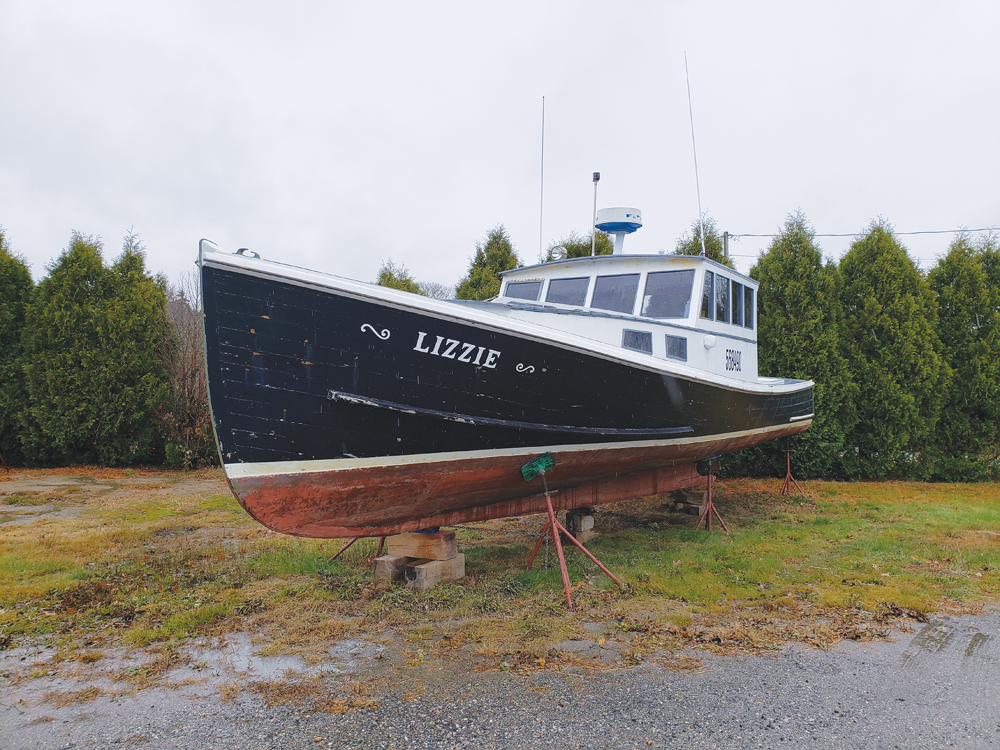 At Finestkind Boat Yard in Harpswell is this Willis Beal built 38-footer LIZZIE. She is awaiting a total rebuild either here or at her owner's home in Ogunquit.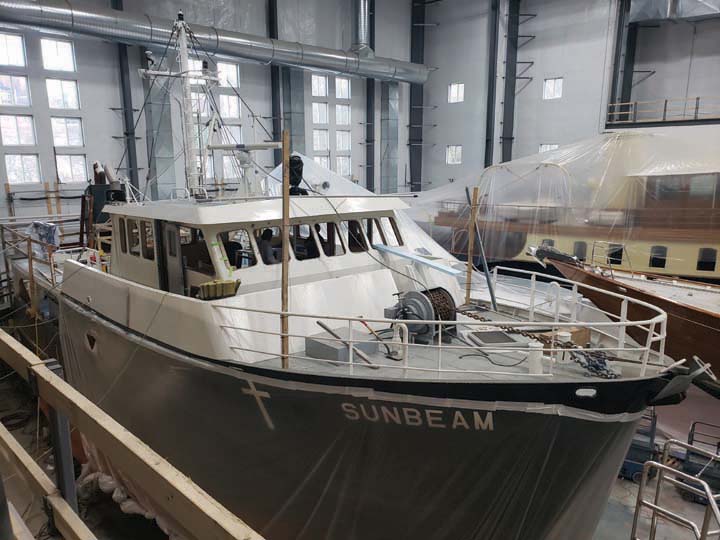 The Maine Seacoast Mission's 74-foot SUNBEAM is undergoing a total refit at Front Street Shipyard in Belfast.
Gamage Shipyard, South Bristol
        The big project has been the refit of a Holland 32, which is nearing completion and will look like a new boat when done. When the boat arrived it was an empty hull and then they purchased a deck and house from Holland Boat Shop in Belfast. They have installed a new Yanmar 8V with 350 hp. When done she will be used as an island commuter.
        Another big project is finishing a 42-foot powerboat, which came partially completed. They have installed the engine, put on the pilothouse and finished out the interior.
        Waiting to get worked on is an Alden 54, which will be re-wired this winter. Other work includes tankage on an Albin 32+2; stripping the varnish on a Hinckley.
        The number of storage customers is about the same, but they have a number of new customers with bigger boats.
        This winter they will also be adding to the marina. This will be on the western side where they will be adding several 40-foot finger floats so they can dock six 40 footers. They will also be extending the fuel dock and redoing the fuel system. This means replacing all the tankage, which are above ground, and the pipes running between the receiving pits and out to the fuel pumps on the dock. Right now they are getting quotes from contractors who are interested in doing the job.
        They presently employ just over 15 people and feel that they can handle the workload with that number. However, they are thinking about a storage building at some point and that would mean finding a few more employees.
        One person they recently added was John Vinal, who had been working over at Hodgdon Yacht Services on Southport Island. Mike Tatro, who runs Gamage's, added, "He was actually the first guy I approached when I took this job five years ago, but he was living over there so it didn't make a lot of sense. Then he moved back over this way and so it made sense and it was a great addition. He is a wonderful service manager. Really has helped me be able to focus on other aspects I have to do and not be out there managing crew or dealing with clients all day long. Jay Ribiero is also working as a service manager. He's helping John with that load. He joined us a couple years ago and worked on the bus project. After that he decided to stay on.
        Right now Mike said, "This is the dry period, all the boats are in and nobody is willing to spend any money. They don't want to even think about their boats until February 1st. Then they will wake up and realize they have things they wanted to get done on their boat so the projects really hit the fan, usually around February."
        I know that some will wait until April or May to send in the list of things to do, but in most yards that is not happening.
John's Bay Boat Co., South Bristol
        One of my favourite yards to visit is John's Bay Boat as I love traditional wooden boats. When you walk in you are not knocked over by a wall of styrene all you smell are the cedar shavings. In the left bay they have a 42-foot cruiser they are building. This owner recently sold a 40-foot John's Bay Boat that he had bought third hand originally named JULIE ANN, which was originally out of Pemaquid. Peter Kass, added, "She was a simple cruising boat, didn't have a lot of stuff crammed in and I always thought, performed exceptionally well. This fellow has enjoyed her for a couple of years and decided he wanted just a little more so this boat is 2 feet longer and 6 inches wider, so she's 42-feet by 13-feet 6-inches. She is very similar to his old design which originated as a 36-foot lobster boat. We built a couple of 36-footers, a couple 38 footers and we built this one 40-foot yacht and that was the best going of all of them on those moulds. We are trying to stick to the same basic design expanded just a little bit, a little deeper, bigger wheel, and powered with a 9-liter Cummins. I guess that is considered low power by today's standards but I am confident that she'll have the 16-knot cruise that he wants and he says as long as she does that, he's happy."
        This boat will have a full interior, but simple as they do not want to add too much weight. Since they do not want a number of batteries or a generator they will be using solar panels to supplement the power. Peter added, "We did that on the last pleasure boat with great success. It is great."
        This boat will be going over sometime late this summer.
        What used to be the spring work, now Peter says seems to go all year around. He said, "We have several jobs to do in this bay this winter and stuff lined up for the spring. The outside railway paint jobs used to be it and was really just for local guys. We would start late May as everyone wanted to be fishing by the 4th of July. Now we get guys from Downeast and the south shore of Massachusetts. It takes a big bite out of the new boat production.
        In the other bay is SUSAN JANE, which they built for Jay Smith 26 years ago. "He fished her out of Kittery Point and then bought a place on Criehaven," said Peter. "He fished there and when he got to be about 75 he decided he had enough. Out on Criehaven there's no floats, you are dragging your dinghy up on the beach. You are handling a lot of stuff. Now he wants to go cruising with his wife. We have extended the wheelhouse, we put a head in with running hot and cold water. There really wasn't room to do a shower that was any good so they are going to put a curtain up on the outside of the split wheelhouse with a shower hookup. We took out the dry exhaust, made her quieter and put in wet exhaust. In extending the wheelhouse we are putting all new sole down with better sound insulation. She's been in six weeks, and I'd say another two weeks to get it done."
        Next, another boat they built for Nathan Jones of Stonington, MYSTERY will be coming in for some work. Peter said, "He bought a working boat and he wants to make her a little bit more civilized so he is going to have the winter back moved back so the wheelhouse is bigger. You know a few little comforts, not going to change around too much."
        On order they have two new lobster boats, one going to Stonington and the other to Friendship. The one going to Stonington will be 42 to 44 feet in length and the one going to Friendship a couple of feet longer as he fishes outside. Yes there will also be a lot of repair work coming and going.
Morgan Bay Boats, Frankfort
        Things are busy at Morgan Bay as they have three hulls, Morgan Bay 43s, inside the shop being worked on.
        Early this summer the first hull out of the mould, was delivered as a sportfisherman to a customer from New York. She has a well-appointed interior and is powered with a 1,200-hp MAN. The interior has a forward stateroom, with a V-berth, a quarter berth to starboard, head with separate shower, and up in the shelter is the galley with a steering station to port. In the cockpit there is another steering station, refrigeration and two tackle stations. Gary Kief, one of the owners of Morgan Bay Boats, said "The owner is really happy with it. He has been learning the boat as it has a pretty complicated set up. He's real busy so he doesn't get a huge amount of time on the boat. Every chance he gets, he's out with it fishing. He does a lot of fishing over wrecks. Black fish is the thing he likes to fish for, but he does a lot of tournament fishing too."
        The boat in the middle of the shop is the one furthest along. She is being finished as a sportfisherman for a customer from Connecticut. She has a very similar layout to the one launched earlier in the summer and is powered with a 1,150-hp C-18 Caterpillar. The owner wants a tall mast for lights and electronics and they have order this from Cliff's Welding in Monroe. The only catch is he wants to have a spotting platform behind it, however there is a problem as there are two radars on the mast. She is scheduled to be done in March. She will then head to Connecticut, but will likely spend the winters in Florida or the Bahamas.
        The hull in the left bay is also being finished out as a sportfishermen for a customer from New York and she will have a similar interior and will be powered with a 12.9 1,000-hp Caterpillar. She is scheduled to be done in April
        In the bay on the right this boat is being finished out as excursion boat for a customer from New York. She will be Coast Guard approved for 25 people and her interior layout will have V-berth with bunks, a work station with a freezer to starboard, a utility room and a small galley with a small refrigerator, microwave and a cook top. The head is going to be up in the cabin so that it is accessible through the cockpit. Also in the cabin there will be extra seating. This boat will be going out as a kit, however they will be installing the fuel tanks, motor and generator, basically everything under the platform and then putting the top, rub and toe rails on it before shipping to the finisher on Westport Island.
        Outside they have a bare hull that they are thinking of bringing in and making it a sportfishing walkaround for a past customer. Gary has received a couple of photographs showing him what he wants the boat to look like.
        They thought about making the 43 into a 47, but now they feel it would be better as a 46. Gary said, "I think it would run really good with three more feet on it, but I don't know about four because it starts coming up. I'd have to change a lot on the bottom and I don't want to get into that. I don't know if I could cut her in the middle. It is a lot easier I think on a Downeast skeg boat. I think it is a lot easier to cut and spread them. I am not really sure about these. If I want to go to a 46 I might want to swing a little bit bigger wheel so I think what I would do is extend the skeg back."
Wilbur Yachts, Manset
        There is a busy winter ahead for Wilbur Yachts. The sheds are full with two 38s, four 34s, and a couple of runabouts.
        One of the Wilbur 38 has been there for a couple years and they will get her finished up this winter. Another 38 just came in and she will be getting a bottom job, changing out the electric stove and putting an LPG stove in, then just some maintenance items. A Wilbur 34 has been stored with them the past couple of years. They have got a lot of varnish work to do on it and some other small projects. Another 34 is in the main shed that they have to do a bottom job on and then general maintenance. A third 34 in the main shed too and that has a lot of varnish to redo. The little runabouts, one is getting basically cleaned up. It was re-powered last summer and needs some care. They will do a bottom job, buff it out, put on a new rub rail, new windshield on it. A 19-foot Whaler that they have stored for a couple years is just getting maintenance. There are a couple Newman dinghies, which just needs a little work before they are ready for next season.
        Last winter they started on a little house, which they will be finishing up this winter. They were hoping to finish this last winter, but they had too much work and it got put on the back burner. John Kachmar, owner of Wilbur Yachts sad, "It's all framed in, ready for the roof and the siding to go on. Once that is done we will get on the inside and get the rough electrical, plumbing done and finish up the interior. We are pretty close. I am hoping to have it done by the end of January.
        The last big project was on a Wilbur 34, which arrived at the yard in April. John said, "We worked on that for a while. We immediately pulled the engine, a Caterpillar 3208, and sent that down to Billing's and they rebuilt it. We put a transom door in, painted the boat, stripped the varnish, installed all new electronics and put the new bimini top on. We got that out to the owner the first of October. He was very happy to get the boat this fall. It makes sense, it sounds crazy to put a boat in the water this time of year, but their season starts so much earlier than ours down there.
        The new design, a Wilbur 37 powered with outboards has a couple of people interested, but no one has steeped up yet. When asked how he was going to lay up the hull, John said, "We are playing with a couple different options. We have looked at doing a semi-throw away mould or go cold-molded number one design, so you pull the first one out as a cold-molded and take a plug off of that. Once we get a little further along we will figure that one out. For power if someone wants twin outboards, maybe want to go triple. I saw an article in one of the magazines on the new Cox diesels and what they are getting out of those as opposed to the gas powered outboard. The other option is pod drives.
        "I also have a gentleman talking to me about a 44 or 46 Wesmac," continued John. That is based on the 44 we did a couple years ago."