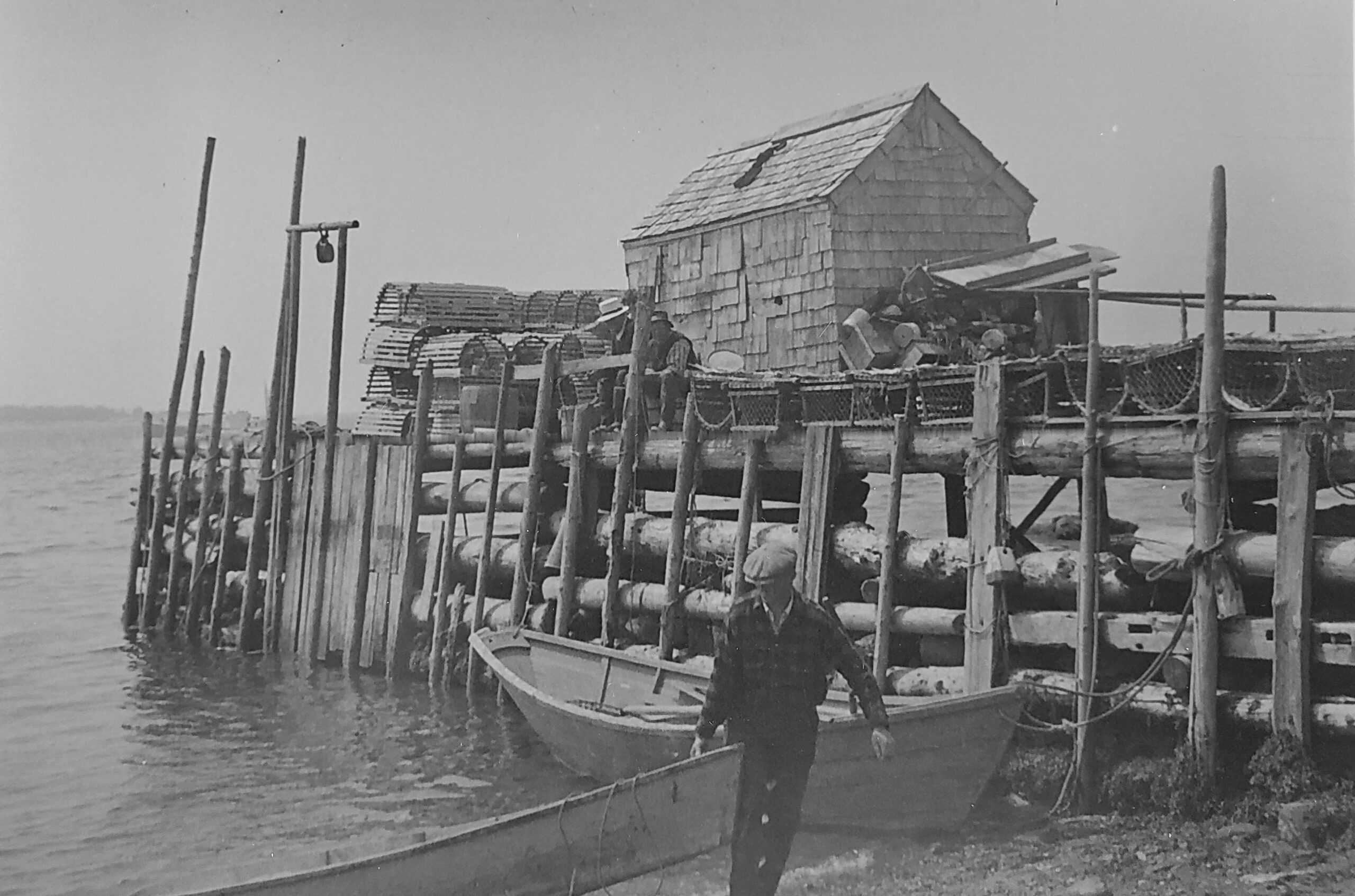 It is not very difficult to find interesting people on the Coast of Maine. Three years ago, I was covering the burning of Steve Carver's BIGGER DIRLS in West Jonesport and while we were talking in the shed on Smith's wharf, I met Leon 'Bud' Smith. He had allowed Steve the use of his lobster boat until he got his new boat overboard, what captured my interest was his memory about the photographs of the old boats he was showing.
        Bud was born at a home not far from here he lives today, just across from the family's wharf in West Jonesport in 1929. His father was Leon and his two brothers were Raymond and Robert. He added, "My father was a fisherman and they lived in the house up here. The old man had a 35-foot boat he fished down Machias Seal Island. She had a torpedo stern in her. I don't know where they got the name torpedo stern. It used to be called a round stern."
        His father's boat was built just down the road in West Jonesport and Ralph Smith, a nephew, owns it now. Bud said she would throw the traps off, adding, "They were back in the stern, up on top of it, round coaming and when she would tip ahead and got to it, she would slap them traps. He took it down, brand new boat, had it hauled into the shop that winter and had a square stern put on it with square coamings. That straightened her out."
        There were two shops in West Jonesport owned by two Frank Smiths, known as the white and black Smith and neither were a relation of Bud's. He added, "One lived up to Indian River and the other one over in Mason's Bay. I don't know how come they ever got together. There were five or six families of Smiths when I went to school, not relatives at all. Just had the same last name."
        Bud started fishing in a peapod. He explained, "There was a man I got it from, he didn't build it, but he was a carpenter, I don't know who built it. It had a nice sail in it. You would take the sail, roll it up, tie it up and lay it down on the other side of the boat that you were working on. Had a brand-new pair of 8-foot oars. If there was any wind at all and I was going from one place to another, I set the sail. It was a high-priced outfit. It was $35 for the whole thing."
        "It used to be there were no outboards," said Bud. "Right after World War II, my father would go out to haul. He would go down the western bay at that time fall fishing. Lobsters would start probably September shedding so he would be fishing down there. When he would go mornings, he would have seven or eight people out there in square stern boats or whatever towing them down the bay and he would let them off wherever they wanted. Then they would row back home. If they had a sail, which most of them did, usually in the afternoon especially if its flood tide you would have a southwest breeze and you would see them coming, sailing back in. I was still in school at that time. The first boat that I had was built in Frank Smith's boat shop. Frank Smith's, black head Frank, his sons Oscar and Donald built that boat."
        "When I started fishing, one of my brothers had been in the Navy, during the War," continued Bud. "The other one had been in the Army. He got out first because he had asthma real bad. He was down at Fort Bragg in North Carolina and the flowers were blooming and he could not breathe, so they sent him home."
        They were all fishing out of their wharf in West Jonesport, the wharf the family still owns, which was built by Bud's father in 1933. "This day my father was hauling down there," said Bud. "He was starting to buy lobsters over here with one other fellow, wasn't a very big operator, but there weren't many of them around then. He had finished up and I was with him. I wasn't very big but I can remember we came home and the anchor was on the bow with the cross piece hung out over the side. Well, he came into the lobster car, they couldn't come into the wharf at that time, they hadn't built them out that far at that time. He came in alongside the lobster car, which had the posts up and dropped her back and put her back in [gear], well he missed it. She was going ahead and that piece on the anchor caught and it came down the side of the boat and cleaned out the exhaust pipe, the gas pipe and the whole…we were shipwrecked."
        Bud's wife's name is ANGELENA, which was the name of her father's lobster boat, which was built by Will Frost. Bud added, "This story that goes with it. When her father got grown up, he went away. He had a brother-in-law that was working up around Lake Erie so he went up there and got a job. His father and the four brothers went gunning birds a lot. He went away and his father missed him quite well. So, the next year his father had had a boat similar to that, only larger built and when his son came home, he says if you stay home, you take your pick of those boats. He took that one, which was the newer one, that was made by Frost."
        Bud said that she was probably built in the early 1930s. He also said that she was just over 30 feet but so narrow that you could almost touch each side and thought she might have been powered with an engine out of a wrecked car.
        Bud's wife was born first followed by Harold, Wendell, Ordmond, and Donald, Jr.
        The first wharf was flattened when a log floated inside it during a storm and knocked it apart. Just as World War II was coming to an end, several young men coming back helped them build the wharf where it is now. Since then it has been rebuilt two or three times.
        One of Bud's uncles was Lewis Kirby who ran the wet-well lobster smack FRANCIS EVELYN over to Nova Scotia and back before heading to Boston to unload. If he was staying a while, he would every so often go out and run her up and down the reach to circulate the water in the wet well to keep the lobsters alive. Later he would turn FRANCIS EVELYN into a sardine boat, by removing the wet well. Bud added, "He hauled quite a few sardines and when he got done the old man always thought we should have a bigger boat so we bought that one. We put a crew in her and whatever but we didn't have a factory so we hauled mostly cat and dog food. A few times went to the west'ard."
        Over the years Bud has done a lot of halibut fishing and only quite a few years ago.
        The lobster boat built by the Smith's for Bud was 36 feet long and powered with a straight 8 Chrysler engine. "When I launched that one, I had just graduated. It was a nice boat, they built good boats and it went pretty good. At that time, the Roadmaster Buick was the best engine. That is what the racers had in them. They seemed to have a little more power and they had to keep them shined right up. If they came across each other they had to race. There were very few mornings that you were going along and you did not see two someone's having their race, that is the way they went."
        "The first boats that my two brothers had," said Bud, "was the one with the make-and-break engine in, HERRING. It was a double-ended boat, but I don't know who built her. They weren't seaworthy looking, but they had sails in them. Then they would change them over, put a log in them to run the shaft out through and put an engine in them.
        Bud's next boat came out of Harold Gower's shop on Beals Island in 1946. His father had a Gower boat, which was a 36 footer and his was a 35 footer. He added, "The craftsmanship was excellent, all of them just looked better. I fished down Machias Seal Island for seven years and it was a real good sea boat, but there were times we did not want to be out there. We would haul down there, slack tide, but when the tide started most of the places, we were fishing you could get near the island. You had to tie up in the cove, put the anchor out and we would tie the boats up together. They would swing apart and 'ka-bang' into the side. When you got underway the first thing you did, you took the hammer out and pounded the guard back on. We would run down, I think it was 21 miles from here and we would run down one day and then that night we would run into Cutler, 12 miles and maybe the next night. Cutler was a good harbor and nice people. We slept in the boat. We had hammocks and Shipmate stove. Some nights down there it was cold enough the harbor would freeze over. It would be thin ice and it would cut into the sides of the wooden boat. We would come home if it was going to be real cold. When we first went down there the Grand Manan fishermen were fishing there too, we got along good with them. The light keeper was from Grand Manan and anything he wanted we would get the order for him."
        At this time, there were no Cutler fishermen fishing off Machias Seal Island, they were fishing on the shore.
        Bud's next boat was not well received as he stated, "I got the first fiberglass boat in the Jonesport reach. I went up to East Blue Hill to Webber's Cove and looked at them. I said, 'how tough is this stuff?' He said, 'do you want to check it?' He had three or four boats in progress. The top part of them, 10 inches, were cut right off the top to cut them down for a lobsterboat. He took one of them, laid it between two rocks, and there was a maul that had been there for other people and he said, 'try it, give it a good for.' I took a good swing at it and if I hadn't jumped ahead that maul would have struck me in the rear end and there wasn't a scratch on it.
        "There was quite a number of guys building boats on the island," said Bud. "A lot of times some of us would be over to the island with our boats and go around the boat shop. I could see I wasn't so welcome. Some of the younger ones went up and worked with them in Blue Hill and some went to Corea. One of my brothers had a Vinal Beal boat, she was 38 feet and 11 feet wide and that was more seaworthy, but I did the same work with mine. You had to be careful, we dragged shrimp in her and we had 10,000 pounds one day in her and we didn't have a lot of free board. They weren't really boats to be carrying a big load but they were seaworthy enough and the captain was good enough so they got them home."
        Bud did not remember George Brown, but he did remember Alvin adding "Alvin's boats were a little bit faster than most of them. I had the Gower boat and I raced this Alvin Beal boat and she could beat me every time."
        When Bud's father gave up the wharf Bud and his two brothers took over its operation. Bud retired from fishing five years ago and has now given up running the wharf. The wharf is now run by his nephew, but do not be surprised if you find Bud down there too.