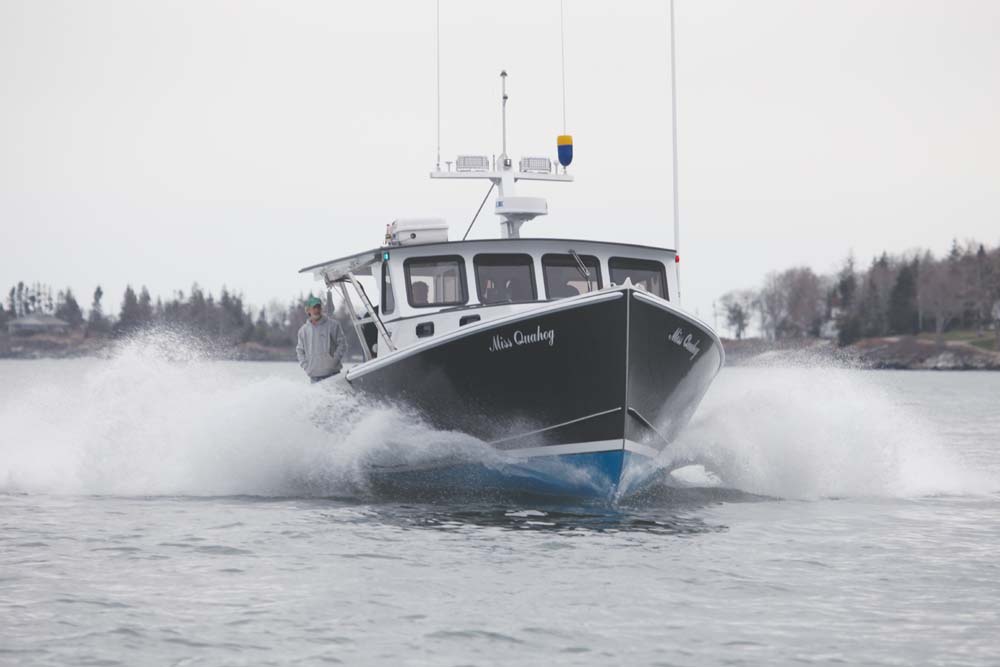 WALPOLE & SOUTH BRISTOL – Even though we are in crisis mode the boat shops are still building. Over the winter Farrin's Boat Shop in Walpole has been busy working on a Wayne Beal 36 heading to California as a pleasure boat and a Young Brothers 45 was being finished out as a lobster boat for Barry Catlin of Harpswell. The Wayne Beal 36 will be awhile before she finds the water, but the Young Brothers 45, named MISS QUAHOG, found the water on 28 April.
        When asked how he made his decision on what hull to buy, Barry said, "I went with Young Brothers because the hull has not been bastardized like other hulls, stretched and widened. This mould is what came off the wooden boat and hasn't been changed and they built them better back then I think. It's got the wooden boat kind of lines to it, so it just looks better and it's more efficient."
        Barry started fishing in a skiff his grandfather built hauling by hand. He then fished out of a 31-foot Jim Beal and this was followed by a Calvin Beal 36. Barry added, "My grandfather started me young, I didn't do much but I started when I was 8 and he hauled by hand his whole life. He never had a hauler or anything. He always hauled out of a wooden skiff. I did that until I was 23. I went to MMA and sailed for five or six years on and off. I started out doing the PL 480 contracts with a company out of Tampa and I went all over the world the first couple of years. I was doing 90 to 180-day trips. One trip I went 56 days without setting foot on land. I ended up having three weeks in St. Petersburg, Russia so that was fun. Then I started doing coastwise tugboats that was way better. Way more relaxed. I worked for Bouchard and Vane Brothers. I could lobster in the summertime then just get on a tugboat in the wintertime and do a couple trips. I have been in every ocean except the Antarctic."
        He has been around the Cape of Good Hope, but not Cape Horn. He did do the Columbia River, adding "They closed the port down and we were the last ship out. It was blowing 100 and we were in 60-foot seas and they were trying to get a pilot off on a tugboat. I just remember when the ship rolled, I was four stories up. I would look out the window and I could see the tugboat up there on the next wave. We were on a 700-foot ship so that was quite an experience."
        "We started having kids and it was just like, yeah, I have got to do something different. Time to come home at night," Brain said. "It was a rough conversion to go from Merchant Marine steady pay to lobstering. Then I did the lobstering in the summer and the shipping in the wintertime. I needed to go full-time so I bought a Federal permit on that 31-foot boat and I fished offshore for 10 years in that. People thought I was crazy but I just didn't know any better. It didn't bother me, I was young. I had to go make money because I had kids. Now this is a lot more comfortable. I used to put a blanket around me steaming in 31-foot Jim Beal just to keep warm."
        Barry bought the 31, named RAMBUNCTIOUS, from a fisherman in Harpswell. He added, "Everybody knows that boat. That boat has been up and down the coast. That boat made me a lot of money. Part of the reason why I went with a 45 Young Brothers is the length to beam ratio is very similar. It is close to being the same length to beam ratio as that 31-foot Jim Beal and I took any kind of weather in that. The reason I went with the 36 from the 31 was the right whale rules. You had to fish 20s so far out and that boat currently was fishing 20s. I ordered this hull two years ago and I figured they are going to 25 or 40 trap trawls, which is what they were proposing."
        "The Calvin 36 was a good stable boat," continued Barry, "but not as smooth. It didn't slice through the waves as good as the Jim Beal or these do. A little more of a bull. I thought about a 44 Calvin, but it's too wide. I don't want to plow. I just want to slice out through."
        How did the name come about? Barry said, "I fish out of Quahog Bay. I had a skiff named QUAHOG and it sank last year. I have another skiff that my 11-year-old daughter hauls out of named MR. QUAHOG, so we have Mr. & Mrs. QUAHOG."
        Barry's daughter is allowed 50 traps but is fishing just under 30. His son took over the Calvin 36, got a federal permit and he is fishing 400 traps. Even Barry's wife fishes five traps.
        This is the first new boat Barry has ever had. She has a split-wheelhouse and is powered with a 750 John Deere with a 5kW generator. She is simply finished below with just a V-berth. "I wanted trap capacity and deck space. Plus, I wanted something that goes through the water easy. I don't want to do 10 knots; I hate going slow."
        Barry was more than pleased with having the boat finished at Farrin's Boat Shop. "They are the greatest, said Barry. "They had a relative when I was at MMA and he was a Farrin. I remember talking to him and him saying, 'have you ever heard of Farrin's Boat Shop?' I'm like 'no.' I never paid attention to boat shops. I started paying attention and I saw some of the boat that came out of here and I was like wow. I trust everything that they did. They figured out everything for me. Just how I wanted it. It was like they were in my head the whole time. All the guys are just super talented. The little stuff like every little screw is dipped in 5200 before it goes into anything on this boat. I have a degree in Marine Engineering but I don't even come close to the talent that these guys have putting stuff together. I just watched them do their thing. It's unreal how well they put it together."