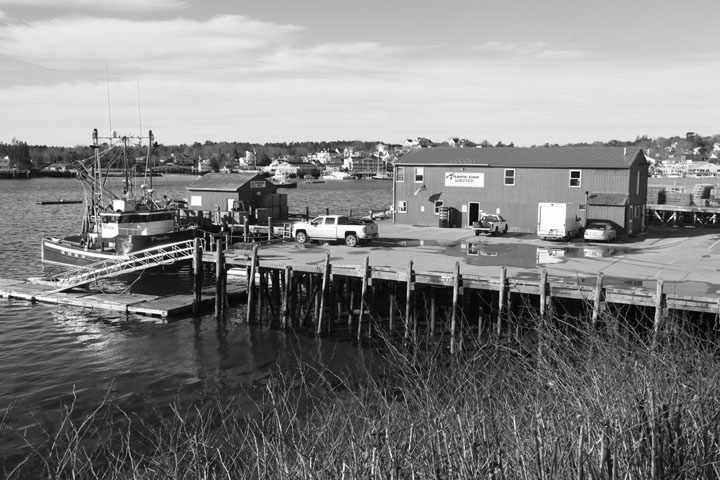 A view of Atlantic Edge Lobster from the fishermen's Memorial Park on the eastside of Boothbay Harbor. The first section of the dock is public access, the middle is owned by Harbor Bait, which includes the small building on the end of the dock, and the main building is Atlantic Edge Lobster. On the other side of there is a public access ramp.
BOOTHBAY HARBOR – When heading over onto Southport Island I always look to see the lobster boats tied up at Robinson's Wharf. Instantly something was wrong, there was another boat in Nick Page's spot where he docks ALL OUT [Calvin Beal 38, 2015, S. W. Boatworks, Lamoine; 750-hp John Deere]. Then I headed over to the east side of Boothbay Harbor to put more of the papers out and when I walked into Atlantic Edge Lobster there was Nick and his wife Kristin. He quickly said that they and his brother Andy had entered into an agreement to buy the dock and it would be finalized the end of the year. Mystery solved.
        I first ran into Andy and Nick at the lobster boat races in the 1990s. Andy's boat was HARDSHELL, a General Marine 19 with a 40-hp Honda and Nick had SECOND CHANCE, a Holland 14 with a 30-hp Yamaha. Before that I came to know their father, Phil, as he would occasionally race his boat NICK & ANDY [Duffy 30; 220-hp John Deere] at a few of the races each year.
        When asked how the idea of buying Atlantic Edge Lobster came about, Andy and Nick explained that it started as a joke. Their father has been fishing out of Atlantic Edge Lobster for about 30 years. Last summer he told Ed Tibbetts, who was running Atlantic Edge Lobster, that he was thinking of retiring and Ed jokingly replied that he might do the same and that Andy and Nick should take the business over.
        The joke turned serious. Andy and Nick began talking with Ed about the business. Ed has run Atlantic Edge Lobster for 19 years and before that he worked for Don Wotton, Wotton's Wharf, on the other side of the harbor. Nick said, "Eddie has been in the business his whole life and he and dad went to school together. They were just joking and we were like well, maybe we will look into it. Kristin was a cafe manager up the street at Mama D.'s, a small little café. She's been there five or six years and was kind of looking for a career change."
        Andy was fishing out of Bristol Lobster Sales further down the road and Nick was fishing out of Robinson's Wharf on Southport Island. Nick continued, "I have always known Eddie and we would come in here for supplies once in a while. We kind of fell into it and ended up negotiating a deal and here we are today. We started to negotiate last summer, it took us a few months to get figures together and decide whether we wanted to risk it or not. Then we let lawyers draw stuff up."
        Kristin is the office manager and she is calling the shots says Nick. He added, "We are going to go catch the lobsters and then Zach, who has worked here at least 12 years now, is staying on as the dock manager. All November and December we have been in here training and January 1 we took over."
        Their biggest customers are right in the Boothbay area, the restaurants. Nick said, "The majority of the restaurants buy lobster meat or live lobster from us. We cook lobster for some of the lobster bakes and what not and we have got into shipping. They have been shipping out of here and they really had a good holiday business this year."
        Atlantic Edge Lobster sits on a pier owned by the Town of Boothbay Harbor. On the right side there is a public ramp. Off the end of the pier are a couple of floats to service lobster boats when they come in from fishing. On the right of the dock is a large red building, which is Atlantic Edge Lobster. On the lower level is lobster tanks, a picking room and office and upstairs is another office and plenty of room for storage. On the left side, further out on the dock is a building operated by Harbor Bait, who operates the big freezer by the road. Harbor Bait also builds piers and floats, which was their original business and when they needed a dock to work from, they bought Harbor Bait. Nick added, "I have been buying my bait here since I was a little kid. The other side of the pier is open to the public and the harbor master ties there. People can off-load traps, gear and what not."
        Andy, Nick, and Kristin have secured a 20-year lease of the property with the Town of Boothbay Harbor. Just before you get to there facility there is an empty lot, which was Capt. Fish's Motel. That was torn down and it is being made into a waterfront park by a non-profit group. It will be made available to fishermen so they can store traps and other gear there. Just passed Atlantic Edge Lobster is Sea Pier, which was owned by Douglas Carter. He has sold it to a group and they have permits lined up to replace the dock and buildings, which are in disrepair.
        Andy and Nick thought that there were about 100 lobster fishermen working out of Boothbay Harbor. They said they have about 15 fishing off their dock and about the same out Bristol Lobster and Robinson's Wharf.
        Andy added, "This building is due to be replaced, so we may even be getting a new building here next spring and that may help us expand. What that building is sitting on I think all needs new pilings so when they take it down, they have to rebuild the dock first."
        Nick added, "They just did the fish pier, that is all new over there. This is the oldest section of the dock and they have the funding ready for this section. We are going to be included in the design so we are probably going to put cement tanks in the floor, hold a little bit more storage that way, just utilize the whole property better."
        Andy added, "Maybe try to market live crab or something. Make the picking room a little bit bigger."
        The already sell frozen haddock, but they are also looking at other items to sell.
        With the established markets they already have it will be a challenge to keep them supplied. Nick said, "It is harder to keep the product on hand then sell it out the door, especially this time of year. With the weather, we can only get out a couple days a week."
        Looking for some lobster and you need a road trip, just put Atlantic Edge Lobster in Google, and jump in the car. As it is winter you might want to call first just to make sure they have enough to fill your order.