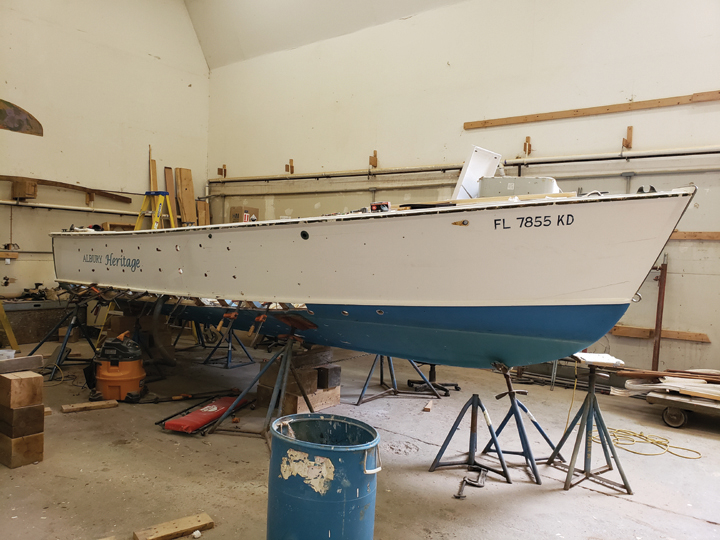 Six River Marine in North Yarmouth is totally rebuilding this runabout this winter.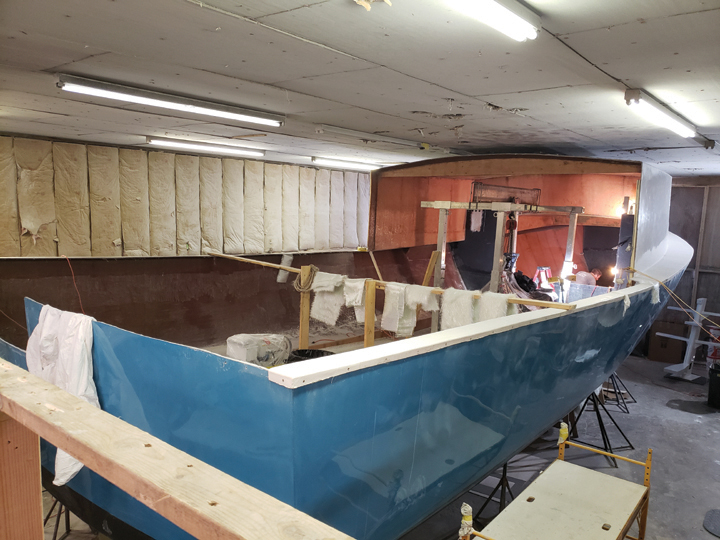 At Mainely Boats in Cushing they are finishing this Libby 47 as a lobster boat.
Hutchinson Composites, Cushing, ME
        Despite the news that lobstering is not doing as well as in the past few years, Hutchinson Composites has a good back-log of orders.
        Out in the yard they have two Mussel Ridge 28 hulls and tops all laid up and awaiting transport to their new owners. One will be going to Gary Genthner of Round Pond, which he plans to race in next year's lobster boat races. The other will be heading out to Metinicus and finished out as a lobster boat. There is also another 28 being laid up for a fisherman from Long Island. The hull was done and they were working on the top.
        Inside the main shop they have a Mussel Ridge 46, which is being partially finished for a customer from Long Island, New York. She will be finished out as a sportfish/cruiser. Still left to do was put in fuel tanks, rudder and engine and she should be ready to ship in December.
        In the next bay they have another Mussel Ridge 46 going to Texas. She is being finished off as a cruiser with V-berth, overhead bunks, head with shower, small galley and hanging locker for accommodations. She is powered with a 900-hp Scania engine. She will not be finished until next summer.
        Previously they have another Mussel Ridge 46 in this bay and she was partially finished before shipping to Florida, where the owner will finish her. She is powered with a C18 803-hp Caterpillar. They also laid up another Mussel Ridge 46, which is at Samoset Boat Works in Boothbay. She is being finished off as a cruiser for a customer at Long Island, New York.
        On order is a Mussel Ridge 54, which they are getting ready to lay up for a customer from Newport, Rhode Island. The plans for the extension are complete and they should begin getting the extension added to the mould this month. She will only be a partial finish as they will be putting in the fuel tanks, bulkheads, rudder and engine before it is shipped out to be finished.
Mainely Boats, Cushing
        Just launched was a Calvin Beal 34 lobster/tuna boat powered with a 675-hp Scania for a fisherman from South Thomaston. Down below she had just a V-berth and she went well reaching a top end of 31, which they were pleased with.
        Inside one of the bays in the main shop they are nearing completion on a Northern Bay 38 sportfisherman, which will be going to New Jersey. She is powered with a 670-hp Volvo, which is in and all hooked up. Down below she has been Awlgripped and the interior is nearly finished. They want to get into finishing off more sportfishermen as it will fill in the slow times when not many lobster boats are being built. They realize they need to take the time and make sure the finish is perfect. They said that this is a trial run and that they are getting a grasp as to what it takes to finish off one of these as compared to a lobster boat.
        In the next bay they have a Libby 47, which is being finished out as a split wheelhouse lobster boat for a fisherman from Rockport, MA. She will be used for offshore fishing with just V-berth, hydraulic room and a work bench down below. She will be powered with a 700-hp D-13 Volvo and also have a generator. What is a little different in that the outside hauling station is behind the inside helm. There is also a step up into the inside station, which means the engine room will have much more space around everything.
        Out in the yard they have the former FOXY LADY [Dixon 42], which was recently purchased from a bank in Massachusetts by a commercial fisherman from Gloucester. She needs a lot of work and an engine, which they will begin doing this fall.
        They also have a lot of interest so they should be busy right into next year.
Southport Boats, South Gardiner
        Southport Boats, a leader in offshore center console and dual console boats with a reputation for a smooth, responsive, and dry ride, today announced a new center console model on an all-new 30' hull, the Southport 30 FE. The Southport 30 FE is the evolution of the original Southport 292, and will usher in a new style and design for Southport center consoles.
        "The Southport 30 FE will set a new direction for the Southport Center Console designs" said Jonathan Kirby, Marketing and Sales Director of Southport Boats. "The new model will carry over a lot of features from the 33 FE and new 33 DC, but also feature many new design cues for the whole brand that we are excited to introduce on this boat."
        The Southport 30 FE fits in the middle of the Southport lineup, and offers a great mid-sized option for buyers who are looking for a very capable offshore boat, but don't feel the need to jump up to the 33 FE. The new 30 FE, much like the 33 FE, will offer features and comforts that make the boat ideal for both offshore fishing and family days headed to the beach or cruising to a new harbor. The 30 FE will feel familiar to those accustomed to the 292, but decidedly new and fresh.
        "The outgoing 292 has been an extremely successful product for us, but in this competitive and ever-changing market, it's layout and design were in need of a facelift" said George Menezes, Southport COO. "We also recognize that this new hull will afford us the opportunity to develop other models on this platform, including a forthcoming 30' Dual Console."
        The new model will debut at the Fort Lauderdale International Boat Show (October 30th through November 3rd), and will be on display at subsequent regional boat shows throughout the winter and spring. Contact your local Southport for more information.
        Southport Boats builds robust, quality engineered offshore center console boats on three platforms (27′, 30′ and 33′), and their new 33 Dual Console and has developed a reputation as one of the premier boats in their class. The semi-production builder employs experienced and dedicated craftsmen and technicians who build high quality products in a newly acquired 100,000+ square foot production facility. Southport Boats, while a production builder, caters to the demanding needs of their customers and dealers and always welcomes the challenge of custom requests to further improve an already exceptional boat. For more information, please visit www.southportboats.com.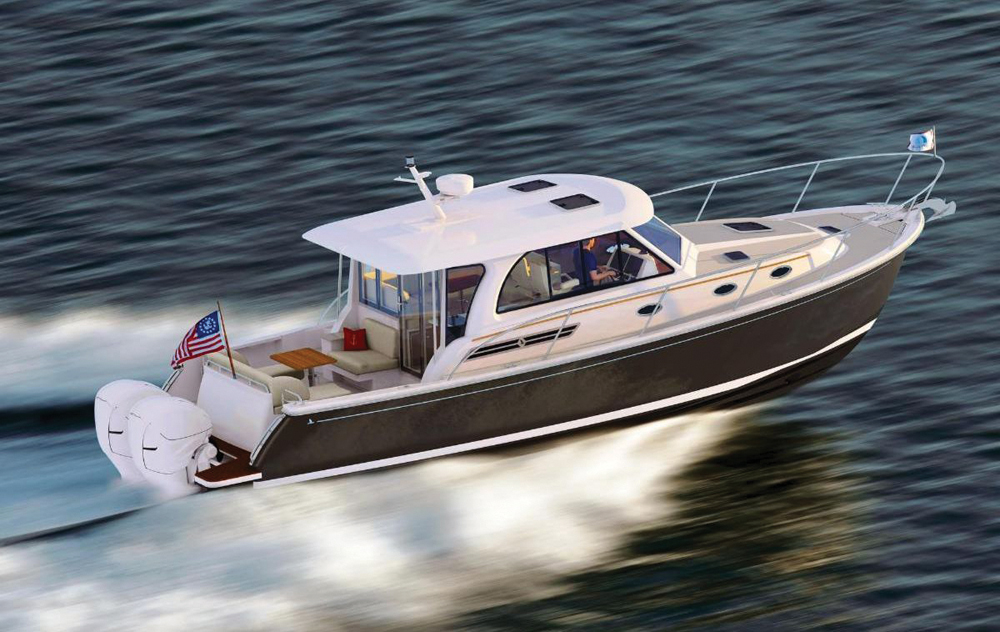 Introducing the Back Cove 39O
Back Cove Yachts presents a new outboard-powered model: the Back Cove 39O.
        The new design builds on the success of the award-winning Back Cove 34O. She will have a 300 mile+ range at cruise, and a top-end speed of 37-knots with twin Yamaha 425hp outboards. Optional power installations, currently being finalized, will provide top-end speeds in the 40+ knot range. The 39O hull design will feature Back Cove's proprietary Trailing Edge Lifting Surface (TRELIS) *D* for optimal handling and performance.
        Her cockpit is a fun and relaxing space with transom gates to port and starboard, a U-shaped settee across from an aft-facing seat, and a central table for al fresco dining and entertaining. Expansive storage below the cockpit is easily accessed through a large actuated hatch, and provides generous accommodations for all of your water toys and gear.
        The 39O offers a hard back for a fully enclosed helm deck; a unique design in this segment, which allows for climate-controlled comfort and an extended boating season with optimal protection from the elements. Her indoor social spaces keep everyone connected, featuring a galley up design and side-by-side captain and mate seats opposite a comfortable U-shaped settee. The result is a perfect space where the crew can enjoy a meal, or lounge while staying out of the sun or the rain.
        Below deck, owners and guests can relax in the privacy of a lower lounge and stream a favorite program to the Smart TV. The spacious owners' cabin forward offers a queen-sized island berth and private access to the head and shower. For the crew, two single beds in the guest cabin are secluded, well proportioned, and comfortable.
        Tooling work is already underway and the first Back Cove 39O will launch late in the summer of 2020. Her official debut will take place at the 2020 fall boat shows from Newport to Ft Lauderdale.
        For additional information contact: Jamie Bloomquist, Title: National Sales Manager, (207) 594-8821, jbloomquist@backcoveyachts.com; Bentley Collins, VP Sales & Marketing, (207) 650-1517, bentley@backcoveyachts.com; or Jamie Governale, Marketing Coordinator, (207) 572-0332, jamie@backcoveyachts.com