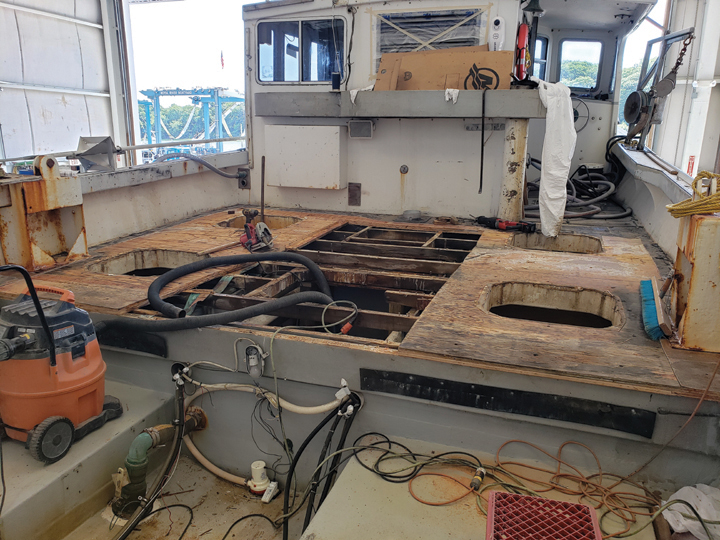 The Newman 46 ERICA JADE from Harpswell hauled up at Royal River Boat Yard in Yarmouth due to a fuel tank leak. She is having her platform ripped out and tanks replaced.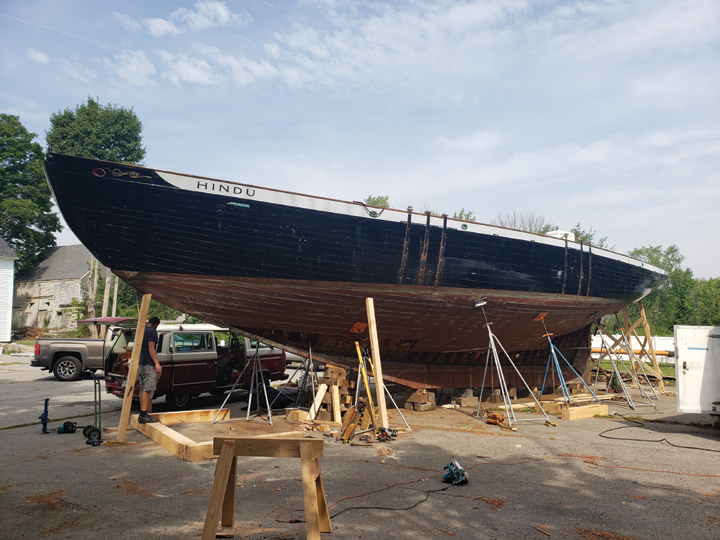 This is the schooner HINDU, designed by William Hand and built by Hodgdon Brothers of East Boothbay in 1925. She will be undergoing a major rebuild in the centre of Thomaston.
Boricua Custom Boats, Gouldsboro
        The end of July Moises launched from his shop SUSPECT, a Mitchell Cove 35, for Tim Toppins of Columbia Falls. She was a simple lobster boat, but did sport a number of custom features. Moises said, "I redesigned the end of the keel, the sheer a little bit, I raised the top of the windshield 4-inches so instead of having the flat four window windshield, he's got three staggered. That was a lot of work, a lot of thinking, but she came out nice." He also added chines to the hull. The only thing down below is a V-berth. Under the platform there is a 400-gallon fuel tank. As for power she has an 800-hp Scania and did well at the Winter Harbor Lobster Boat Races on 8 August winning Class K (701 to 900 hp, 28 feet and over) and second in the Fastest Lobster Boat.
As soon as SUSPECT was out of the shop attention turned to the only Osmond 44. Her original owner was going to make her into a dragger, but could not continue with the project. It was then bought by Dean Barrett, who is having Moises finish her out as a split-wheelhouse lobster boat. In early August they were working under the platform. They were making room for 36 crates and two fuel tanks totaling about 900-gallons. The engine, a 1,200-hp MAN, is in and in place. Down below she will have four berths and a galley.
Also in the shop is a Mussel Ridge 46, which is being finished out as a sportfisherman for a customer from Texas.
Brooklin Boat Yard, Brooklin
RASCAL hits the water running
        Brooklin Boat Yard launched RASCAL, a 50-foot custom-built cold-moulded sloop designed by Jim Taylor, on 29 July.
Usually when Brooklin Boat Yard launches a boat, the waterfront is so crowded that folks feel like half of Downeast Maine has shown up to see the new boat hit the water, wish the new owner well and maybe have a beer or two. But in these times of Covid-19, the launching of RASCAL was a bit more subdued. The crowd was limited to just the BBY crew and some very close friends of the new owner so everybody could conform to social distancing protocols.
The crew at BBY refused to let a pandemic stand in the way of a good launching. Mid-morning the small group made speeches, smashed a bottle of champagne on the keel, and — with a mask-muffled round of cheers and applause — lowered RASCAL into the waters of Center Harbor.
The work on RASCAL went at a blistering pace prior to the launch date to make the informal deadline of the annual Eggemoggin Reach Regatta. Even after she hit the water, RASCAL's crew and her owner had a scant three days to get her fully commissioned, sea-trialed, tuned and race-ready for the race on 1 August.
The Jim Taylor-designed, racing / cruising sloop draws its lineage directly from previous Jim Taylor 49-footers DREADNOUGHT and BLACKFISH. To make RASCAL easy to handle, she has a well laid out cockpit with all sail control lines close at hand, all powered winches, electrically powered traveler, and a Bamar mainsail in-boom furling system. The spar and rig package is from Offshore Spars and the sail package is by North Sails. All these elements came together in time for RASCAL to be on the Eggemoggin Reach Regatta starting line raring to go against a very hotly contested Spirit of Tradition Class.
RASCAL got a good start by avoiding a hole that developed about mid-line to the committee-boat end and proceeded to increase her lead from there. The boats that took a little longer getting going at the start were treated to a great tacking duel between RASCAL and the BBY-built 55-foot OUTLIER as they made their way out of the Reach. Everyone on the water was impressed at how well RASCAL was holding her own against the Botin Partners-designed racing machine.
At the end of the day it was RASCAL who took first place in the Spirit of Tradition Class on corrected time besting a ten-boat fleet, of which nine had been built by Brooklin Boat Yard.
RASCAL Specifications: Length on Deck: 50 ft.; Length Waterline: 35.1 ft.; Beam: 11.6 ft.; Draft: 7.8 ft.; Displacement (approx..): 16,500 lbs.; Weight of bulb (approx..): 6,830 lbs.; Sail Area: 973 ft.2; Headroom: 6.25 ft.
Farrin's Boat Shop, Walpole
        Bill Sherburne of Boothbay Harbor was looking to have his boat ROBIN LYN, [Osmond 36] repowered and a new platform put in. This boat was originally owned by Jason Chipman, who sold her to Paul Kennedy from whom Bill bought it in 2007. Before this he owned a BHM 28 and this was followed by a Young Brothers 33. The reason for choosing this boat was, "I always kind of liked the hull design. It has a lot of room for the size. It handles well for the size and it's a good sea boat" he said. Not wanting anything bigger and really liking this boat he had it taken to Farrin's Boat shop where he had her repower 11 years ago. When he repowered in 2009 he put in a 400-hp QSL-9. He was going to replace it with a new QSL-9, but with 450-hp. One reason he stayed with this engine was that it was going to easily fit without many alterations. Then he expanded the project. They extended the fairlead and then put a wedge behind the pot hauler; new windows, stern extension, new hatches in the platform, new shaft and boxes, new fuel tank, new exhaust, new mast, trim tabs, updated systems, and then a completely new paint job, including the deck. The paint came from Epifanes and this is the first time it was used in the United States.
In the front bay at the shop they are finishing out a Wayne Beal 36 as a pleasure cruiser for a customer from California. They are now roughing in the interior with all the glass work forward completed. Next they will put on the top then fill, sand and paint the interior before putting down the teak sole. She is scheduled to go over in the spring.
In another bay they are working on a Calvin Beal 42, which will be moved into the bay just vacated by ROBIN LYN. They were waiting for the engine, but that should have arrived by now.
A Mussel Ridge 46 has just arrived at the shop. She will be finished out as a sportfisherman for a customer from California.
Gamage's Shipyard, South Bristol
        In the main shop is the lobster boat PRETENDER, a Dixon 38, which is in to have her fuel tank replaced after it failed. They ripped up the platform, fabricated a new tank and installed it. In early August they were putting the platform back down and figured the job, from start to finish, would take five weeks.
Next to her is a custom Flowers 38, which was extended to 42 feet with a barrel transom, raised gunwales and a very unique pilothouse. Flowers did a lot of the original work, doing all the custom hull work and installing the engine, before being shipped to Gamage's to be finished. For accommodations she has a forward stateroom with a large centre-line double berth, galley to port and head to starboard. Up in the main salon is helm station with a dropped down table that will make into a double berth. At the stern is a large bench seat. She will be launched before the interior is finished and then will come back and have what was not finished completed this winter.
In the upper shop they finished off a Holland 32 on spec as a day cruiser, which was scheduled to go over the middle of August. When they were ready to have an owner, they listed and within a week and a half she was sold. This impressed them enough to have ordered another Holland 32 on spec to build this winter.
Out in the yard is an Alden 54, which is being completely rewired. They are also making their own electrical panels and have done five custom panels for themselves and others.
Most of the work has been minor repair work and numerous small paint jobs. They have a Downeast hull coming in this winter, which was just purchased and her new owner wants to make a lot of changes to her interior. They also have an East Bay and a couple of sailboats coming in for work.
What was interesting to note is that every weekend they have been busy fueling up gasoline powered boats. They put 2,000 gallons in their tank on Friday and by Sunday morning they are out. They asked the oil company for Sunday deliveries, but they want extra to do it.
Royal River Boat Yard, Yarmouth
      There was some big projects last winter. One was removing an engine (3306 Caterpillar) and gear in a 45-foot Novi. Once the engine was out it was sent to Billing's Diesel & Marine in Stonington to be rebuilt. Then it was re-installed, the platform was rebuilt and a deck coating put down.
A 42-foot Novi came in and had her Mitsubishi engine removed and this was replaced with a Cummins.
The wooden ROLLING STONE [44' Johns Bay Boat; 700-hp Lugger] was purchased two years ago by Allan Dugas. She was built as HANNAH CARSON owned by William Clemons of Harpswell. He sold her to a fisherman from Kittery where she has spent much of her life. The last couple of years she has been getting completely refurbished and that is nearing completion. They have completely refinished the engine, redid interior brightwork, laid a new platform of two layers of plywood over the old one and glassed it, added two insulated fish tanks under the platform, rewired and new hydraulics, and now giving her a complete paint job. She has spent most of the summer in the water to keep her bottom tight. Alan is hoping to do some halibut and tuna fishing with her next year.
Parker Poole's Stanley 44, which he purchased last fall, is progressing well and is now in the paint shop. Over the winter they ripped out and replaced the platform and cabin; cleaned up the Detroit engine and gave her a new exhaust system. She is now having her topsides faired and then they will paint her, top to bottom.
The Newman 46 lobster/dragger ERICA JADE from Harpswell is and is having her platform and fuel tanks replaced. The platform has been ripped up from transom to cabin and the fuel tanks removed. They will then replace the tanks, do any other structure repairs needed and then put down a new platform.
The outboard department was also busy replacing engines for the commercial and pleasure industry. They said that their big seller has been the Mercury SeaPro, which is a good commercial duty outboard.
Royal River stores just around 400 boats from small runabouts to 70 or 80-footers. There are another 100 that loaded on a trailer and taken to the owner's home for the winter. When these are all in, they get to start hauling them.
In one bay this summer has been a 1974 Mack truck, which is owned by Andy Dugas. He said that he has put a new steering unit in and at some point she will be used hauling the big yard trailer. Andy loves the big trucks and has two others, a 1984 and a 1985 Mack. He said he need something else besides boats to do.
S.W. Boatworks, Lamoine
      In one bay they are finishing out a Calvin Beal 34 as a harbor master and fire boat for Situate, Massachusetts. In the next bay they a Calvin Beal 36, which will be a research boat for the State of Rhode Island. Both of these boats are at the same stage, which is paint. Once the painting is done they will begin hook ups. Both are also powered with the same engine with the 34 getting a 500-hp QSE 8.3 and the 38 a 550-hp QSE 8.3.
In the bay on the other side of the road they are finishing out a Calvin Beal 48 as a lobster boat for a fisherman from Vinalhaven. She is a 44, which was cut in the middle and extended four feet. She will be powered with a 1,000 hp Caterpillar. They had some glass work to do down forward and are laying up the wheelhouse before they start painting the interior. She is scheduled to over late fall or early winter.
Coming up next will be a Calvin Beal 36 finished out as a walkaround sportfish boat. She will be powered with a 750-hp Scania  and should perform very well. This will be followed by two Calvin Beal 42s, which will be finished out as sportfishing yachts. Then they have, what owner Stewart Workmen termed a make-believe Calvin Beal 38 being finished off as a training boat for the U. S. Coast Guard Academy in New London. She will be a hull, with no running gear or interior and will be planted in the lawn and used to practice boardings.
All this takes will take them to 2022 to complete, but they still may be able to get out a couple of kits.
Wesmac, Surry
      Recently they delivered their second boat south when they took the fully-decked out sportfishman PILAR, a super-wide 46, to Palm Beach, Florida. She is powered with a 1,400-hp MAN V12 and cruised at a very comfortable 20 knots. She now will be loaded on a freighter and then taken to San Diego, California.
The first delivery south was HARRIS, a 54-foot patrol boat, which went to Brunswick, Georgia.
Outside under a mass of shrink wrap is Wesmac 50, which was purchased by Linda Greenlaw, who is having her lengthened five feet. She is structurally sound and they are getting ready to move her to the water so they can sea trial to make sure that after the modifications she performs the way they want her too. She will then go into Building 8/9, which is the lay-up shop, as that is the only bay she fits in, to be finished as a 49-passenger Subchapter T vessel. They need to rewire her, insulate the engine room and make her Coast Guard certified.
In the first bay they have another boat for the State of Georgia Department of Natural Resources. She is an open boat with twin helms on the open sides. They have most of her structure done with about 30 to 35 percent more to go to complete the project. She is expected to be launched late this year.
When the Georgia boat is out she will be replaced by one recently sold. Her new owner wants to add several features, so she is coming in to have control stations, fish hold and fish tanks and other modifications made.
The twin engine (1,150-hp Caterpillars) Wesmac 50, which is going to West Islip, New York, is in Bay 2. Her structure is nearly done and they have started putting her systems in. Soon she will be moved sidewise into Bay 3 as that is the only door she can come out of.
In Bay 5 they have a boat for the aquaculture schooner at Bridgeport, Connecticut. The floors are down and the classroom wheelhouse is going on, which will be followed by the pilothouse. Once the fuel tanks are hydrostatically tested with the Coast Guard and approved they will put down the platform. Her crane is on its way from Italy and should arrive in the next few weeks. They are looking to launch this one late next spring.
A superwide 46 is in Bay 6 and she is being finished off as a sportisherman for a customer from Massachusetts. The hull is now being worked on and the top is being laid up in Building 8/9.
Over the last couple of months they have sent two Wesmac 50s to Clark Island Boat Works in St. George to be finished, which will be finished off as lobster boats.
They recently had a conversation with a father from Chatham, Massachusetts, who's 20 year daughter loves offshore fishing. She is currently fishing in a 30-foot Grady White centre console and stays out two or three days fishing. He says she needs a bigger boat and they were interested in a Wesmac 42. After several conversations they paper work was being put together and they will start laying her up this fall.
Due to the manpower shortage, Wesmac is going to offer more partially completed boats. Bill Grindle added, "In reality there is no new labor showing up. We have what we have for crew, we have infrastructure so we are going to capitalize on that. We are going to turn out partially completed boats. We are calling them kits but they are going to be partially completed boats. We might do a 50% completion. We might do all mechanical systems in addition to main bulkheads and structure, and then let some other shop do the minutia details that take half the build time. I want to keep that talent pool alive and well. I would like to build on it but that seems to be impossibility."