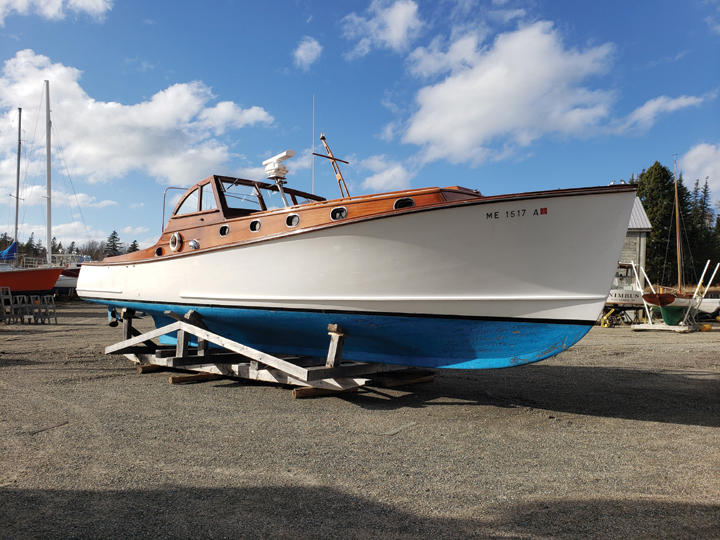 The Bunker & Ellis 42, JERICHO hauled up at James H. Rich Boat Yard, West Tremont.
Buxton Boats, Stonington
        There are number of people who love to cruise the coast of Maine and two of them are Peter and Sue Buxton. For years they have cruised on board their Repco 37 cruiser, but last year they discussed making upgrades and, in the end, it did not make since to make the changes to her so they decided to look for another boat. Their search took them to a cruiser that Peter had built for a customer from Connecticut in 2000. The husband had passed away so Peter contacted his wife, a deal was made and the Repco 37 was put up for sale and sold. He and Sue then made a trek to Connecticut and brought the boat back on her own bottom. The new boat was finished on a Northern Bay 36 hull, powered with a 350-hp Yanmar diesel (1,900-hours) and for accommodations has a V-berth forward, head to port and standup shower to starboard with galley up along with a settee. The boat was well taken care of so Peter only has some minor things to do this winter. He said the first thing was to move the solar panels off the trunk house and will mount them on the radar arch, install a clean out well, and then just her regular maintenance. She will also have a new name, FULL CIRCLE.
Also in the shop is a very interesting boat, SACHEM. She was built on Swan's Island by Frank Sprague in 1933. For dimensions she is 26 feet long, 6-foot beam and draws 2 feet of water. She is powered with a Chrysler gasoline engine and sports a distinctive dust-pan stern. She was originally owned by Forrest Conary for a couple of year and then passed to Charles Turner of Isle au Haut, then Dennis Eaton of Stonington, the Metcalfs of Merchant's Island and most recently Harlan Billings of Stonington. When Harlan passed away last spring she was went back to the owners of Merchant's Island.
Since the 1960s she has been well maintained being stored inside every winter at Billing's Diesel & Marine and gently used to go back and forth to Merchant's Island. She is in to have a new keel and be repowered, but other than that she is in relatively good shape. Peter did add that he may redo her bottom since she is iron fastened. He also said that he was going to give the keel a little more depth so she can swing a bigger propeller. This year she will get the new keel and engine and then go outside and she will be finished up next winter.
After SACHEM Peter will be working on a Flye Point 36, which has a new owner. She is in pretty good condition, but just needs some minor repair work done. This will include re-mounting the handrails, repair some small areas of core where water got into it and then install a propane stove.
Then there is a 34-foot cruiser in Sargentville that needs general maintenance and cosmetics.
Ellis Boat, Manset
        Ellis Boat had a busy summer managing their charter fleet of 10 boats and with brokerage.
They sold several older Ellis boats, as did other brokers, and many of these new owners are storing their boat with Ellis Boat this winter to have them worked on. One of Ellis Boat's specialty is detailing, making the boat look just like new. They also know all the ins-and-outs of their boats so they know how to make modifications quickly and what will work and what will not. Shane Ellis said most of the work includes refurbishing and new electronics. He added that he also purchased an Ellis 20 for the charter fleet
The charter fleet consists mainly of Ellis 36s, but they also have a Hinckley T40 and a newly refurbished Wilbur 38. They started the season off with ten, but sold one of the 36s, one they had built in 2019. When she was sold Shane decided to build another new 36 on spec, which he said, "It is always nice to have a new Ellis 36 in the charter fleet to show off and some people that is all they want to charter."
The hull of the new 36 has been laid up and the stringers are in. Shane is hoping to have her ready for next season, but one of these usually take about a year to complete. When asked if there had been many inquiries on new boats, Shane said, "You know, the one thing that surprised me about this whole thing is that I haven't had more inquiries on new boats. Part of it is our lead time is pretty long, almost a year. If somebody calls me now, I am not going to have it done in the next year. People who want a boat they want it tomorrow.
A year ago, Shane picked up an Ellis 28, which they had refurbished several years ago. She is in great shape and will be added to the charter fleet. Some would like to charter to cruise on, but really, she is a day boat. Good for cruising and stopping at an inn on the water or an Air B & B.
With the Virus still an issue Shane said that he is getting calls for charter boats for this coming season, but he said many of the owners do not know what their plans are at this time. He found that during the pandemic most of the owners wanted to use their boats more, which lessened the availability of some of the boats he had to charter.
So, each of the charter boats will be in the shop this winter and get a through going over to make them look like new for next season. They also have about the same number of boats in for storage and actually had to rent another building for some overflow. Like boat yards on the coast, they are looking for workers. Shane said that he could use marine technicians and a carpenter.
Morgan Bay Boat, Frankfort
        Last summer they launched another of their Morgan Bay 43, finished out as a sportfisherman for a customer from New York. She is powered with a 1150-hp C-18 Caterpillar diesel. As for accommodations, below she as a V-berth, with a bunk above, quarter berth to starboard, and head and shower to port. In the main cabin she has got double Stidds seats facing forward, one at the helm and at the nav-station, a settee to port, galley (two drawer refrigerator, freezer microwave and cooktop) to starboard and a 42-inch TV comes up out of the galley cabinet. The cabin also sports two sliding doors on each side of the cabin. She also has a gyro, bow and stern thrusters and a freezer in the cockpit.
She is back in the shop so they can raise her lifting rails as Gary Kief thinks this will increase her performance. When she was launched, she topped out at 35 knots.
There are two other boats out on the floor, both Morgan Bay 43s. One is a Coast Guard inspected charter fishing and sightseeing vessel going to New York, which is about 40 percent complete. She has a V-berth with bunks over them, a quarter berth to port and freezer to starboard. In the main cabin there is a helm and nav-station seat, galley and settee to starboard and L-shaped seat and head to port. The head is accessed from the cockpit only. As for power she has a 750-hp John Deere. She will be done and launched this spring.
The other 43 is being finished out as a sportfishermen for a customer from New York and is powered with a 1,000-hp 12.9 Caterpillar. She has a very similar layout to the one they launched this past summer. She is about 80 percent complete and will be launched this spring.
They will next start a 47-footer for a customer from New York. The second Morgan Bay 47 has been ordered by a customer from Massachusetts, but she is not scheduled to be started for two years.
Over in Penobscot they have their first Morgan Bay 43 in a shop and they are stretching her to 46-feet. Gary Kief explained, "I needed a little bit more buoyancy in it. The owner wants to put 900 gallons of fuel right against the transom plus the live-well." This project is about two months away from completion so she will not go over until spring. Currently they have the new section glassed and now they need to fair it.
Samoset Boat Works, Boothbay
        In the fall of 2019, they launched a Holland 34, a stretched 32, which they finished out as a lobster/pleasure boat for a customer from Freeport. Sitting at Edgecomb Boat Works was a Mussel Ridge 46, was trucked in and took her place in the old shop as the new shop was not yet ready. The hull had her stringers with engine (1,003-hp C-18 Caterpillar) in place and deck/cabin on. This boat was going to be finished out as a sportfisherman for a customer from Long Island, New York. Once inside the hull was entirely ground and then they started building the structure for under the platform. They started building partial bulkheads around the fuel tanks, extended the stringers up for the live-wells, built the platform in the engine room and then started framing out the deck. They then moved forward. They framed and decked over the salon sole and with this level platform they cut the sides of the house and raised it four inches for added headroom. They built a new cabin top as they needed one longer (18½-feet) and with added strength for the flybridge and tower attachments. With everything done in the engine room, they put on the hardtop. Next, they started building the flybridge as well as interior joinery. For accommodations she as an owner's cabin forward, a bunk bed with two bunks, head with an enclosed shower, and an electrical/electronics locker. Up in the main cabin she has got a dual-helm seat, galley to port (two-burner electric stovetop, massive galley sink, refrigerator/icebox under the galley counter and microwave), a wraparound settee to port and a big sofa to starboard, which can be used as another berth. She also has a 9 kw genset, Sea Chest, Pacer pump, two A/C systems and all the accessories needed for a well-appointed sportfisherman. There is no wood and only epoxy was used.
Presently they are fairing the joiner work in the salon and flybridge getting it ready for paint. They are also working on the wire chases and the hydraulic hose chases that go underneath the wash rails port and starboard. These are for the bandit reel back and the live-well in the cockpit, which also has tuna door, 14 rod holders, greenstick, outriggers, steering station with 12-inch hauler and davit. They are also trying to figure how to run a boom-crane off the pilothouse top so they can unload fish from the fish holds.
This project will conclude mid-winter but will remain in the shop and be launched in the spring.
Next, they have a Mussel Ridge 28 coming in to be finished off as a lobster/pleasure boat for a customer for Rockport, Massachusetts. The owner will be fishing between 100 and 300 traps, but down below the owner wants to go cruising with his wife so it will have a berth, head with simple galley.