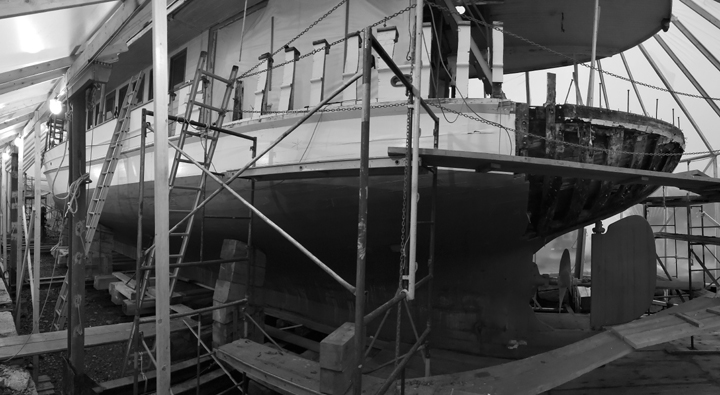 The sardine carrier PAULINE hauled up on the railway at Billings Diesel & Marine in Stonington, where is is getting extensive hull repairs done by Clark & Eisele.
STONINGTON – For years fisherman and boaters have been asking about the fate of the sardine carrier PAULINE, which has been tied to the dock at Billing's Diesel & Marine in Stonington for a number of years. More than ten years ago she had some major work done to her hull, but then she sat with a rumour coming out once and awhile about new owners. A few years ago PAULINE was acquired by OceansWide of Newcastle. Many waited to see what would happen and last summer great news was circulating that she would be rebuilt this winter and she would look like a sardine carrier again.
One of the main hurdles was to find someone to rebuild the hull and OceansWide has made an agreement with Clark & Eisele Traditional Boatbuilding. Tim Clark, added, "We were asked by Andros Kypragoras to take over this project. He was going to be the shipwright on this and he had been talking with Buzz (Campbell Scott, Executive Director of OceansWide) for the past couple of years. OceansWide is a shore-based youth marine science program. They do a lot of collecting of discarded lobster traps and science related stuff. Buzz, who started the organization, is a career marine technician. He's worked in Antarctica and out on the west coast. He wanted to start an organization here in Maine where they could do that stuff with kids and he wants to convert PAULINE back her to original configuration as a sardine carrier, but also equip her with modern marine science research equipment so that he can conduct his programming onboard.
"One question that a lot of people ask is why this boat?" continued Tim. "Buzz grew up on Monhegan and was a commercial fisherman growing up. He has a lot of ties and a lot of love for that community so his idea was that the science is obviously critical to the future of Maine's fishery and sustainability and environmental protection, but also with a nod to the past. So, he wanted to get a boat that has that history and sort of have it be symbolic of that, so PAULINE fits the bill. Billings donated the vessel with the agreement that Buzz would hire shipwrights to come in and do the woodwork. The agreement with the yard is that they would do everything else, any systems, electrical, mechanical and painting."
They have already started. The boat is covered and they have opened up both ends to see what they were dealing with. Tim explained, "We found a lot of what you would expect in a boat that has sat as long as she has. So far, the worst of it are the two ends of the boat obviously because the super structure is not covering those portions. Most of what we are finding back in the stern is original framing and then up forward there was a lot of work done a number of years ago. The problem is that none of that framing got painted or bedded so the planking started rotting. One round of work they put some pretty inexpensive Doug Fir planking in her and that all rotted. When that went it started rotting the frames."
At the bow they have torn planks off back about 25 feet from the stem. Tim added, "The stem had to come out, all the associated stem knee and all those backbone pieces that connect the knee to the keel are all gone so we have got a pattern to make a new one of those. As we are getting toward the sections that are under the super structure the frames are starting to look better so we suspect that she may need a lot of top timbers and what not along the sheer the whole way because the covering boards have been leaking. I think down low we are going to find a lot of the frames, buttocks are okay. Inside, we will tear out the ceiling planking amidships so we can see what the frames look like from the inside rather than tearing all the planks off. That is the plan for now."
"Next year the boat is scheduled to be on the indoor inside railway," continued Tim. "If we get the hull done, then she can be refloated and moved indoors and then we can tear the cabin off. We just ordered a whole bunch of framing stock which is out front and right after the New Year we are going to bring in a full crew so we can really start getting some work done and try and button up the hull."
When they go on the inside railway at Billings, they will finish the hull if not completed, add the bulwarks, lay a new deck, put in the interior and build the aft cabin. There is no design for the interior yet," said Tim. "There's going to be student bunks and some small science lab. It will be pretty basic, but quite a lot of work still.
They are still searching for funding, but they feel confident that they will be able to add the crew and easily repair to above the waterline.
Clark & Eisele also has another project to do the end of this coming summer/fall, which is making repairs to the 1927 New Jersey oyster schooner, now sail training vessel A. J. MEERWALD. She is very similar to the schooners J. & E. RIGGIN and BOYD N. SHEPPARD, ex-ISAAC H. EVANS as they were all built on the same river in New Jersey. She will be coming to Belfast where she will be hauled out and placed on City property near Front Street Shipyard. Tim added, "We will start getting a building up for that. That project was already contracted for and we told Buzz so he knew that we may have to leave this project for nine or ten months and then come back to it. She was restored in the mid-'90s and the education center where she's berthed is actually an original oyster processing dock house that was restored. That is their education center and they run programming with the boat. The industry in that area was supposedly the biggest oyster industry in the world. Then Delaware Bay was hit with a blight in the '50s and wiped out the industry. The industry came back, but they decided they wanted to build this education center and restore the boat. Her restoration is getting on 30-plus years old now so the deck and covering boards and all the cabin trunks and all that stuff are all suffering. The hull is in pretty good shape. We did a survey for them a year and a half, two years ago and we laid out a long-term recommended plan and they are working towards making that happen. The idea is put a new roof on the house, new deck, new cabin trunks, so that everything below stays protected for the foreseeable future. They are trying not to miss a season as their summer season is very important to them, so we have to cram all that work into nine months between their two seasons. That is going to be a pretty intense project."