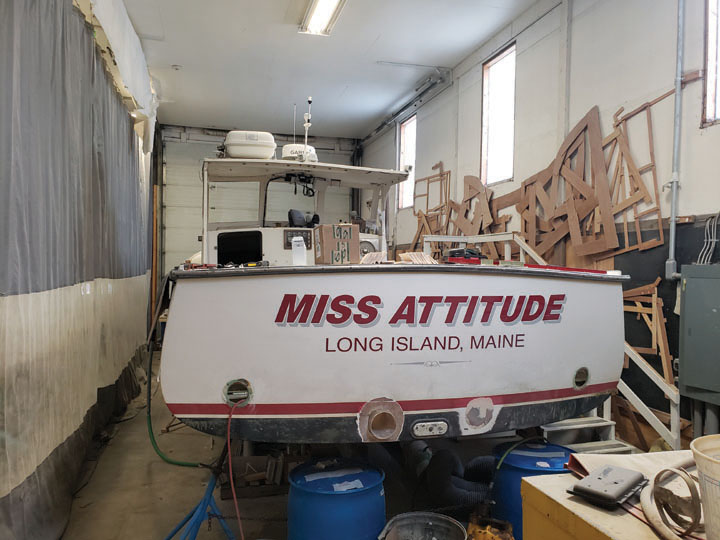 MISS ATTITUDE is spending the winter at Kittery Yacht Yard in Eliot undergoing some modifications. The list started with a shaft tube but has grown.
Back Cove Yachts, Rockland
ROCKLAND – The prototype Back Cove 39O, equipped with the optional triple Mercury 400 Verado outboards, exceeded expectations during sea trials. With a cruising speed of 30 kts (34.5 mph), the Back Cove 39O has a range of over 300 nm and registered just 73 dBA at the helm. The Back Cove 39O achieved a top speed of 43.6 kts (50.1 mph), making her the fastest and quietest model in the Back Cove lineup. The 39O hull design features Back Cove's proprietary Trailing Edge Lifting Surface (TRELIS) *D* for optimal handling and performance.
        The 39O offers a fully-enclosed helm deck, which allows for comfortable cruising and an extended boating season. Her salon-level layout features a galley-up design and side-by-side captain and mate seats opposite a comfortable and versatile U-shaped settee. Fixed glazed windows around the pilothouse create an airy and social space where those on board can enjoy an evening meal or take refuge from the elements.
        Below deck, owners and guests can relax in the privacy of a lower lounge and enjoy a favorite program or the morning news on the Smart TV. An atrium-style opening to the windshield above floods this space with natural light. Guest quarters are located aft of the lower-lounge, beneath the salon sole, and feature two singled beds as well as an optional hull side deadlight for added light and visibility. The master cabin offers generous storage beneath her queen-sized island berth, hanging lockers and shelves outboard, and private access to the head and shower.
        Her cockpit is a fun space with ample room for entertaining. Transom gates to port and starboard provide access to a U-shaped settee across from an aft-facing seat and a central table for al fresco dining. The lazarette storage below the cockpit is easily accessed through a large actuated hatch and provides generous accommodations for all of your water toys and gear. Finally, her aft platform allows easy access to the triple outboards, and boarding is a breeze thanks to her generous swim steps.
        The Back Cove 39O is expected to make her boat show debut in the spring of 2021.
        Back Cove Yachts is celebrating hull #200 of the Back Cove 37 model.
        In the summer of 2008, plans were announced for the Back Cove 37, which would become the company's flagship model and herald a new generation of Back Cove design. True to Back Cove's founding principles, the new Back Cove 37 would feature a planing hull powered by a single inboard diesel, with operator-friendly features and simple but robust systems.
        But that's not all. She would also offer two dedicated staterooms and a fully enclosed "sedan style" helm deck that could be fully opened to the cockpit via a revolutionary door system. If this doesn't sound familiar, it should – these distinct features can be found, albeit in updated form, aboard the new Back Cove 39O outboard. In this way, the Back Cove 37 was "ahead of her time," and with that forward-thinking aesthetic, she made a triumphant entrance into an otherwise troubled market.
        Despite the many challenges that the boating industry was facing, the Back Cove 37 seemed to rise above it all. She quickly made her way onto magazine covers and earned glowing reviews and ecstatic customers in every corner of the globe. By the next year, all the stock boats were sold, the recession was beginning to lift, and the Back Cove 37 entered a run that has gone uninterrupted for the last ten years.
        Eleven years later, late in the fall of 2020, the 200th Back Cove 37 was shipped into dealer inventory. Back Cove's Production Team acknowledged the achievement by signing the underside of a salon drawer as a memento to her future owners.
        The Back Cove 37 shepherded a new generation of Back Cove yachts and has earned the love and respect of boaters the world over. Her legacy extends into Back Cove's new outboard models, and her practical and elegant design principles will continue to guide Back Cove Yachts in the years to come. This astounding success would not have been possible without the support of an extended family of associates, owners, dealerships, and friends, for which they have Back Cove's deepest thanks.
Brooklin Boat Yard, Brooklin
        When Aroha came on our radar the entire BBY crew found a new boat to fall in love with. As easy on the gas as she is on the eyes, classic yet at the same time contemporary, and above all, remarkably seaworthy in a variety of conditions. The design by Peter Sewell, was discovered in New Zealand by Off Center Harbor founder Maynard Bray. The BBY design office collaborated with Peter and Off Center Harbor to produce plans and a CNC kit for home builders. The first boat using one of these kits is currently under construction at BBY and a how to build video series is being filmed to accompany future kits. The boat's modern lightweight construction and minimal 38 horsepower diesel power plant allow her to live on a trailer, be towed to a variety of destinations, and burn next to no fuel underway. Her fuel consumption numbers are .26 gallons per hour at 7.5 knots and 2.1 gallons per hour at 17 knots.
        Dimensions: LOA – 29' 10"; LWL – 29' 1"; Beam – 7' 0"; Draft – 23-1/2" @ DWL; Displacement @ DWL – 3,660 lbs.
        The Aroha 29 is built by Brooklin Boatyard in Brooklin.
Handy Boat, Falmouth
        The summer was challenging for those at Handy Boat since they did not know if they would be able to open because of the pandemic. A majority of the boats that store there stay on a mooring in their mooring field. The only way to access these boats is via a launch from Handy's, the Portland Yacht Club or your own dinghy from the public Town Landing. The use of these facilities were in question during the spring. The powers to be at Handys worked with state agencies and they found that they were able to function within the guidelines set by the state. In the end they actually had a good season even though they launched less than 75 percent of their storage customers.
        For summer work they had a number of transient boats that visited that needed some work done. Then there were a few collisions and groundings that meant big projects for the winter. One of the boats in a collision was a Sabre 34, which suffered topside damage, including rails, lifelines and stanchions, and fiberglass work. The grounded boats have the typical keel and sump damage, meaning interiors need to be removed to get under the sole to repair any internal fiberglass damage. There were also a couple of boats that chaffed through their mooring lines and went ashore in the fall storms. They suffered keel and hull damage. In October 2019, several boats went ashore in Falmouth and Handy Boat had several repairs jobs to do last winter. Two of these boats could not be completed, but were launched for the season and used by their owners and returned this fall to have the rest of their repairs completed.
        Another damaged boat from a collision was a Black Horse 33, which needs repairs made to her bowrail, rub rail, toe rail and then topside paint.
        One of their new customers this year is a Jarvis Newman Friendship sloop from Lake Champlain, which is getting some upgrades.
        An early Hinckley Sou'Wester is in to have her toe-rails replaced and topside paint.
        A Regulator 26 is in for topside paint.
        A Sabreline 36 is getting a new suite of electronics plus upgrades and varnish.
        A Cape Dory 330 is in to be repowered with a 25-hp Beta diesel engine.
        As usual there is a lot of general maintenance work to do, which includes paint and varnish.
        Handy is doing some upgrades on one of their Crosby launches. She is a 22-footer named HAROLD and she had her ballast removed (800 pounds of window sash weights) and this will be replaced with lead encased in fiberglass. When this is done she will be getting new engine beds and then her annual maintenance.
        As for yard work they will build some new floats, and within a year or two a new storage building on the lower level. The permits are all in place, but the pandemic has put this project on hold for a while. Another major purchase this summer was a new Grove 4-wheel all terrain crane which came from Jamestown, RI. This allows them to pull bigger masts, which was much needed.
Hodgdon Tenders, Damariscotta
        Continuing the success of these two proven platforms, Hodgdon Tenders is now offering all electric versions of their 10.5m forward helm and 12m aft helm limousine Venetian line tenders.
        The Venetian tender line has been designed in collaboration with Michael Peters Yacht Design and engineered by Hodgdon Tenders' in-house team. The electric version of these two tenders were developed without compromising the custom details and luxury features that are the hallmark of the Venetian line.
        Both boats will be powered by Vita Power, a high performance fully electric powertrain for the recreational marine sector. The V3 and V4 fully electric powertrains from Vita Power deliver 220kW / 295hp and 440kW / 590hp respectively.
        "At Hodgdon we have always endeavored to push the boundaries in terms of materials, technology, and design to optimize performance. Our move into providing all electric tenders is further evidence of this and addresses increasing demand from the market for zero emissions tenders onboard superyachts," says Audrey Hodgdon, Director of Sales & Marketing. "We're pleased to have developed two tenders that offer benefits that can only be achieved with electric, while remaining true to the Venetian line's style and quality."
        In addition to its high performance, Vita Power is the first fully electric propulsion system compatible with DC fast charging significantly reducing the charging time using Vita superPower, the first fully marinised charging system.
        The CEO of Vita Rory Trahair adds, "We are delighted to be working with one of the foremost brands in the yacht tender market to develop what we believe to be the first fully electric superyacht tenders. The use case for electric tenders for superyachts is proven and the technology is available today".
        Both the 10.5m and 12m Venetian line electric tenders are fully engineered solutions with build slots available.
        Vita is a marine technology company that is building an end-to-end ecosystem for electric boating. Its mission is to reduce the impact of boating on the marine environment by increasing demand for electric power in the boat market.
James H. Rich Boat Yard, West Tremont
        In the last issue there was a photograph in boat yard news of the yacht JERICHO [1955, 42-foot Bunker & Ellis] hauled up at the James H. Rich Boat Yard in West Tremont. This is where she is normally stored and every year they do her annual maintenance and anything else that might need to be done. This year they knew that they needed to address a problem with her guards stem and leaks around windows.
        Every year they remove the screw in the guards and have noticed that they were not biting very well when they put them back in and thought that there was an issue with the wood behind the guards.
        Knowing that they had this project they asked Wayne Rich of Bass Harbor if he could assist them with the work, to which he agreed. Wayne is primarily a lobster fisherman, but has always been around boatbuilders, mainly with his father Walter and uncle Robert, better known as "Chummy." He came in and removed the guards and discovered that most of the screws were going between the deck plank and sheer plank and thus were not hitting any solid piece of wood. He figures that the best way to deal with this issue is to drill the screw hole out and plug it to give the screws something to bite into.
        As Wayne was working on the guards he noticed that the tip of the port side sheer plank at the bow had an issue. He began digging into it and discovered that it had been repaired with Bondo so he kept digging. The issue kept growing and then he decided to check the starboard side and found the same problem. Then he got his jackknife out and stick it into the joint between the stem and the sheer plank and the blade disappeared all the way to the first knuckle. This was going to be a big project, so he decided to get a little coaching from Chummy. Chummy came down and they removed about 5-feet of paint on both sides of the stem down to the waterline. Then they took the jackknife and stick it in at the top and worked their way down the stem until they hit solid wood, which was about 4-feet down. Thankfully, Wayne did not have to go further as that would have meant taking the interior apart. As it was he had to remove the caulking and screws in the planking, being careful not to damage the edges of the planks. He went back about 4 feet and then with wedges spread the planks and was able to make a jig of the stem piece that needed to be removed. Next, he took a handsaw and cut the top of the stem out on a sharp up and down angle. There was an 8-foot 6 x 6 piece of oak at the shop, but it was thought best to cut that into four pieces and laminate it together. Once shaped Wayne slid it in place, glued and fastened it with three ½-inch bronze rods. Wayne added that his next step will be to start replanking.
        Another issue has been noted and that is around the corners of the windshield and they will be exploring to see how far they need to go to make that repair. They also have leaks around a couple of the port holes.
        Normally Wayne works with Chummy after lobstering is done for the season. This year he had everything up in early November and Chummy and he began working on an 18-foot sailboat. It was quickly realized that there was not going to be enough work for both of them so it was fortunate that JERICHO was on Wayne's schedule. Chummy is still working on the sailboat and Wayne joins him on the weekends. The sailboat was built by Concordia and is having her ribs and floors replaced. Next, they will be finishing up a 26-foot lobster boat, which was built by Gary Stanley of Trenton in the late-50s. Chummy did some work on her, frames, floors, engine beds and installed the engine, a number of years ago and then Gary was going to do the rest. Gary unfortunately never got to it and then he passed away. The family would like to have her finished and she is in Walter Rich's shop, where Chummy and Wayne will finish most of the work before the family takes over the project.
Kittery Point Yacht Yard, Eliot/Kittery
        In one of the work bays at the Eliot facility they have the rehabilitating lobster boat MISS ATTITUDE [Holland 32, built by Bradley Simmons, East Boothbay, 1994; 265-hp John Deere] came in for a new shaft tube, but the work list has expanded. Marshall Farnham, project manager at the yard and a former owner of MISS ATTTIUDE, said "The work list has blossomed into a new cockpit sole with fiberglass I-beams and Cusa board, fuel tanks, tuna door, stern deck modifications, new windows cut square for Glenn Holland, underwater lights and live-well. There is not much room under the deck, but they managed to get the 6-inch exhaust fitted properly. With all the modifications made to the transom Marshall said that they will re-gel it, buff it out and put on new stickers. Marshall thought she would be back next year for some more upgrading of creature comforts.
        In another shop they have a Duffy 35, which is in for her third and final year of a refit. She is going to get a new hot water heater, holding tank, head system and steering upgrade. Then she will get her normal maintenance before going over for the season.
        At the Kittery yard they have a Bar Harbor 39 in for paint, top to bottom. The bottom has been soda blasted and will get a barrier coat. She is also going to get a live-well, which they will build from scratch and a lot of systems work.
        The yard is full of storage customers and there is plenty of work to do on them, mostly service, paint and varnish.
        Keeping the Navy's security boats maintained also keeps them very busy as they are running 24 hours a day seven days a week. This keeps one mechanic busy much of the time.
        I asked if there was more work this year than last, since we know more people went out on the water last season. Marshall agreed that there was a lot of boat traffic around the area, but a lot of it was in centre consoles. This has meant more outboard sales and service, but he added that it did not affect the number of big boats in the yard. In fact, they have more big boats stored this year than last.
Lyman-Morse Boatbuilding, Thomaston
        A Spirit of Tradition show-stopper, the Hood 57 by Lyman-Morse is an elegant Classic Express yacht launched in October 2020. Chris Hood developed the yacht's original design and concept and brought in Stephens Waring Yacht Design and Lyman-Morse Boatbuilding Company for its execution. "Lyman-Morse has been working with the Hood family since we got into the business in 1978, and having recently finished Anna, another highly engineered build from Stephens Waring Yacht Design, Chris Hood knew we were up and running on what he wanted to do in terms of building this new powerboat," said Drew Lyman, president of Lyman-Morse.
        The owner outlined the Hood 57 LM's mission simply: pure enjoyment and lifestyle on the water. The yacht is easily handled and can be docked single-handed; with the feel of luxury car performance and top speeds of 37.5 knots and cruise at 32 knots– all within the comforts of the plush interior and its 360˚ views. It is perfect for weekend cruising and entertaining. The Hood 57 LM features custom-designed, bead-blasted, stainless-steel hardware, including a spiral stairway leading to the flybridge. These elements were constructed at Lyman-Morse Fabrication. The yacht's unique open-format cockpit, providing direct access to the water and dock, and well-founded accommodations for four will ensure fun times on the water for family and friends.
        Distinctive form meets function throughout. "With every project we look for a design element that will separate the project from the rest of the market," said Paul Waring of Stephens Waring Yacht Design. "In this case it is the cabin trunk. That line is echoed in the flybridge coaming, the bowrail, and aft windows." It's not the only feature harkening back to the early 60s powerboats. The Corvina Red custom Awlgrip hull color is eye-catching without being flashy.
        "Project development with this owner was great fun," said Chris Hood. "He is a car guy, with a serious eye to sharp design. He also wanted a thoroughly modern yacht in terms of functionality. For instance, the windows are push-button, drop-down units. The aft table is a three-in-one, DaVinci-esque mechanism – a sun bed raises to a cocktail table which then raises to dining height. Electronics are state of the art intuitiveness. Everything you need to monitor is at your fingertips."
        The owner requested a forward seating area and the Hood team felt is should have the feel of an antique car's rumble seat. Stephens Waring Yacht Design came up with an elegant way for it to appear from the flush deck.
        Underway, the twin Volvo IPS 1350 pod drives will deliver speed and maneuverability for smooth owner-operation in any setting. And what about that transom? The transom's varnished teak grates exhaust heat and noise from the engine room in its wake. And what about access to systems and engines? Chris Hood is a big fan of ease of access and made sure the separate systems room which can be entered through a hatch in the main saloon, will be a joy to work in. As for the engine room, basically the entire cockpit, is hinged and raised to expose the Volvo IPS in their entirety.
        The interior accommodates 4 overnight guests. Painted raised panels in the cabins, with fabric headboards provide plush comfort. Granite sinks with mother of pearl inlay, basketweave tiles, towel warmers, and softer than a cloud bedding, will envelop overnight guests in pleasure. In the shared areas, the look is modernized Americana. Pewter counter tops, snappy checked flooring pop the galley. Custom designed leather furniture and molded dash show the expertise of Alfred's Upholstery & Co. of Alfred, Maine.
        Inside and out the Hood 57 LM is a timeless masterpiece.
        Chris Hood has partnered with Lyman-Morse to build the Hood 35 LM. Hull #1 is currently under construction in Thomaston.
Lyman-Morse Technologies
        Time was literally of the essence when Lyman-Morse Technologies was contracted by Knollmeyer Construction Corporation in September 2020 to build a set of clock hands for Boston's iconic landmark Custom House Tower by December. It was never going to be a straightforward job. Among other things, the timing was dependent on the clock tower's residents – a pair of nesting Peregrine falcons who have made the clock their home for more than 20 years. The four-sided clock is part of the large tower atop the Financial District's Custom House building, which was completed in 1847. The 495-foot tower and clock were added to the building in 1915-16. The skyscraper was the city's tallest, before it was eventually surpassed by the Prudential Tower in 1964.
        In addition to timing, requirements for the project included weight restrictions, stiffness, weather-resistance and it needed to be historically accurate, requiring a Boston Landmark Commission approved gold finish. The new hands (five sets were made of the minute and hour hands – 4 sets for each of the clock's faces, plus a spare set) weigh 25lbs each and are made of carbon fiber laminates infused with epoxy resin. "To be sure we were dialing in the correct elements and fabrication techniques, we conducted a Finite Element Analysis to make sure the hands would meet the requirements," said Andy Smith, Vice President of Lyman-Morse Technologies.
        Once the fabrication technique and materials  were determined, the LMT team copied the original wooden hands geometry to make the molds. Due to the tight production window, two sets of molds were created to speed up the production process. The Lyman-Morse team added some innovative new features by incorporating the balancing weights into the hands themselves which improved the overall aesthetic appearance. "Lyman-Morse Technologies used the state-of-the-art capabilities of composite construction, design accuracies, and weight tolerances to produce a high-tech replica for this iconic project," said Drew Lyman, President of Lyman-Morse. "Every time we drive through Boston, we can look at clock and be reminded of the work of our team." The hands were delivered December 10th. For more information contact: Andrew Smith: asmith@lymanmorse.com or 207-354-6904.