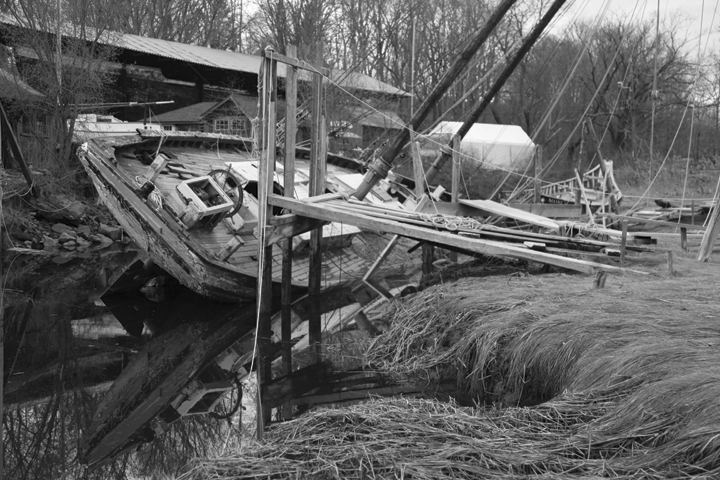 This is the former sardine carrier/passenger vessel SYLVINA W. BEAL sitting in the creek by Harold Burnham's boat shop in Essex, MA.
ESSEX, MA – The Town of Essex, Massachusetts is well known for their boatbuilding, especially fishing schooners. There are a number of names associated with this enterprise, but one of the best known are the Burnhams, who have been building boats there since the 1600s. Carrying on this tradition is Harold Burnham, who is also owner of a well-known Maine vessel, the former sardine carrier and passenger vessel SYLVINA W. BEAL.
        The BEAL is now sitting in the creek next to Harold's shop in the center of Essex. "Well, it is kind of a funny story how we got it. The BEAL is a boat that I knew about going back many, many years. I'd see it on the coast and my first real staunch memories of it was when it was operating off of Boothbay, which I think was 2001/2002. Ed Zimmerman was captain and he would be the SYLVINA BEAL and that boat always caught my eye so I would sail up to him, run really close and watch and wave to him. I didn't realize it at the time but Ed Zimmerman was looking back at us. That was when I had CHRISSY, the old Friendship Sloop. Ed must've been looking back at us because I remember seeing the BEAL and thinking oh, what a beautiful schooner. A few years later, Ed came down and bought CHRISSY. So, CHRISSY went up to Bar Harbor and was doing what I was doing lobstering. I think they were a lot more successful up there then I was down in Gloucester. Ed sold her to Steve Pagels and she is still running up there. Then I heard the BEAL was in Eastport. My friend Jeff Lane did a lot of work on her and kept telling me how horrible she was but what a wonderful boat. Then about 2015 or so a guy came by, and he said, 'I have got to tell you I just bought the SYLVINA BEAL.' And I said, 'You did what?' He is a very bold fellow and he went up there and filled the seams with roofing tar and Portland cement and sailed it down to Nantucket. I couldn't believe that he made it. He had it in Nantucket for a season and did a lot of work to it, but he brought the boat back at the end of the season to Steve and the deal fell through. It was more than he could do. I kept my eye on it and while I was working on ERNESTINA in Boothbay Willie Leathers came by and he said, 'If I had my druthers, I would go get that SYLVINA BEAL.' I went to the Schooner Association meeting down in Connecticut that spring, in 2018, it was February and just before I went, I picked up a Marlinspike magazine and in the back, it said SYLVINA BEAL oldest knockabout fishing schooner in North America. I kind of had to chuckle at that description of the boat. I had the ARDELLE over in Gloucester, a large schooner came and tied outside of me and they were trying to run commercial passengers off the same dock I was. As a joke I went around at that meeting and I told people, don't tell anyone this, but I hear that the before too long you might be able to go down to the dock at Maritime Gloucester and see the oldest knockabout fishing schooner in North America and go for a ride on it. And if you walk a little further you will get to the second oldest knockabout fishing schooner. It was all a joke, and I didn't mean me. When you start a rumor, sometimes it gets out of control and by the time I got back, people were calling me and saying we support you taking on that project and we are delighted that you want to do that and you can tie it right up here. I thought, oh, my God, what have I got myself into? I called Maynard Bray and he said, 'I've got something for you,' and he sent me a photograph of the BEAL with all the sails on it and a dory alongside. You can't put a picture like that in front of a person like me and not have your gears all turning. The BEAL is an interesting design, being a knockabout, she is big, she is 80 feet. I am pretty sure Frank Adams designed her. When I build boats, I always think of bowsprits and things like that. The way the rules are written for Coast Guard inspected passenger boats you can't put that much sail on them anyway so if you remove that bowsprit, you've gained an enormous amount of passenger capacity and you lose nothing in sail area. The BEAL is only a couple of feet wider, maybe 2½ feet wider than ARDELLE so she fits in the same berth and the height of the rail is the same and the thought was we can make half of our season in a few days if we had doubled or triple the capacity. The idea of having an expanded fleet just seemed to make enough sense to make me completely senseless. We went down to see Steve and looked at the boat. She had a beautiful windlass and all the beautiful gear, nice engine, but I knew the boat was shot and I hoped with luck we could have one last run in her.
        "When I left, I said to Steve," continued Harold, 'When you get sick of pumping this out, you let me know.' He said, 'Well when you want it, you let me know.' Quite a bit of time went by and I knew that he wanted somebody to do something with it and before the end of the year he called. I told him, 'I will come look at it and if I think I can do it I'll take it.' He understood what we would need to make the delivery legally and safely. I talked with the Coast Guard and I talked with Steve and I talked with the insurance people, there is a lot to taking on a project like that. We ironed it out enough so that we were all pretty comfortable and watched our weather and we went and got her. Mary Kay and I went up and we fixed the steering gear so that worked, put a new fuel tank in and got that engine running.
        "On the way down, we had some beautiful weather leaving Bar Harbor," explained Harold. "We found all the sails in heaps and there was tons of pot warp on the boat so we just started rigging stuff up. By the time we got to Rockland the first night we had made decent speed, probably 5 1/2 to 6 knots. It took five or six days before we got all the way back to Gloucester, as we had to wait for the weather twice and just sit. The boat wasn't sound enough to push and the second to the last day coming down from Boothbay to Rockport, Mass. the wind kept building and luckily, we were huddled along the shore but we were doing 9½ knots with a reefed fore and a double reefed main staysail. She was moving like boats should never move, instead of creaking she was just thudding and twisting. A lot of water coming through her. It was terrifying but exhilarating. We left Rockport on a beautiful day, northwesterly and sailed along the back shore, around Eastern Point to come into Gloucester Harbor and when we hardened up the mainsail just blew in half. We figured that was the boat telling us done."
        She was docked at Maritime Gloucester, where she was hauled out on the railway. Harold and his crew removed all the ballast and cleaned her up. He then removed the outside ballast and the engine so she could get up the Essex River. Harold added, "We left at 4 in the morning and with help from Tow Boat U. S. who towed us around Cape Ann. When we got off the bar, we were early so we let go of the tow and we made a Marconi sail out of the ripped in half main and sailed her around the river for a bit. He then towed us up the river. I knew it could be a disaster if we went aground and he did a fantastic job. I am so glad she is still not stuck out on a clam flat broken in half somewhere. She is a very lucky boat."
        Harold had done a lot of research before he even committed to the project. He said, "We knew right from the get-go that she needed a new hull. We took the plans that Sam Manning had drawn and we looked at the Coast Guard regulations and what you can do within them that would preserve the important elements of design. We are going to keep her nice sheer, small transom, the bulwarks, and rails are going to be similar, but will be higher because of the Coast Guard regulations. It will still have the heavy guard strakes that all the sardine carriers had for working in amongst the nets and working alongside other boats. The hatches will be similar to what she had originally and in some cases, they might be a little taller to go with the taller bulwarks. We made her a little deeper so she will have a little more depth. The Coast Guard is pretty serious on 6-foot 2-inch standing head room. I've have been in the historic vessel rehabilitation for many years now and if you look at any historic ship on the National Historic Register you realize almost all of them have undergone changes in one way or another. The changes we have made although, sweeping in some ways, are all within the tolerances of what other boats have had happen to them. What we are really preserving is the name and the elements of the historic integrity. She is going to be in a fishing port working all along the New England coast. The homeport will be Gloucester, but the range of the boat will be the entire Gulf of Maine.
        When will they start building the new hull, well outside the shop the wood has been arriving every day. The construction plans have been approved by the Coast Guard and they are now working on the engineering items and sail plan. They had planned to start this year, but the pandemic put them behind. Harold has chosen a spot next to the shop where they will build her, and construction will start next year, hopefully in September after sailing season concludes with his pinkie ARDELLE, which sails out of Gloucester during the summer.
        Harold explained, "There is no escaping it at this point. There is no way that we can back out and save face. We have got to do this. So, we are committed."