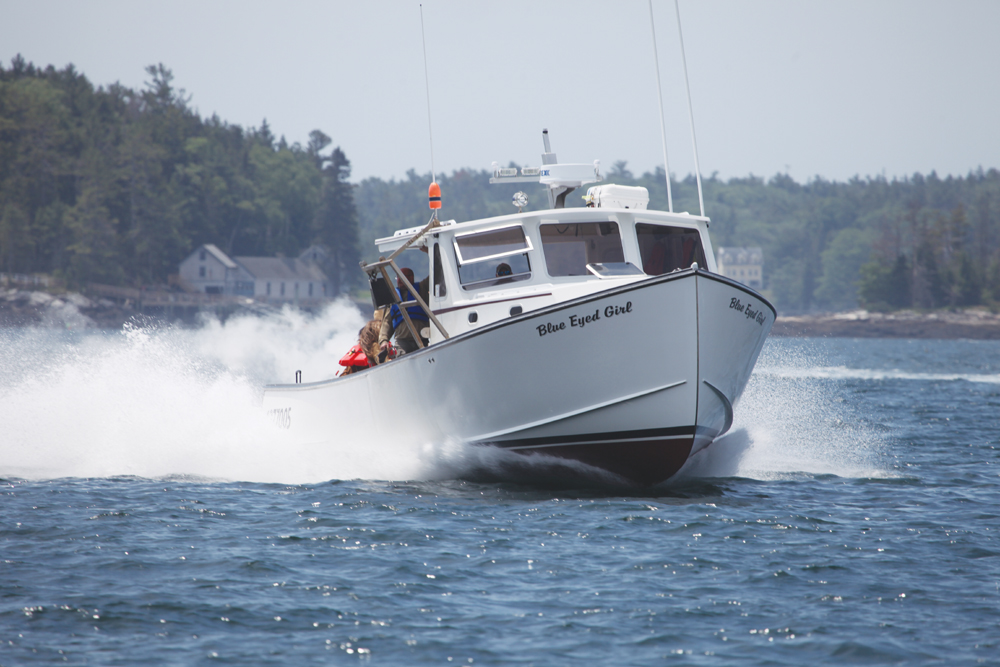 Andrew Taylor's BLUE EYES GIRL [Northern Bay 38; 900 hp Scania] wins five races and places second on the first weekend of lobster boat racing at Boothbay and Rockland.
BOOTHBAY and ROCKLAND – For a number of reasons the opening race at Boothbay was anxiously anticipated this year. Some, because they had been cooped up the last year due to the pandemic, but others had new boats, or had repowered, and just wanted to see what they could do. The rumour mill had been working throughout the winter and spring and now we were going to see just what everyone was up to.
        Friday evening more than 20 boats had gathered at Brown's Wharf in Boothbay Harbor. A few Of them were from way Downeast (Beals Island, Harrington, Jonesport and Milbridge) and a couple from Massachusetts (Gloucester, Hull, and Newbury). There was also a news crew from Spectrum News of New York City and they were there doing a story on Heather Thompson of GOLD DIGGER. When I arrived, those there were just walking around, but later the fun began and it extended well into the night.
        It was quiet first thing in the morning, but sign-ups remained steady till after 0900. At one point the sky turned black and then it opened up. The weatherman was correct because it was a short stint, albeit a constant down pour, followed by blue skies accompanied with a nice breeze. When sign-ups were complete 44 boat were registered to race, some new, some old but not forgotten, some repowered, and of course the usual cast of characters.
        The first three races of the day were the Work Boat Classes and Classes A and B have been dominated by the Noyes' of Harpswell for the last year or two. Emily and Jennifer Noyes were entered in Class A (Skiffs 16-feet and under with outboards up to 30 hp, Operator 18 years and younger) with JENILY [Corson 14; 30-hp Johnson] and bested William Tierney in NUGGET [Holland 14; 30-hp Honda]. Their brother Jacob in ZIPPIN' TOO [Corson 15; 90-hp Nissan] showed their father, David, in ZIPPIN [Corson 14; 60-hp Johnson], the way to the finish line in Class B (Inboards, outboards or outdrives, 31 to 90 hp). In Class C (Inboards, outboards or outdrive 91 hp and up) CASCO MISS [Eastern 22, 250-hp Honda], owned by David Johnston of Peaks Island, got the win with a speed of 47.4 mph.
        Next was the Fastest Working Lobster Boat – Boothbay and it was no surprise to see Andrew Taylor's BLUE EYED GIRL [Morgan Bay 38, 900-hp Scania] streak across the line for the win.
        There was no entrant in Gasoline Class A (4 & 6 cylinder 24 feet and over) and just one in each of the other Gas classes (SEA FOAM [James Brackett 32; 350 Chevrolet], Hayden Brewer in Class B (V-8 up to 375 cid, 24 feet and up); BLACK DIAMOND [Holland 32, 454 Chevrolet], Lindsay Durkee, Class D (V8, 376 to 525 cid, 28 feet and over). There had been rumours this spring that Mark Davis of Harpswell had purchased Jeremy Beal's MARIA'S NIGHTMARE [Mussel Ridge 28, ex-Wayne Beal 28] and had put in a 1,000-hp Chevrolet engine with a blower and changed her name to DOWNEAST NIGHTMARE. She was entered in Class E (V-8, Over 525cid, 28 feet and over, superchargers/Turbos). She lined up with Mark Freeman's FOOLISH PLEASURE [30' Custom Riley Beal; 650-hp 455 Stroker] made famous by Galen Alley of Beals Island and the boat that still holds the gasoline speed record. Since there was just one in each class, they were sent up the course together with each getting the win in their respective classes. There is nothing like the sound of a big gas engine and these DOWNEAST NIGHTMARE and FOOLISH PLEASURE certainly provided that when the flag was dropped. Who was going to win was the next question, but just after the start FOOLISH PLEASURE went dead in the water and was towed back to the dock. DOWNEAST NIGHTMARE streaked up the course with a speed of 44 mph, unfortunately we were unable to get a speed on FOOLISH PLEASURE.
        Next up were the diesel classes with no entrants in Class A (Up to 235 hp, 24 to 31 feet) and Class O (Non-working boats, any length, any horsepower). With just one entry in Class B (Up to 235 hp, 32 feet and over), SEA BOUND [32-foot J. Ervin Jones, 1970; 120-hp Perkins], Joseph Arsenault of Gloucester; Class C (236 to 335 hp, 24 to 33 feet): MISS ATTITUDE [Holland 32; 265-hp John Deere], Adam Kimball of Long Island and Class D (236 to 335 hp, 34 feet over): LIBERTY [35' E. Libby, Jr.; 300-hp Caterpillar], Tony Hooper of Port Clyde they were sent up the course together. In Diesel Class E (336 to 435 hp, 24 to 33 feet) HIGH VOLTAGE [AJ-28; 400-hp Yanmar], Dan Sawyer of Jonesport got the win over AUDREY MAY [Holland 32; 425-hp Cummins], Randy Durkee of Islesboro. There was only one entrant in Class F (336 to 435 hp, 34 feet and over), AIDEN MARINER [Calvin Beal 34; 425-hp Cummins], Winfred Alley of Beals Island and Class G (436 to 550 hp, 28 to 35 feet) RIGHT STUFF [Libby 34; 500 hp Cummins], Dana Beal of Beals Island so they were sent up together. Class H (436 to 550 hp, 36 feet and over) had four entrants and it was MELYNDA M. [Wayne Beal 36; 500-hp FPT], Willie Coombs of Prospect Harbor leading the way. The battle was now for second. RISKY BUSINESS [Crowley 36; 550-hp John Deere], Kyle Look of Columbia was leading TUNA WISHING [West Bay 37; 450-hp Cummins], Jason West of Milbridge to the finish, but unfortunately RISKY BUSINESS slowed, as did TUNA WISHING thinking they had crossed the line and it cost them as they went from second to third and fourth as FIRST TEAM [Northern Bay 36; 410-hp Sisu 645], Travis Otis of Searsport slide by for second. MISTY [Crowley Beal 33; 650 hp Scania], Chris Smith of Richmond could reach 100 races if she competed in three races, but she opted to only enter Class I (551 to 700 hp, 28 to 35 feet). She took second with first going to LIL' LISA MARIE [Mussel Ridge 28; 600-hp FPT], Gary Genthner of Round Pond. When the flag dropped for Class J (551 to 700 hp, 36 feet and over) it was all GOLD DIGGER [Wayne Beal 36; 675-hp Scania], Heather Thompson of Harrington. She said after the race that she thought she was going to get trimmed by WHISKEY TANGO FOXTROT [Crowley Beal 33, 650-hp FPT], Roger Kennedy of Steuben. It is obvious he is not going as well as he would like and will need to find a few more mph to catch GOLD DIGGER. Another race many of us were waiting for was Class K (701 to 900 hp, 28 feet and over) between BLUE EYED GIRL [Morgan Bay 38, 900-hp Scania], Andrew Taylor of Boothbay; JANICE ELAINE [Northern Bay 38; 815-hp FTP], David Myrick of Gouldsboro; and MARIA'S NIGHTMARE II [Wayne Beal 32; 800-hp Nanni], Jeremy Beal of Jonesport. They all had about the same power so it should be a great race. It looked close as they came up the course, but BLUE EYED GIRL had a boat length lead on MARIA'S NIGHTMARE II with JANICE ELAINE back another boat length, which is how they finished. The only entrant in Diesel Class K (701 to 900 hp, 28 feet and over) was ALL SET [Holland 38, 1,200-hp MAN], Rick Albertson of Sebasco Estates. After a little bad luck (a devastating fire in 2019 followed by a lightning strike after the rebuild in 2020) PULL N' PRAY [Wayne Beal 40; 500-hp Hyundai], Justin Papkee of Long Island, it was great to see him get the win in Diesel Class M (A) (40 feet and over, up to 500 hp). One of the most competitive classes is Diesel Class M(B) (40 feet and over, 501 to 750 hp). KIMBERLY ANN [Calvin Beal 42; 750-hp FPT], Eric Beal of Milbridge led MISS MADELYN [Osmond 42; 700-hp Scania], Jason Chipman of Milbridge to the finish line for a one-two finish. The top boat in Diesel Class N (40 feet and over; 751 hp and over) was SHE'S ALL WET [Osmond 40; 800-hp Scania], Ken Geiger of Cherryfield. Second went to SIZE MATTERS [Libby 45' 3"], Dixon Smith of Beals Island, who repowered with a 1,000-hp FPT this winter.
        After being towed off the course we thought that was the day for FOOLISH PLEASURE, but just before the Gasoline Free-for-All she reappeared and ran the course with a speed of 44 mph. Well, if she went 44 and so did DOWNEAST NIGHTMARE, that should make for a great race in the Gasoline Free-for-All. As they came up the course it was close, but FOOLISH PLEASURE began getting separation and went on for the win.
        SEA FOAM won Wooden Boat Race A (Any hp, up to 35 feet 11 inches) and SAND DOLLARS III [41'Johns Bay Boat; 700-hp Caterpillar], Scott Dugas of Yarmouth won Wooden Boat Class B (Any hp, 36 feet and over).
        The next big race was the Diesel Free for All and this time MARIA'S NIGHTMARE II just got by BLUE EYED GIRL for the win with third going to JANICE ELAINE.
        Who was going to win the big race of the day, Fastest Lobster Boat Race? Well, just before the race Jeremy said that he was not racing the last race. Just two came to the line with BLUE EYED GIRL getting first and JANICE ELAINE second.
        One can expect some of these boats will gain speed over the next several races. Some did not have the time needed to get the bugs in fact one went over Thursday night before the race.
        With the first race of the year in the books everyone was now looking forward to Sunday's race at Rockland.
ROCKLAND – It was another fine day for racing with bright sunny skies and a nice breeze. When sign-ups were finished, we had 64 boats entered. There were a number who had raced at Boothbay, about 34, but the other 20 came mostly from local harbors.
        The three Work Boat classes were up first and JENILY got the win once again in Class A as did their brother Jacob in Class B with ZIPPIN' TOO. In Class C CASCO MISS was a no-show as her owner, Dave Johnston had a wedding to attend. In the third race, Class C, those on the race committee were wondering about the stability on DELUSIONAL [Corson 18; 225-hp Evinrude], Ron Pottle of Brunswick as she rode up on her starboard side. However, she stayed upright and went on for the win.
        Next up was the Gasoline Classes, with no racers registered in Class B and E. There were four boats signed up with two boats in Class C so they were all sent down together. The winner in Class A was CINDY JEN [34' Clinton Beal, 1964; 292 Chevrolet], Jon Johansen of Winterport; in Class C was BLACK DIAMOND with ROAR [32' Clinton Beal, 1960; 454 ci Chevrolet], Jim Lee of Tenant's Harbor second; and in Class D, FOOLISH PLEASURE.
        In the Diesel Classes there were no entrants in Classes B, L and O. The winner of Class A was HIGH HOPES [Osmond 27; 225-hp John Deere], Kevin Hornby of North Haven. First in Diesel Class C was REASSURANCE [AJ-28; 300-hp Cummins], Jim Philbrook, Owl's Head followed over by MISS ATTITUDE. BRIELLA GRACE [Duffy 35, 300-hp Cummins], Kaleb Campbell of North Haven won Class D with LIBERTY second. In Class E it was all HIGH VOLTAGE followed by AUDREY MAY and KAMERON & HOPE [Mitchell Cove 32; 355-hp Cummins], Shawn Carlson of Vinalhaven, in third. AIDEN MARINER got the win in Class F with SOUTHERN COMFORT [Mitchell Cove 35; 405-hp Cummins], Avery Waterman of North Haven in second followed by RICH ENDEAVOR [Osmond 37; 430-hp Cummins], Colyn Rich of Bass Harbor in third. RIGHT STUFF continued her winning ways in Class G and in second was SYLVIA C. [Young Brothers 35; 500-hp FPT], John Crane of Port Clyde and MISTRESS [RP 35; 500-hp Cummins], Ryan Marves in third. MELYNDA M. again won Class H and second went to ALL IN [Northern Bay 38, 510 hp Volvo], Jeremy Tyler. Class I was won by LIL' LISA MARIE and second was MISTY. GOLD DIGGER continued her winning ways in Class J with WTF in second followed by Scott Keenan's DEAR ABBIE [Northern Bay 38, 700 hp Volvo]. BLUE EYED GIRL, JAMICE ELAINE and MARIA'S NIGHTMARE were facing off once again in Class K and this time JANICE ELAINE looked like she found some additional speed, but just not enough to get by BLUE EYED GIRL. Richard Hildings of Vinalhaven has been racing since he was a kid and today, he came with SEA BREEZE [Osmond 40; 500-hp Cummins] and won Class M(A) with Alan Knowlton's SEA URCHIN [Young Brothers 45, 425-hp John Deere] in second. The normal battle took place in Class M(B) and again KIMBERLY ANN took the win with MISS MADELYN second followed by ALEXSA ROSE [Morgan Bay 43; 750-hp John Deere], Matt Sheppard of Stonington. In Class N SHE'S ALL WET took the win again with HANNAH LOUISE [Calvin Beal 42; 800-hp John Deere], Richard Alley, Jr. of Addison, second.
        FOOLISH PLEASURE would easily win the Gasoline Free for All with second going to BLACK DIAMOND.
        In the Diesel Free for All the winner was BLUE EYED GIRL with MARIA'S NIGHTMARE second and JANICE ELAINE third.
        ROAR won Wooden Boat Race A. You know what is embarrassing? When you disqualify your boat in the race. CINDY JEN was coming up the course and someone on the stern took their lifejacket off halfway up the course. The win in Wooden Boat Race B went to SARI ANN [42'Johns Bay Boat; 660-hp Volvo], Vance Bunker of Owl's Head.
        In the Fastest Lobster Boat Race BLUE EYED GIRL was chased up the course, but no one could get by her. Second went to JANICE ELAINE and third was MARIA'S NIGHTMARE in a great race.
        With that the racing came to an end and it is now on to Bass Harbor (Sunday 27 June). Hopefully, some of the boats that missed the first weekend of racing, such as Jeff Eaton's LA BELLE VITA [Northern Bay 38; 750-hp FPT]; Ira Guptill's MYSTERY MACHINE [Northern Bay 38; 750-hp, John Deere]; and Cameron Crawford's WILD WILD WEST [West 28; 1,050-hp Isotta], will make this race. Alfred Osgood's STARLIGHT EXPRESS III [Northern Bay 36; 900+-hp Mack] is being worked on in a shop at Harpswell, but there is no timetable on when she will be ready, hopefully Stonington. Sign-ups will happen on the Town Dock on the Bernard side and racing should be underway just after 1000.