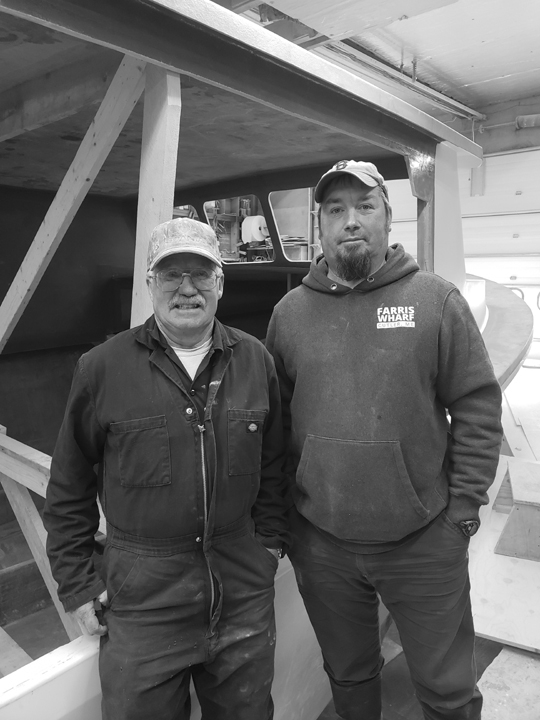 CUTLER – One of the prettiest coastal towns in the State of Maine has to be Cutler, which is just north of Machias/Machiasport. It is a quiet harbor filled with lobster boats and lined with the homes of the fishermen. One of those fishermen is Norbert Lemieux, who has lived there since the mid-1970s. He is also known as a boatbuilder (Little River Boat Shop), mechanic and fabricator.
Norbert grew up on his father's apple orchard in North Vassalboro. Farmers are notoriously good at repairing anything, because they have to and Norbert is one of them. How he got to Cutler is an interesting story. The Viet Nam conflict was in full swing and those that were not in school would be drafted to serve. Norbert really liked what Maine Maritime Academy in Castine offered, saying, "I loved engineering, I loved building, but I wasn't much as far as English and I damn near flunked out because of spelling." Norbert's roommate at the Academy was Wyman Pettegrow of Southwest Harbor. Norbert added, "Wyman had blown a piston in his '63 Chevy with a 283 in it. He said, 'Norb, can you get the parts?' he says we will overhaul that engine on the weekend, and I'll fix you up. So, the first time I saw Nick's (his son) mom I was crawling out from underneath the engine covered half in grease. Long story, short we got married. Nick added, "Wyman's wife, Barbara, was a roommate with my mother, Celia, at Husson College."
Norbert graduated from MMA in 1973 and went to sea for four years. He spent a year on a bulk carrier on the Great Lakes and the rest of the time on supertankers. He said, "I had my first engineers' license. I was the first one in my class to raise my license from third to second. A little bit more time and I could have gone and got my chief's license. I hit the engineering part exactly the right time because they were automating all the ships and that came easy to me just getting out of college. They were all steam turbine boiler and steam turbines with probably 50 or 60 different pumps to make everything run, but I liked it. I loved the engineering; I liked my work but I didn't like being away. The final thing, we took a trip to Russia with a load of grain we were gone for over four months with no communication at all. Your mind starts playing games with you, and you're wondering how your wife and your kids are. You can't communicate. Thursday all the rest of the engineers and mates would leave and go home and we had to stay. Finally, I called the office and said, 'Look, I am going home for Christmas and if you want me, call me in Cutler and I'll be back in 2 or 3 days.' They said, 'You can't leave, you have to stay on the ship,' I said, 'I am not going to be here,' so I left and flew home."
"The thing was," said Norbert, "Celia was pregnant with Christina and I looked around and most guys on the ship were either divorced or they drank a lot. I said, hell with it."
When Norbert came back to Cutler all the boats in the harbor were wooden. He said, "The first fiberglass boat was boat was a 42′ Bruno that Jasper Cates, Jr. bought and that same year Bill Addison got a 38′ Young Brother and that was the first year that I fished. I don't think I made a mistake. Didn't make much money after I got home but made enough to get by."
"The first boat I bought," said Norbert, "my wife was so embarrassed when I brought it in the harbor. It was a 30-foot x 9-foot that was built in Rockland. I bought it in Southwest Harbor. He had the motor and all the hydraulics out of it and he painted it gray right from the top to the bottom. He loaded it with traps and he'd go off to Mount Desert Rock to set his gear. He'd have her loaded and his boat loaded and he'd tow it, go off there, throw an anchor over and he'd set his load of traps. He'd use it kind of like a barge. When I got done shipping, I said, 'I have got to do something just around here.' Wyman had told me about this 30-footer so I went down and looked at it and my father-in-law says 'She is a good solid boat. She will make you an alright boat' so we offered him $500. Finally, he said 'Yes,' so we towed her home. I put her alongside the wharf for about a month, built all new cabins on her, had a little 6-cylinder Ford gas engine, got a marine Borg Warner transmission and manifolds and everything and rigged her all up and put a hauler in her. I fished her until '78."
A couple of years later Bill Anderson told Norbert that he should get a Young Brothers 33. Norbert said, "I went and talked to them and they started laying my 33-footer up before they even had a door in the new shop. After it was laid up, we towed her home. At the time we lived in the parsonage downtown by the Methodist Church so I pulled it in back by the garage, built a plastic shack so I could get heat from my furnace in the garage to go out into the plastic shack, I finished it and we launched it in April '78."
During the summer and fall he would fish, but when winter came Norbert was cutting wood for St. Regis. He was also doing some metal fabrication for the Young Brothers of Corea. In 1984 they had a lot of boats to build and Vin Young told him that if he put up a finishing shop, they would give him two or three boats a year to finish off in the winter. "I got out enough pine and spruce framing to build this original shop," said Norbert. "The original shop was 26 x 44-feet. Vin said most of the boats you are going to do were going to be 38-feet. The first boat we built was a 45′. We had bi-fold doors so we framed up and made the bi-fold doors go out and made a little bit of a nose piece on it and put a shed roof on top. Terry Rowden and Verlin Porter, the three of us, built the shop and we worked together. I work alone during the daytime and then they'd come in and we'd work to 8:00 every evening and Saturday. We would do two boats a winter. Back then they didn't have the finish they do now. Under the floor we'd have steering bulkhead, engine room bulkhead, main bulkhead, two fuel tanks and steering gear and then you floored it over. We used to figure we had four weeks into the job and we had the engine and the rudder and all that stuff installed."
After three or four years they added a carpentry shop out back, which was not quite as wide as the original shop. Then Norbert's son Nick decided that he wanted to build a 50-footer. That meant a wider door, but to do that the building needed to be wider so they took the roof off, undid the bolts connecting the walls to the floor and moved the wall out. Then they shored everything up and put the roof back on.
Over the years Norbert has had a Young Brothers 33, two 38s, a 40, a 45 and now a 46½. The first two were named CELIA MARIE and then he named them CHRISTINA MARIE, after his daughter.
Norbert added, "Nick wanted to upgrade from his 33-footer that we built. We built the 33 for a summer project between high school and when he went to Northern Maine for diesel and hydraulics. He had fished that for about 5 years and he wanted to go to 38. The Young Brothers already had their 40-foot mould in the shop and they said we will give you a real good deal on a 40."
Norbert also liked to race. He did a little racing, only in Cutler with his gas engine back in the '70s. Norbert explained, "I was good friends with Bob Blanchette in South Bristol, he was a Volvo dealer. He says, I will give you a pretty good deal on a 60 Volvo. I bought that Volvo for $11,500, gear and all. My father-in-law says, Norb, you are making a big mistake, he says you are taking out a good Oldsmobile V8 and putting a diesel in, you're going to slow down and it's going to be terrible. I lowered that Volvo down Friday morning and Sunday afternoon we are going out the harbor. As soon as we got up to temperature and everything checked out, we saw what she would do. Vin Young was with me and he says you have got the fastest diesel on the coast right now. We go to Jonesport, our first race and I am getting my entry paperwork done and they said, 'You see that maroon boat down there, it's a 33-foot Young Brothers V8 Cat and they said, 'It is the fastest boat on the coast.' I beat him so bad he never raced again. I made a clean sweep. We raced Jonesport, we raced Stonington, we raced Portland, Winter Harbor, that first year."
"Duffy & Duffy built a 35′ with a 375 hp Cat that they'd crank all they could get out of it," added Norbert. "He beat me in Stonington. Then we came to Jonesport and they said the Coast Guard cutter is going to run in your race. Vin says 'Climb up on that Coast Guard cutter's wake' so I did and I beat him. They got all upset, they said, 'That is not fair.' I says, 'Who went under the bridge first?' Well, you have got to race him again so I raced him again and he beat me by a boat length. Between that race and the Winter Harbor race every day I wasn't fishing I had my boat on the beach, painted it, sanded it, got it as smooth as I could. Took my original prop, put another inch of pitch in it and I had that little Volvo turned to 3200 rpms."
When the Young Brothers started racing Norbert was building their race engines. He said, "The Young Brothers said 'If we can make a boat that will go faster than the competition, basically this boat is more fuel efficient. If you can get to your fishing grounds half an hour or an hour sooner you can cut your speed back on your engine and go to hauling instead of still being in cruising. That was a big part of their reason for building faster boats. We had a good time, of course my 33′ with my diesel I didn't have to do as much to the motor but gee, we built two big block Chevys for her. The first one, I think we had $2500 in that engine, of course I didn't charge anything for any labor. I had it bored and we had it 12¾:1 pressure compression pistons, had a high torque cam in it, but we were using stock heads and stock crank. Glenn Holland was big competition for us back then. Of course he had some good motors. The best motor he had was a 426 Chrysler Hemi and they built that I think at a speed shop in Bangor and that sucker flat out had horsepower."
"They were going to let us race in Winter Harbor with nitrous oxide," continued Norbert, "and we knew that Glenn Holland was putting it on his boat. I got the whole kit lined up and they said you have got to use this special Holly fuel pump, but she isn't getting enough gasoline so we yanked that off and we put the original fuel pump. So here we are in Winter Harbor and we are racing Glenn Holland in the grand finale and Glenn, he gave her the boost right off and we didn't. Our boat was pretty smart on take off and Glenn started gaining on us and Vin turns around and says, 'give her the boost.' I crawled up because the boat is going so fast and I popped the hatch off and I pulled the top of the switch and hit the button and it was just like I put her in passing gear. We were really going and then all of the sudden she starts slowing down and I said, 'There, we melted the friggin pistons.' Vin said, 'Look back there' and white smoke was pouring out of both stacks on Glenn Holland's boat. He had blown his head gaskets."
Norbert had a good record building race engines for the Young Brothers. He said, "Celia, told me, look Nob. This isn't fun anymore, let's go camping with the kids so that is what we did and I got out of racing. The Young Brothers then got involved with Richard Weaver and he built their race engines after that.
Nick is basically running the boat shop, but Norbert still does the shaft installations and the metal fabrication needed and during the summer and fall you will find him offshore fishing and enjoying life.