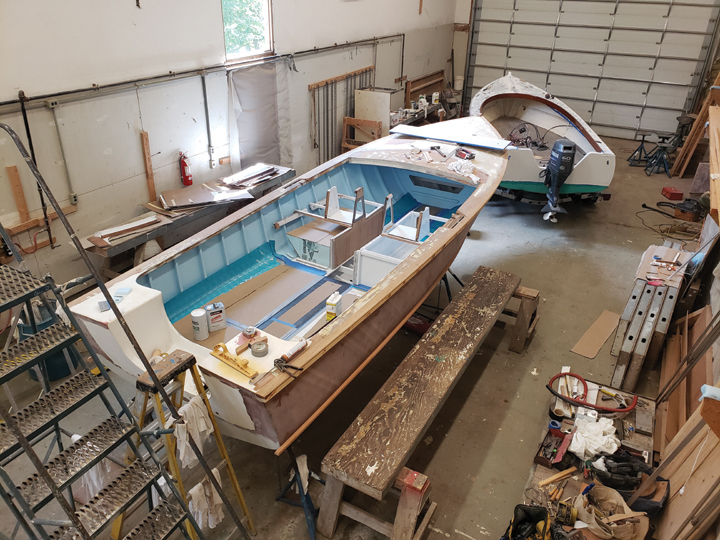 The 1975 Albury Skiff being totally restored at Six River Marine in North Yarmouth.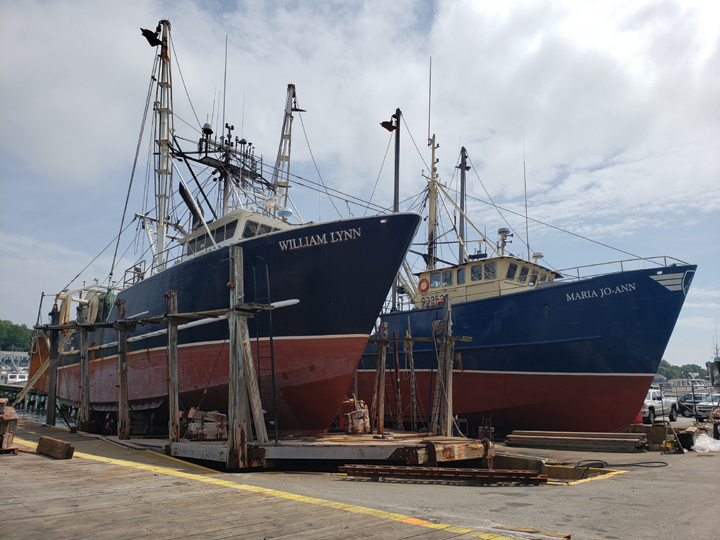 The Western rigged draggers WILLIAM LYNN and MARIA JO-ANN up on the railway at Gloucester Marine Railway in Gloucester, MA.
Downeast Custom Boats, Yarmouth, ME
        Joe Lowell, formerly of the Lowell Brothers, is now on his own and calls his boatbuilding company, Downeast Custom Boats. He said, "The whole idea behind the Downeast Custom Boats was to go back to wood boatbuilding and wood boat restoration and try to avoid as much big glass jobs as possible. The first job that I have is a restoration on the last boat that my Uncle Royal had designed and built (ROYAL, 1984). We have got her torn apart pretty good. All the super structure is off for the most part. We are going to be doing the keel here very shortly and I'm waiting on the keel timber before we drop the keel out of the boat. I have refastened the floor timbers in place and right now I am replacing some of the butt blocks. She will be completely refastened by the time I am done. Doing it in stages around the keel so she is not too unsupported. As soon as the keel gets here, we will pull the old keel, put the new one back up in and then re-rib from the main bulkhead back and then go forward to the stem. Then I will take a look at the ribs forward of the bulkhead and replace what are necessary. Most of the fastenings are very tender but she is still holding her shape really well. Then after that we will approach the cabin and the deck structures and what not."
        Joe is thinking that this project will be completed next spring. He added, "A lot depends on material availability and what help I can get and when I can get it."
        There is also another boat on order, a wooden lobster boat, for a fisherman from the Harpswell area. "It started off to be 44 feet but now he wants to go to 45 feet," said Joe. "We are looking at 45 feet by possibly 14 feet 8 inches and we are still playing around with the depth and what he's going to put in for an engine. He's liking the 750 Deere and I think that would be a good compliment."
        Joe said that he has been designing the boat in his head, but just needs to put it on paper. However, he needs a few more details from the owner.
        Joe attended the Maine Boatbuilder's Show mid-July and said, "I have three strong prospects from the show and one of them is very strong. I've already heard back from one who wants to either do a restoration or a new build. He's retired and he actually wanted to get his hands on ROYAL when he saw it in Maine Coastal News. He was hoping the owner would drop the ball and he could pick it up, but I think he is all set with going forward with something else."
        Joe has the 22 and 26 moulds for the Sisu which he is going to build on a limited basis. "I have two of the 26s probably sold right now," said Joe. "I also have a couple prospects on the 22s." Joe added that he is looking to have someone else lay up the hulls with him finishing them out, lessening the fiberglass work."
Hewes & Co., Blue Hill
        Like most marine businesses they are busy. Presently, they are getting ready to cut pieces for a new 47-foot hull that will be built at Brooklin Boat Yard. Gardner Pickering said, "I don't know if it is a sail or power boat, I haven't seen the drawings yet. It has been evenly split between power boats and sailboats down there. They just tell me to be ready and the files are going to show up any day.
        They are also cutting a Bowler for Doug Hylan, which is one of Doug's designs they offer as a kit. This is a nice little 26½-foot power boat and Hylan & Brown will be finishing it.
        They are also making a number of Owl seats for Owl Furniture; and 200 toy boats for the Blue Hill Maritime Festival.
        This past winter they did three decks: one for Redfern Boats, another for Wilbur Yachts and one for A. Pettegrow's all on Mount Desert Island. The Redfern deck was for a new boat, while the other two were for restoration projects. They also did the seating for Linda Greenlaw's refitted Wesmac; a mantel piece of a mountain in Montana and its ski slopes; parts of a table for French & Webb in Belfast; clock parts for Newman & Gray on Cranberry Isle; a little catamaran for model builder Reuben Brown at Rob Eddy Yacht Models in Camden, and a Corian countertop at Clark Island Boat in St. George and another for Samoset Boat Works in Boothbay.
        "This was an interesting Brooklin project,' said Gardner, "we rough cut out the bulkheads, sent them to Brooklin Boat Yard, they veneered the mahogany on it and then sent them back to us and we finish cut them including all the bevels for the stringers. So that was a neat project. Last winter for Brooklin, we made a female cockpit mould attached to a male house mould so they could build the whole thing in one shot and then lift it up and put it on the boat, worked great. They also were building the Smith 46 passenger ferry, and the welder wanted to get going on it so we made him a fake stem, in two pieces. That way he could use that to fabricate all his stem pieces and not bother the painters. This is the sort of thing we are doing more and more of is one off mock ups so that people can set things up."
        Hewes & Co. also is a general contractor on houses and right now they have three new homes and two renovations underway. They are in Castine, East Blue Hill and Mount Desert Island.
        With business booming they are getting a new 3-D cutter. Gardner explained, "One thing that it will do is let us build doors. This is a four-axis machine. What that means is I still can't tilt the head, but there is an attachment that lets you cut at right angles. So, we can mill all the door parts and then bore all of the mortices and tenons on this machine so we can cut at a 90 degree angle sideways. That is the fourth access in a four axis machine rather than just up and down so that is going to let us do custom interior doors and the such."
        More and more boatbuilders realize that using Hewes & Co. can save them a lot of time. Gardner added, "This will come as a real shock to you, boat builders never order anything in advance. I typically have nothing on the books three weeks from any day you ask, nothing, but we never run out of work. It walks through the door. Right now, I am not accepting any cabinetry work, those guys are booked, but I will take Corian jobs. I am always looking for CNC work though."
        They just hired a second machinist and CAD guy, who is also supposed to help with marketing.
Six River Marine, North Yarmouth
        The 1975 Albury skiff, which is being totally restored, is nearing completion. They made all the necessary repairs to the hull and internal structure. Then they prepared the interior for paint and the seats. They sanded the interior and Yankee Marina of Yarmouth came and primed the interior several times and they sanded until they got an absolute smooth finish. When it was to their liking, they took it down to Yankee and they top coated it in their paint booth.
        The windshield has been repaired and then epoxy coated and is now ready to be put back on the boat; the seats are going back in, the tanks are on order, they are ready to fiberglass the deck and then put the rails back on. Once this is completed, she will return to Yankee Marina where the rest of the boat will be painted.
        This boat will be powered with a 200-hp Yamaha outboard, but that has yet to arrive.
        While they were working on the Albury Skiff they also stripped all the varnish on a 26-foot powerboat and then painted her inside and out. They also had a MacKenzie Cuttyhunk in and they went through the power train trying to make her quieter and then did some painting. She was quieter and gained speed, but the owners will probably opt for some additional insulation to make her quieter still.
Gloucester Marine Railway, Gloucester, MA
        Up on the railway they have two Western rigged draggers, WILLIAM LYNN and the MARIA JO-ANN. Both are in for basic maintenance, paint and zincs. WILLIAM LYNN also had her forefoot replaced and MARIA JO-ANN was getting a new cutlass and intermediate bearing.
        "We just recently did a wet exhaust for somebody on a Wesmac 42, which had three below deck lobster tanks with about 8½-inches of space between them," said Don King, the yard manager. "The dry exhaust came off the riser came down with 8-inch exhaust, all kinds of compound angles and we had to jog sideways maintaining our downward pitch and we went into a 6 x 9 rectangular tube on edge that went down between the lobster tanks. This connected to a Soundown muffler and then out through the transom."
        Previous to this they had EXPLORER IV, a 55-foot fiberglass Canadian dragger, which needed work around her forefoot and then general maintenance. The forefoot repair was extensive. They made a splash mould and they worked in a confined area where they needed positive pressure respirators.
        They also did four repowers and helped with another two. The ones they helped with needed some exhaust work done or some metal fabrication.
        In August they plan to do some maintenance in the yard. To do this they needed to move some boats, but finding someone that could build them some floats has been impossible. Another change was widening the door in the building so they can bring a 45-footer inside making it easier to do repowers and repairs. One they had in was HARD MERCHANDISE, which they gutted from the main bulkhead back. They added a new custom fuel tank and then told them that the engine they want to put in wasn't going to do them any good. They explained that they did not have the aperture to swing a wheel big enough. To make it work they chopped the skeg off and dropped it down and installed a new shaft log. She now goes 20 knots, which is a lot better than the 8 she was going."
        The yard seems busier and this is attributed to the added work force, which allows them to turn the jobs out quicker. Don said, "I know quite a few people, but I have made a lot more acquaintances as well. It has been great. I really enjoy my job a lot. I like dealing with the people, I like solving the problems, I like the team spirit that we have in the yard."