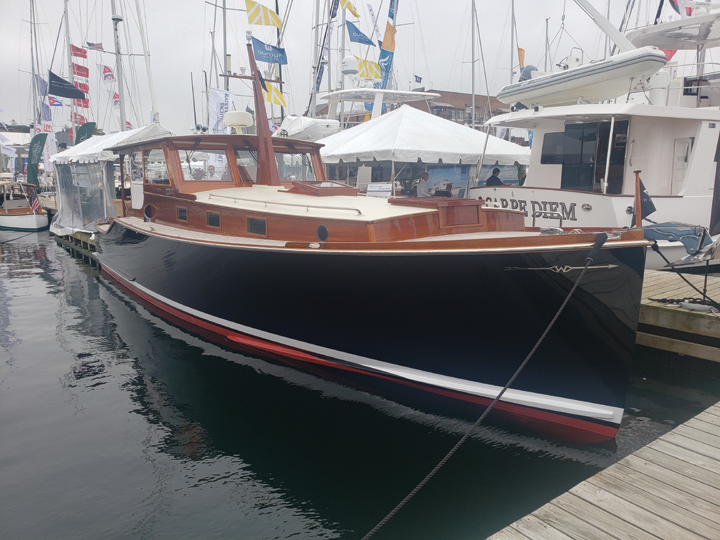 This is the Wheeler 38 built by Brooklin Boat Yard last year. There has been strong interest in this boat and it is thought she might be sold. Whether sold or not Wes Wheeler, grandson and grand nephew of the original owners, has an upcoming slot for a 50-foot Wheeler.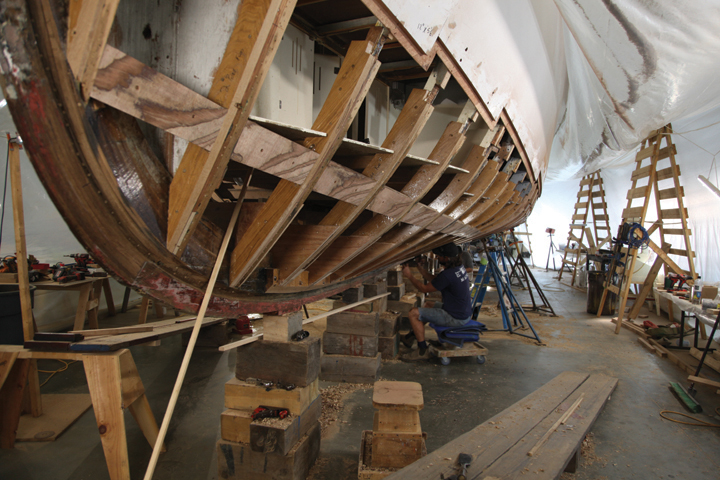 A look under the tarp of the 55-foot Grebe getting a new bottom at Portland Yacht Services. They are fairing the frames so all the planks fit properly.
Friendship Boat, Friendship, Maine
In the shop they have a Young Brothers 42 lobster boat that had not been out of the water for several years. Despite being in that long she only needs some basic maintenance. This includes changing out some of the seacocks; change hatch covers, adding hatch over engine, some engine work and paint the bottom. She will be out the later part of October.
On the other side is a Calvin Beal 36, which is being finished off as a sportfish boat for a customer from Martha's Vineyard. Down below she is getting just a V-berth and a cabinet, up there is a split wheelhouse with a modified lazarette and under the platform are two 150-gallon fuel tanks. She will be powered with a 650-hp Scania with wet exhaust. They expect to have her done the end of winter.
Randy Young, who manages the shop, said that they are talking with several potential people about new builds. One is on a 25-foot bass boat and another is a Calvin Beal 44 for a person from New Jersey. He added that they are only doing one project at a time due to the problem every yard on the coast has: cannot find workers.
H & H Marine, Steuben, Maine
There is plenty of work, but the problem is finding help to get it all done. This is constantly be said at all the yards I have stopped in over the last year.
In the mould shop they have an Osmond 40 hull and top under construction. This boat is going to be finished out as a pleasure boat. In mid-October they began laying up an Osmond 42 hull and top, which will be finished out as a lobster boat by someone in the Harpswell area. After these they have a couple of Osmond 46s and a 50 to lay up.
In the finish shop they have got an Osmond 46 split wheelhouse lobster boat going down to Mount Desert Island. She is spartan down below with two fuel tanks for a total of about 700 gallons and a lobster well under the platform and an 18-inch hauler. She is powered with a C-18 1,000-hp Caterpillar and possibly a gen-set.
Beside her is an Osmond 42, which is being finished out as a salmon trawler/crab boat for a fisherman from Half Moon Bay, California. Down below she has four bunks, enclosed head, and galley. Up in the pilothouse there is a L-shaped console for the steering station, settee with table and storage cabinets. She is powered with a 750-hp John Deere with a 9 kW Northern Lights generator. She has a 500-gallon fuel tank, a 12 x 14 x 3-foot insulated fish hold, a couple custom made big hatches and a big radar stand, which is being fabricated by Esposito's in Surry.
Just put in the shop to be finished is an Osmond 32 hull and top. She is being finished out as a sportfish/pleasure boat. The engine, a 440-hp Yanmar is in and they are working on the interior that will include berths forward, enclosed head down below and a settee and simple galley in the shelter.
In the last bay they have a 40-foot hull, which is being finished off as a commercial lobster boat for a fisherman from the mid-coast. She will be powered with a 750-hp John Deere. This one they just started on so she will not be over until next year.
Bruce Grindle said he has been looking for more crew and he had a new guy starting mid-October. He also was hoping to get back his fishermen who leave in the spring and come back the end of the year when they stop hauling.
Bruce has also announced that he will be getting done sometime soon, saying that he had some odds and ends that needed to be finished before he departed. He is a part owner and another person has come in and is purchasing his portion of the business. Bruce has been in the business a long time having started at Flye Point Marine in Brooklin, before heading east and buying into H & H Marine. If you go to his office in August, you will not find him there as he is also a blueberry farmer in Blue Hill, which he will continue doing.
Hutchinson Composites, Cushing, Maine
In the shop they are laying up a Mussel Ridge 42, which will be going over to Farrin's Boat Shop to be finished as a cruiser.
When that one is out of the shop, they will start on a Coast Guard inspected boat for a customer from Portsmouth, New Hampshire.
Over the summer they laid up and shipped out a couple of 42s and 46s, which a couple went to Clark Island Boat Works in St. George; another to Farrin's Boat Shop in Walpole and a 54-footer to Oceanville Boat Works in Sunrise (Stonington). Back late winter they shipped out a 54 to Newport Offshore in Newport, Rhode Island, which was finished out as a lobster yacht for a Newport resident. They had sent up a person to laser the inside of the boat and they were already building the interior as the boat was being laid up. Owner Albert Hutchinson said that they are interested in doing another one.
Believe it or not they have already turned out 76 boats of the Mussel Ridge line, which is impressive in the short time they have been building them.
Johanson Boat, Rockport, Maine
With fall here many yards are in the middle of their hauling season and owner Peter Johanson added that he has 105 boats to store this winter, which is the most they have ever had. He was also wondering where he was going to put them all.
They have a Jeanneau 54 that they are putting new teak decks on. Before ethe teak goes down they will do repair work to the core. A Swan 40 will be coming in to have teak decks put down. Peter said another customer had just come by with a Sweden 38 and wants teak decks.
If a few teak deck jobs are not enough they have got about seven repowers to do this winter. These will all be Beta engines, except for the twin Mercruiser engines going in a Blackfin. The Blackfin is presently in the paint shop getting Awlgripped, before having her engines replaced and a new custom dash made.
Talking about the paint shop they have 14 boats to paint this winter. One of them is an older Morgan 41, which will be peeled down to the gel and then Awlgripped. She will also be getting new teak toe rails.
In the shop they have been working on a small power boat giving her complete going over. The work included a new galley, systems, and cosmetics. She will be launched later in October for a couple of weeks.
Also in the shop is a Hinckley Bermuda 40 that they are just finishing up. She is in the water and the plan was to truck her back to Michigan, but that will probably not happen now until spring.
Another project this winter will be on a Wesmac 38, which will be getting a sliding door to the helm and maybe more Soundown.
This summer they were busy with scheduled projects and did not have time to do much transient work. One of the summer projects included repairs on a Glacier Bay catamaran, which flipped over on her mooring last fall in one of the storms. They put two brand new Suzuki outboards on her, completely rewired the boat, installed new pumps, new dashboard, and all new electronics. She was done and launched late summer.
Johanson Boat Works was also associated with chartering, but when COVID struck they gave up chartering. Peter added, "We are done. I had six boats I owned and I think I only have one left. A few of the customers still charter, but through another charterer."
Wayne Beal's Boat Shop, Jonesport, Maine
Sitting right in front of the main door was an almost finished Wayne Beal hard-chine 32 lobster boat, powered with an 8.3 500-hp Cummins. She was finished off Leland Osgood of Vinalhaven and is scheduled to be delivered in late October. She is finished off as a simple boat with a V-berth and storage compartment down forward. She has a partial winter-back and a 140-gallon fuel tank behind the engine, 12-inch pot hauler with a fairlead, a 2-inch shaft to a 2:1 ZF gear and a 26 x 32 DQX propeller with a No. 5 cup. They are waiting on a part for the wire harness and then just finishing hooking up the fuel line and Shawn Alley to finish the wiring, Ira Guptill the hydraulics and Blaine Blackmore hooking up the electronics.
Behind the 32 is a Millennium 49 that was started elsewhere but will be moved out and finished next year. Jeremy Beal said that he will then bring in the 36 hull and top mould and lay up two of each, maybe three, which will be finished off as lobster boats. One will be going to Vinalhaven, another to Kittery and the possible one to stay right in Jonesport. One of these will have chines added as well as maybe the third one. Jeremy added, "I think it is going to be pretty simple. I am going to go into the mould on the 32 and I am going to start them up front and run them until four feet shy of the transom. Then just blend them into the hull which I think is going to take a little bit of persuasion but I think we can do it. We are going to find out shortly."
Other work includes: a Young Brothers slippery 38, which will have a Wayne Beal 32 top put on; a Young Brothers 30, which would be Ernest Libby, Jr.'s NIGHTMARE, also getting a 32 top, will also get a Yanmar diesel engine installed; a MDI maybe coming in this spring to be refurbished; a Wayne Beal 36 will be in for a new top and once that is on they will cut the windows out and shipped to the owner who will finish the project; another 36 is coming in to have her shaft angle adjusted; a Dixon 45 will be coming in to have a four or five feet added to her stern; an Osmond 40 is coming for some repair work; a South Shore 30 tuna boat, which Wayne Beal finished for a customer from Long Island off Portland in '85, and she will get a 32 top, platform and hull redone; and then a Calvin Beal 38 for a facelift.