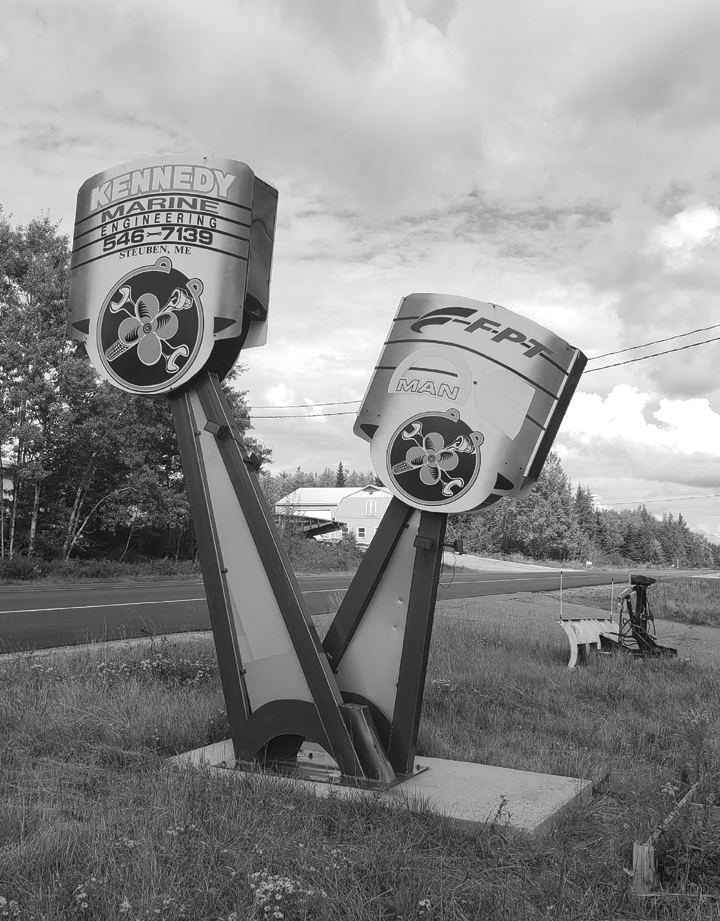 STEUBEN – Kennedy Marine Engineering in Steuben, run by Roger and Angela Kennedy, has been getting progressively more and more successful to a point that the business was running them, not vice versa. During the summer Roger decided to drop some of his engine lines in the hopes that he could slow down and decrease the stress level. This opened a market for others and one of them, Josh Gay, met up with Roger at the Winter Harbor Lobster Boat Races and he and Roger came to an agreement to sell the engine company to him.
Roger added, "I think an opportunity for both parties involved presented itself because obviously with my health issue we were downsizing and moving away from the engine side of the business just to free up more of my time and as a result, he went out on his own because he saw an opening in the market."
When Roger downsized Josh opened a mobile marine service business with his wife Virginia, Downeast Diagnostics. Josh, who had grown up in the area, had gone to a vocational school in Ohio and got certified as a diesel technician. He then went to work for Toppin's Diesel in Columbia Falls and then for Milton Cat.
Roger explained, "They realized it was a little harder than it looked and I don't think they were getting the traction they needed. We also didn't really feel comfortable leaving all of our customers in the lurch, because we have spent almost 20 years building this business to as big as it has become. It was one of those snowballs going downhill, it just kept getting bigger and bigger every year. I didn't have enough time or the capacity to take care of everything so I let go of the dealerships: FPT, Cummins, Nanni, Volvo, and Baudouin. FPT right now is what his main focus is going to be; the size he's starting out at with the crew he's going to have, he is going to have plenty of work with the FPT customers and of course he's still has got to maintain the Cummins and MAN customers. I cautioned him against jumping right back into picking up five or six dealerships because it is overwhelming, especially with the deficit in trained personnel. One of big things we were coming up against is finding good help that you could trust to go get the job done without you having to babysit every five minutes."
Roger continued, "Why start from the second rung on the ladder when you can start out on the second rung from the top, by buying this place. There is no sense to reinvent the wheel when we've spent 18 years figuring it all out. Angela and I are going to stay on for the next couple years. Angela is going to work the office and I will help him do repowers until he gets more employees and gets more confident doing it all on his own. I am going to make sure he doesn't fall on his face.
"I split the property right in half," continued Roger. "I am selling him 2½ acres with the office and the engine repower shop. I am keeping the boat shop and I am going to continue running the boat hauler."
Going from engine sales and repairs to boatbuilding is like jumping from one fire to another, but Roger said, "The older I get the more I like it. I know it is a lot easier to keep one person at a time happy doing a boat than it is keeping 300 a day happy. I am still renting to Moises and I have got Benny [Copperthwaite] over there helping me and we have two 36s to build this winter."
The 36 is the Crowley Beal 36 and with the moulds came Don Crowley, who has a wealth of knowledge laying up hulls and finishing them off. He is known as one of the best fiberglass guys on the coast. "The two builds I have got going right now are stick boats," said Roger. "One is going to Cape Cod and one is out of New Hampshire. They really want that 36 because of course the bulkhead is back a little bit further and the trunk is a little bit longer so they have got more down forward space. We took the 36 top two months ago and I had Benny completely re-tool the whole thing. We also re-shaped the front of the trunk to give it a little better crown because before it was straight across and looked awful. It is completely re-tooled, and we resprayed the whole thing and I am just now laying up our first 36 top out of it. I am pretty anxious to get the first part out of it and see how it looks."
Roger seems lucky in the realm that he has several people that will come in and work building boats with him. One is Carrie Cramer who used to run the office and worked at Hinckley for decades. She is coming in and lending a hand.
There is no question that Roger will miss selling and repairing engines, but he does love building boats. For those that got a close look at WHISKEY TANGO FOXTROT, which he launched this year for himself, will realize he and his crew are more than capable of turning out a well-built, good-looking boat. He is also going to help Josh when he needs it: whether it is working on an engine, repowering a boat or just advice. He added, "I feel comfortable I can give them the ball and they can take it and run with it, but I am going to be right there on the sidelines making sure they don't trip and fall. They already have 5 or 6 repowers lined up this winter and I am going to end up having to give him a hand just because he's going to need it. He is really strong mechanically and electrically but he doesn't have a lot of the whole boat experience. It will be the best of both worlds."