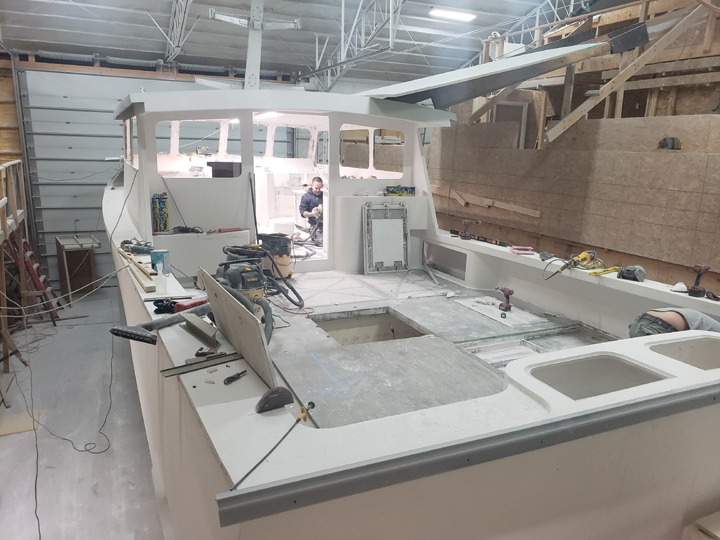 This is a Mussel Ridge 46 being finished out as a sportfisherman for a customer from Texas by Boricua Custom Boats in Steuben. Moises Ortiz, owner of the shop, is seen in the shelter faring the interior.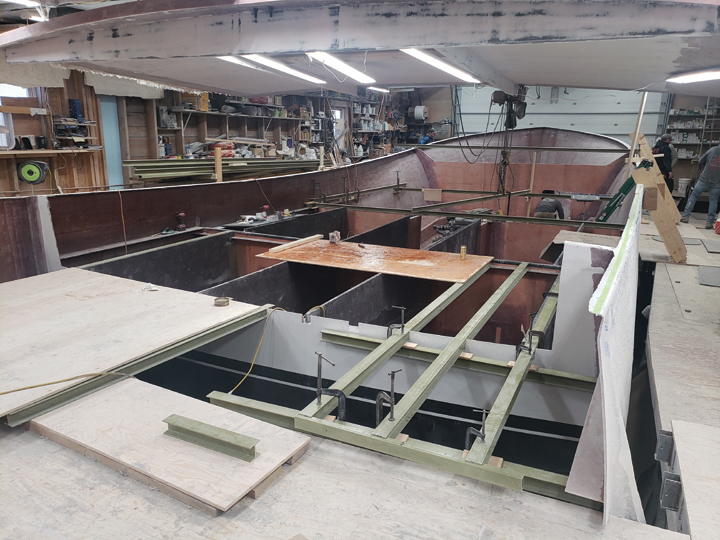 This is a Wesmac 50, which has been widened three feet and extended another five feet on the stern above the waterline. She is being finished off as a lobster boat for a fisherman from BIrch Harbor by Little River Boat Shop in Cutler.
Eaton's Boat Shop, Deer Isle
        Owner Jeff Eaton has just finished laying up a 25-footer, which he will be finishing out as a lobster/tuna/striper sportfisherman for a customer from the North Shore of Massachusetts. Last spring, he sold one of these 25s to John Farrell, former manager of the Boston Red Sox, and this one is going to one of his friends. What is going to be interesting is that she is not going to be finished off with a standard cabin. She is going to be finished out as a walkaround with a two-thirds cabin so if he is fighting a fish he can walk to the bow and fight it from there. Jeff added, "With the smaller boats down there, when they get into the bigger tuna, and if they try to chase them down stern to, they get too much water on board and then they will roll. On the bow they put a rod holder up there 'So tow me around bow to, go until you get tired and then I've got you.'
        She is going to have an 80-gallon fuel tank with a 250-hp Yamaha. She will look like a center console hardtop but with only two-thirds of the house with a hauler on the starboard side. On the fore deck there will be a bulkhead with a shelf where the owner can store rope or whatever. The house has not been designed as the owner needs to decide on what type of hauler he wants. Jeff thought that he should go with an electric one with a solar panel on the house top. Jeff explained, "I told him my brother-in-law has got an electric one on his boat that works great. We put a big solar panel up on the top plus the alternator from the outboard gives him plenty of power. My brother-in-law bought his boat in Cutler off a couple boys and they hauled 250 traps with that electric hauler with no problem. It is so easy and clean for what little bit of hauling he is doing. Get the bigger hauler, 12-inch, and a bigger motor it's pretty decent."
        Jeff said he got behind on the last boat he did, which was another 25 and Jeff likes getting his boats out on time. He said, "The one I just finished actually was really late. He got it before Christmas I guess that that was good. That one came out really nice, a 200-hp Yamaha on it and we had 38½ mph. She was set up as a day boat, it had a toilet and bunks. That one went down to southern Massachusetts."
        Next, Jeff will be laying up a 25-foot kit boat, which will be raffled off for the local fire department and ambulance service. Jeff added, "We are going to try and sell 1,000 tickets at $100 a ticket and donate the money after materials to the fire department and the ambulance department. Like any small community, there is only x-amount of dollars and I just figured that is the least that I can do. I see it firsthand because they are right here, day in and day out. People are volunteering and I can't do that, but I thought if we could help them buy some of the stuff that they need and can't afford. I thought this would be a good way of doing it and it seems a lot of people are interested for $100 a ticket. I may cap it at five tickets per person and sell them up and down the coast, I will probably run it all summer until we sell 1,000 tickets. You are looking at an $18,000 kit, somebody is going to win it for $100 ticket."
        This 25 started life as a Mitchell Cove 20. Jeff thought that Vaughn or Eric Clark made the mould. He said one made a 22 and the other one the 25, which was originally called the Northern Edge 25. It was later sold to Downeast Boats & Composites of Penobscot, who produced a number of hulls. Then it was sold to Ronnie Eaton of Deer Isle, Jeff's cousin. Ronnie built a few, but then sold it to Jeff. At the time Jeff was building bigger lobster boats so the mould waited. Two years ago he produced one for a local fisherman and that sparked a lot of interest.
        "Actually, I just got a call from another guy from Massachusetts that is looking for the same thing," said Jeff. "I don't want to book myself so hard. I had two people that has had to back out because they couldn't get outboards. That has been a big issue. I wasn't supposed to be doing this one right now, I was supposed to be doing one that was going to Fort Meyers, Florida. An 84-year-old fellow, this was going to be his 20th boat, his 4th Maine boat, but he had a health issue. That was going to be a sweet one, he wanted a stern deck with the outboard out on a bracket and a door in the back. She was going to be a fancy one, spare no expense mode, but he had to cancel his order. This one, the guy wanted this year but I told him no way, I can't do it, but when the other boat was canceled he was next in line."
        With the interest in these 25s Jeff is staying as busy as he would like during the winter months. However, he might have a person interested in laying up hulls for him so he could produce more kits for those interested.
Feeney's Boat Shop, Cutler
        They just finished completely rebuilding a 38-foot Novi boat for a local fisherman. They replaced the engine, fuel tanks, platform, added new dragging gear including the winch and then they Awlgripped her. She went over the middle of January.
        In the shop is WHITNEY & ASHLEY, a 42 Wesmac, owned by a local fisherman. She is in for just minor fiberglass repairs, redo the propeller, update the batteries and general annual maintenance. She will be done within the month.
        In the layup shop they have a Mitchell Cove 20 in the mould for a local fisherman. Once out of the mould she will be lengthened and widened. Then they will layup another Mitchell Cove 32 top for a Mitchell Cove 32, which they have coming from Gamage Shipyard in South Bristol. Gamage's also laid up a hull for themselves and Feeney's Boat Shop has laid up a top for them that is sitting outside and ready for delivery. The Mitchell Cove 32 hull will be finished off for a customer from the Virgin Islands.
        Also in the shop was their hydraulic trailer, which was in for repairs. They had developed an air leak inside the frame and this has been repaired and they just needed to close up the access. Owner Patrick Feeney said that he purchased the trailer from Ron Murphy of Ellsworth last year and uses it mostly for himself around town.
        Out in the yard are a number of lobster boats that need some level of repairs done to them before the fishing season starts. There are two repowers to do, one on a 38 Calvin Beal and the other is an Osmond 42.
        Soon a Calvin Beal 38 hull is scheduled to arrive and she will be finished out as a lobster boat for a local fisherman.
Fogg's Boatworks, North Yarmouth
        They have a 37-foot passenger catamaran under construction in their shop. She was designed by Patrick Fogg and they began construction just after Thanksgiving. The starboard hull is done and outside and they are now finishing up the port hull. While I was there they were welding the cabin up. This will have a deck platform that it will sit on so the helmsman can see over the people on board. For power she will have twin 250-hp Suzukis, which have yet to arrive, but they are hoping they will by the middle of Spring. She will be used by Fogg's Water Taxi & Charters, which run out of Portland and go all over Casco Bay. One of her main customers will be the Ripple Effect, which will hired her to take the children out to Cow Island.
        This is the third catamaran of the 12 boats they have built out of aluminum. The first was CASCO BAY CAT, which they use in their taxi and charter business. This was followed by another close in size to the one now under construction for a Yarmouth customer. He uses it for mooring work and kelp farming.
        As for the Water Taxi & Charter business, that has been going extremely well. Patrick Fogg said, "We had a great summer both with the water taxi and charter wise. This winter we are keeping at least one boat busy all day long Monday through Friday. During the winter we sort of switch over when you get your contractors. So, we have been doing well and hopefully things keep up."
Handy Boat, Falmouth
        Over the last several years there has been a great transformation at this yard.
        In the shop they are doing a refit on a Grand Banks 32. This includes custom cabinetry in the pilothouse along with a new removable headliner, systems upgrade, solar panel installation, and some electronics work. The owner is planning on taking that boat south next winter.
        They are doing a partial refit of a Sabre 42, which got a new owner last year. She is having her brightwork redone, upgrades made to her electronics and a lot of smaller repair items so that she is in first class shape. One of the major upgrades is an autohelm system.
        A Sabreline 36 powerboat has had a lot of gelcoat work on deck done along with new eyebrows on the trunk cabin, new autopilot and now she will be getting full varnish and her annual maintenance.
        They are repowering an Alerion 28 express sailboat. They will be removing the original Yanmar 1GM and installing an Elco electric motor, which is a project that the technicians are looking forward to doing. Handy Boat has also become an Elco electric motor dealer.
        Coming in shortly will be a Ted Brewer designed 44-foot Eastport pinkie, which was built by Penobscot Boat Works in Rockport in 1976. Her original name was TIME OF WONDER and later was renamed DAUGHTER OF DOVE. She has been stored at the yard for a number of years, but now she has a new owner. He is having the yard do some restoration work, which will include new rub rails, toe rails and cap rail, and some work on the side decks where there is some delamination of the original plywood deck. A few years ago, the former owner had her repowered with a Beta diesel engine. The new owner would like her to look like new when they are done.
        We have got a number of boats that have either varnish restoration work or annual maintenance. Presently, the varnish crew is committed right into May. There is some fiberglass repair work on several small boats that grounded last summer. They also saw a number of boats needing repairs after being hit on the moorings. One was an Arey's Pond 18 catboat, which suffered damage to her toe rail, rub rail and glasswork on the starboard side.
        They have got a lot of rigging work, replacement of standing rigging as well as a lot of upgrades in running rigging.
        The launches are all receiving their usual annual maintenance, which includes varnish, paint and engine maintenance. One of the launches will be receiving a new Beta diesel if it arrives in time. They are hoping to get it before the end of April, but if it comes in late, they will slide her in the shop sometime this summer and put it in.
        If you have not been to this yard in a number years you will be surprised at the changes. Every year they have made upgrades and this year they will be replacing all of the floats on the main dock. The floats are being built by Custom Floats of South Portland.
        Under the new management, which came in 2012, they have definitely put an emphasis on providing good service. This aspect of the yard has continued to grow and they are busy year around. In the summer they work on a number of transients and some were so pleased with the work that they have become storage customers. A major problem in Casco Bay is access to the water and being a member at Handy Boat affords that. There are 1200 moorings in the Falmouth Foreside anchorage and there is only three points of access, Handy Boat, Portland Yacht Club and the Falmouth town landing. Unfortunately, they have a waiting list for membership.
The Landing School, Arundel
        Under the direction of Sean Fawcett, President, the Landing School in Arundel, Maine is pleased to announce the addition of two new team members Juliet Karam as Marketing Manager and Jon Landers as Director of Development to the staff.
        "We are excited to have these talented professionals join the school to help us achieve our goals to build awareness in the marketplace and expand financial support for the school" noted Fawcett.
Juliet Karam, Marketing Manager
        Juliet will be responsible for all of The Landing School's marketing activities including print and digital advertising; social media, copywriting, marketing collateral, communications and public relations.
        Juliet grew up in Scarborough Maine and recently graduated from the University of New Hampshire with a B.A. in Communication. After graduating, Juliet worked as an SEO Specialist, Copywriter and Social Media Manager at a local marketing agency in Portsmouth, NH.
        "I'm so lucky to be able to live, work and play on the coast of Maine year-round. In my new position I'm really looking forward to connecting students of all ages to their passions in yacht design, composite and wooden boat building or marine systems, and promoting one of my favorite hobbies! Not many people can say they're able to market for something they're truly passionate about." says Juliet.
Jon Landers, Director of Development
        Jon joins the Landing School to oversee all development and fundraising activities with a focus on growing and broadening the School's base of financial support in order to continue its important educational mission. Jon brings over thirty years of marketing and business development experience having worked for Fortune 500 companies; non-profits; tech start-ups and in the academic sector as a Major Gift Officer and Executive Director of Museum Outreach at the University of Maryland School of Dentistry and as an adjunct professor of Marketing and Development at George Washington University's School of Museum Studies. After graduating from Bowdoin College, he went on to receive his MBA from Columbia University's Graduate School of Business before starting his career.
        Landers states, "I am thrilled to be part of the Landing School family. As a sailor and nautical history enthusiast with family roots firmly planted in Maine, I understand and appreciate what an asset the school is to the State of Maine, and beyond, by providing positive, life changing skills for its students to contribute to the future of the marine industry".
        Landers, who divides his time between Kennebunkport, ME and Tampa, FL grew up sailing, fishing and working on family boats in Massachusetts and crewing in offshore races during his time working in New York City and Chicago. While working for start-up in Seattle, he continued to pursue his love of wooden boats as a shipwright volunteer at the Center for Wooden Boats. If you would like to contact Jon, you can reach him at jlanders@landingschool.edu
Little River Boat Shop, Cutler
        Let us talk about big. How about a Wesmac 50, which has been widened three feet and lengthened five feet above the waterline? When the hull was being moved from Wesmac in Surry to Little River Boat Shop in Cutler in mid-January where she would be finished there was plenty of chatter on Facebook. Once at the yard it took them a day to get her in the shop, leveled up and engine (20-liter, 800-hp Yanmar) placed inside. She will be finished out as an all-composite lobster boat for Matt Huntley of Buck's Harbor.
        After just two weeks in the shop they had the three-inch shaft in the shaft tube set up as a wet log along with the dripless stuffing boxes from R. E. Thomas of Hancock. Bulkheads under the platform have been glassed in and they will form the fuel and lobster tanks. There are three lobster tanks with one on center with a capacity of 18 crates, and the two outboard sprinkle tanks, holding nine crates each for a total of 36 crates under the deck. Once everything is in place under the platform the Cosa board decking will be put down.
        The five-foot extension on the stern is all above the water. The sides were laid up in the mould at Wesmac and Little River was putting in the composite supporting framework. They put a fiberglass flange all the way around the area under the platform and the framework, which is running lengthwise will extend over the transom out onto the extension. This should be more than strong enough, but if not, they will add aluminum supports underneath. It is all about over-engineering everything that has a force put to it so that it will not fail.
        Down forward they have the 10-inch bow thruster glassed in place and they are beginning to rough in the interior. Her accommodations will include four berths, a cabinet with countertop with an electric stove top in it. On the portside there is a hydraulic/electrical room, which will be accessed from the berthing area. From the hydraulic/electric room you can access the engine room. She will have a split wheelhouse, but it will be fore and aft, not side by side. Up in the shelter there is a steering station and a settee and behind this is a wall and on the aft side is a second steering and hauling station with access forward through a Bomar door.
        This is a big project, but they feel they should have her done and out the door in May. Nick Lemieux said that they had some work to do on his boat, his father's boat and Jeremy Cates' boat. Then they will start on a Young Brothers 40 for Nick's son Ryan. They will work on this project when time allows and then go full-time when they stop hauling late next fall.