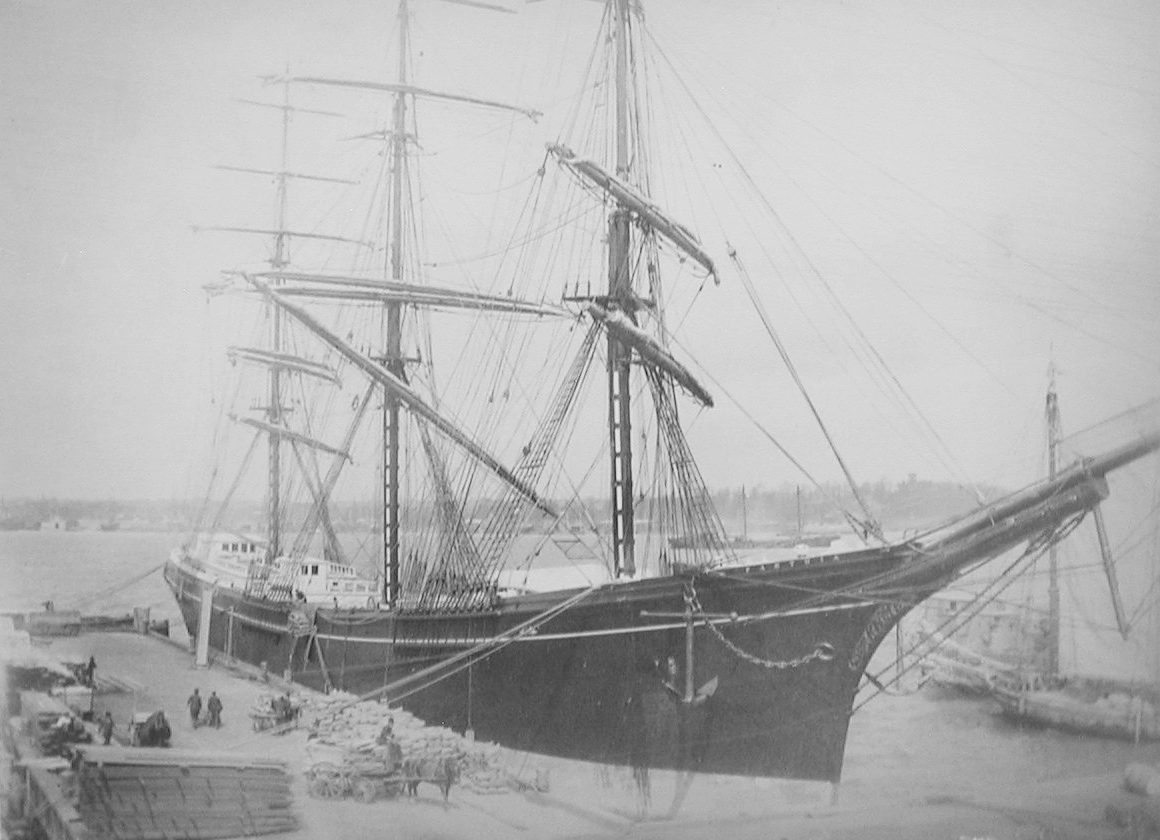 YARMOUTH – I have always had a question about authors who can release a book every couple of years, knowing full well that to do a book like it would take years of research before fingers could start tapping on the keyboard. I was once told the way this is done is by utilizing researchers and ghost writers. This mostly happens because publishers want more from writers whose works sell well, and the writer needs to make a living, so it is all about the money. However, there are those that see the project through from beginning to end and that is exactly what Amory Houghton did when he compiled a history of his family and their shipbuilding and shipping business in Bath.
        One day about 15 years ago, Amory was contacted by Dr. Charles Burden saying that he would like to have lunch with him and his cousin. Amory's first thought was he wanted to hit them up for a donation for the Maine Maritime Museum in Bath. Charlie had been a major influence in the success of the Museum and always worked towards making the Museum bigger and better. Amory added, "It was not a good time for me financially, but as it turned out, Charlie said, 'Hey guys, everybody seems to have provided a book on their various maritime activities in Bath, but there is absolutely nothing on your family and your family was extremely well-known in the shipbuilding and commercial business world-wide, and as family contributors to the City of Bath. Charlie said somebody has got to do it."
        Amory explained, as he looked back at all the effort it took to accomplish the goal that his brother John did not have the stamina to take on such a project and his cousin was too old, so that left him the last person standing.
        "I was very much a neophyte in this," said Amory. "I had never done anything like this. I went to Charlie and he was very good, I still may have some outlines of stuff that he said 'do this, do that,' 'here's some people you can talk with,' etc. I started out and my initial approach was to see what they had in the Portland Public Library. I started with Fairbank's book (Merchant Sail) and found lots of stuff. Then I went to the Maine Maritime Museum. I went up to the Penobscot Marine Museum and I discovered myself taking pictures of things. I would bring it all back, put the pictures on the computer and then just spend probably two or three days working through them. My wife Joan was pretty good about letting me get on because I spent a lot of time on this."
        Amory would head to Bath and the Maine Maritime Museum, where much of the research was done. He added, "They let me have access to their achieves and I could take pictures of various elements of it. So, I spent very honestly ten years working on this thing. It was interesting to do and one of the other unique elements of it was during my time researching in the library there were two other volunteers and they knew I was involved in Houghton stuff so they all contributed stuff that they would find. It was darn good because they picked up more personal stuff like what my grandfather drove. I never would have found this type of thing.
        "I chipped away at the family," continued Amory. "I did quite a bit on the family in the beginning. Part of that dealt with a contact that I had with a fellow by the name of Charles Vella on the West Coast. He either had a grandmother or an aunt who was a Houghton and he did a big project on it. He would debate whether some of the stuff I had was really true, especially regarding the English ancestry. The first Houghton's came over in 1635 and I think they got off and said, 'What the hell are we doing here?' and went back. They didn't come back until the 1650s and a lot settled in Massachusetts, ultimately Lancaster. In the late 1700s there was quite an exodus from some of these small towns and a lot of them went to Vermont and New Hampshire. After a lot of searching I was able to sort of develop this volume of words creating the family history. One thing that I have never been able to do was to substantiate the part of England where they came from. Part of the English area that they lived was in Preston and Bolton and it's interesting that they tried to get Lancaster (MA) named Preston. Levi Houghton, two of his ships were named BOLTON, now why would he pick that if there was no relationship to the family? The family lived all around Bath and it was fun to look at some of the old maps and I could find some of the residences and again Charlie said, 'You know there's still two houses that were part of the Houghton family.' One of them I discovered because we found the house was for sale on South Street out of Bath and it was Levi Warren Houghton's. He was the oldest son of my great-grandfather. The second house belonged to my great-grandfather and is across Route One on the other side of Bath. John Reed Houghton really catered to my grandfather. He grew up and had two sons, Amory Houghton; he would have been Junior, and his brother John Reed Houghton and Aunt Elizabeth Houghton who ultimately married Raymond Trott who was another Bath family of a shipbuilder. They ultimately lived in Providence, Rhode Island where he managed a hospital and maybe was a banker. I found a lot of information in the achieves at the Museum on this. I found the probate notices and found out what money was left and it was very obvious there was a great deal of money there. There was a bountiful treasure of articles or paperwork receipts from my grandfather John and I saw what he bought for food, he ate pretty-high off the hog, and he loved his cigars and his brandy and whiskey."
        Once the family history was well along, Amory's focus switched to the ships built by the Houghton's in Bath after another nudge by Charlie. "The Houghton family built 44 ships and the family managed them along with building them," said Amory. "I also know that there were several other vessels that they had substantial shares in which gave them operating rights to those ships."
        To research the shipbuilding and the shipping interests of the family, Amory spent hours and hours and hours in front of a microfilm machine reading the Bath newspapers, page by page, week by week, and year by year. He added, "One of the interesting elements of it was that whenever they went into New York they would list the cargo contents and publish it in the paper so that I had quite a lot of that type of thing. I knew what I was going after and it was not just a ship going from Charleston, South Carolina to Savannah, Georgia and then on up to Liverpool. There were always anecdotes within the story that enhanced the story of the ship. I mean anybody reading this is going to think they can only handle so much of the ships traveling back and forth, even though it was a big part of what I did and each ship, if it didn't get wrecked early on, it took up two or three pages of comings and goings. One of the humorous parts of this is I spent so much time there that one of the fairly new people that came onboard thought I was part of the volunteer staff."
        Levi Houghton arrived in Bath in 1802 and began his business career there by selling merchandise. Amory added, "He eventually had a store. He got together with a fellow named Jonathan and eventually bought this store out. From the store he was quite successful and started buying shares of ships. I don't know if he lost his shirt initially but I know that he did on one of the first ships he invested in which sank. He persisted and the first ship he built was in 1832. He had eight children, five sons and 3 daughters, and four boys picked up after their grandfather died which was about 1867. The last ship, which was the PARTHIA and that ship sank after four years. There were still five ships left that belonged to others and they were now out of the business."
        One of their primary shipping businesses was the importation of salt. They also shipped ice and guano from the islands off of Peru and Chile. One of their ships was at the Chincha Islands when a tsunami struck sinking the vessel. Amory thought the most interesting story was the wreck of the HANOVER at the mouth of the Kennebec River in 1849. She had arrived with a cargo of salt during a storm and took the wrong way into the Kennebec and in a short time the ship had disappeared. Harriet Beecher Stowe, wrote this disaster up in her book 'Pearl of Orr's Island.'
        Amory said, "I never, ever thought of doing anything very formal. Anything that was done previously was hap hazard, it had no continuity, it had no real depth to it. I would like to believe that what I have done is put together some information which really ties the story from coming here to the end of the line."
        This endeavour certainly had become a labor of love and he definitely accomplished his goal of delivering a very detailed and worthwhile history of the Houghton family and their shipping interests. He said he did not know if this would be meaningful to anyone, but I can assure him it is!