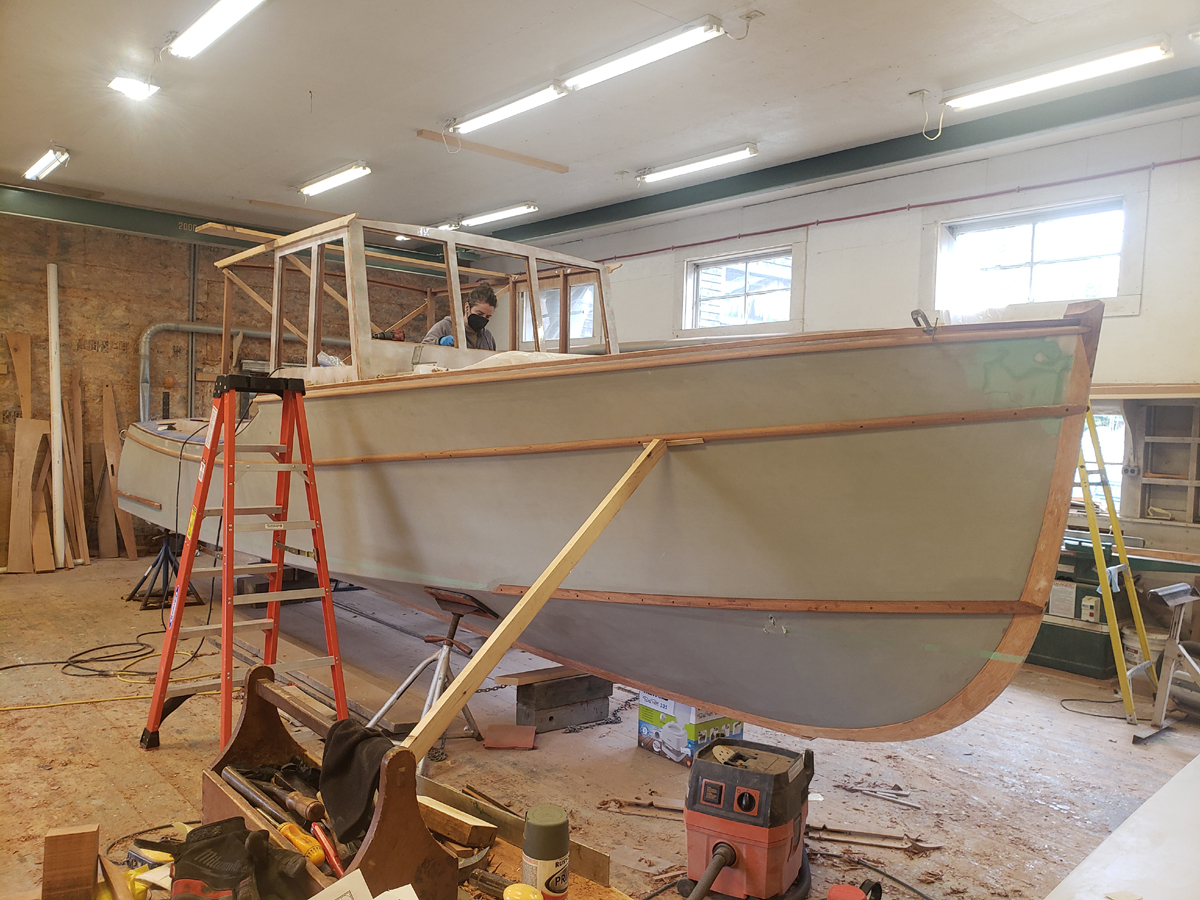 This is the 26-foot Bowler pocket cruiser designed by Doug Hylan and under construction by Hylan & Brown in Brooklin
Boricua Custom Boats, Steuben, ME
        The end of April they moved a Calvin Beal 36 into the second bay. She is being finished out as a simple lobster boat for Tyler Torrey of Stonington. They already have a lot done, which includes bulkheads, engine beds, housetop and modified the spray-rails. Down below she will have just a hydraulic locker and a straight triangle berth in the bow. Moises Ortiz, owner of Boricua Custom Boats, altered the window configuration of the windshield to three windows. She will be powered with a 450-hp Cummins. Moises said that he hopes to have her done by the fourth of July.
        Two months ago, they had a 1979 Young Brothers lobster boat in to be completely refurbished. She got a new bulkhead, wiring and house top and was out in six weeks. Now the son of that boat is having his MISS DELILAH refurbished. She is suffering from rot in the floor and washboards. She was well built, but they enclosed her so there was no ventilation. They have ripped out all the effected areas and replaced them with the only problem being the rain as they were doing this project in the parking lot. All that was left the end of April was installing the washboards and putting down the Philly-clad on the platform. She was scheduled to go out early May.
        Next, they will do a Northern Bay 36, which is being stretched to a 40. The hull is being laid up by SS Boats of Sedgwick. The hull is done and they were now laying up the top. This boat will be finished off as a commercial sportfish for a customer from Connecticut. She will be powered with an 800-hp Scania.
        This will be followed by a Wesmac 50 widened to 20-feet. She will be finished out as a lobster boat with a stick-built top.
Brooklin Boat Yard, Brooklin
        Just as you walk into the main shop you instantly see a new boat under construction. This is a modified Eggemoggin 47, designed by Jim Taylor of Marblehead, MA, which has 18-inches more beam. She is about 80 percent complete and was heading for the paint shop the end of April. Still left to do, they have some teak work on deck, fairing, and paint, install the keel and then sea trial the end of May.
        Next to the 47 is the motorsailer DJINN, originally owned by Henry S. Morgan of Oyster Bay, NY, former Commodore of the New York Yacht Club. She was designed by Sparkman & Stephens and built by Minneford Yacht Yard on City Island, NY in 1964. Her tonnage was 42/34, dimensions: length 64 feet 11 inches, beam 15 feet 11 inches and draft 6 feet and a sail area of 1,507 square feet. Last year she was in and they replanked the bottom as she had spent some time in southern waters and worms had attacked her. Brian Larkin, who is overseeing the project, said, that he had to sheath the bottom, but really did not want to as the crew had done an excellent planking job, but he had no choice. This year they are putting down a new deck and a whole new interior as well as all new systems. They saved the deck house and installed all up-to-date deck hardware, including power winches. She will receive a new carbon fibre rig with a roller furling boom. The interior has been modified for ease of use. When built she had a crew so some aspects were difficult to work around.
        When the 47 moves out the end of April, they will start the construction of a Botin 43. About the same time, they are going to build some mockups for this boat so the designers, owners and crew can make sure the ergonomics are going to work out. Brian added, "She is a cold molded carbon hybrid. She will have some carbon in the middle of her to hold the bulb keel up." This is the third Botin design they have built.
        At the Odd Fellow's Hall up on the corner they have a 32-foot centre console boat under construction on spec (no owner). Last year, they built a cruiser using the same hull and attached twin outboards and she went 56 mph. This boat will be fitted with a single 300-hp outboard and she should zip right along.
        In the works, they have someone talking about a 45-foot sailboat designed by Tripp. There are also two boats being drawn by the in-house design office. One is a 57-foot fast sloop, which they hope to start late fall. The other is a 38-foot lobster yacht cruiser. She has accommodations for two and is mostly cockpit for day cruising. This potential owner bought the wooden lobster boat VIM last year to gain experience in handling a boat of this type. Another potential customer is thinking about building a 93-footer, but that is just in the conversation phase.
        There also might be a big repair job coming. There is a 50-foot commuter yacht which needs her topside planking replaced and finished off bright.
Hodgdon Yachts, Damariscotta
        Hodgdon Yachts has partnered with marine technology company Vita, to build their highest performance all electric flagship, the 10.5-meter (34'5″) LION.
        Engineered and powered by Vita in the UK, designed by BorromeodeSilva in Milan, and now built by Hodgdon Yachts in Maine, the LION represents high-quality boat building with the latest in electrical marine propulsion.
        The first and only premium electric powerboat compatible with fast DC charging, the LION combines high performance and style with a one hour charge EME, a cruising speed of 24 knots and a top speed of over 35 knots.
        "At Hodgdon we strive to push the boundaries in terms of materials, technology and design to optimize performance and deliver the quality the industry expects. Our move into electric yachts and tenders further demonstrates our commitment to increasing demands from the market for zero emissions boating," says Audrey Hodgdon, Director of Sales & Marketing. 
        "Our vision was to create a boat with no compromise in terms of user experience, performance and functionality while also ensuring the least impact possible on the marine environment in which it operates. This collaboration with Hodgdon combines our technical innovation and their centuries of craftsmanship at the highest levels to produce the most advanced electric powerboat built to date," says Rory Trahair, CEO Vita Yachts Division.
        The LION can accommodate up to eight guests in a large cockpit which can also be configured for dining. The sunpad and bathing area provides ample room for relaxation, together with a shower and ladder for swimming. Forward, the enclosed cabin includes a day berth, day head and sink as well as storage, with an integrated Fusion sound system throughout the boat.
        The LION will be available for sea trials in the South of France this summer.
Hylan & Brown Boatbuilders, Brooklin
        Two winters ago, they were doing a major refit on a 43-foot Chummy Rich built cabin cruiser HUNNY for a customer from the mid-west. Unfortunately, that customer had a major medical emergency and will never be able to use the boat. About 50 percent of her interior is in and about 30 or 40 percent of her systems. The interior below is mostly in, but there is nothing in the main cabin. She has been moved out of the main shop, into storage and is for sale. Initially the price was up near $400,000 but was recently dropped to $239,500. The cabin was redesigned by Doug Hylan and a high-tech electrical system was ready to be installed. For someone looking for a great cruiser this boat is being offered way under the amount the owner has in her. Interested check out Hylan & Brown's website.
        In the main shop they had two Castine class sailboats getting their annual maintenance. One was ELIZABETH B. and the other FANNY G. ELIZABETH B. was getting a bit more work. They are replacing her coamings and guards. They store nine of these boats and make sure that they are all ready for the start of the racing season. They will also make any upgrade an owner may want to make him more competitive on the racecourse.
        In the side shed they have a 26-foot Bowler under construction. She is a pocket cabin cruiser, designed by Doug Hylan and will be powered with an outboard. Some of the parts and pieces for this boat was cut on the C&C machine at Hewes & Company in Blue Hill. Doug has worked a lot with C&C machines and designs with their use in mind. However, they still want the woodworker in the shop to create much of the trim pieces for the hand-finish look.
        Several years ago, they started doing a restoration on a 50-foot Elco power yacht and she is still at the yard waiting for her next phase.
        They store about forty boats and this will keep them busy right up to the 4th of July. They are hoping at that point to get a little breather before it starts all over again.
Safe Harbor Kittery Point, Kittery Point/Eliot
        Tom Allen, former owner of Kittery Point Yacht Yard released a statement the end of April saying that he had made the decision to sell out to Safe Harbors. When he purchased Kittery Point Yacht Yard at Kittery Point it needed to have a new business plan written and the property and buildings upgraded to be more efficient. Not many years later Tom purchased Patten's Yacht Yard in Eliot and did the same there. By marrying the two properties he had created a great facility manned by competent employees and the results were watching the business grow. When making the decision to find another owner Tom, and his wife Margaret, wanted to make sure it stayed a boat yard and would retain its fine reputation. They met with Safe Harbors over the last 12 months and felt comfortable in selling the yard to them. All the employees that the customers have known at the yard are remaining so you will continue seeing their friendly faces.
        Safe Harbor's also owns Great Island Boat Yard in Brunswick and Yachting Solutions in Rockport here in Maine and Wentworth By-the-Sea in New Hampshire. They are also the owners of all but two of Brewer's Yacht Yards, New England Boatworks, Portsmouth and Newport Shipyard in Newport, Rhode Island to name the many here in New England.
A Historic Launch 25 Years in the Making
        On June 4, Maine's First Ship will launch their reconstruction of the very first ship built in the Americas, after 25 years of research, planning, and building. The traditional wooden sailing vessel VIRGINIA, a reconstruction of the 51-foot, 17th-century pinnace built by English colonists at the mouth of the Kennebec River in 1607, will launch from the Bath Freight Shed at 27 Commercial Street in Bath.
        Maine's First Ship will commemorate the historic event with a celebration that will span much of Commercial Street in Bath, including Waterfront Park, with music, special guests, local food vendors, regional artists, and a marine-themed yard sale. VIRGINIA is expected to splash into the waters of the Kennebec at 4:30 p.m. Saturday, June 4, and then tie up at her dock at Bath Freight Shed to begin rigging.
        Bath Freight Shed, located along the Kennebec River, has been home to a passionate group of volunteers, mostly amateur boat builders since 2007. These volunteers are the heart and pulse of the organization. They bring skills as educators, storytellers, naval seamen, carpenters, sailors, shipwrights, and more to a project paying homage to the history surrounding the birth of Maine's 400-year-old shipbuilding heritage and the Popham Colony, just 10-miles up the river from where it all started.
        Maine's First Ship engages the public in an exploration of the region's early history, craftsmanship, and relationships through the reconstruction of the 1607 pinnace VIRGINIA, the first English ocean-going vessel built in the Americas. Maine's First Ship hosts a visitor center, shipbuilding workshops, and educational programs at the Bath Freight Shed.
        Come discover what executive director Kirstie Truluck calls, "Bath's best kept secret." More information about Maine's First Ship, including launch details, is available at www.mfship.org.
Morgan Bay Boat, Frankfort
        In the shop they have two boats under construction. The first is a Morgan Bay 43, which was finished out as a Coast Guard inspected charter sportfisherman for a customer from Montauk, New York. For accommodations she has a V-berth, two bunks over the V-berth, quarter berth to port and a storage area to starboard. Up in the shelter there is a simple galley, a nav-seat to port and helm-seat starboard, and settee that can be made into a double berth. For power she has a 750-hp John Deere with a 2:1 gear and a 34-inch square propeller. She was just getting her final detailing and she was scheduled to be launched 3 May.
        In the next bay they have the new Morgan Bay 47 hull plug, which they are fairing. They have added four feet to the hull and the skeg, given her slightly more beam and raised the sheer. They have one sold and probably two. If she performs anything like the 43, she will be an instant success.
        Over in Penobscot, they are building another Morgan Bay 43, which is being finished out as a sportfisherman for a customer from California. The hull has the stringers, bow thruster tube, engine room bulkhead and tankage in. This boat will move over to Frankfort when the other 43 leaves to be launched. She is expected to be finished and shipped out the end of this year.
        Another Morgan Bay 43 is on order and she is going to be finished out as a sportfisherman for a customer from Massachusetts. Both boats will have a stateroom forward, head with shower and a double bunk to starboard. Up in the shelter is the galley to port and a settee to starboard. The 43 heading to Massachusetts will be powered with a C18 1,150-hp Caterpillar and is also expected to be finished by the end of the year.
        It was also learned that they recently sent a 43 hull to Harpswell to be finished off. This went to Tom Clemons who plans to race her, but not this year. One can bet that she will sport a big engine and fast enough to compete with the top racers.
Paul E. Luke, Inc., East Boothbay
        This winter the big project involved a Sabre 34, which was found with the circuit breaker off for the bilge pump and nearly sank. All the wiring and systems in the bilge were replaced. This project is in its final stages and should be completed by mid-spring.
        Another major project was on a Nonesuch 30. The owner wanted to upgrade the alternator from 90 to 130 amps, which sounds like a simple job. A kit suggested by the alternator and engine companies arrived, but it was soon obvious that this had not been done before. After several calls they found a way to make this all work and she will be ready when the season starts.
        Two new 38-inch propellers are underway at the shop for the PRIDE OF BALTIMORE. The problem here is finding a sand-casting business that will cast the blades. These businesses are more than happy to make five hundred, but not several. Frank Luke, owner of the yard said, "I don't need to buy castings for my grandchildren." Be assured, he will find a way around this issue.
        They store about seventy storage customers, on and off-site, and many of these have been worked on throughout the winter so they stay on schedule for a late spring launch.