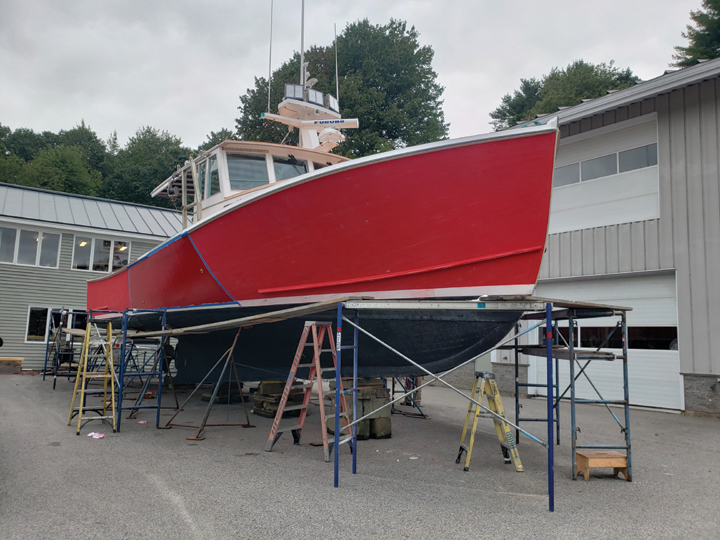 The year-old John's Bay built boat TWILIGHT from Friendship hauled up at Royal River Boat Yard in Yarmouth getting paint applied.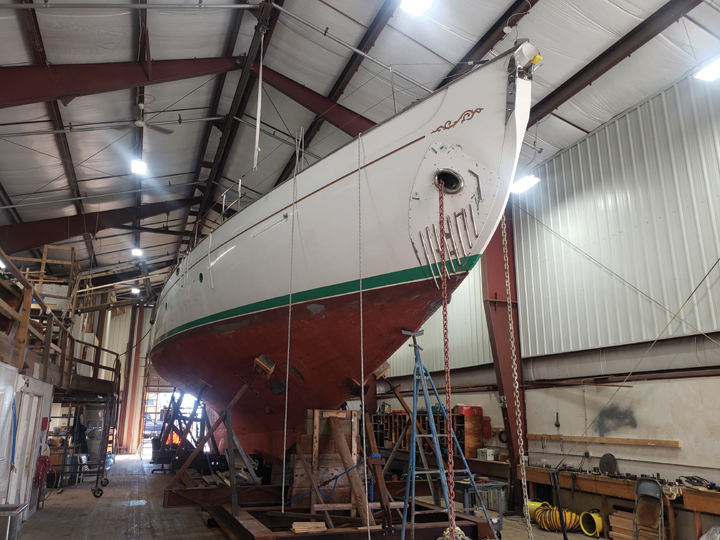 This is the Alden schooner SUMMERWIND built in 1929 in at Bristol Marine Shipyard in Boothbay Harbor. She is having some work done on her transom along with cosmetics. She will be relaunched this spring.
Bristol Marine, Shipyard at Boothbay Harbor, Boothbay Harbor, ME
        In the shop is the 78-foot Alden schooner SUMMER WIND built by Charles A. Morse of Thomaston in 1929. She has a full keel with a modern rig and systems. She is in for some minor woodwork, which will include replacing the transom and some minor plank repairs. Other work will include probably a full paint job, lots of varnishing and engine room maintenance. She is expected to be finished in time for a Spring launching.
        On the railway is the 103-foot schooner EROS, built by Brooks Motor Craft of Lowestoft, England in 1939. She was rebuilt several years ago and is in relatively good shape. She has steel frames with teak planking and some of the planks need to be replaced and other places on the bottom need to be refastening. They are also going to spline some of the topside seams and give her a paint job. She will be leaving the end of November for the charter season down south in the islands.
        The Gloucester fishing schooner ERNESTINA MORRISSEY was off the railway after a number of years on the railway being completely rebuilt. She is now at Hodgdon Yacht Service's dock at Wotten's Wharf where her final work is being done. They still have some work to do on the interior, systems and rig, but thought she should be out mid-Fall.
        The were getting ready to present the Moosehead Maritime Museum in Greenville with a proposal for replacing the deck on KATAHDIN. They have been working with the Museum for the last five years and have replaced the fore-deck, main engine and electrical system.
        As for the FRIENDSHIP OF SALEM of Salem, MA they were one of two to submit bids, but have yet to hear anything. She is need of some serious structural work and was hoping they would bring her to Boothbay to have the work done, instead of them going on the road and doing the work in either Salem or Gloucester.
        The schooner ISAAC EVANS will be coming out of the water this winter for some work and they possibly have more work to do on the 12 metre GLEAM. They are also talking with others about work, which have yet to commit.
Brooklin Boat Yard, Brooklin, ME
        There is always a lot going on at this yard. They are still working on the 64-foot DJINN, which is been in the main shop the last two winters. The first winter they replanked the bottom and last winter they started replacing the deck and interior, which also included systems.
        The big project this winter will be the construction of a 55-foot Wheeler, which was originally built in 1931. The plywood has been ordered and they are now looking at which engines they would like to put in her. They probably will have to wait for the plywood, which they think will arrive at the yard mid to late Fall, and then they will start on the hull. The owners still have not fully decided on the interior layout, but they have a little time to do that.
        They are also building a Botin 43 and some of the pieces for this boat are being built up in the Odd Fellows Hall. Last year they built a 47-foot sailboat designed by Jim Taylor of Marblehead, MA and they have an order for another, which is also under construction.
        Brooklin Boat Yard and two boats at the Newport International Boat Show in mid-September. They were hoping to sell the centre sole. Brian Larkin said, "Everybody loved it but everyone wondered why it didn't have two engines. To do that she needed a different bracket." This boat has been finished for awhile, but they had to wait for the T-top which they did in-house and then sent out to get powder coated in Bangor.
Buxton Boat, Sunset, ME
        Owner Peter Buxton has turned away several projects for this winter as he has a Cayman Catboat to build for a customer from the Cayman Islands. These were used from the 1800s to the present for transportation and hunting turtles. In mid-October Peter is heading to the Cayman Islands for a week and will be taking the lines off three of their favorite catboats. They will then pick the design they want and Peter will return to Sunset and over the next three months build it. He said, "It is a simple boat, open just three thwarts and unstayed cat-rig." When she is complete Peter will purchase a trailer and have it trucked to Florida where she and the trailer will be loaded into a container and shipped over to the Cayman Islands. Once she arrives in the Cayman Islands he will fly there and set her up for them.
        There are no other projects on the schedule so far this winter, turning several away. Then a local resident came in and was interested in building a new wooden pleasure cruiser. Peter said when asked about the half-model for the cruiser, "36 x 14. I just carved it out by eye without anybody looking over my shoulder and that was fun." If the owner does decided to do it, Peter said that he could start it in the Spring.
Mainely Boats, Cushing, ME
        They have been working on a Wesmac 38, which is being finished out as a charter boat for a customer from New York. Down below she has a V-berth, a couple benches, head and hydraulic room. Up in the wheelhouse is open with a bench on each side with a head. Out in the cockpit there is a second steering station, a fish tank in the stern and under the platform there are two 200 gallon fuel tanks. She is powered with a 450 hp 8.3 Cummins. Mike Hooper, owner of the Mainely Boats, said, "Nothing over the top, no fancy wood, just a clean, easy boat that you can scrub up and put away and be done for the day." She will be done early winter, but will not be launched until the Spring.
        The next one over is a Wayne Beal 42 that is being finished out as a split-wheelhouse lobster boat for a fisherman from Harpswell. Since he fishes inside the boat is pretty simple with a V-berth, a corner bench in the wheelhouse, a 300-gallon fuel tank, a rope-locker at the hauling station and a cutout transom. She is powered with a 750-hp John Deere diesel engine.
        Also in the shop is a Calvin Beal 34 being finished out as a tuna boat for a customer from South Carolina. She is decked out with a V-berth, head and hydraulic room down below and in the shelter a settee and a simple galley on the opposite side. She is powered with a 600-hp 8.3 Cummins.
        A Calvin Beal 36 hull will be arriving this spring and she will be finished out as a tuna boat heading to a customer from New Jersey. She will also have the first FTP engine (650-hp) they have installed. She is going to be a simple boat with a little bit of trim.
Royal River Boat Yard, Yarmouth, ME
        Sitting right in front of the main building was the newest John's Bay Boat TWILIGHT from Friendship. She was hauled up and had her hull sanded and was all ready for a coat of paint before heading back over for the winter.
        The NEWFY STAR has been hauled out for the winter. All they will be doing to her this winter is placing the dragging gear on deck so they can go scalloping in the spring.
        ROLLING STONE, another John's Bay Boat, owned by Alan Dugas, is nearly completed. Over the last two years they have gone through her from stem to stern and now she looks like new. The only work left is put on her mast and hook up the electronics.
        During the summer they made repairs to the tour boat MERRYMEETING, which had keel damage and a broken shaft. They were able to repair the keel and get everything hooked back up and have her operating again within a week.
        ROCKET was in and they redid the entire boat: ripping out the bulwarks, deck, fuel tanks and electronics and replacing them with all new.
        Outboard sales were good and could have sold more had they been able to get more units.
        Of course, like any storage yard they are hauling fast and furiously. It is almost like it does not stop as commercial boats get hauled all year long and many are only out for a short period of time. The only reason they stop hauling is that the river ices in. They haul almost 400 boats every fall and this does not count the trailer boats. Almost all of these boats will be out and ready for winter by Christmas.
Shop to Shore, South Bristol, ME
        It is very difficult to put a house on a small outboard boat and make it look right. They have taken a Seaway 19 that was fitted with a centre console and put a house on it and it looks pretty good. Her owner had sold his big lobster boat and still wants to tend a few traps so he decided to convert this Seaway into a little lobster boat so when the weather is not comfortable he has some shelter from it. This project is almost done. The owner of the yard said, "I have got to put half-round around the roof, half-round around the trunk, a little fiddle on the front, he wants a door, a little bit of painting and it is done."
        Next to her is a 31-foot built by Olsen Brothers of Massachusetts about 40 years ago. She came in to have her cabin repaired as the sides were all rotten. They replaced the sides and much of the windshield, but also replaced planks and refastened the bottom, removed the engines and painted them, installed new fuel tanks, redid the teak platform and put a new transom in. Now all that is left is painting, varnishing and putting a few things back together. She will be going over this fall and will head to her owner in New York as he still as good weather for boating.
        Outside there is a Lyman that needs a strut put back in. The owner grounded her and decided to take apart and make the repairs, but once he got into it he decided it was too big a job brought it to Shop to Shore. They have made repairs to the keel and still need to get the strut and shaft back in.
        An Able 32 pleasure boat has been in for a couple of years getting extensive work for a local owner. She should be finished up for next season.
        There are two boats coming in this winter to be repowered. One is on a Glamour Girl, which is presently powered with a Westerbeke and he has decided to switch to a Yanmar. This should be an easy switch, but he will need to build a new engine box. The other is in a boat over 60 years old. They removed the engine to inspect and discovered it need way more work than they thought. They are now waiting for the owner to give him the okay.
Strout's Point Wharf Company, South Freeport, ME
        The big project last winter was on the Concordia 39 STREAMER, hull #21, built in 1954 as the CHRISETTE. This boat has a different interior than the others. Like the others she was built at Abeking & Rasmussen in Germany and shipped to the U. S. and Concordia of Padanaram put the interior in. She came in late Spring and they put a new keel, replaced half the floor timbers, a lot of frame ends, planking replaced as needed, extended the mast step aft two floors, and installed new engine beds along with a new engine.
        Another project was on a 46-foot Spirit Yacht of Ipswich, England. She has a cold moulded hull and needed repairs made to the deck around one of her winches.
        They store six Concordias along with a number of other classic wooden boats and each of these need some degree of work every year. Last year they repowered four fiberglass sailboat with new Yanmar engines and another engine was installed in SILK, which never had an engine, had a Kobota installed. This is not normal for them, however, they already have two lined up for this winter.
        STREAMER will be back in this winter to be refastened. They may have a 32-foot John's Bay Boat coming in for a bow thruster and cosmetics. There is no question that they will be busy this winter as just their regular storage customers can do that
S. W. Boatworks, Lamoine, ME
        In the first bay they have a Calvin Beal 36, which they are finishing out as a walkaround powered with a 750-hp Scania. Stewart Workman, owner of SW, said, "You had to play by the rules with this one, you can't just wing it. It's the first walkaround we've done and actually it's the smallest boat that I would want to do as a walkaround because you lose so much of the forecastle. It is all custom built and its coming along good." They have most of the fiberglass structure in place and now they are fairing.
        In bays 3 and 4 they have two Calvin Beal 42s finishing out as sportfishing cruisers. One will be going to Southern Maine and the other to Massachusetts. They are laid out exactly the same. Down forward there is a forward stateroom with a triangle berth, head with full shower with galley up. One will be trimmed in varnished cherry and the other might be oiled teak. The one going to MA will be powered with a 800-hp Scania and the other with a 900-hp Scania.
        In the layup shop they have a Calvin Beal 38, which they are finishing off as a sportfisherman for a customer from Massachusetts.
        Next, they will finish out a Calvin Beal 44 to finish out as a sportfisherman to a customer from Westport. This is his second Calvin Beal, the other was a 36 (TWISTED) they finished three years ago. This one will be followed by a Calvin Beal 42 going to Portland. Then they have a number of hulls and tops to do, one of these will be a Calvin Beal 42, which will be going to Farrin's Boat Shop in Walpole to be finished out as a patrol boat for the Maine Marine Patrol.
        The phone has not been ringing for lobster boats, but many of the callers are asking for smaller models powered with outboards. One of these, a Calvin Beal 30, will be going to Jeff Eaton's shop to be finished off this winter.
        Despite all this they still have room to do hulls and decks for those interested.
C. W. Hood Yachts, Marblehead, MA
        At Lyman-Morse in Thomaston they have hull #2 of their 35 underway for a customer from Palm Beach, FL. She will sport a flybridge and be powered with a Volvo inboard/outboard setup. The cold moulded hull is currently on the strong back and is being glassed and faired. She will probably come off the strong back around 1 December and then they will start putting the interior in. The interior is already under construction in the carpenter's shop. The deck is moulded and uses carbon fibre in its construction and this makes it much stronger and lighter. This boat will be easily driven at 40 knot tops.
        Then they have a customer who is interested in a custom 42 based on their 3557 series, but nothing definite.
        In Marblehead they have six 32s to build this winter. Then in the restoration shop they have a 1978 Wasque 32 that was built down at Vineyard Yachts in for a full-blown restoration on. She is getting all new exterior woodwork, windshield, hard top, grab rails and Awlgrip. The only thing they think they may not touch is the engine.
        They have their usually Wasque 26s and Catamut 30s in for storage. However, it is interesting that they are seeing a lot more interest in winter storage work. They attribute this to people using their boats a lot more. Brokerage has also been busy with no signs of slowing up. The inventory has been moving with people getting out of boating and a younger group coming in and boats on the market turnover quickly.