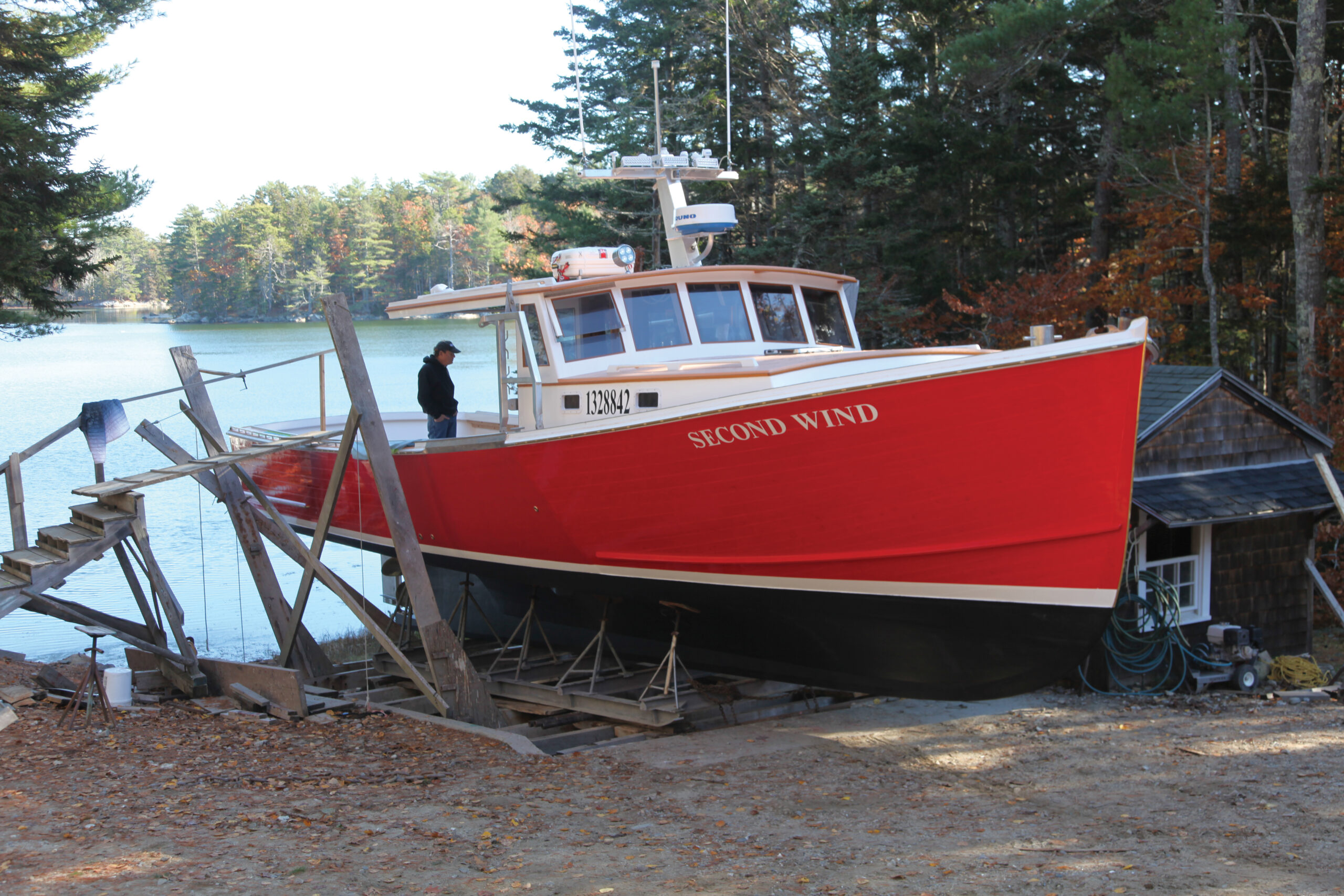 The 47-foot split wheelhouse lobster boat SECOND WIND hailing from Stonington being launched at John's Bay Boat Company in South Bristol on 29 October.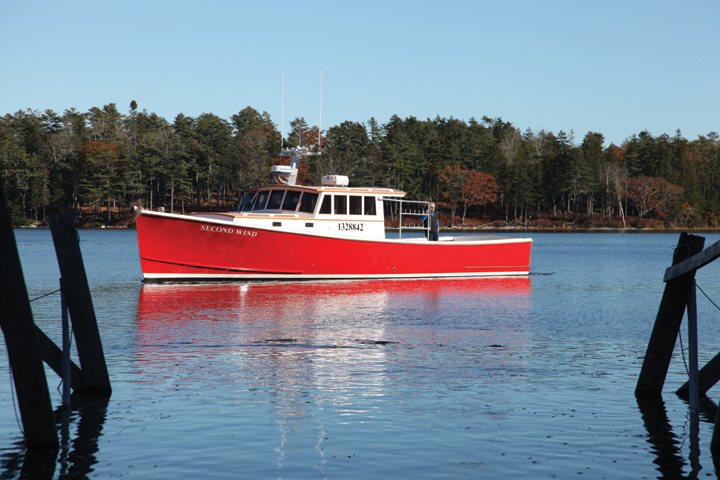 One major difference from some of the other recent new boat launched at John's Bay Boat Company
is her beam is just 14-feet, making her much more fuel efficient.
Johanson Boat Works, West Rockport, ME
        They have a Sweden 38 inside and they have removed her teak decks and are now removing the wet deck core. Once the bad core is removed, they will fiberglass the deck and put back down her teak deck.
        In the next bay is a 35-foot Downeast pleasure cruiser that has a lot of wet core in her hull. They are cutting the bottom out in big sections. They will then put in new Balsa core, re-glassed and then Awlgrip.
        A Swan 40 will be coming in for some deck work when the Sweden 38 goes out. She also has a lot of wet core in her deck and that will be removed, replaced and a teak deck re-laid.
        A Sabre 38 will be coming in to have her bottom stripped, new windows and new electronics. This will be a big job.
        As for other work, a Morris 34 is down back getting in new ports and windlass; a Bristol 35 is coming in for all varnish work, all new electronics and window work too; RAPHAEL is coming in for varnish and they are taking off all the coamings because they weren't sealed when she was built, reseat the deck and put down a new teak deck; a Coastal 27 will be in for some cockpit work, cosmetics and new canvas; a Bunker & Ellis 42 will be in for a lot of varnish work; a S42's decks are coming loose so they will remove the teak decks, fix the core and this deck will be Awlgripped; and a Legacy 40 will be for some bottom repair following an argument with a rock.
        As for repowers there are several this winter. An Alden 28 is in to be repowered with a Cummins diesel; a Sabre 34 will be getting a new Beta; a Back Cove 34 is coming in for some outdrive work.
Ocean Pursuits, Rockland, ME
        All the boats have been hauled and they are finishing covering and winterizing them for the winter. They only store 60 boats, even though they have room for more. They realize that they can handle 60, but anymore could be an issue and it is better to have happy customers who get their boat when they wanted it and everything is done properly.
        Spring and into July they completed work on a Grand Banks 32. They did a lot of keel work, new water tanks and some re-wiring. She had recently been purchased by a new owner and they wanted a lot of upgrades made.
        They have a full schedule for the winter. A Hinckley Pilot is in getting rewired, cosmetics and electronics.
        A Bristol Channel Cutter is getting new electronics, light fixtures and they will reconfigure of the salon area.
        Inside they presently have an Alden Challenger, which is on a five-year restoration program. These boats were designed by John Alden and built of fiberglass by Halmatic Ltd. in England. Some of them were finished in the U.S. and one company that did this was Hodgdon Brothers in East Boothbay. They are 38-feet length overall, 11-foot beam, 8-foot draft and her sail area is 625 square feet. This year they are finishing the interior painting, reconfiguring the galley, doing the brightwork on the cabin sides and doing a lot of rigging work. She will be back over the end of spring and her owners sail her pretty hard all summer.
        Other work this winter will include, a custom Shields sailboat will have her topsides repaired and Awlgripped. Last year they did the decks; they will be preparing a sailboat for the Bermuda 1-2; and then all the usual annual maintenance on the other sixty boats they store.
Samoset Boat Works, Boothbay
        Mid-summer they launched a Mussel Ridge 28 as a gentleman's lobster boat for a customer from Massachusetts. Down forward she had a V-berth, head and sink and an ice box. She has a 12-inch hauler, a hydraulic aluminum tailgate, floodable two crate tank below the platform, which can double as a live well, deck wash and lots of rod holders for tuna fishing. She is powered with a 370-hp Yanmar diesel.
        In the shop they have a 42 Mussel Ridge, which they are finishing out as a split wheelhouse lobster boat for a fisherman from Sedgwick. The interior is simple and has mostly been built. Forward there is a V-berth with lots of storage underneath; an anchor locker with access to the deck; a large hydraulics locker to starboard and an electronics cabinet to port. She is powered with a D13 700-hp Scania. Under the platform she has two fuel tanks that hold almost 600 gallons; a floodable four crate and six crate tank; and a large rope locker on the hauling side. The owner did not want an open transom and opted for a transom extension for traps. She will also sport a pair of Durabrite 50,000 pro-series lights, a computer system and Furuno electronics. The mast and rudder were built by Blue Water Fab. This one is scheduled to be finished the end of winter.
        Next, they have another 42 Mussel Ridge hull coming in this January to be finished out as a tuna boat for a customer from Massachusetts. Another 42 Mussel Ridge hull will be coming in May and she will also be finished out as a sportfisherman for a customer from Rhode Island.
        The end of February LETTIE ELISE [Young Brothers 45, Little River Boat Shop, 2004, 650-hp Volvo], owned by Eben Wilson of East Boothbay, will be in to be repowered and have a split wheelhouse installed.
        He also has someone talking about doing a 43 to 46 Flowers cruiser.
Richard Stanley, Brunswick
        Richard has moved his operation to Brunswick where he is rebuilding a 1928 39-foot Alden schooner. This boat was possibly built at East Boothbay, most likely by Goudy & Stevens, but to confirm I need her original name or some other identifying information.
        Richard said that this vessel was built with galvanized clinched nails, and that all of them were pretty much gone. Her planks showed the signs of the deteriorating nails. Richard added that he is third one to work on this boat. One person started it and he put new laminated timbers in the stern and that is okay. She then went to a yard, but they only did a little bit of work. Richard said, "First, I was just going to put a few sister frames in up forward. We opened her up, took several planks off and looked in the bilge and saw what was going on in there. All those frames were rotten, broken and falling out. We took off three planks on each side at the turn of the bilge. We then got all of the iron, galvanized screw, stainless steel screws and bronze screws below waterline that we can get at out. It was quite a job, time consuming. With the interior in, we have to bring the frames in between the three removed planks, then down by and then shove the top in and push them back up. It doesn't go easy; it is tight so there is an awful lot of hammering. Sometimes I get most of the way in and realize it is like two inches too long. Luckily the seams are opened up so we can get our multi-tool in there and cut the tops of the frames off. There is a centerboard trunk in there too. There is not enough room to bring a timber down by so I have to split the bottom ends of the timbers. I can then bend them up against the centerboard trunk and bring them back down. Slow work."
        They are about halfway done with the framing, 14 on one side and 8 on the other.
        Then it comes to planking and there is a problem with the rabbet line. Richard explained, "The rabbet on both sides, about 12 feet, just above the cast iron keel, was shaky. Someone cut the rabbet away and so the keel is there, but not rabbet. I have got to make these two pieces of wood to go in there. I am going to put a piece of pine in a channel where it goes against the side of the keel lined up with the rabbet line and put stop-waters in each end. I am going to try not to get glue on the pine because I want that to swell and then I am going to put a lot of fasteners in there."
        Richard will then address the keel bolts, which either need to be tightened or replaced and reinstalled the steering system.
        The 60-foot Grebe designed yacht IROQUOIS is at Yankee Marina in Yarmouth, which Richard put the bottom in last winter. He has more work to do on her, which includes wood and systems.
Wesmac, Surry, ME
        In the lay-up shop they have a Wesmac 54 hull underway. She will be finished out as a sportfisherman for a customer from Florida. She will look a little more commercial than BACKSTABBER does, but the same basic idea.
        Once this 54 hull is finished, they will begin lay-up on two walk-around supers.
        They are using Bay #1 right now for parts, but soon they will be moving in a 46, which they built a few years ago. She was recently sold and they are going to convert her from a cruiser to a sportfisherman.
        In Bay #2 they have a Wesmac 46 being finished as a sportfisherman for a customer from New Jersey. Down below berths for four or six with a head. Up in the shelter is a galley and settee. She is powered with a 1,150-hp Scania.
        In Bay #3 they have a Wesmac 42 being finished out as a sportfisherman for a customer from Maine/Florida. She will be powered with a 1,150-hp Scania. As for accommodations she will have a master stateroom forward, a couple of guest berths and a head. Up in the shelter will be seating, but no real galley.
        In Bay #4 they have a Wesmac 42 jet pleasure cruiser, which is being refurbished and lengthened four feet. She will also be getting Volvo IPS pods installed.
        In Bay #5 they have a walk-around 50, which is being finished off for a customer from California. She is powered with a C32, but they are still working on the accommodations with the owner.
        In Bay #6 they are laying up parts for the boats under construction. They found that it was easier to do this then try and lay them up in the lay-up building.
        Down at the waterfront they have the Coast Guard certified 54 walkaround with enclosed flybridge wheelhouse, which they finished off as a research vessel for the University of Bridgeport in Connecticut. There are no berths, just classroom seating, head, generator, clam pump and ROV garage. She is powered with a 1,000-hp C-18 Caterpillar. They are finishing some hydraulics and going through some minor issues. She should be launched in early November.
Gloucester Marine Railway, Gloucester, MA
        Up on the south railway is MASSACHUSETTS, a 375-passager Boston commuter for the Massachusetts Bay Lines, is hauled out on the south track. She is in for a Coast Guard inspection and annual maintenance. The maintenance included cutlass bearings, shafts, engine alignments, paint, and zincs.
        The Lovell Island float is on the north track and had extensive work done to it since she has not been hauled out in 10 or 12 years. Most of the work consisted of rust removal, welding, and painting.
        MASSACHUSETTS will be relaunched the first week of November and they will haul up NORTHERN LIGHTS. She is 105-foot dinner cruise boat from Boston. Shortly after they planned to re-launch the Lovell's Island float and haul the tea party ship BEAVER over at Harbor Loop in the centre of Gloucester. Then they will be hauling a work barge on the empty railway.
        They also have three engines to replace in lobster boats. They have a fourth engine to pull out of another boat, but they are not doing the install.
        They also have a complete shaft system to put into a 55 Bruno, shaft tube, the whole bit.
        This yard has been extremely busy since the middle of February and has yet to slow down.
IYRS/Mystic Seaport Museum, Newport, RI/Mystic, CT
        IYRS School of Technology & Trades in Newport released a statement saying that the 131-foot schooner CORONET would leave IYRS sometime in November for Mystic Seaport Museum, where her restoration would be completed.
        Mystic Seaport issued a press release saying:
Mystic Seaport Museum and Crew to Restore 1885 Schooner Yacht CORONET
        The Henry B. du Pont Preservation Shipyard at Mystic Seaport Museum is preparing to receive a massive restoration project later this month. CORONET, the 1885 schooner, and what may be considered the last of the Gilded Age yachts, will be making her way to Mystic for a three-year restoration. The hauling process is proving to be an impressive undertaking in and of itself, as the vessel is currently on dry dock at IYRS School of Technology and Trades in Newport, Rhode Island, where she has been under restoration since 1995.
        First launched in 1885, CORONET was one of the most elegant sailing yachts of her day. Intended for crossing the ocean in style, the 131-foot schooner was designed by William Townsend and built for Rufus T. Bush by the C. & R. Poillon shipyard in Brooklyn. Bush then put forth a $10,000 challenge (roughly $300,000 in today's dollars) against any other yacht for a transatlantic race. The ocean race between the CORONET and the yacht DAUNTLESS in March 1887 made Rufus T. Bush and the victorious CORONET famous—the New York Times devoted its entire first page on March 28, 1887, to the story.
        Henry B. du Pont Preservation Shipyard, which celebrates its 50th anniversary this year, is uniquely suited to the task. In 2007, a major investment was made to upgrade the Shipyard's ship-lift which allows it to haul vessels up to 450 tons, a capability unmatched by any other facility on eastern seaboard.
        Since 1995, CORONET has been under restoration at IYRS School of Technology & Trades, the premier marine trades and modern manufacturing school in the United States. Originally purchased as a student project to provide the hands-on experience in historic wooden vessel restoration the school is known for, the schooner was later sold to a private buyer but remained at IYRS under restoration by a team of shipwrights who included IYRS alumni. CORONET has been one of Newport's favorite maritime attractions during its years at IYRS.
        Over the course of the next few weeks, CORONET will be moved from IYRS and hauled to the Museum in a complex and meticulously planned series of events managed by Mystic. Currently underway is the dismantling of the building where CORONET resides, allowing a 1000-ton floating crane to access the vessel. CORONET will then be lifted from her rebuilding site at IYRS to the water. From there she will make the journey from Newport to Mystic on an eight-hour trip that will end through the Mystic Bascule Bridge and up the Mystic River to the ship-lift at the south end of the Museum. CORONET will reside there until restoration is complete, a process that is expected to take approximately three years.
        CORONET was recently purchased by Crew, a New York based company run by brothers Alex and Miles Pincus. The purchase and continued restoration efforts of CORONET are in line with Crew's notable history of historic vessel restoration. "CORONET is without equal. Her restoration is a calling that we feel destined to pursue," says Alex Pincus, CEO of Crew.
        The Museum and the team at the Shipyard have worked with Crew over the years to maintain vessels in their existing fleet, most recently, PILOT, a wooden schooner with a nearly 100-year history that now serves as a seasonal oyster bar located at Brooklyn Bridge Park's Pier 6. "Working with Crew has always been a pleasure, and they understand the historic preservation of their fleet. We look forward to this exciting project to bring CORONET to life," says Chris Gasiorek, Senior Vice President of Operations and Watercraft at Mystic Seaport Museum.
        Visitors to the Museum will be able to view the progress of the restoration as the Shipyard offers a unique opportunity to watch its shipwrights while they work. The restoration team will again include IYRS alumni who are looking forward to bringing CORONET's restoration full circle. Spectators both near and far can also follow along with the restoration on social media at both the Museum and CORONET Instagram accounts.