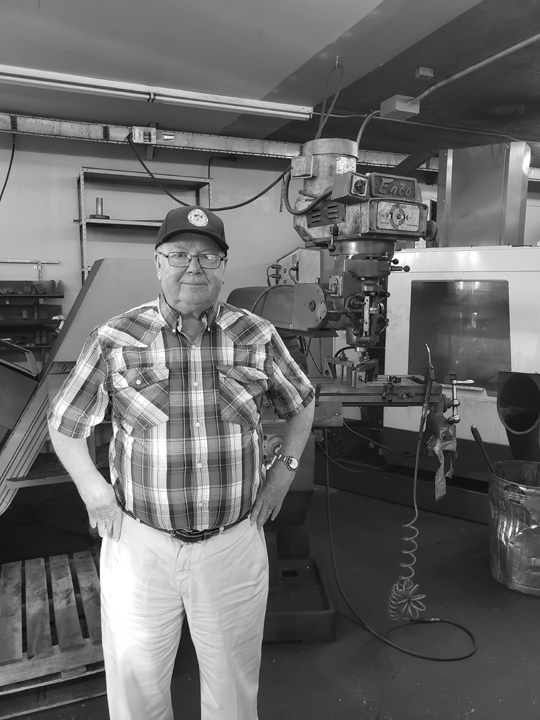 HANCOCK – Almost anywhere you go on the Maine coast, you will find someone that attended Maine Maritime Academy (MMA) in Castine. Many absolutely loved the time they spent at sea either as an officer of the deck or deep in the bowels of a ship running the engine room. One such person was Captain Almer (Al) Dinsmore of Ellsworth.
        Al grew up in Steuben the son of Alton and Mildred Dinsmore. His father worked for the Wyman's blueberry factory for 49 years. He added, "He was in charge of all the shipping before he retired and then he went back part-time in the summer as a night watchman. When another old guy retired he became the night watchman the rest of the year. However, Wyman's got a real security outfit to come in and my father didn't want to get involved in all that so at 75 he gave it up again."
        His father did not have any ties to the working waterfront and neither did Al. He described Steuben as "real quiet," adding, "Boatbuilding was just like a one-man show. In the wintertime some guy would make a boat in his boat house. There were sardine factories in Milbridge at that time. Wyman's had one, then there was Ray Packing and I don't know if Stinson had one there. It was a seasonal thing too. Basically, in the wintertime nobody worked, there wasn't any work. My father's job at Wyman's was only a seasonal job so in the wintertime he had to scramble around to find something to do. He either had to work with somebody in the woods or one year he was a stone mason's helper. It was real iffy in the wintertime. I started working when I was the fifth grade. I was pretty much the janitor at the two schoolhouses we had because that was my father's job also in the wintertime. He got $20 a week. He is the one that went around early in the morning and delivered water to the school. They didn't have running water. He had to fill up these crock pot things with a nozzle on it, 2½ gallons in each room. That is what you had for the whole classroom every day. That worked in the wintertime, but in the summer time you got kind of dry towards the end of the day. I used to clean the schoolhouses right after I got out of school at 3 o'clock and then my father got home around 4:30 from Wyman's and he would finish."
        "When I started school there was four in my class because there was three different schools in Steuben," continued Al. Then they consolidated them and my class ballooned up to maybe eight. When I was in the eighth grade I think we was up to 12. When I was like half-way through high school I wanted to go into the Air Force and go to the Air Force Academy. When I realized how much that ain't going to work, so then they sort of do the same thing at Maine Maritime except it is ship oriented and it paid real good, so I decided to go that route.
        Al entered MMA in 1964. Well, you didn't have much free time," Al explained. "Somebody on you all the time. There was a high dropout rate, about a third of the people that started dropped out by their first or second year. Once you made it through two years you were most likely going to stay. Your first year you are both deck or engine and when you are a sophomore you have to declare if you are going to be deck or engine. Actually, in my freshmen year I planned on being an engineer. In fact, in my engineering courses I was the fourth highest in the class. Then we did a cruise down to Maritime Day at Washington, DC. Cruising through New York Harbor we were all out there waving to people in the apartments. I said, "This is pretty good, I like it better up here then down in the engine room. We went under the Verrazano Bridge they were still building it at that time, nah I like it up here."
        The training ship at the time was ANCON, which was steam powered and this is the aspect that Al liked best, the cruises. He added, "I like to see difference parts of the world. That is why I went there in the first place. I grew up in Steuben and never went further than Bangor until I got into high school. I wanted to go to sea and make some money."
        While Al was at MMA they cruised to the Caribbean and then to New Orleans during Mardi Gras and was actually part of the Mardi Gras parade. Another cruise they went through the Panama Canal down to Chile and Peru. His final cruise, his senior year they went through the Panama Canal to San Francisco and Long Beach, even did Disneyland."
        Al graduated from MMA in 1968 and headed for his first job. He said, "I went to work for American Export Lines. They were one of the biggest and well-established companies in the United States. They had been in business fifty years and I wanted to go with a company that was going to last a while so I could climb up the ladder. When I went to work for them, they had forty ships and they went all over the world. The government subsidies starting disappearing so it wasn't lucrative to have so many ships anymore, especially old ones. They started selling them off and I was looking forward to getting a second mate's job. Every time I was getting close, they would sell another ship so I was the third mate for six and half years. Then they decided to sell it all together and they sold to Farrell Lines. American Export Lines had just signed a new three-year contract with the BMO (Brotherhood of Marine Officers) so we figured well, alright job is safe for 3 more years. Farrell Lines union contract was with the MEBA (Marine Engineers' Beneficial Association) and MMP (International Organization of Masters, Mates & Pilots). Well, after a year, Farrell Lines said to us, basically either join the MMP or get off the ship. We were the third ship that came into port that they made that ultimatum to and every one of the deck officers on the ship left."
        At this point LNG ships were coming out. Al added, "Back in '76 I had gone to LNG school down in Baltimore. The LNG ships that were built here in the United States were carrying LNG from Indonesia for Japan and they were crewed by all MEBA personnel. Well, MEBA didn't have any mates so they had to recruit some and they got them from BMO and they paid us to go down to Baltimore for six weeks and take this LNG training. However, that was a little premature because they didn't need us for about two years. Right after I got done with American Export Lines they did need us so I went to work for ETC (Energy Transportation Corp.) as a second mate on the LNG ARIES over in Japan. I made one trip with them which was like a three month deal. They only had five ships running at the time and all of a sudden two of them had to go to a shipyard in Singapore for some long term repairs."
        Al was again looking for a job. When he asked at MMA who was looking to hire he was told Texaco looking for people with a mate's license as they needed Chief Mates. "I never sailed chief mate and I had never been on a tanker before but they said, don't worry, we will train you," continued Al. "I flew down and joined a ship in Providence, Rhode Island, TEXACO MONTANA and the chief mate stayed with me on the way down. We cleaned and inspected tanks and when we got down to Port Arthur, Texas we loaded the ship. The chief mate stayed and after the ship was full they sent us back up north. I just kind of learn the ropes. The extra third mate they put on there was a girl from King's Point, she'd never been on a tanker either. The second mate he had made one or two trips. Between all of the people on deck, except for the captain, we had six month's experience. Well, we learned fast and we didn't have any mishaps."
        During the next year Al sailed on three of their ships, but when TEXACO NORTH DAKOTA struck an oil rig and burned in the Gulf of Mexico. They did not need a Chief Mate and offered Al to stay on as a third mate. He stayed until he found another job, which was back with the LNG ships of El Paso Marine. Al explained, "Some of their ships were built in the United States and some at Dunkirk, France. They were bringing LNG from Algeria to Maryland or down in the Gulf somewhere. When they started this project Algeria was going to sell them LNG for .25 a cubic meter and then they raised the price up to $1.75. At that price it wasn't feasible and they ended up scraping some of them. One of the ships grounded near Gibraltar and ripped a 650-foot gash in her bottom. "They managed to keep that pretty quiet," explained Al, "and they did the first ship to ship LNG transfer ever. They had to quickly manufacture hoses that would take the LNG from one ship to the other and got her off the rocks and towed to Dunkirk to be repaired. I flew over there and joined the ship as a chief mate for a couple months. I came back home and the next time I went back over I was on her sister ship. While I was on that one, the company pulled the plug all together and they just sent us home."
        Al was again looking for a job and he landed with Reynolds Metals, who had two bulk carriers. He said, "The stern was a T2 tanker and the front part of the ship was a newer construction, Their traditional cargo was loading alumina in Texas and taking it through the (Panama) Canal up to Longview, Washington to turn into aluminum. On their way home, they'd swing by Hawaii and load sugar and bring that back. Sometimes they'd bring it to California and sometimes they'd bring it all the way back to the East Coast. I only made one trip on that.
        Then Al went to work for Hvide Shipping in Florida. He was a chief mate on SEABULK CHALLENGER. They loaded fuel in the Gulf or up the Mississippi River and deliver it to the East Coast, usually Norfolk, VA. He did one trip on her and switched to the chemical tanker FRANCES HAMMER, owned by Arm & Hammer. She carried super phosphoric acid from Jacksonville, Florida to Odessa, Russia. "It was kind of funny because LNG had to be kept at 259 degrees below zero and this stuff you had to keep it 160 degrees or it would turn to stone," explained Al. I just made one trip on that too."
        One of the most interesting trips was on board BROOK, which was formerly owned by the American Export Lines, and heading for Leningrad. He got call at 2000 hrs. at his home in Trenton that said they needed a Chief Mate, but he had to be in Baltimore at 0600. He ran to Bangor jumped on a plane to Boston, there he boarded a train that got him to Baltimore at 0500. He added, "That was an exciting trip, because it was in the wintertime. None of us had been to Russia before. So we picked up a pilot in England to take us up there. I was saying to the pilot "I always wanted to go to Russia." The pilot says "Me too." We get up there and all of a sudden we come into solid ice. We followed an icebreaker for twenty miles through this ice into the harbor. When we dropped the anchor it would not go through the ice. We had to pick it up and drop it three times to get it to go through the ice. We were there for 17 days. It was quite a job to get her out. On the way out the ice that was 20 miles long before was now 60 miles out to sea. There is like three icebreakers, one of them nuclear power. The way that we were loaded our condenser was right at the waterline, so it was sucking in ice cubes. We couldn't make much speed and sometimes we would stop altogether. Well, the icebreakers got pissed off at us and backed up to us and gave us this big line and towed us out to sea."
        Another story, "There was a couple of winters I was pretty much on the container ships that ran from Staten Island to Bremerhaven, Germany Felixstowe, Le Havre, France or sometimes Amsterdam," said Al. "That was a three-week round-trip. That 610-foot container ship seemed like a canoe. If you had a following sea, the water would come over the stern, and wash right over the bow like a waterfall. One of those trips we lost a guy overboard, he just disappeared. We had tunnels on those ships so you could go from the bow back to the stern. He just decided to walk down the deck like it was a sunny day. He had been watching these waves come over the deck, but I heard the lookout yell 'man overboard.' So I run out there and I saw his hat floating on the water. He was dressed for the weather with heavy gear on so he sank like a rock."
        In the spring of 1988 Al saw that the Moosehead Marine Museum was looking for a captain for KATAHDIN. "I went up there and interviewed and got the job," said Al. "That summer we stayed up there. The first couple of weeks I was up there I stayed in the motel. Then I stayed in an A-frame that belong to the executive director. Then they had an extra mansion that wasn't being used that summer so they ended up giving us that and we stayed in that 16-room mansion. It was fun, it was a nice summer. However, you have got to be a gorilla to run the steering on that boat, because it is just cables from the house down. There is only like 2½ turns from hard left too hard right. There is no mechanical advantage hardly at all. If you are going along at full speed you cannot make any kind of a quick maneuver. You would have to slow down and if you put any engine speed on you cannot hold the wheel. You have got ropes hanging down from the ceiling that flipped over the spokes and then you come ahead on the engine and it will turn quite nicely. It is got a lot of sail area and she is not that easy to maneuver.
        Most of these last voyages were as relief so to fill in Al had been working part time for the Maine State Ferry Service, starting in the late 1970s. He said, "I was just a part-time private contractor at that time. I did that part time for 9 years before I got to have a permanent state job. They just called when they needed you. During the early eighties I did it full-time. I like working on the ferry boats. On the big ships you do not get to drive them. You never touch the wheel. You are in charge, but physically you do not do anything. I like driving the boat and I did that at the ferry service almost all the time.
        He fondly remembered some of those he had worked with like Woody Wilson. "He had grown up in the Rockland area," said Al. "He was a captain during World War II and Al thought he lost a ship to the Germans. Fortunately, they let the crew get into a lifeboat before they sank the ship. He worked for the ferry service until he was 80 years old. In fact, he was the one who delivered the CAPT. HENRY LEE to Swan's Island from Rockland and I took over."
        Al remembered Captains Richard Spear of Rockland, who he relieved as manager for the Ferry Service for a short time; Dick Shields from North Haven; Frank Thompson from Vinalhaven; Ray O'Neill; Dick Percy; from Islesboro Mel Lee; Rod Johnson; and Henry Lee from Swan's Island.
        Another fond remembrance was Capt. Bill Abbott of Belfast, who was a pilot on the Penobscot River for 50 years. Al added, "He was my mentor. When I first graduated from Maine Maritime I went to sea for a while and was looking around to may be getting a shore job. I went to him about becoming a Pen Bay pilot. He invited me over to make a trip with him, so we shifted a ship from Bucksport to Searsport and we talked about things and he basically said, "You are better off staying right where you are right now. By the time down the road came I was content being where I was."
        Al skippered CAPT. HENRY LEE right up until the time he retired, which was in 2013.
        Al never lost his love for MMA and was on the Board of Directors for the Alumni Association for 12 years. Their main function was to plan alumni functions and nominate the alumni person of the year.
         Al said he retired cold turkey from the Ferry Service. "I liked my time at the ferry service," he said, "but when it was over, it was over. I haven't done anything for money since I retired." He has just sat back and enjoyed life, which he earned.