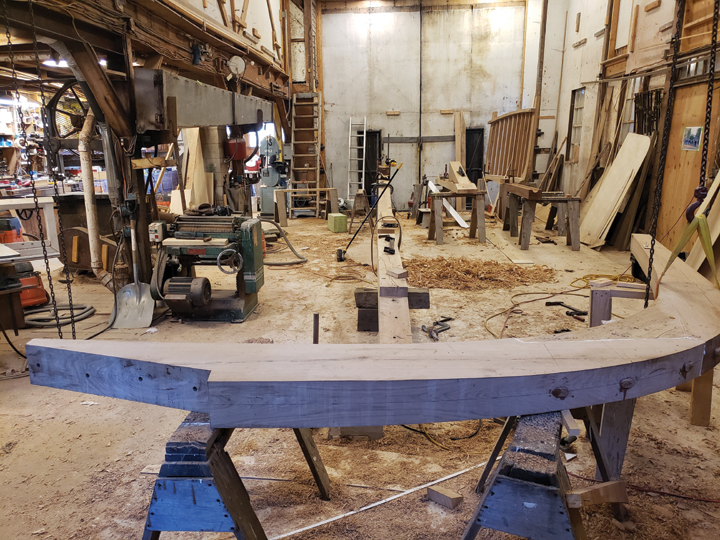 They have already started another boat at John's Bay Boat Co. in South Bristol. She will be a 47-foot pleasure boat and should be completed the end of the next year. This is a view of the stem in the foreground with the keel right in the center. In the back right corner is the horn timber and transom all framed up.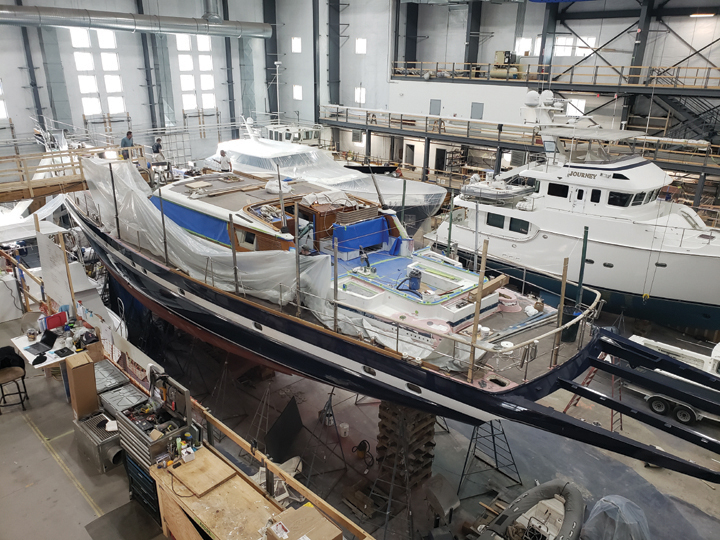 Front Street Shipyard in Belfast is working on the 136-foot sailing yacht ABIDE. They are doing a complete overhaul of her, which will be completed in 2023.
Ellis Boat, Manset, ME
        Underway in the shop they have an Ellis 36 Express Cruiser under construction. Shane Ellis said, "It seems to be the model that people really want as we have been building it for a while now, since the late 90s. We have every iteration of the 36-footer out there, but the Express Cruiser has a really nice cabin layout, a great two-person boat. They have got a V-berth, a full shower, head, nice galley, and a place for a couple to sit in the galley. It didn't have this before, it used to have a really big galley. We shortened up the galley and created a little place to sit. She also has our canter lever seats with fold-out tables in the shelter. That provides great access to the engine (a 440-hp Yanmar) while still having lots of seating."
        This boat is about fifty percent complete. She was started last summer after they sold one that was in their charter fleet. When this summer wound down, they have been working hard to get her finished for next summer so she can be chartered. Shane added, "This is the third one I have built for the charter fleet and the other two have sold. One of them didn't even make a single charter. The other one chartered for a couple years before it sold. It is a good setup for us for right now. It is nice to have a new Ellis 36 in the charter fleet. However, I just posted it for sale online and if somebody comes along and buys it in the next month or so then it won't have any charter obligations for next year, but I will start booking charters with it, come the New Year."
        All the fall hauling has been completed and they have just less than 50 boats in storage for the winter, with more than enough work on them to keep them busy until next summer. They mostly store their own boats, but with the charter fleet that has expanded to including a Hinckley Talaria, a Hinckley Picnic boat, a Back Cove 41, and a Wilbur 38. Most of the boats in the charter fleet are 36 feet or bigger, but they do offer an Ellis 28, but they consider this a day boat or an overnighter.
        Having the charter aspect this gives the workers different work in the summer keeping the boats looking and running great. They also do some training for those not familiar with running a boat like this.
        Shane did say that they have a few engine replacements to do, some switching from gas to diesel and another going from a sterndrive to outboards. Then there is another few getting electronic upgrades. It will be a busy winter.
Front Street Shipyard,  Belfast
        Hauling up boats for the winter has been in full swing for several months and the end is getting near. The herring seiner WESTERN WAY was in the slings of the giant travel-lift and having her bottom cleaned. There was still another couple that were due in to be hauled up for the winter. Also on the way are three whale watching boats, ACADIA EXPLORER, FRIENDSHIP V and BAY KING. They are actually going to do a lot of paint work on FRIENDSHIP V. They are presently at Billings Diesel & Marine in Stonington for engine work and once this is completed, they will make their way to Front Street to be hauled up for the winter. There is a lot of work to do on these boats, mostly plating and painting.
        The 136-foot sailing yacht ABIDE is still in undergoing a major refit. She is the x-ISLANDIA built by Jongert of the Netherlands in 2002. They have already done a lot of work on the interior and exterior of this yacht. JB Turner, part owner of the yard said, "We are working on putting on new toe rails, the hull is painted, the decks and mast are painted. The decks will start going on pretty soon, then interior joinery modifications and then mechanical/electrical/electronics will go on until the day she leaves."
        In another bay they have a Mussel Ridge 46, which they are finishing off as a split-wheelhouse lobster boat for a fisherman from Kittery. The interior is simple and she is powered with a 735-hp John Deere diesel. The platform is down and the top is on. They are now working on the platform. She should be heading out later this winter/spring.
        Right behind her is a Mussel Ridge 42, which is being finished out as a sport cruiser. She is not as complete as they have just started putting in the structure under the platform.
        Soon their first New Harbor 28 will be coming in to be finished.
        Still awaiting their arrival is a Little Harbor 55 power boat which will be getting full deck paint and a boat under construction at S. W. Boatworks in Lamoine will be coming over for a full paint job.
        Already work is lining up for next spring, summer, and fall. One boat will be coming for new teak decks, generator, and hull paint.
        The waterjet is busy and could get crazy busy if all the proposed work happens. Fresh Water Stone is bidding on a home on Martha's Vineyard and that is a big project and couple that with work from Kenway and several artists it looks like a busy time ahead.
H & H Marine, Steuben, ME
        In the layup shop they are working on an Osmond 29 for a customer from Massachusetts. They have blocked out the keel as she will be fitted with twin outboards. They will be partially finishing this one.
        Next, they will be laying up a standard Osmond 42 for James Thurlow.
        In the finish shop they are nearing completion on an Osmond 40 split wheelhouse lobster boat for a fisherman from Southern Maine. She is spartan below, just a couple of stiffeners, and is powered with a 750-hp John Deere.
        Another Osmond 40 is in the finish shop and she will be a sport fishing boat with full accommodations (berths, galley, and head). She is powered with a 600-hp Cummins.
        There are several repair jobs scheduled for the winter. A Dixon 53 went down and she is going to have all her wiring, hydraulics and electronics replaced. An Osmond 36 suffered extensive damage in a storm and she is almost ready to go out after a lot of glass work and cosmetics being done.
        As for future work they are bidding on a 50-foot ferry boat for a customer from Rhode Island.
John's Bay Boat Company, South Bristol, ME
        The cover photograph of the last issue of Maine Coastal News had the newest launch from John's Bay Boat Co., which was the 47-foot lobster boat SECOND WIND for Chris Klemenz of Stonington. Peter Kass added, "She is 47 x 14, which is very narrow by today's standards, but the whole idea was economy. We built the KHRISTY MICHELLE; I don't know about 10 years ago for Chris' uncle John Williams and she's 44 x 14. That boat was built with the idea of being efficient and she is proving out to be an all-around good boat. In the 44, instead of having your $100,000+ engine, 800 hp+ John has a 450 hp 9-liter Cummins, cheap to buy, cheap to maintain, quieter and cheap to feed. Chris took the boat home from here, fueled her up, hauled through his gear three days, and he said for 102 gallons. John has told me the most he has pushed through his in a day was 60. She looks a little different because it is the same molds but they are 4 inches further apart. John's bow looks fuller, but when you stretch things out it eases the shape so they look a little different but it is the same design."
        SECOND WIND has a 7-inch-thick keel, which is what you need when you are going to have a 2½-inch shaft. The frames are 1½ x 2-inches and the planking is 1¼-inch cedar. She is setup to swing a 34-inch wheel so she's a little deeper. She is powered with a 550-hp 9-liter John Deere and does 21 knots wide open and cruise 15 knots. Because the family likes to do some weekend cruising she has four berths, galley with a sink and propane stove, a settee for four and a small work bench.
        Next is another 47 x 14-footer of the same design, but this one is a pleasure boat for a customer from Westport, Massachusetts, so Peter added tumblehome and changed the shaft angle because the engine is further back. As for accommodations the owner and his designer are working on that, but she will have berths forward, maybe an enclosed stateroom aft to one side.
        They had some repair worked lined up, but for various reasons this has vaporized and they will concentrate on getting the new boat finished for a late fall, early winter launch next year.
        They are also down a crew member following the launch, who decided to leave and work with someone doing free-lance wooden boat repairs in the Rockland area. Peter said this person had been working for him for six and a half years and really caught on quickly. He is hoping he may return at some point, but until that time he is looking for someone with woodworking experience to fill in.
Wilbur Yachts, Manset, ME
        Inside the main shop is the 21-foot runabout PINNACLE. They just did a major refit, which included going through the engine, paint, and varnish. This boat was built by James Anthony in up-state New York back in the 1980s. John Kachmar thought he had built 13 of the 21s and 9 of the 27s. Unfortunately, he passed away in the 1990s and did not know what happened to the tooling. She is powered with an I/O and is a 43-plus knot cruising boat. John said at that speed you can speak normally and others will have no trouble hearing you. He added, "It is a fun, fast little boat."
        Just off her bow is a 19-foot Boston Whaler that is in for her annual maintenance and presently she was having her bottom painted. They will completely go through the boat and make sure she is ready for next season before putting her in storage as they await the arrival of a Wilbur 34 coming from Staten Island, New York. Ten years ago, she went through Hurricane Sandy and had sunk at her dock. She was totaled by the insurance company and then bought back by her owners who brought to Wilbur Yachts to be totally refurbished. She is returning to Wilbur's and will be looking for a new owner.
        Also in the main shop is LAURIE ANN, a Wilbur 34 extended flybridge cruiser, but she is in for annual maintenance. Just behind her is SEA DRAGON, a teak sided open 34, also in for maintenance and some cosmetic work. The bottom has been painted and the varnish is done. Next to her is a Wilbur 38 cruiser that has been undergoing a major refit for the past several years. She was launched last summer and the owner got to use her. She had been repowered and she topped out at 25 knots. This year she is getting all new canvas from Black Pearl Canvas to cover the bright work as she will heading to Florida next year. She is also getting more electronics.
        Out back they have the Seal Harbor Launch, a Crosby 21, in for maintenance and repairs to some scratches and scrapes. An Ellis 28 has a number of items to do, one being new electronics. A Navy whale boat launch was converted to electric power about five years ago. She has eight 8D batteries to a 20-kW electric drive. An Edgewater 24 and a 28 Key West Ballistic are both in for general maintenance. A Wilbur 38 will be coming in to have her overhead replaced. Several 420s from the Seal Harbor Yacht Club are in and waiting for their annual maintenance as are several Newman dinghies.